Wednesday 5th February
Indian Visas
Day
I cleaned the car air filter. It was incredibly dirty—it's a wonder any air at all could get through. I also wrote a quick article on how to do it so other people can, because it's very easy to do but doesn't seem to get done at servicing.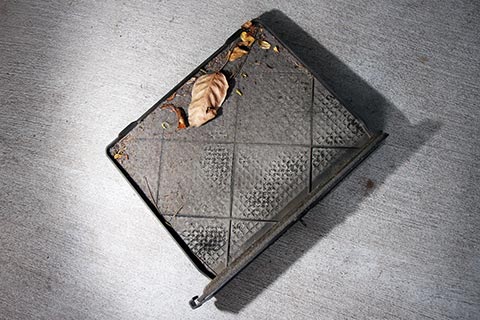 Night
Bronwen and I had dinner at Kuan Yin's in The Valley, then drove home and stayed up late looking at flights and filling out our Indian visa applications. They are quite comprehensive.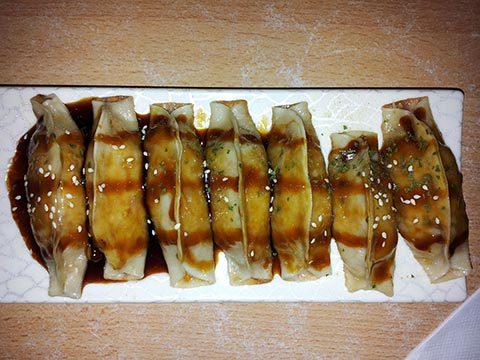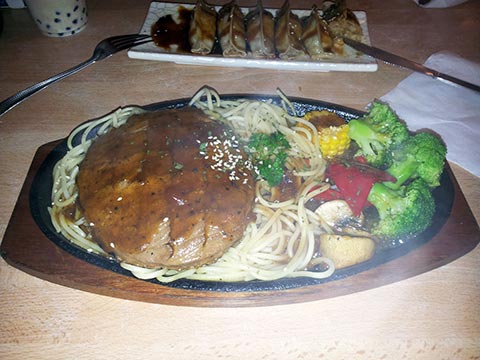 Thursday 6th February
Indian Visas Continued
Day
I drove into town with Bronwen, and went to the Indian Visa place. We took $15 photos of ourselves (because the photos are a different size to our passport photos, meaning we can't use them), signed our visa applications, paid the just under $100 fee each, and now we wait. They're couriered to Canberra, where hopefully they'll be approved. Interestingly, the photo machine seemed to only charge me $7, though it charged Bronwen the full fee.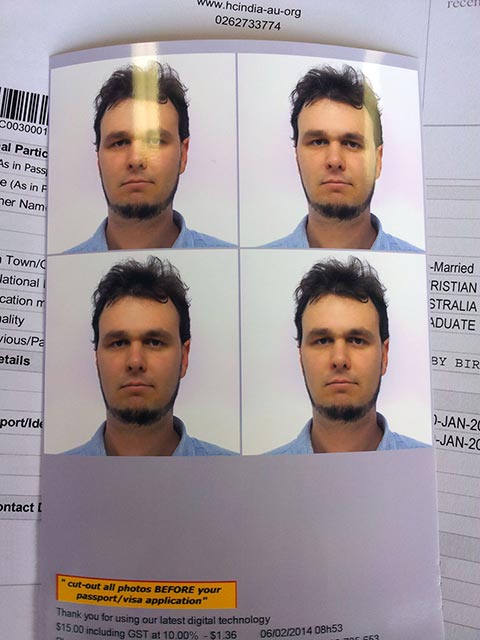 I drove to Francy's Pattiserie and had a fresh cream straight doughnut for breakfast, and Bronwen went to work.
Night
Bronwen had dinner at her parents' place, and I had dinner with Maz in West End. We went to a new Mexican place, the "Beach Burrito Company", which was entirely full—quite literally, there were no seats. So, we got takeaway and ate it back at Maz's work.
After dinner I picked Bronwen up from her parents' place, and drove home.
Friday 7th February
Hot Shanghai Night
Day
I spent the day at home.
Night
I drove into town, picked Bronwen up from her work, and parked in the city. We walked to Govinda's and had dinner there, and then had a look at "Hot Shanghai Night", where we were supposed to be taken back to the 1940s and enjoy an evening of colourful performances from traditional Chinese fan dances to the fusion of Chinese melodies with Western jazz, but we were not—instead we remained firmly in the present, and ended up in a Japanese shop where everything was $2.80 (the inflated equivalent of a dollar store I suppose) where I bought Bronwen $2.80 worth of hand-exercisers.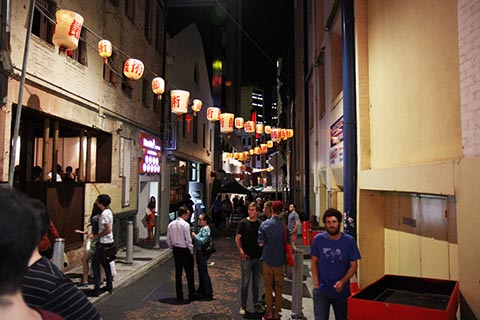 Saturday 8th February
My New Camera Bag
Day
Bronwen and I put a pile of things together to see how big and heavy stuff would be for India, and then went to Photo Continental to buy me a new camera bag.
After much looking at camera bags—and having one of the staff quite unpleasantly park himself in obvious sight and just stand there, watching us (seriously… I could buy this stuff a lot cheaper on eBay, this kind of attitude from staff doesn't encourage me to come back)—we finally decided on a bag (Lowepro Event Messenger 150), and bought it.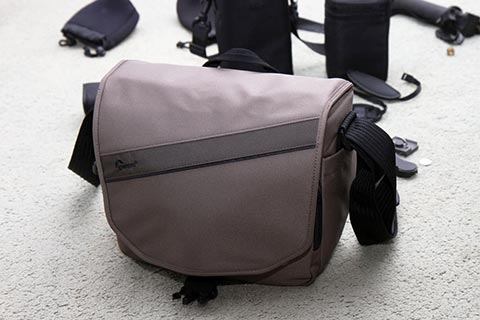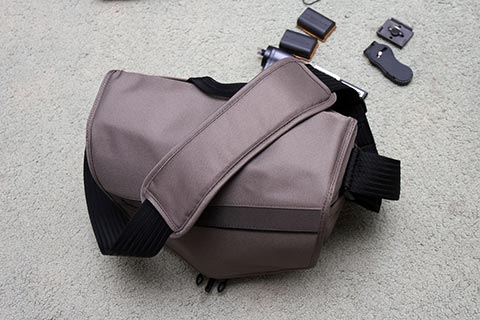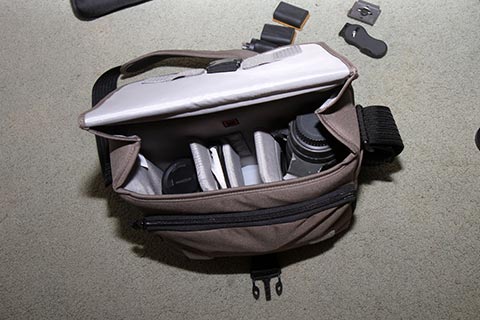 We then went to Woolworths and bought many, many things.
Night
I put all the things from my old camera bag into my new camera bag, and was happy. I then ate dinner, and walked to a nearby service station to buy milk.
Sunday 9th February
My New Camera Strap
Day
Bronwen and I drove to town and had a look at camera straps at the photo shops there. Bronwen bought me a Black Rapid Metro strap from Ted's, as a late birthday present. After this we went to Target and Kmart, looking for things.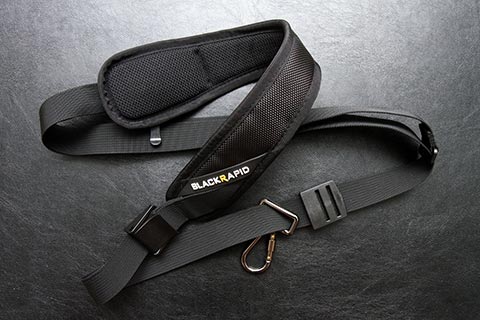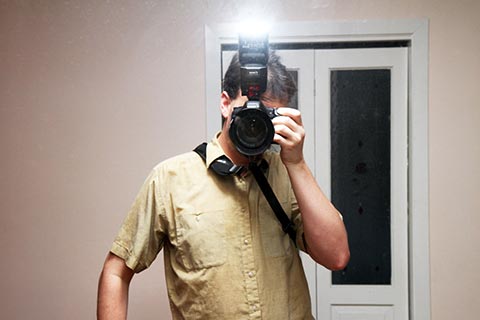 Lunch
After shopping we drove to Sizzler at Toowong, and had lunch there.
Night
After Sizzler we drove to Kangaroo Point, where the Sunset Gathering people were fire-, hoop-, and various other thing-twirling.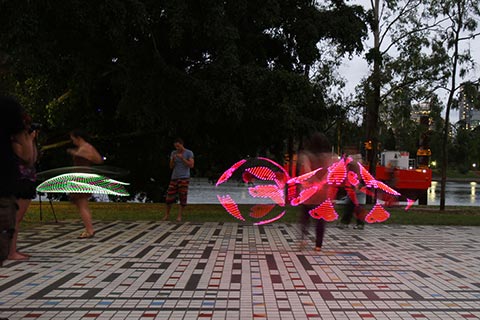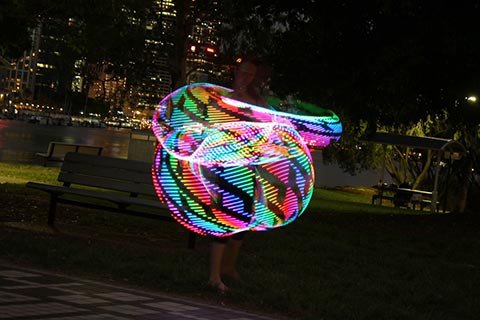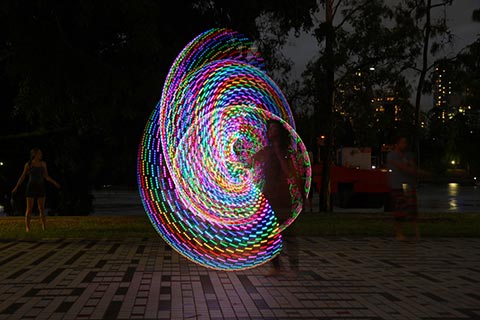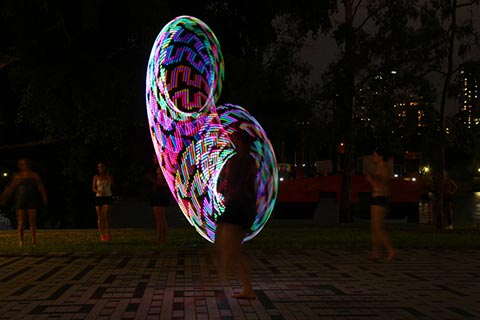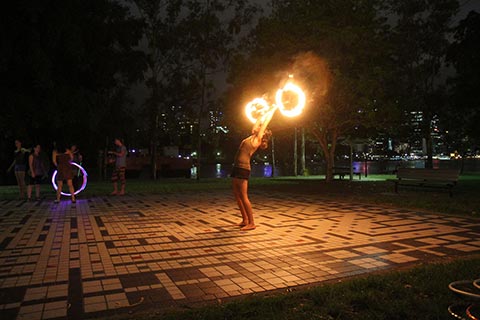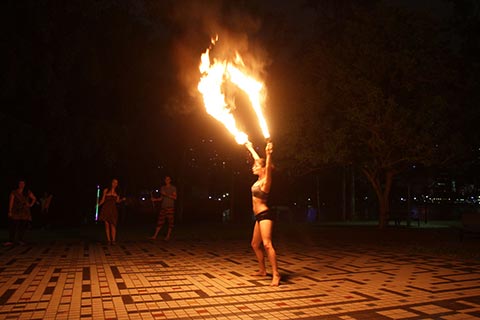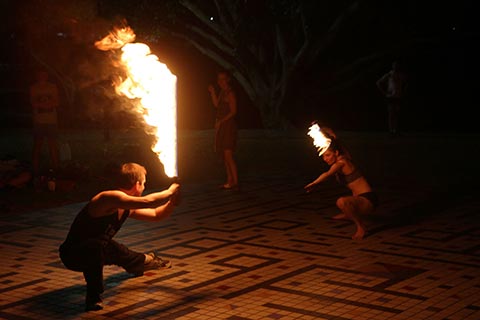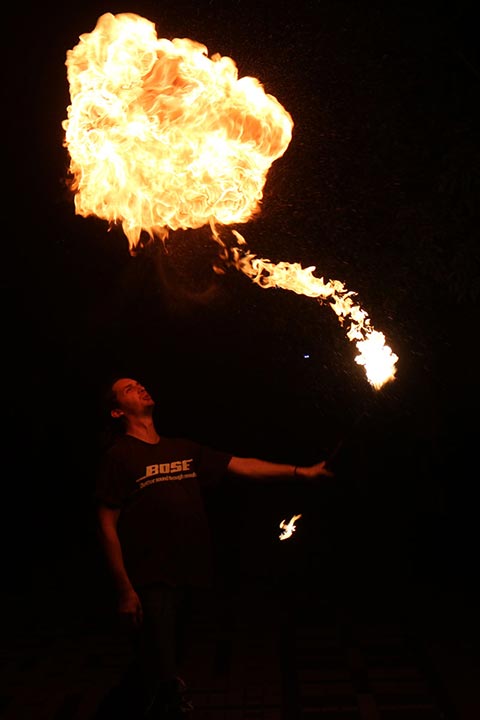 Monday 10th February
Testing the Camera & Lenses
Day
I set up my camera on a tripod and took some test photos to look for dust or focussing issues to see if I should try to get it looked at before India, but as far as I can tell, it seems to be working as expected.
Tuesday 11th February
Immunised for India
Day
Bronwen and I went to the doctor to discuss travel immunisation. Somehow, this took much longer than expected, and $500 or so later we were given a prescription for Doxycycline (as hydrochloride) to prevent malaria and cause sunburn, Dukoral to prevent cholera and traveller's diarrhoea (presumably much different from banker's or politician's diarrhoea), and finally Vivaxim to ward off zombies, prevent hepatitis A and typhoid, and make one's left arm remarkably sore all day. A nurse kindly injected the Vivaxim into our arms and told us to panic for 15 minutes in case we were going to die and after that we'd be fine. We didn't get anything for rabies or Japanese Encephalitis, so we must avoid all Japanese Encephs and all rabid dogs, salesmen, monkeys, bats, etc., but presumably typhoons are ok.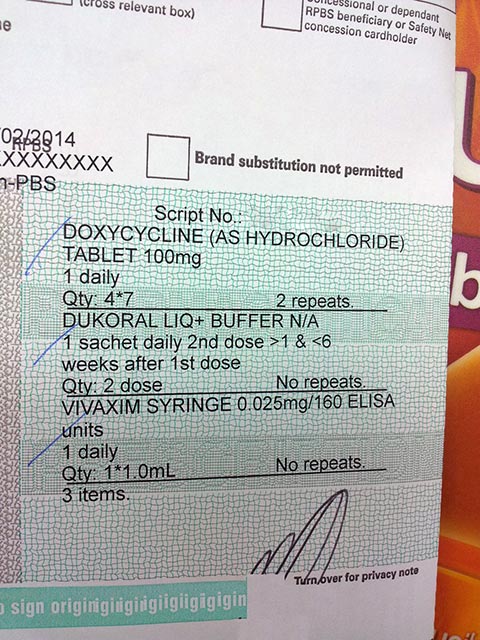 After Bronwen insisted we'd waited long enough and that I—despite my protests that most of my body now felt strange—was in fact fine and not dying, we drove to town at great speed along the motorway risking almost certain death should I black out or whatever other terrible side effect I was sure to be about to have happen. Strangely, nothing much happened and we got to Bronwen's work still alive.
Not wanting to make it so easy for life, we decided to drink cholera—3.25 × 109 organisms each to be precise—mixed in some kind of bubbly mixture containing raspberry and fake sugar, which I assume was supposed to make it drinkable. If so, I suppose it worked, because I did manage to drink it, but it certainly wasn't yummy. We drank it in the kitchen of Bronwen's work, looking to the other people there trying to make their lunch very much, I suspect, like we were undergoing some form of ritual suicide.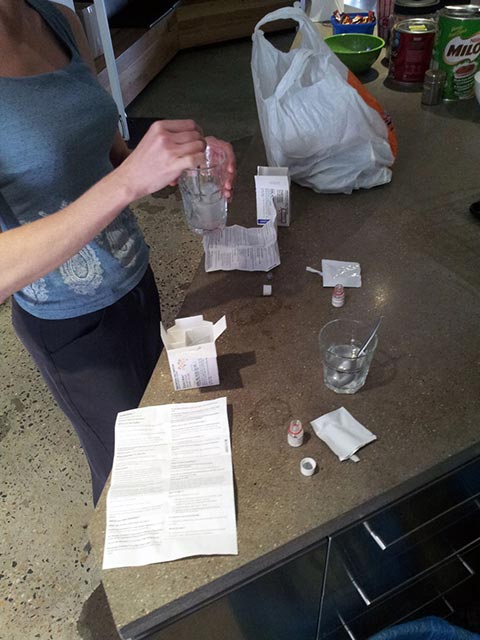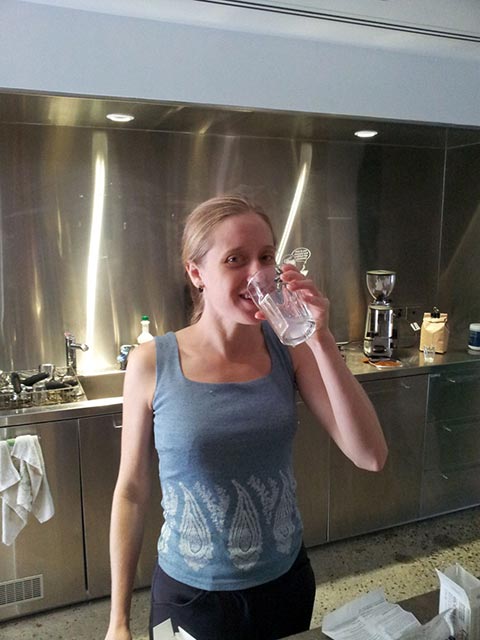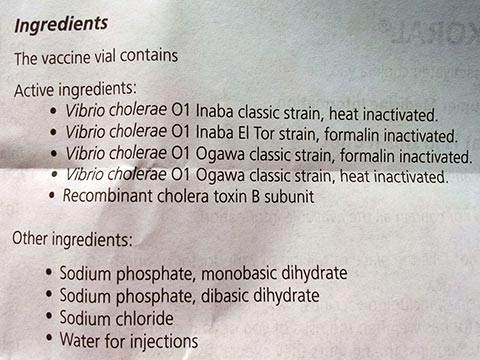 After our cholera, and still being alive, I continued on to Umart, where I got my two 32GB micro SD cards (at $23 dollars each, it's amazing how cheap they are now). I had planned to use them to back up my photos and store them safely in my money belt, but according to the packet they're waterproof, shock proof, magnet proof, x-ray proof, and survive insane temperatures—so I'm thinking I may be better off just swallowing them. I also got given a "Lexar Professional 400x SDHC Card", which I almost accepted, but after careful investigation realised it was not a "Lexar Professional 400x CF Card". Unfortunately, Umart don't have them, having instead been given SD cards. I was going to throw a tantrum, but I had no grenades and instead drove to town to visit the Indian Visa place.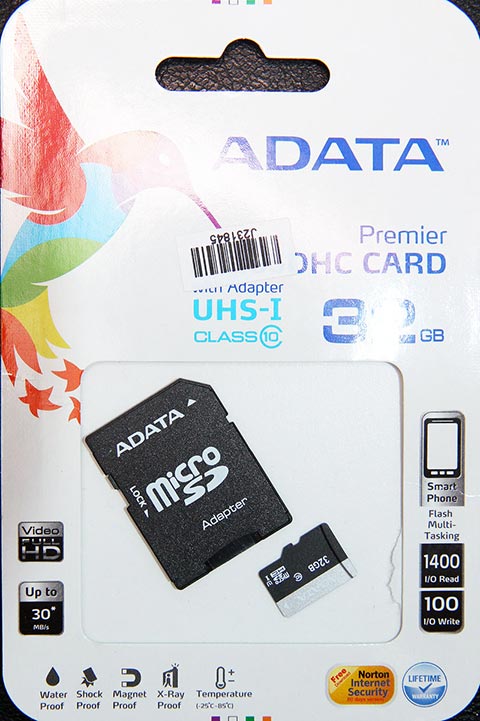 The Indian Visa place was quite busy—there were fifteen other people there, all but one of which were Indian, unsurprisingly I suppose. After waiting a while I was told that the courier hadn't arrived, so our passports weren't back, but perhaps they'd be here tomorrow. No one was able to tell me for sure that our visas had been granted, so it's still a risk to book our tickets.
I continued on to the city, where I couldn't pay for parking because the parking meter was broken. It didn't accept numbers. Letters worked, but not numbers. Some kind of strange number phobia on its behalf I assume.  I called council to complain, and because I couldn't see any other parking meters and didn't want a fine, however lodging a "your parking meter is broken and it's not my fault" takes a very long time, needs heaps of details, and apparently will not stop me being issued a parking infringement should I park without paying. Then, just to be annoying, after another guy had spent a good few minutes pressing lots of buttons and complaining, the machine began to work again.
This sort of sums up my day really, but not yet realising that it was a terrible day, I made my way to Citibank to complain about my most recently opened account not being opened. I should point out at this stage that there is something wrong with me which prevents me from being able to open bank accounts, which normal people can easily open. For example, one day Bronwen and I both opened identical accounts online (I think we got $50 for doing so, or something like that). Hers was opened immediately. Mine asked me to enter my first form of ID, then when going to the next page to enter the second form of ID, rejected me. I assume I'm on some kind of terrorist funding blacklist or something—national security alert reject bank account, code red, repeat reject bank account. I have failed to be able to open about five bank accounts in the past few years, most of which Bronwen managed to open without any problems. In fact, the only account I managed to open to the point of being able to use it, was one which didn't have an online identity verification step at all and required me to go to the post office and pose for the ladies there. 
However, it's not just the identification that fails. For example, I tried to open a Citibank account not that long ago (having already had several Citibank accounts for several years in the past), and everything worked right up to the point where I never received my access code in the mail. Citibank is the most paranoid bank I've ever come across—to open an account, they send a letter explaining how to open it and containing magic numbers that you need, then they send a separate code in another letter, and then another separate code again in another letter to active the other code. I got the first of these letters—and not the second two. After waiting for ages and finally getting sick of the monthly statements they sent me, showing me how my account which I couldn't access was going, I phoned them and confirmed that they did have my correct address details, that the account was open and happy, but that to access it I'd need all three letters again—which the kind gentleman said he'd resend. Of course, I never got them, and after phoning some months later to complain and having someone say they'd send them specially, express post and everything at no extra cost, and of course me still not getting them, I gave up.
So anyway, the other day I went online and went through all the steps a normal person would go through to open a Citibank Plus account, because apparently they're the one you should have when you're going overseas. The application appeared to work quite well, and I was even slightly hopeful for a while, but after a few days I heeded the part of the application process which said "if you haven't received a welcome email in 48 hours, you're screwed. Try moving to another country and changing your name", and as I did ideally want the account and its cards to be with me before I left the country, I went in to Citibank to see if there was anything they could do. To my amazement, they said there was, and that it was possible—though not guaranteed—that I might still get the cards in time. All I had to do was show him my licence and medicare card, fill out this piece of paper, and sign it! And then throw it out and do it again because he didn't like my signature, because when I got my licence I had to sign it with a large metal stylus about eight times larger than a pen, which was tied so tightly with a tangled wire chain that I couldn't hold it straight, resulting in the "signature" on my licence being totally weird (after six attempts to sign it using the stylus I gave up and just accepted whatever the seventh one happened to be)—though Bronwen thinks it looks like they might have printed two separate signatures on my card by accident, one of which looks a bit like mine, and then another one which is quite a long way (physically that is—it's separated from mine by a big space) from mine, and quite a lot higher up on the licence, and looks a bit like a picture of some birds flying. Then, call Bronwen and get her to ride all the way in from work so she could do the same thing. After this I gobbled down a Pie Face Tandoori Vegetable Pie, and rushed back to my car which was now overdue in its broken parking space. Oh, and Bronwen ripped her work trousers riding her bike there to sign the silly card. So there you go, with extreme amounts of effort, apparently even I can open a bank account.
Considering it was now nearly three o'clock, which was when the visa place shut, I rushed back there to see if the courier had arrived, but of course it had not. I phoned Umart to find out if they'd found my compact flash card yet, but they also had not. I then got a call from the guy at Citibank, to say my signature had been rejected. Apparently the bird I drew didn't look like the bird on my licence. I should have known one pair of ripped trousers wasn't enough to satiate the gods of banking for whatever sin I've committed against them. He kindly emailed me the appropriate paperwork and I rushed to Bronwen's work, where she printed the signature form out three times, and I practised drawing birds on the back of my Umart receipt with very little luck, signed all three forms, then drew my best interpretation of my security bird beside my signature, and rushed back into town again. No longer caring for this life and its constant hardship, I parked in a 2 minute loading zone ten minutes before it became a clearway, and rushed to Citibank. Naturally, they were now incredibly busy—full of attractive backpackers for some reason, probably because they're the bank to use when overseas, but nearly impossible to actually get to work—but in an unexpected and quite frankly surprising stroke of luck, the guy who had helped me out earlier made an exception for me and bypassed the queue and took all three of my signatures and went upstairs to see the gods of banking and came down a while later to say that "it had been done". I'm uncertain exactly what that means, but it seemed quite final, so I left.
You will be surprised to find that I did not get a parking ticket, and I got back to my car just before it became a clearway, so it was not towed.
After that, I drove home and cried into my teddy bear.
Night
Did I mention my left arm is really sore? If not, I have now. Between complaining about my left arm, I managed to drive (using only my right arm, of course) to Bronwen's work, where Bronwen and her equally sore left arm were, and from there to Sing's Asian Kitchen—where, with great difficulty and much pain, I managed to pour both of us glasses of refreshing chilled water while we waited for our Thai red curry.
After this, I dropped Bronwen off at her work for a little bit, and after she'd magicked up whatever it is she magics at work, we drove home and looked at flights to India, using our remaining right arms.
Wednesday 12th February
Flights booked to India
Morning
Bronwen rode to work today, so I snuck a little sleep-in while no one was watching. I then got up and looked at flights to India (which is a painful thing to do, all the sites take a long time to load and don't remember the settings when you go to change something, and I'm looking for multi-step flights, and small changes make big differences, and it's annoying) before driving into the Indian Visa place again to get Bronwen and my visas—which were there this time! We are approved for travel to India!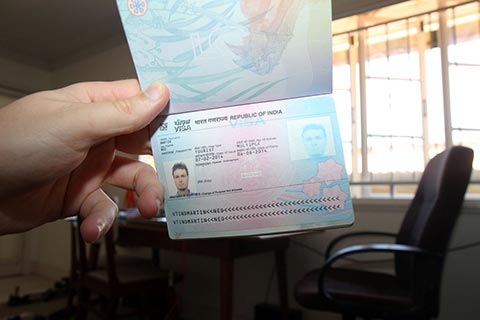 After getting our visas I drove to Francy's Patisserie where Bronwen and I bought veggie pasties and ate them in the nearby park while discussing flight options.
Afternoon
I spent the afternoon at home, scanning a few things, making a list of things I need to do or get before going to India, eating an ice cream, and so on. Bronwen chatted to people at her work and booked flights. We'll be flying out of Brisbane at 10:15 AM on Tuesday the 18th and arriving in Singapore at 4:15 PM, then flying out of Singapore at 8:10 PM, arriving in Chennai (Madras) at 10:10 PM.
We leave India via Delhi, leaving on Sunday 20th April late at night and arriving in Singapore early Monday morning, where we have a day to look around, leaving Singapore again Monday evening and arriving back in Brisbane early Tuesday morning, on the 22nd April.
This also means we have a rough plan of where we will try to go. The (very rough) plan is to fly into Chennai, make our way south down the East Coast until we hit the bottom, then north up the West Coast with a detour or two inland to see interesting things until we hit Mumbai (Bombay) and then fly from there to Kolkata (Calcutta). Then, from Kolkata, make our way to Delhi, seeing as many things as we can on the way, with a detour at some point out into Rajasthan and the desert country, and a journey up north into the mountain country, then back to Delhi and our flight to Singapore, where we have a day to look around, and then fly home to Brisbane, and, I worry, rampant unemployment.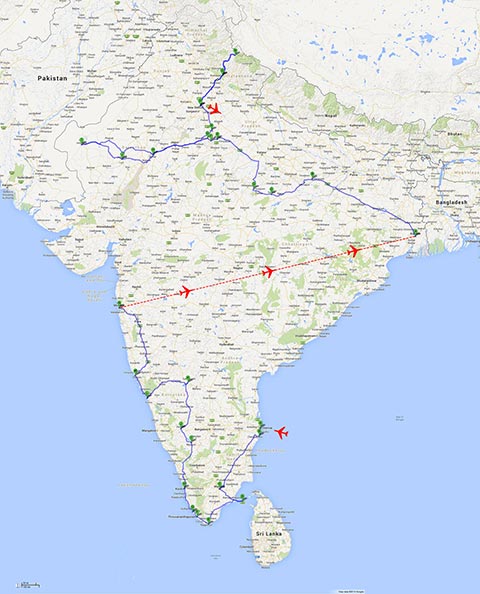 Night
Bronwen and I had leftover curry for dinner, and managed to not have a late night for a change.
Thursday 13th February
Shopping
Day
I went and picked up the rest of our Doxycycline, as well as a small mirror for making sure I look pretty while overseas, and an amazing, Australian-made, $1.69 hairbrush—with Australian-made innovation like that, who needs an automobile manufacturing industry? Then I drove into town and met Bronwen at Rosalie and had burgers at Grill'd for lunch.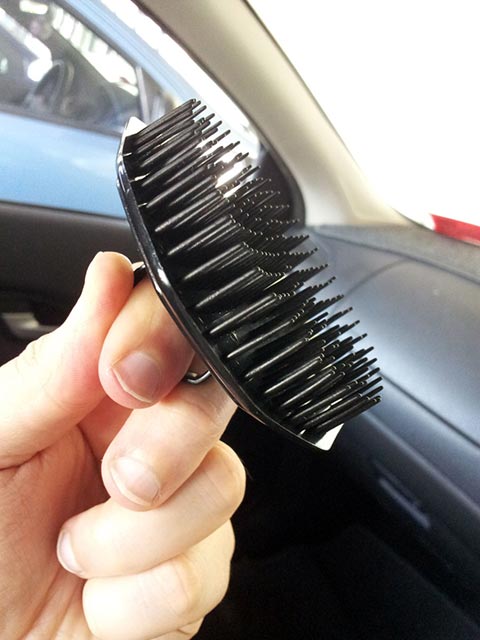 Afternoon
After lunch I drove to Umart where I collected a new 16GB Lexar 600x Compact Flash card for my camera, and a WD 3TB Green hard drive to offsite my backups, and then continued on to Indooroopilly.
Indooroopilly Shopping Centre has changed. I parked where it used to be a good place to park to go to Kmart, and quickly found that I had actually parked as far away from Kmart as possible. Everything looks new and shiny and much more fashionable, but it's nearly impossible to get anywhere (especially with the escalator I needed to use being broken) and there seems to be far fewer shops now—the shoe shop I was looking for has gone, and so has the milkshake place. I bought some thongs and a pair of pants from Kmart, and a drink from the eatery, which somehow took all afternoon.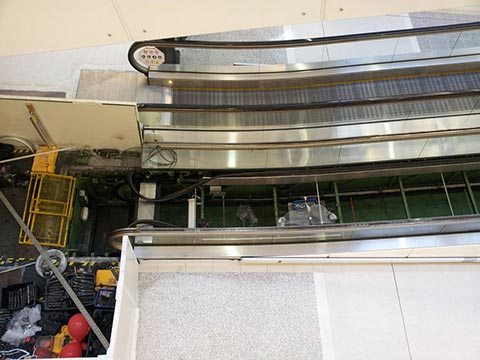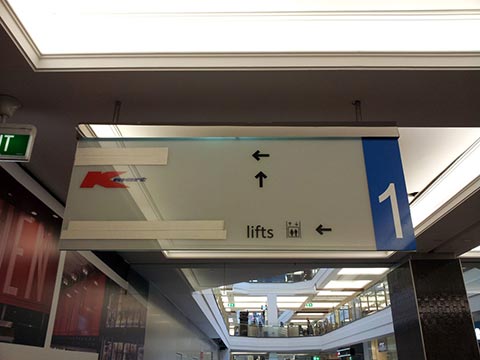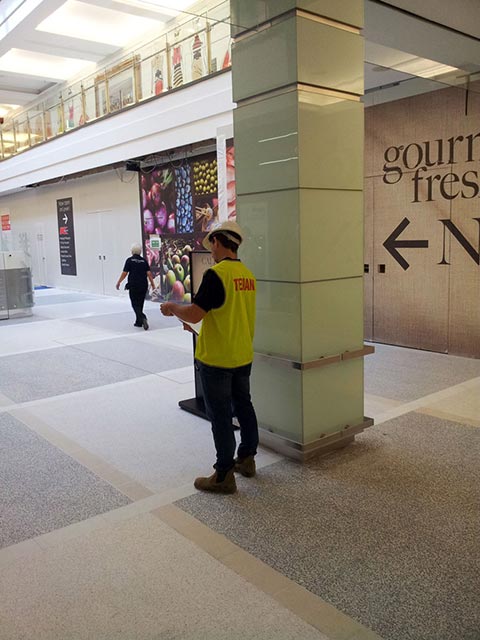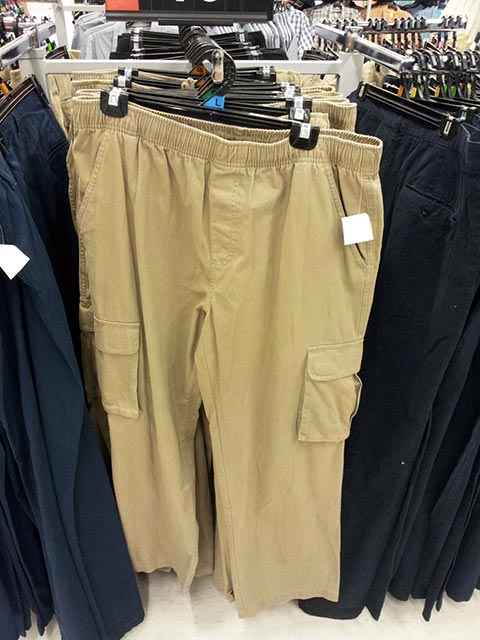 Evening
After the Indooroopilly debacle I drove back to Bronwen's work and then back home with her, and we quickly went through the list of things I've made to take to India and noted which ones we didn't have, and then drove to Garden City to buy them. I got an international driver's licence from the RACQ there (which I don't think I'll need, and which cost $39), we both bought some new Dunlop Volleys, as well as a few random bits and pieces (I got some rechargeable AA batteries for my flash, a toothbrush cover and a new toothbrush, etc.)
After this, we drove home, had a quick dinner, and went to bed.
Friday 14th February
Valentine's Day
Day
I spent the day at home. I wrote some journal entries, set up the new hard drive to run as a backup in readiness to off-site it, and sorted out a few other things.
Night
I drove into the city and met Bronwen. We went shopping for things, buying some tiny padlocks (two for $4) before getting two tandoori vegetable pies for dinner from Pie Face, followed by a ridiculously sweet (but very romantic, it being Valentine's Day) butterscotch dessert pie. It is worth noting that our pies cost well over double what our padlocks cost.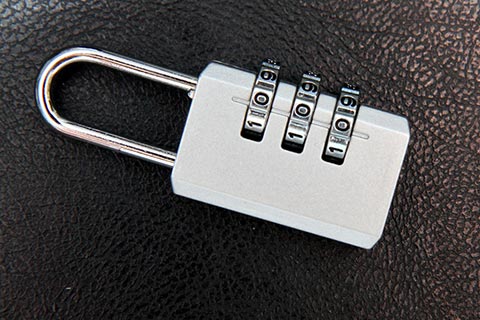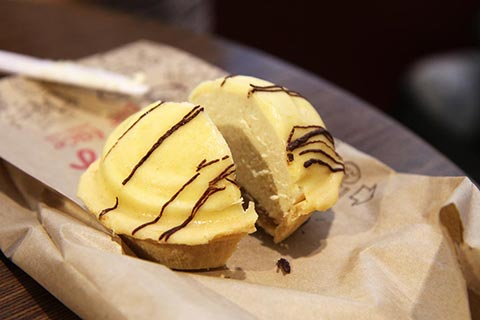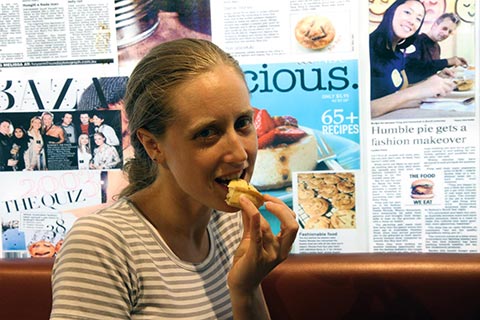 Saturday 15th February
Pre-packing for India
Morning
Bronwen and I started to prepare for going to India—we put our clothes and things we were going to take into the backpack to see how it fit, decided not to take any sleeping bags, and generally made a big mess.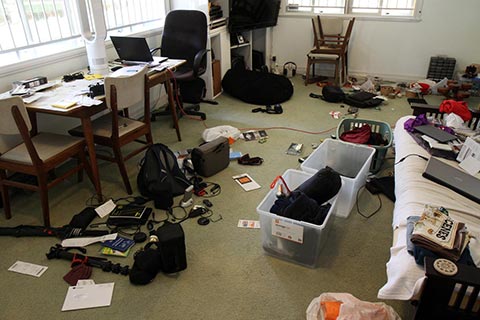 Afternoon
We drove to Bunnings, where we bought a padlock, then drove back home to ponder, and then to a different, slightly further away Bunnings—arriving ten minutes before it closed—where we bought two metres of wire cable and two swages to join it, and the kind men at Bunnings opened one of their swagging tools and made us a backpack security cable—all for eight dollars or so, and much lighter than a chain.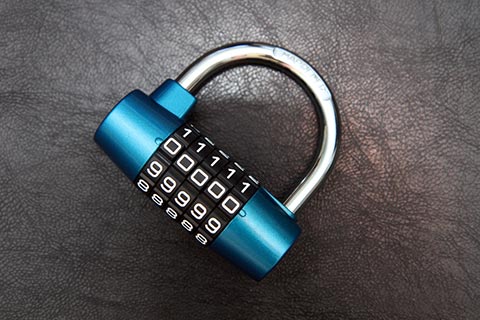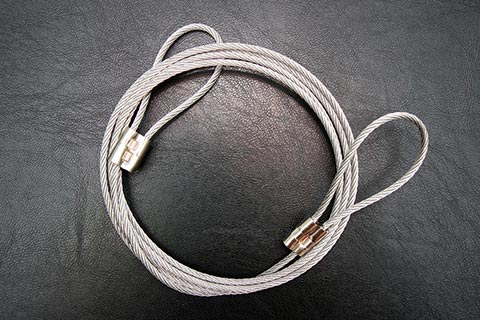 Night
Bronwen and I had a quiet night at home, eating home-cooked pasta for dinner, and trying to relax. It didn't work very well, and I ended up staying up writing my journal as I couldn't sleep.
Sunday 16th February
Packing for India
Day
After not getting much sleep last night, I woke tired. Bronwen mowed the lawn and I took photos of things, including next door's new baby snake, which wasn't hungry and refused to eat a small furry mouse—only its second, having only just graduated from pink non-furry mice. Then we drove to Toowong Sizzler for a large lunch, and to use up our remaining two Sizzler vouchers (as they'll have expired by the time we get back from India).
Night
After Sizzler we drove to Bronwen's parents' place, and from there to home, where we started to pack our bags for India—trying to, for the first time in my life, do something not at the last minute.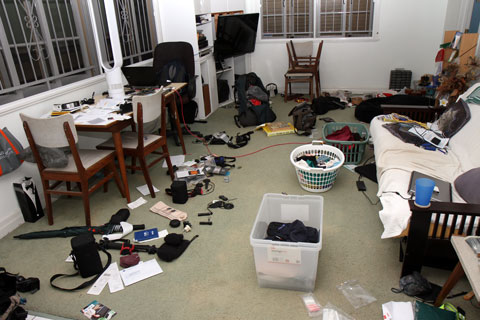 I even made a highly comprehensive list, and weighed the bags and everything (though my bathroom scales don't actually trigger with the bag weights, so I had to weigh Bronwen, then weigh Bronwen with a bag, and subtract the two, so weights may be inaccurate depending on the speed of Bronwen's digestion.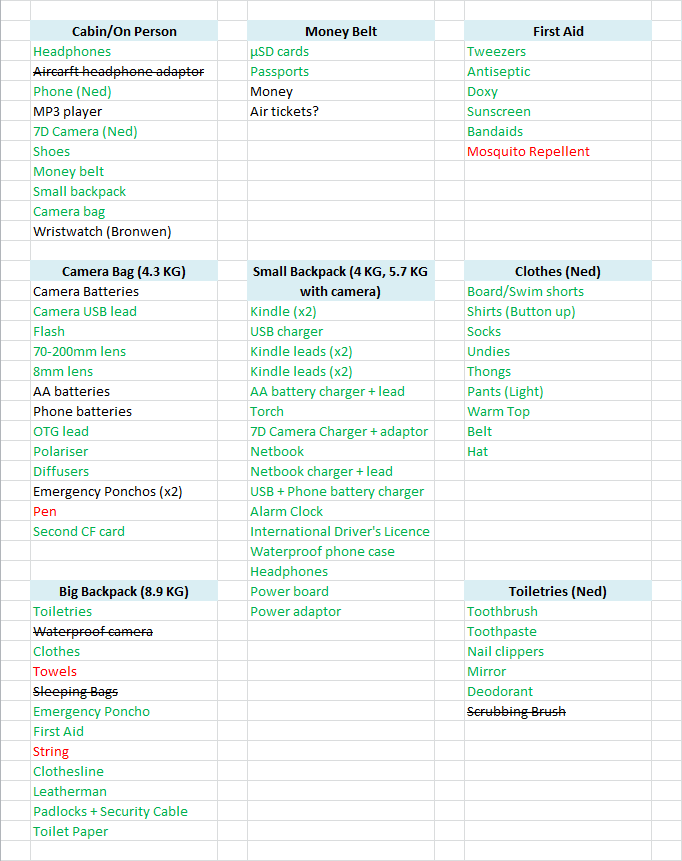 We are taking one large backpack, one small daypack, my camera bag, and money belts. The idea is that the large pack will have non-valuables in it (such as clothes), while the day pack will have things which we don't want to lose in it, like my camera charger and the netbook (while not that expensive, it would be inconvenient to lose, and I'd not be able to take photos until I could get another one), and will be kept on us at all times. I'm planning to copy all my photos off my camera onto the netbook, and then onto a microSD card. That way I'll have a copy of the photos on the netbook in my bag, and another copy on a microSD card which I'll keep in my money belt, and hopefully between the two of them, I'll get at least one complete copy once I get home. Similarly, I'll have one keycard in my money belt, and another in the big worthless bag—the logic being that while the big bag is perhaps more likely to be stolen as it probably won't be with us at all times, it's less likely that we'll have the big bag and our money belts stolen at the same time. It's all a bit paranoid perhaps, and hopefully nothing goes wrong and we don't get robbed or lose anything.
The Large Bag
The large bag weighed 8.9 kilos. It contains all our clothes, toiletries, first aid, a tiny elastic clothesline, our padlock and wire security cable, an emergency poncho, some toilet paper, and a mini leatherman.
I'm taking a light warm top, three shirts and two pairs of pants, and a pair of light board shorts, a cloth belt, and a hat along with a quartet of underwear and socks. I'm also taking a pair of Dunlop Volleys, and a brand new pair of thongs (which are also in the large bag, though the shoes I'll be wearing most of the time I imagine.)
Our first aid is pretty simple. We're taking a pair of tweezers (I've had a splinter before and not had tweezers—it's remarkably unpleasant. After far too long using split sticks and failing to remove it, I had to give up and walk on it, painfully. A pair of tweezers is very small and light and worthwhile), a small tube of betadine, our doxycycline for fighting off malaria and vampires, some sunscreen, a handful of bandaids—and if I remember to buy some tomorrow, some mosquito repellent.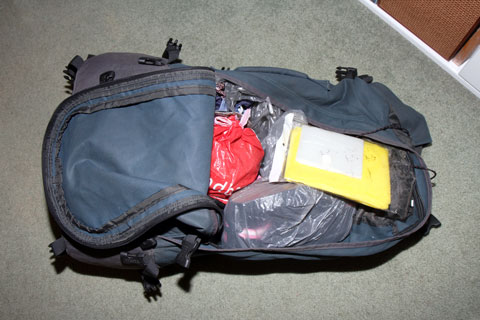 The Small Backpack
The small backpack weighed 4 kilos or 5.7 kilos when the camera was put in it. It contains a 4-way Australian power board and an EU-style adaptor, two kindles, a USB charger, a USB and phone battery combined charger, two kindle leads, a high-speed AA battery charger, a torch, my camera charger, the netbook and its charger, a small travel alarm clock, my international driver's licence, and my waterproof phone case (which I suppose I'll put on my phone). I'll probably put my phone in there too—I wasn't planning on taking a phone and didn't to Europe or Africa, but people have suggested I should, so I will. I'm unsure if it'll ever end up with a SIM card in it or be used. I'm also taking a small set of earphones, but not an MP3 player—I'll perhaps be able to use my phone, depending on how often we can charge things. Bronwen is taking a small MP3 player.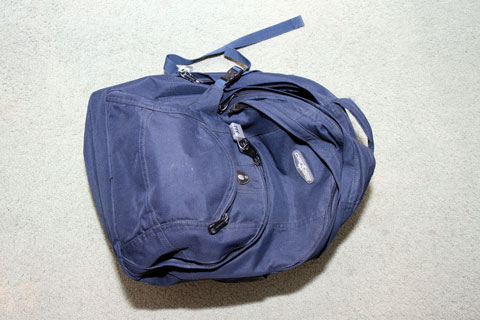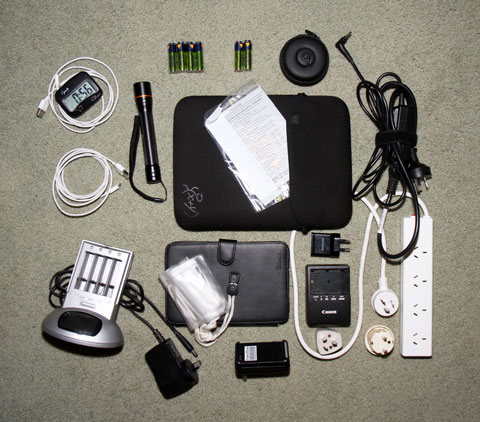 The Camera Bag
The camera bag weighed 4.3 kilograms. It contains a large and heavy 70-200mm lens, a much smaller 8-16mm lens, a flash, a couple of diffusers, two emergency ponchos, some camera batteries and some phone batteries, the camera's USB lead, some AA batteries for the flash, an OTG lead, my second CF card, a tiny notebook missing most of its pages, and if I remember to pop one in, a pen.
Not in the camera bag is the camera itself, and its 17-55mm lens.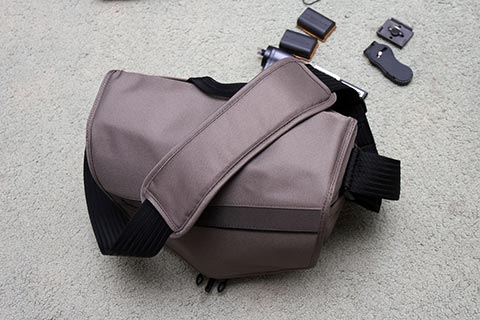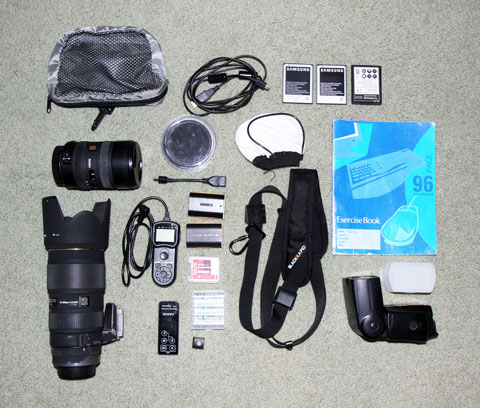 The Money Belt
My money belt contains my passport, two 32GB microSD cards, and will hopefully contain many rupees once we get to India.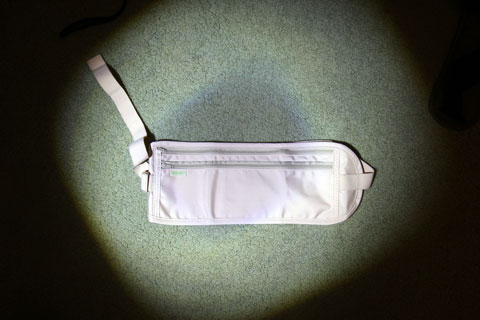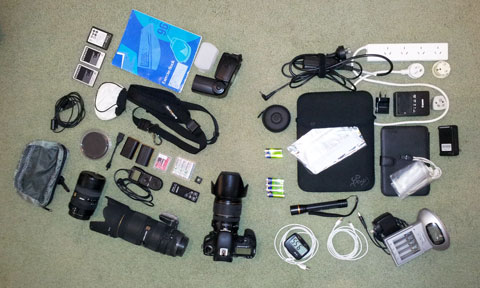 Midnight
It got to midnight, so we went to bed. Or more accurately, Bronwen went to bed and I said I'd only be a minute, and now it is one o'clock and I am going to bed.
Monday 17th February
Citibank
Morning
I got up, a little sleepy. Bronwen rode to work. I rushed to finish off some last minute things, then drove into town, picking Bronwen up at her work, and going to Citibank to activate her card, set up its PIN, and get access to netbanking. We also took the first of our doxy tablets, after having a pie from pie face for lunch. I then drove home—via a shop in Paddington for Bronwen to exchange something.
Afternoon
Not long after I'd got home the postman arrived with my Citibank card. Confusingly, Bronwen got a new Citibank VISA debit card, while I got a letter explaining that my card is a replacement card, and it's a plain debit card—not a VISA debit card. I again rushed into town, via a servo to get car-food, and again went to Citibank, and set up my card and access. The steps to set up this Citibank account have been:
Apply online
Wait for the online application to fail
Go to Citibank in the city and fill out paperwork
Get your partner to come in and fill out paperwork as well
Go back to Citibank and fill in paperwork again after they reject your signature on the first lot
Get your partner to come in and do the same
Wait for a card to arrive in the mail
Go back to Citibank in the city and activate the card
Wait for the other card to arrive in the mail
Go back to Citibank in the city and activate that card
Download the Android app and set up offline OTP as any access to the account requires a working phone number to receive SMS.
Night
I drove over to Maz's to drop off my offsite backup hard drive and some house keys, and packed everything, and found many other little things to do that made it a late night (the dishes… locking windows… etc.!)
Next Stop: India