The Temples of Tamil Nadu
Bronwen and I decided, at quite short notice, to travel around India for 2 months. It isn't the season tourists normally go, because it's starting to get too hot. To try to make the best of this, and also the best use of our limited time, we decided to fly into Chennai (via Singapore), and head immediately south, travelling through Tamil Nadu. Then, as it began to get even hotter, we'd head north, where it should be cooler.
There are lots of temples in Tamil Nadu.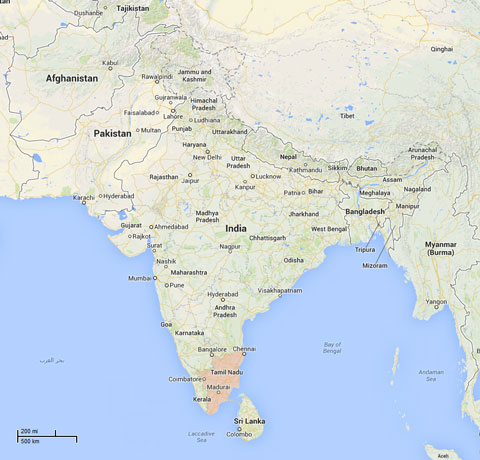 • Brisbane
• Singapore
A Chennai (Madras)
B Mamallapuram (Mahabalipuram)
C Pondicherry (Puducherry)
D Villupuram
E Tiruchirappalli (Trichy or Tiruchi)
F Madurai
G Rameswaram
H Kanyakumari (Cape Comorin)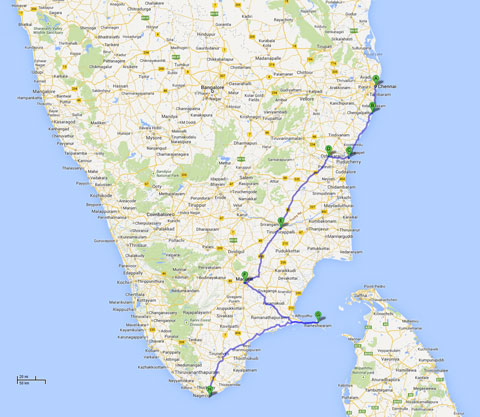 Brisbane
Tuesday 18th February 2014
5:45am
Having only gone to bed not long ago, Bronwen and I got up, rushed around doing a few last minute things like taking the SIM card out of my phone, turning off the gas, etc., then walked down to the bus stop through a light sprinkling of rain. We were, due to a combination of paranoia and past experience where everything usually takes far longer than expected, actually quite early, and had to wait half an hour for the bus.
Bronwen's Dad met us in The Valley, and drove us to the airport. We dropped our bag off at Qantas, had a coffee and a chat with Bronwen's Dad, then made our way through customs and immigration (who made Bronwen throw out her yoghurt), and onto our Qantas A330, where we sat for a while—the entertainment system had broken, which caused us half an hour or so delay. We had two seats to ourselves, and the plane was reasonably empty, so Bronwen went and lay down in an empty row of 4 seats and had a snooze. The flight was uneventful, the airline food was surprisingly good (or at least, our special order food was), and we arrived in Singapore alive.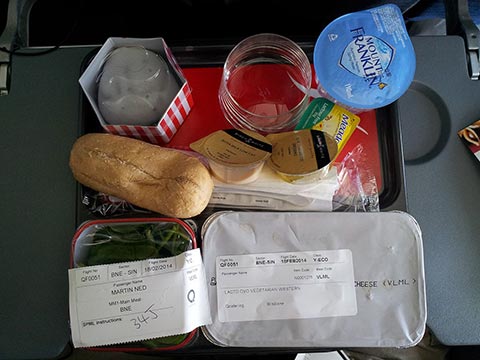 Singapore
We had three or so hours to wait in Changi Airport in Singapore, so we wandered around the terminals, had a free foot massage, and looked at all their highly impressive gardens. It's not hard to see why Changi won best airport last year.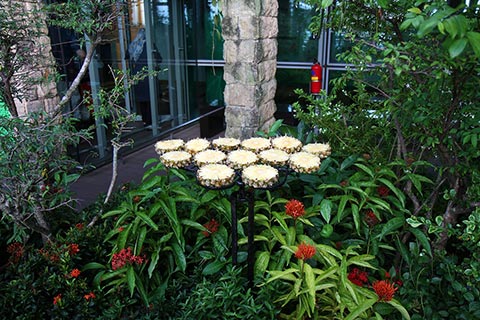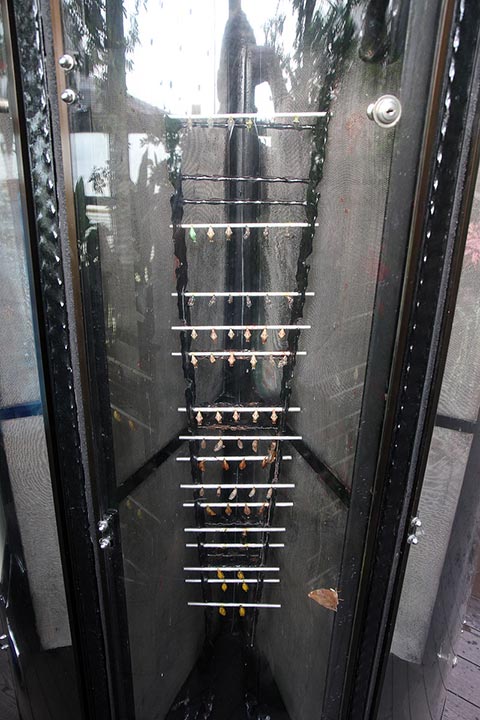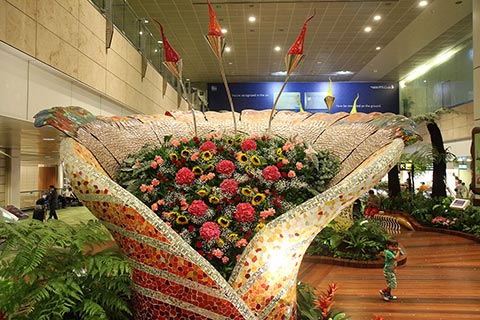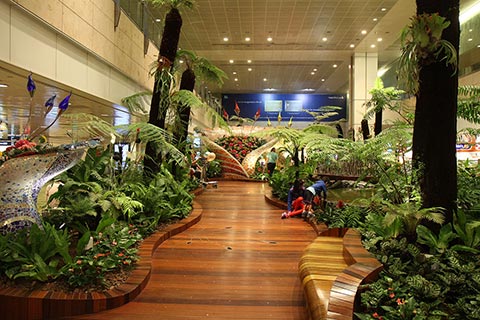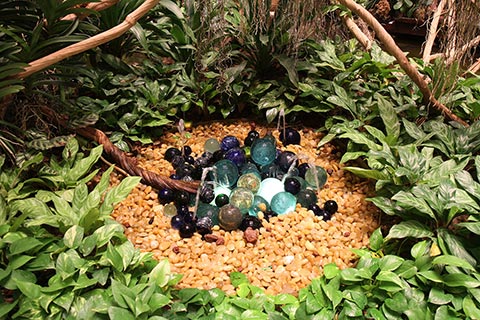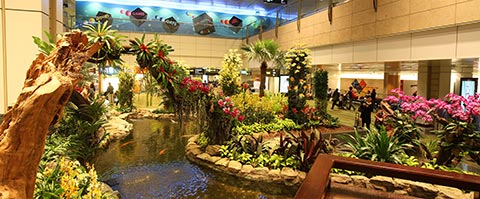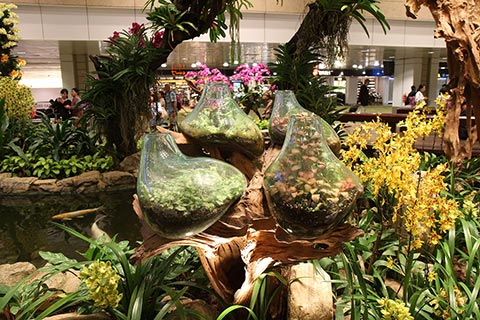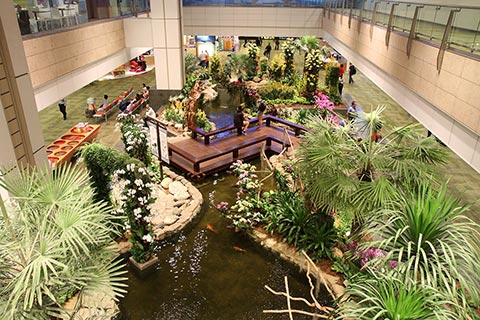 Flight to India
Our next flight, an entirely full 737 with Jet Airways, left roughly on time (I think it was fifteen minutes or so late), and was also mostly uneventful. The man in front of us, after his second whisky was brought to him without ice, got a bit annoyed. Initially the hostesses said they couldn't bring him a third, and he got more annoyed, so they did, and he then accidentally spilt it everywhere, so they had to bring him a fourth, and then they had run out of meat meals, so he got a vegetarian meal despite ordering a meat meal… and it wasn't good! However, he eventually calmed down and apologised to everyone.
Chennai (Madras), India
By the time we landed in Chennai I was quite sick of planes and very tired. Our first experience of India was getting off the plane and into a big old bus, to be transported to the terminal. Not very interesting really, but certainly not the kind of bus you'd see in Australia. We made our way through Customs and Immigration without any problems, and quite quickly, and then managed to find an ATM with Canara Bank, and withdrew ₹10,000. Then, after a bit of wandering around and asking people, we found the train station, bought a ₹10 ticket (which covered both Bronwen and I) and caught the train the ten or so stops to Chennai Egmore.
Our hotel, The Raj Residency, is right near the train station and Bronwen had pre-planned how to get there (walk from the platform to the road, from where you can see the hotel sign, as it turns out), so we didn't have any problems. I bought a 2 litre bottle of water for ₹30, and we checked into our hotel, also without any problems. We're in room 308, which seems surprisingly fancy and impressive (though this is because of my low expectations more than anything else, compared to anything in Australia, it's terrible), so hopefully it doesn't have bedbugs.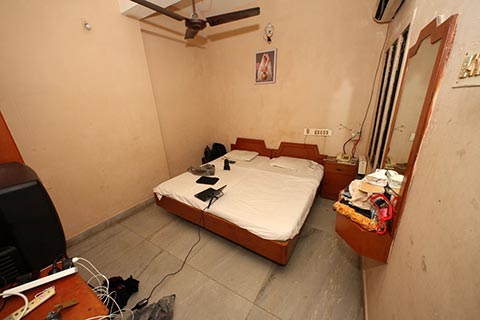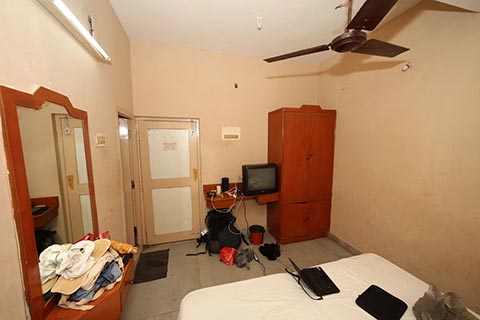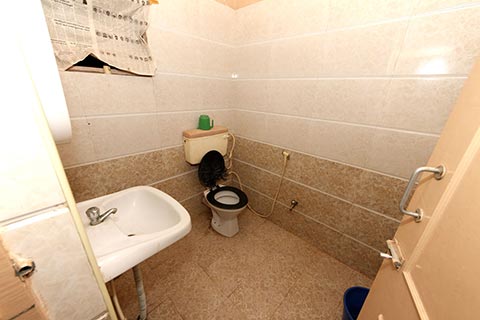 Our Kindles worked with their free 3G yet again—that's most of the world they've worked in now—so I managed to update Facebook and send Bronwen's parents a quick email letting them know we're alive, wrote this, and went to bed. We're both very tired, and it's 1 AM here, but 5:30 AM back in Brisbane.
Wednesday 19th February
It's 9:30 PM, and Bronwen and I are very tired—possibly because it's 2 AM back in the real world. We've had a busy day. We left the hotel in Chennai in the morning on a pointless search for a Citibank ATM and to have a tiny bit of a look around Chennai. I suppose we did get to have a tiny bit of a look around—including being told we couldn't follow everyone else into what turned out to be a restricted military area, and being told to leave what was apparently the first class carriage on the suburban rail, and join the masses in the second class. It's lucky they're not French, they'd be revolting. There were lots of slums and rubbish and bad smelling water.
After this we checked out of our hotel and caught the train, and then walked a little way, to the T. Nagar Bus Station. The walk was interesting—we went through what must have been a posh shopping district, but being India, there was a cow sleeping in the middle of the road, and the road had random holes and piles of mud in it, but then there were fancy, expensive, and very clean shops on the sides. We waited a while at the bus station for the bus to Mamallapuram (a friendly Indian man kindly pointed it out to us), and caught that to Mamallapuram. It cost us ₹29 each, and took around two hours—perhaps a bit less.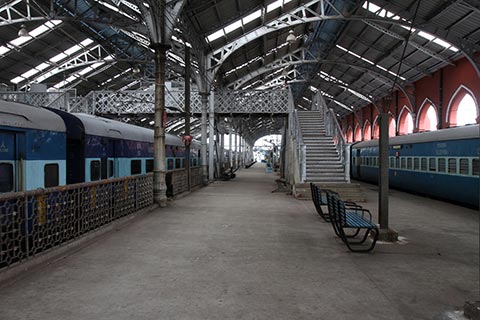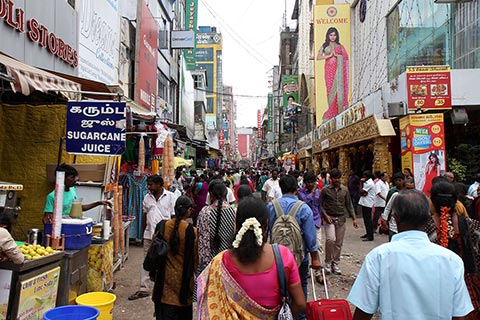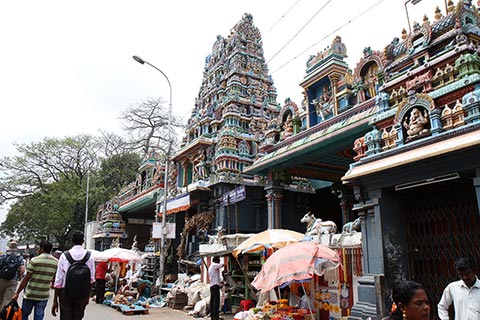 Mamallapuram (Mahabalipuram)
We arrived in Mamallapuram having had a pleasant and uneventful bus journey and with our ears only slightly sore from all the horns beeping, and the incredibly loud whistle of the bus conductor. We saw a surprising amount of quite large skyscrapers, seemingly off on their own in the middle of nowhere, on what I assume was the outskirts of Chennai. It seemed strange.
We got a ₹600 room at the Tina Blue View Lodge and spent the afternoon walking around the temples (or rock carvings, I'm not really sure how to tell the difference in this case) and along the beach. It was quite hot. They have carved nearly everything here.
And now, it's time for sleep.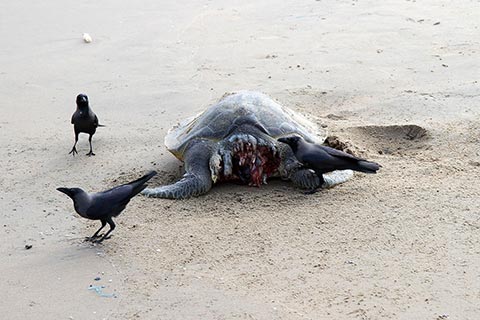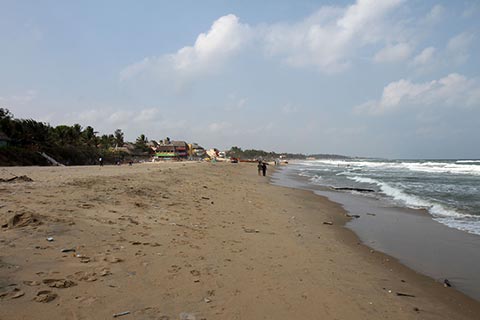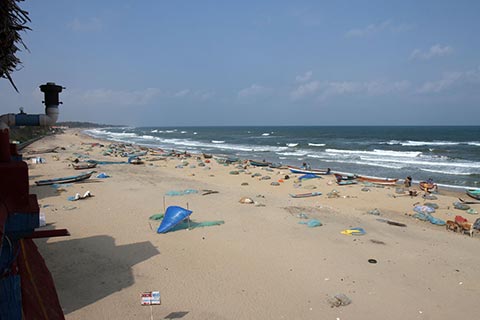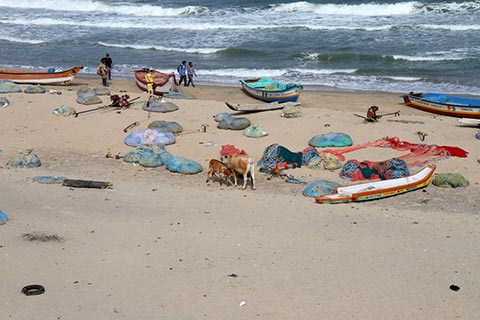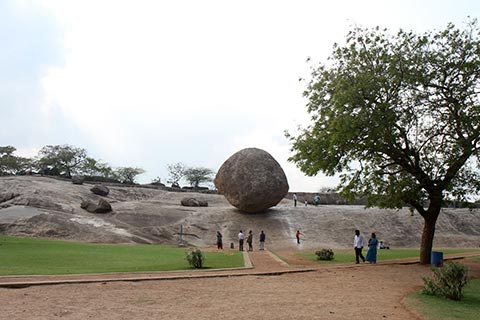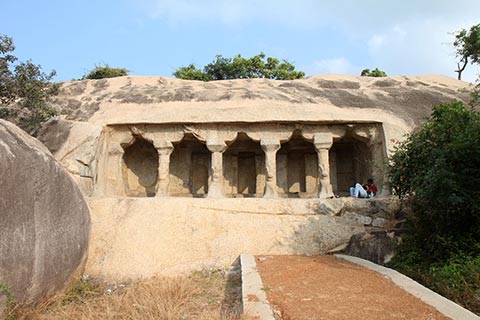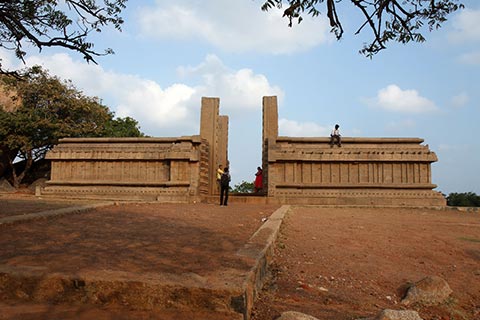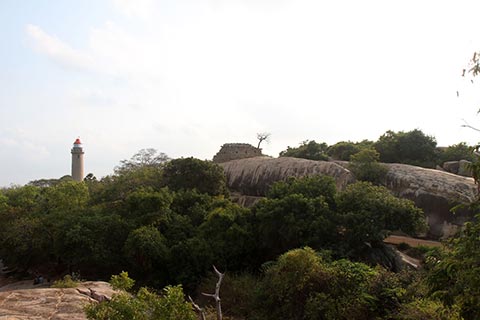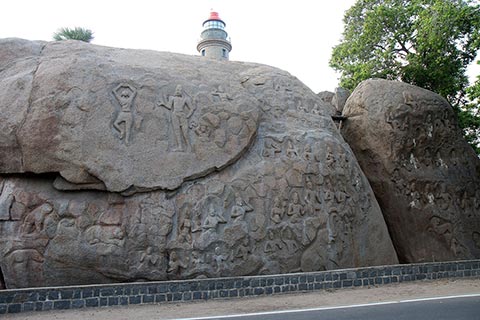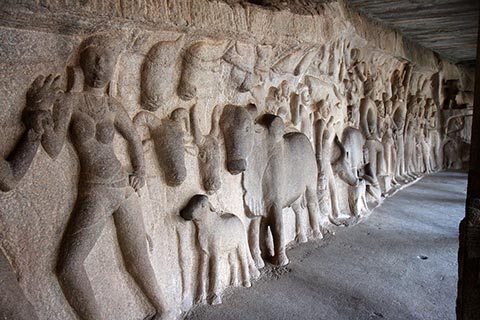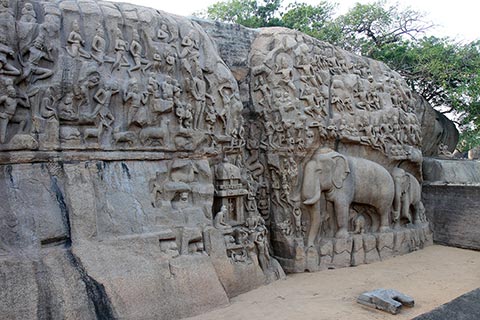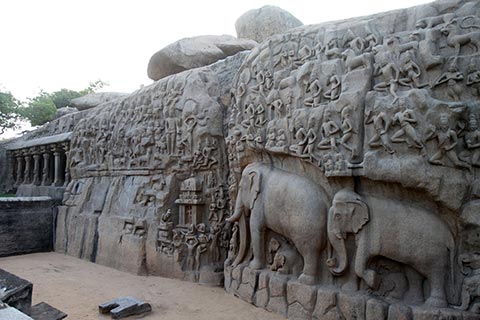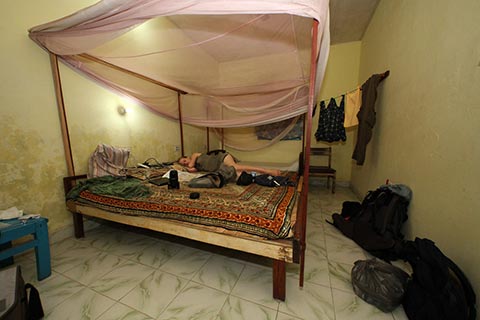 Thursday 20th February
Morning
I awoke to find that the power was off, then shortly after my alarm, which was set for half past seven, went off. We got up shortly later, and walked to the bus station where we remembered that the bus to Pondicherry left from where the main road branched off to get to Mamallapuram, so we walked there. A rather crowded bus arrived shortly after—it was probably a bit before 8:30—and we got on. It cost us ₹60 each and took around two hours.
Pondicherry (Puducherry)
We arrived at Pondicherry and, even though Lonely Planet explicitly states this will happen so we knew it would, none of the auto rickshaw drivers would take us to the French Quarter using their meters, so we had to fight them, eventually getting a rip-off ₹50 fare. We walked along the foreshore, had a look at a park and a temple and a Catholic church and went to a Citibank ATM (ironically, after spending some effort trying to find one in Chennai, this one was clearly marked on the Lonely Planet map, and coincidentally nearby), and then to our surprise found a Subway shop, so we had a footlong veggie something-or-other, which was quite delicious.
After our Subway we caught another rickshaw (this time we found one with a meter, though just as we were hopping in another rickshaw driver ran up and told us not to, and tried very hard to get us to hop into a rickshaw without a meter) back to the bus station. Despite the meter saying the fare was the expected ₹20, the driver insisted on more, so we gave him 30 and left him to protest about it.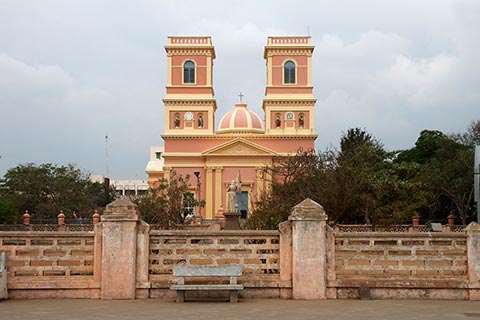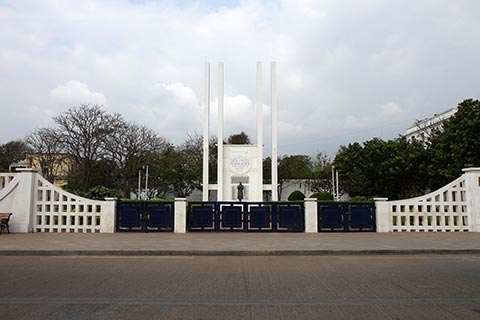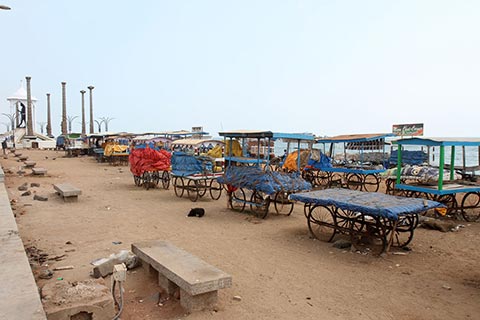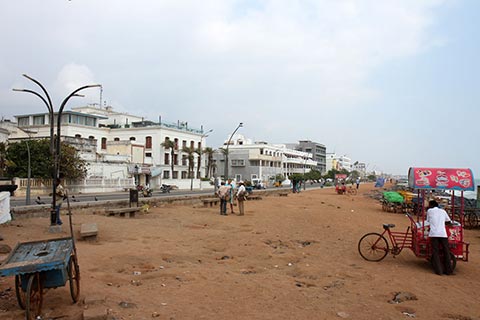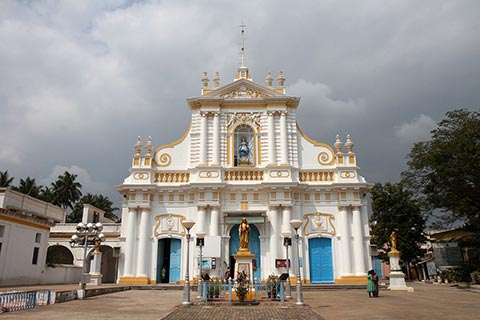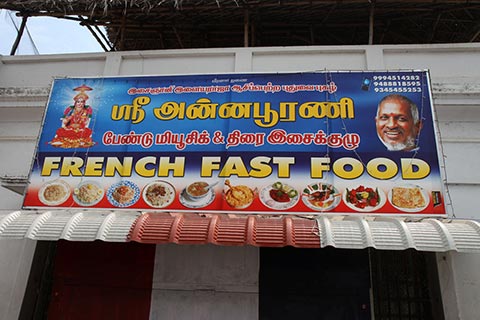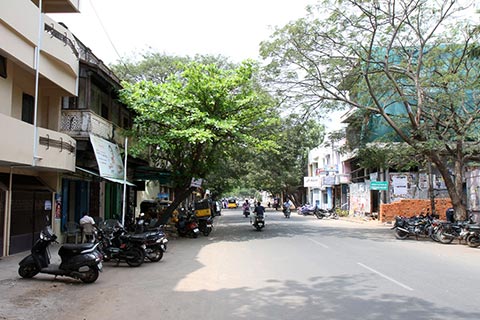 Villupuram
Around 12:20 we got on a bus to Villupuram, which cost us ₹18 each. The journey wasn't long, and we arrived in Villupuram around an hour later. Fortunately for us, we had just enough time to buy water, before hopping on a "Super Deluxe" bus to Trichy, which cost us ₹101 each, and left at 13:53, arriving in Trichy three hours later, at five o'clock. The journey was quite comfortable, due to the push-back seats and the lack of an insanely loud horn, which had nearly deafened us on the previous bus.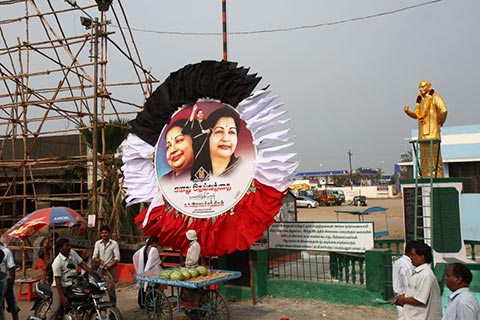 Tiruchirappalli (Trichy or Tiruchi)
We hopped off the bus at the main bus station in Tiruchirappalli and made our way to the nearby railway station to see if there was a night train to Rameswaram, which there is, but it's booked out for tonight. We then walked to some nearby hotels, and after finding the first two full, we accepted the third in case everything else was full. We have a double room right near the train and bus stations, which is costing us ₹500.
After leaving our bags in our room, we caught bus number one to the fort area, though it was too dark and late to bother looking at the fort by the time we got there. We did, however, wander around the bazaar there, which Bronwen liked as it's her most Indian experience of India so far. We even bought a scrubbing brush and some bhuja.
We caught bus one back to our hotel again, and had a delicious dinner at a nearby Indian restaurant—Bronwen had a mushroom biryani, and I had a vegetable one. Then, quite tired, we walked back to our room, Bronwen did some washing, we had a look into what to do tomorrow, and then went to bed.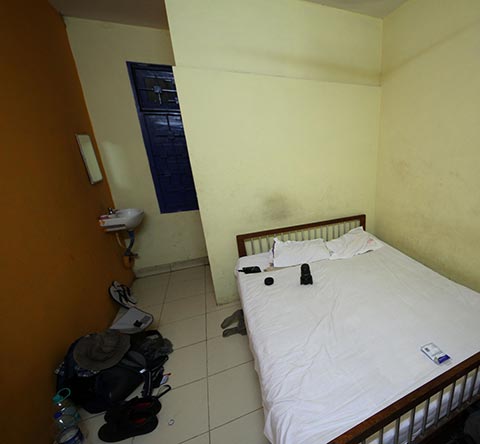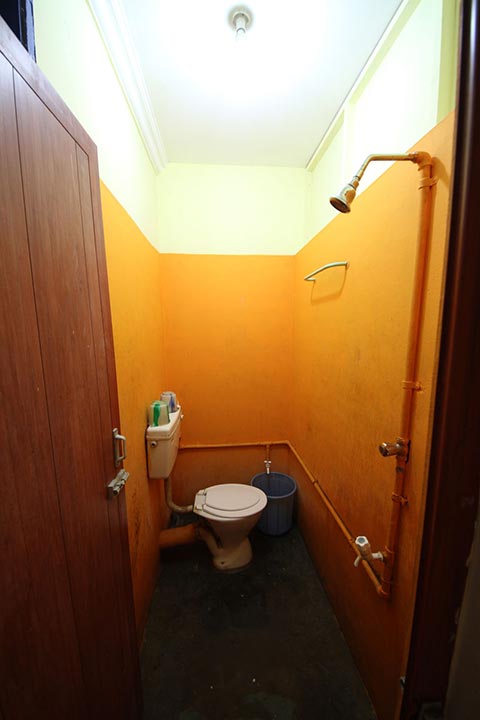 Friday 21st February
Morning in Trichy
We spent the morning wandering around the Rock Fort, and climbing the many stairs to the top of it. It is the most impressive thing we've seen in India so far.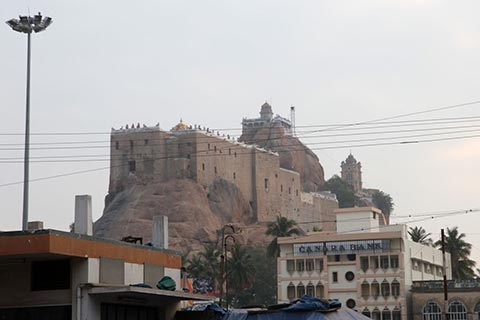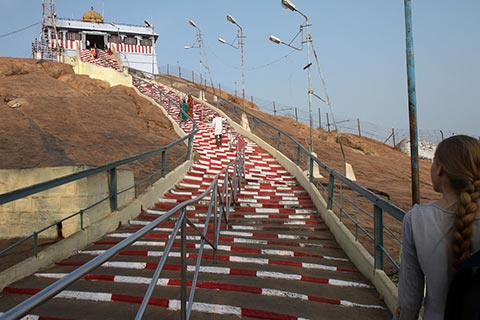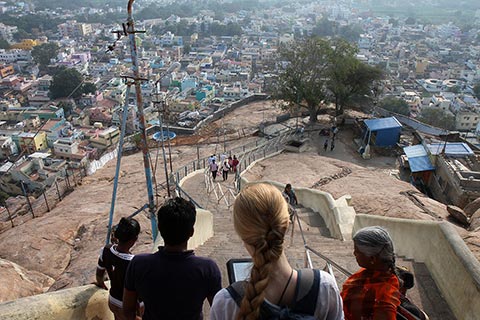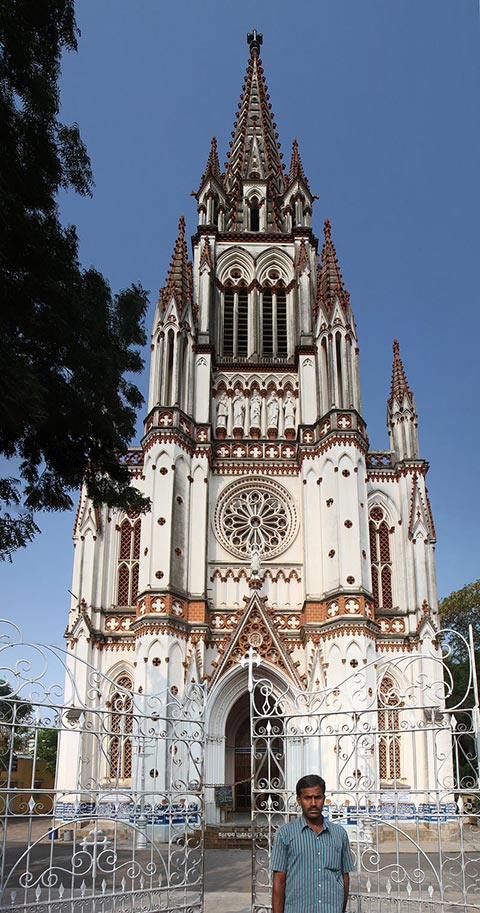 After the fort, we caught a bus to the Dravidian-style Sri Ranganathaswamy Temple (the largest functioning Hindu temple in the world), which immediately overtook the Rock Fort as the most impressive temple—and thing—we've seen since we've been here. We paid ₹10 to get on the roof (plus some extra fee for my camera), then wandered around the large temple complex for a while, looking.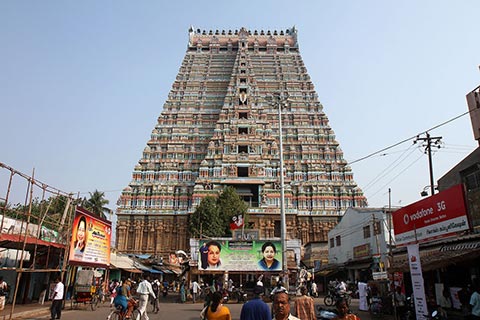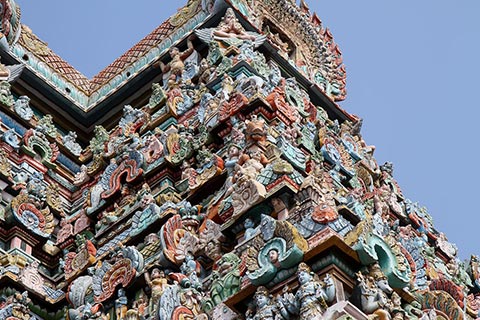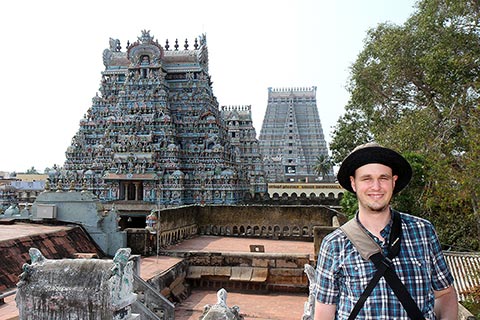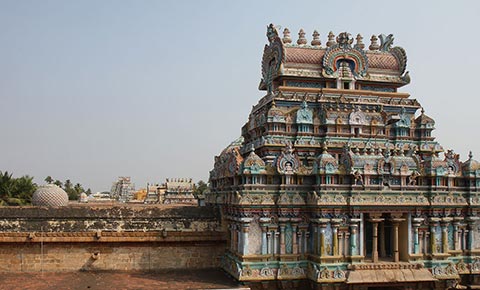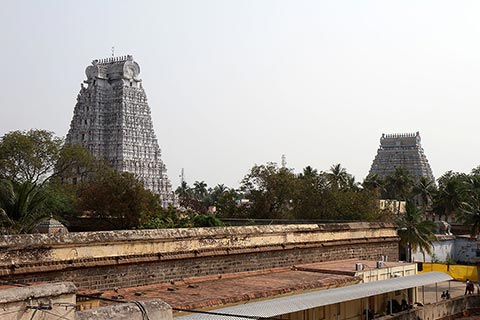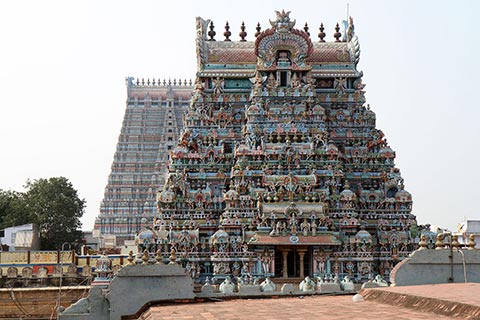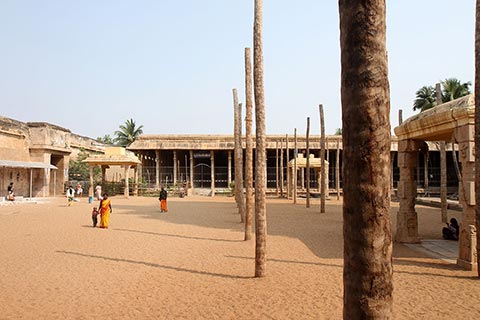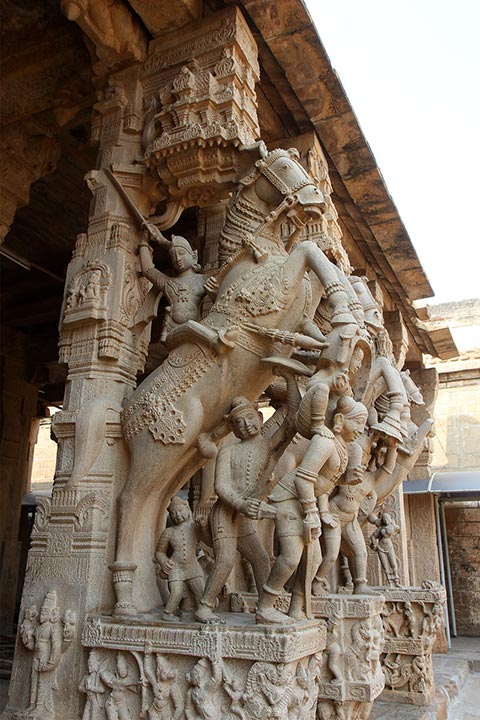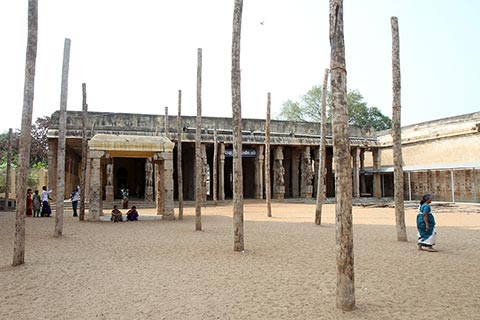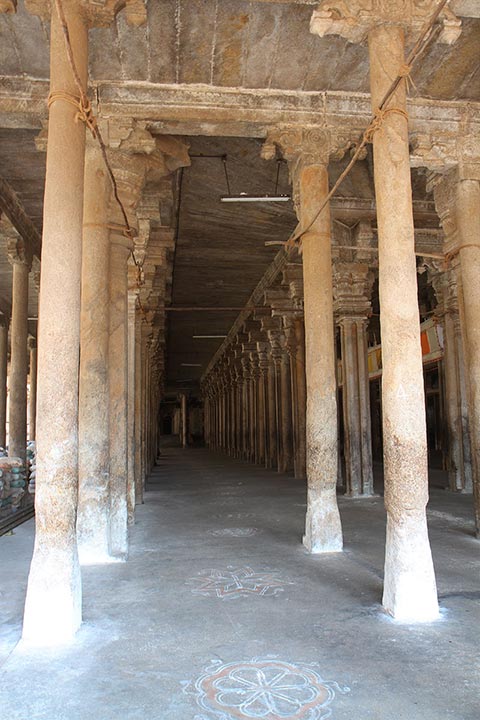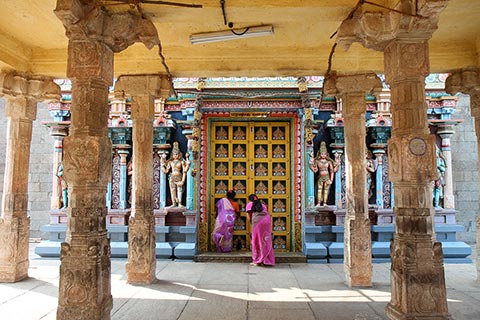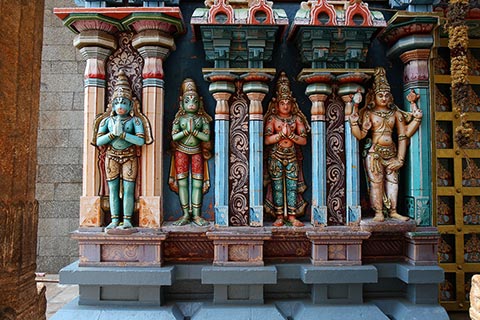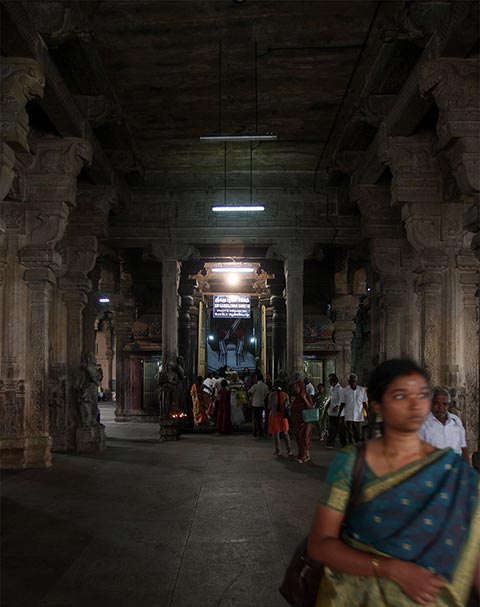 Afternoon
We met a gentleman who suggested we go see the nearby Kallanai (Grand Anicut) Dam—apparently the oldest dam in the world still in use—so we did. It took quite a long time to do so. We first had to catch a bus to another bus station, then wait there for what seemed like a very long time—and quite probably was. However the bus trip itself was quite interesting—seeing a more rural side of India than we had so far—and the dam itself was also interesting.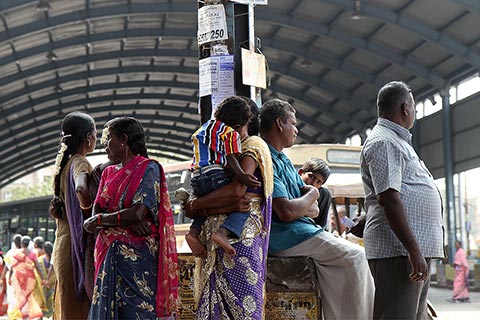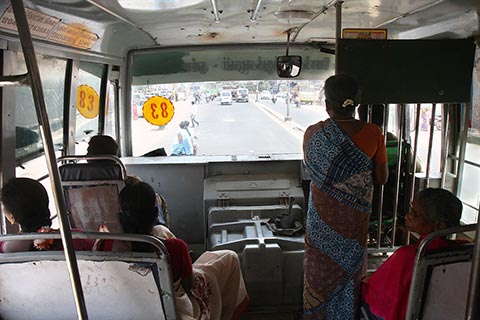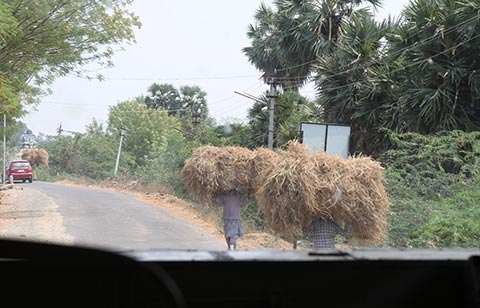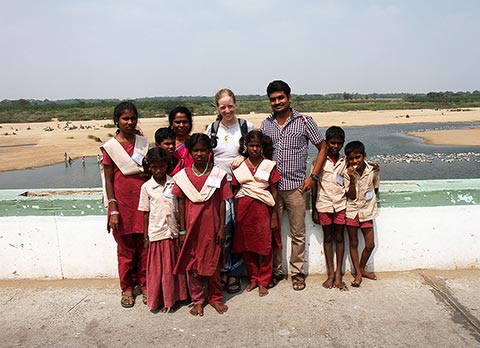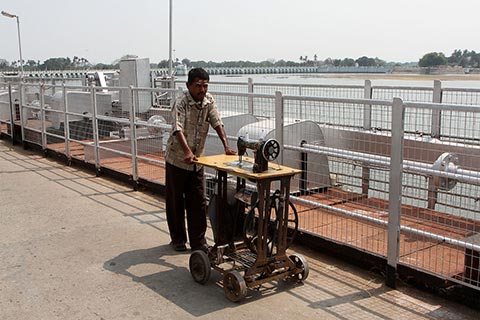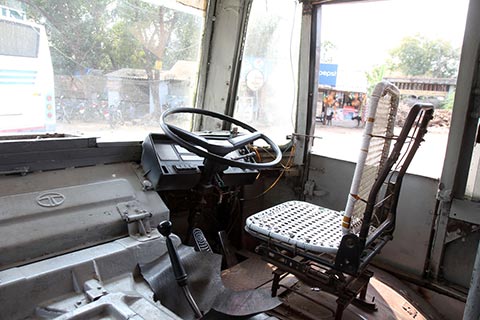 Evening bus to Madurai
After having taken a lot of time to go see the dam, we rushed back to our room—via having a traditional thali on banana leaf meal (hopefully we don't get sick, it's probably not the most hygienic way to eat—though some people say it's more hygienic than badly cleaned cutlery and crockery)—and caught a bus to Madurai. We left Trichy at 4:35 PM, and arrived in Madurai around 3 hours later.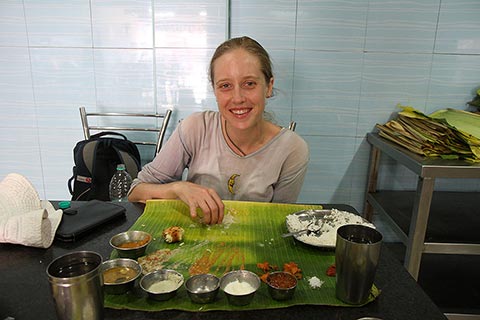 Madurai
The bus journey was much like our other bus journeys—we were in a bus, sometimes it was busy and we were squashed, and at other times it wasn't as busy. There was very little leg room. We were nearly killed multiple times by driving on the wrong side of the road. There were a large amount of very large colleges—mostly of engineering. And then we arrived at the bus station in Madurai. Unfortunately, the wrong one—so we, after avoiding all the rickshaw drivers—caught another bus the extra four kilometres to the right one. Interestingly, people have been quite helpful so far this trip—while the odd person has been a hassle, most have offered advice and help willingly, correctly, and without asking for payment. It's not at all like it was when I was here fifteen years ago—though I think northern India may be worse, and perhaps that's what I'm remembering most.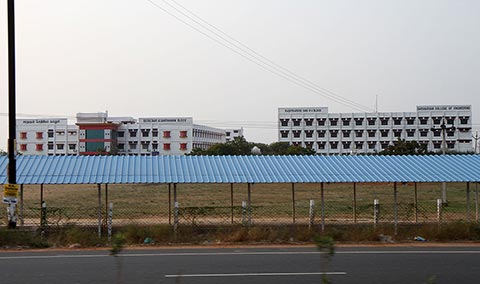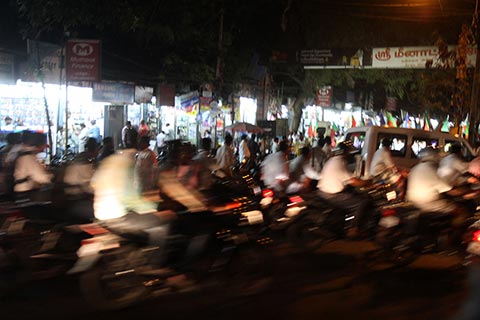 Once we got to the right bus stop, we set off to find some magical hotel Bronwen had found on Wikitravel, but we couldn't, so instead we walked to the train station in the hope that there'd be lots of accommodation there, but there wasn't. By this time, it was quite dark and night-time-ish. Probably going on eight o'clock, so I was keen to find somewhere sooner rather than later. Fortunately, I suppose, a friendly tout turned up and guided us to a ₹600 (past a myriad other more expensive places) room, which we took. Confusingly, we were first given a room, which we went and had a look at, and then when we went to sign the obligatory paperwork (Indians love paperwork for some annoying, probably British-related reason) we were moved to another room. Not being very trustful, I again walked the rather long distance to the fourth (or Australian fifth) floor to look at the new room, however it appeared to be identical to the first, so we took it.
We had a quick wander around the nearby streets, I bought a drink, I did some washing, and then we went to bed.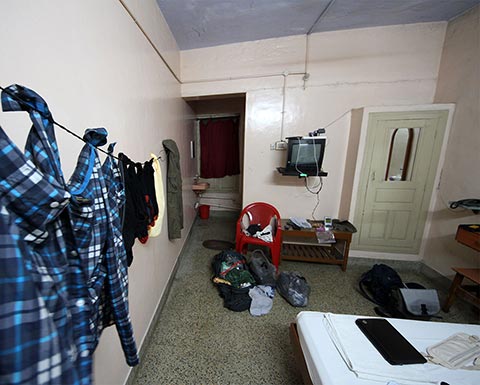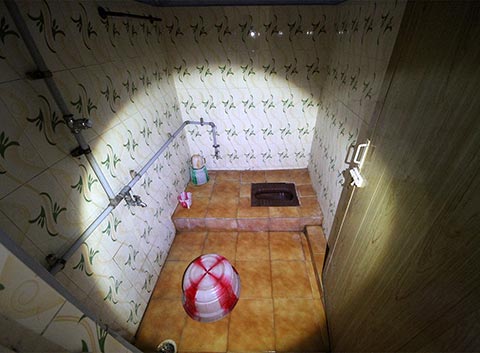 Saturday 22nd February
Morning
We got up very early, before the sun, and walked to the nearby Meenakshi Amman Temple. Unfortunately, for some reason, they've gone insane with security and you can't take anything into it. So we had to leave all our camera gear in the dubious (though trustworthy, as it turned out) lockers along with our shoes, and go through a metal detector and full pat down (the guy was curious why I had microSD cards in my money belt, and made me take them out—I guess they don't feel like money) before we could get into the temple. This was a shame as it was truly spectacular, and I'm far too tired to even try to describe it. Suffice to say it was big, had thousands of pillars, a live elephant who only accepted notes—not coins, its own small herd of cows, a pond, a ginormous gold thing that poked up into the roof and was obviously of some importance being so shiny and all, and because it was so early, not that many Indians—and of course, huge towers with millions of carvings in them, all ornate and coloured, as per most of the temples we've seen so far, except bigger than most. Annoyingly, though I don't know if it would have worked well inside anyway, it seemed taking a phone would have been acceptable (though cost more money), and I might have been able to take some photos on my phone had I known.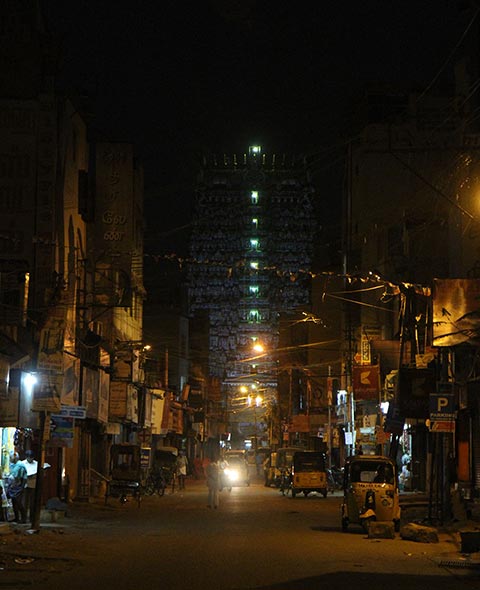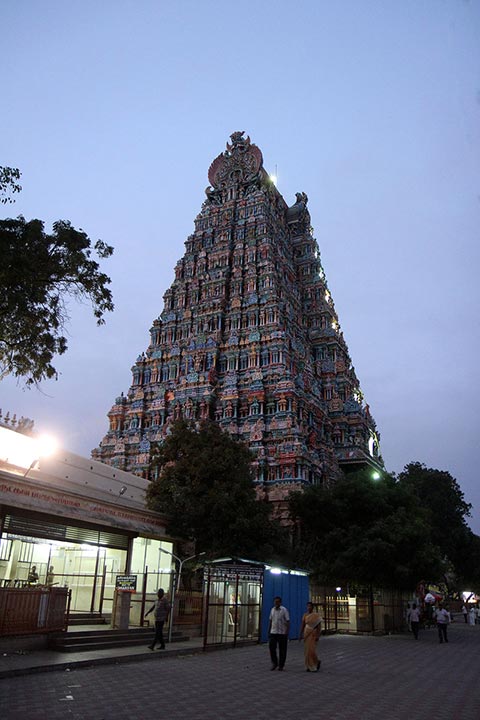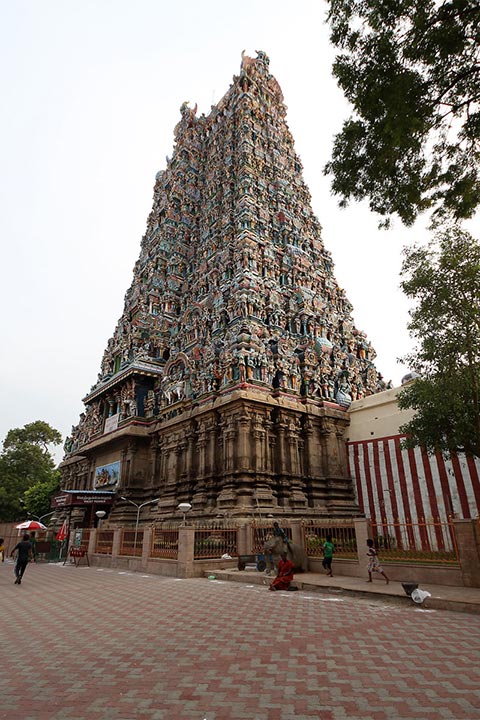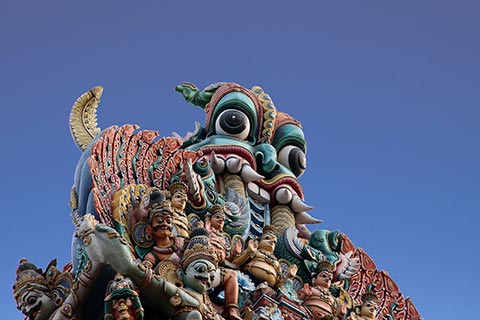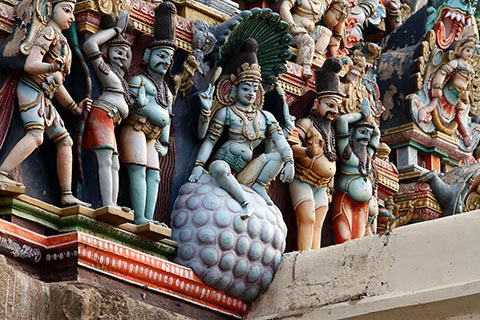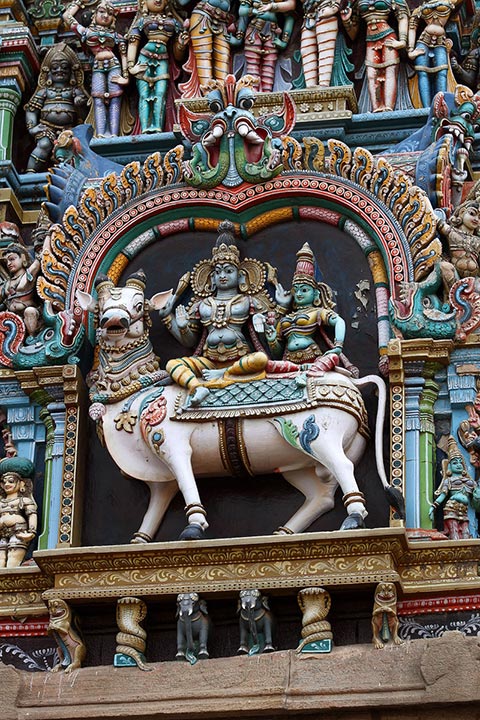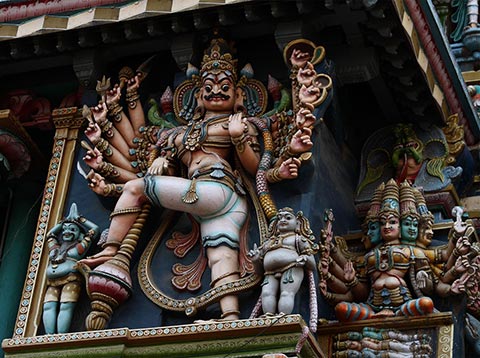 Bus to Rameswaram
After looking at the temple (and finding some fresh milk on the way, which we bought and drunk) we walked to the train station to see if we could book a train from Rameswaram to Kanyakumari but found out we couldn't, and also that the train from Madurai to Rameswaram was slow and didn't leave for a while, so we walked to the bus station, caught a bus from there to another bus station, and then caught a bus from there to Rameswaram. It cost ₹98 (each) and took around 4 hours (we left at 10:30 AM and got there around 2:30 PM).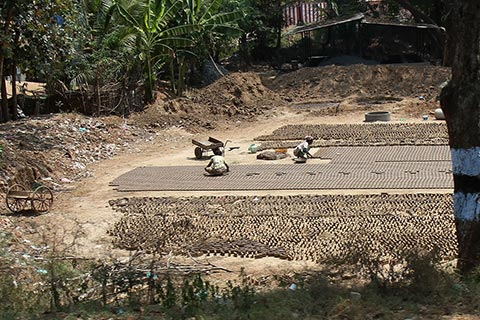 Rameswaram
We arrived in Rameswaram at 2:30 PM, though unfortunately at the bus station, not the town itself. Apparently the town—and train station—were a few kilometres away, and it was very hot, so we caught a rickshaw (₹50, if I remember correctly) to the train station, and managed to book the ticket we hadn't been able to in Madurai, using their Tatkal Scheme—Rameswaram to Kanyakumari leaving at 8:45 PM and arriving at 4:30 AM. It cost ₹335 each. We then left our luggage at the station for ₹15 and walked back to the Ramanathaswamy Temple, and found out that it was closed, due to some festival. The queue of Indians wanting to get in were even less happy than we were.
Now that the main reason we came to Rameswaram was closed, we caught a local bus out of the town, and back to Pamban Bridge, and had a look at that. It turned out to be quite interesting, and was under repair. It's a very long and impressive bridge, though I don't think the water is very deep.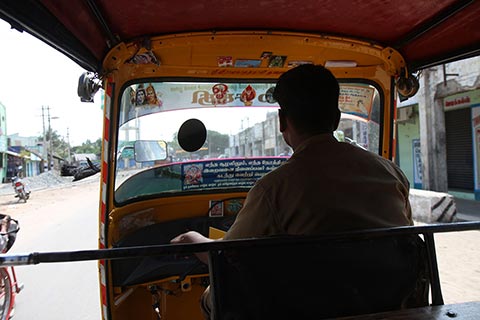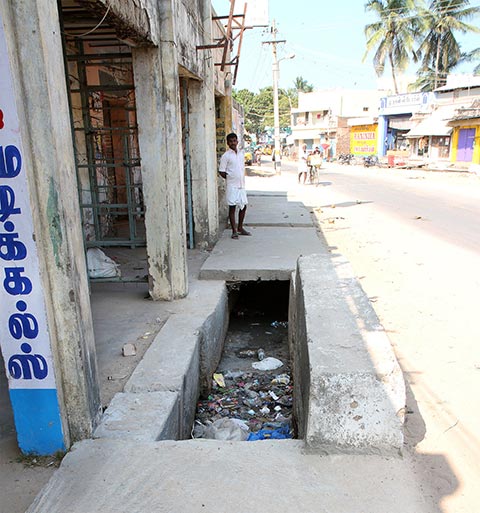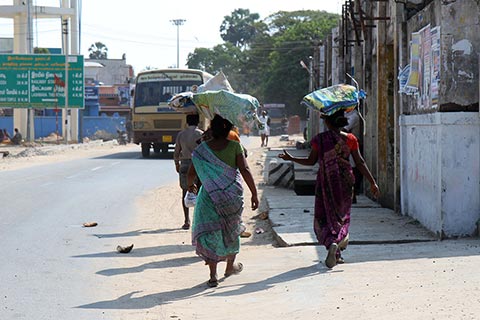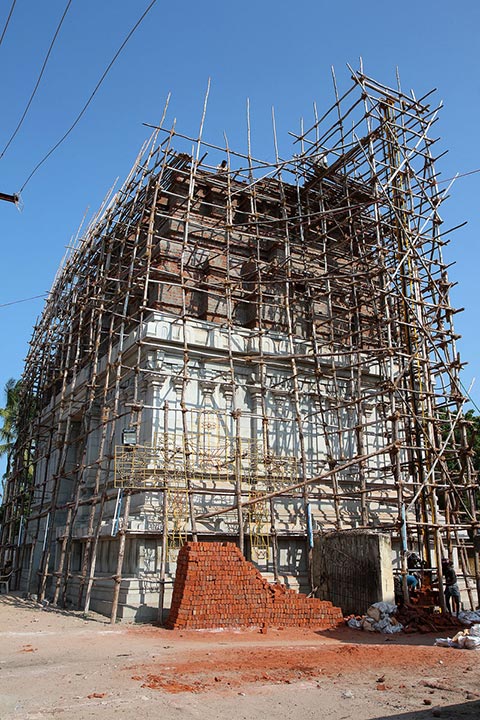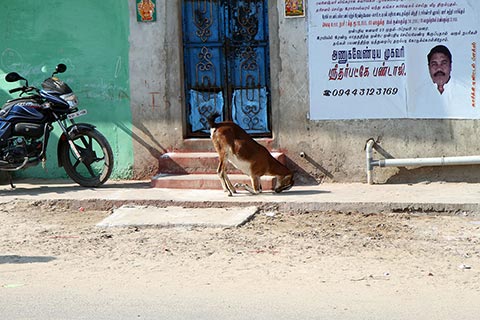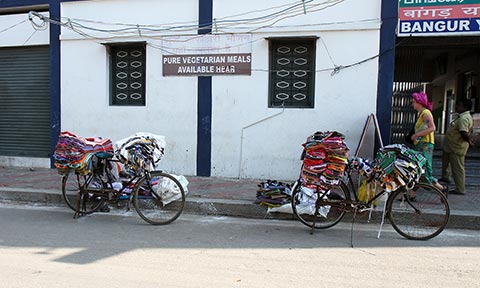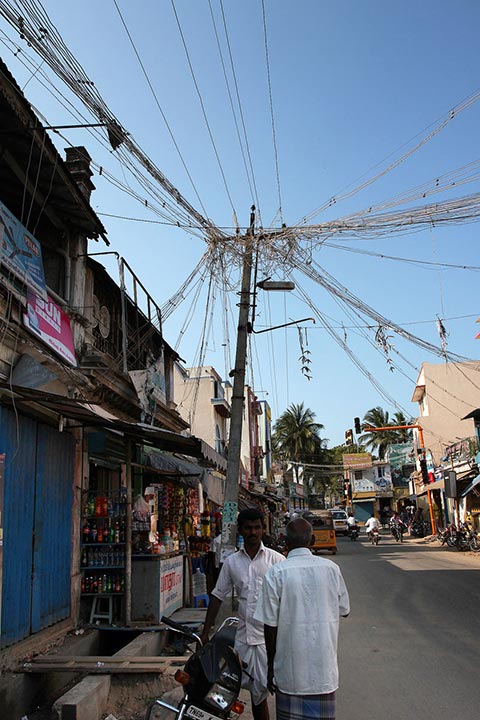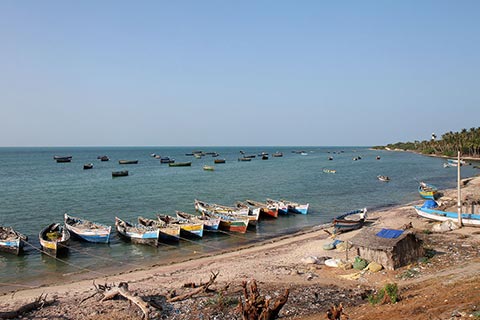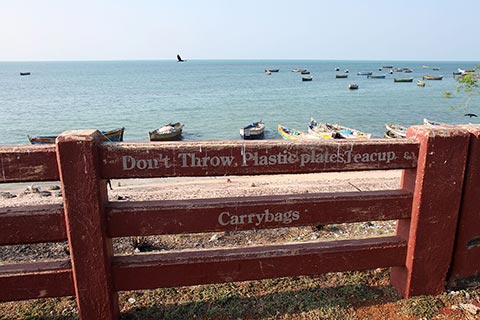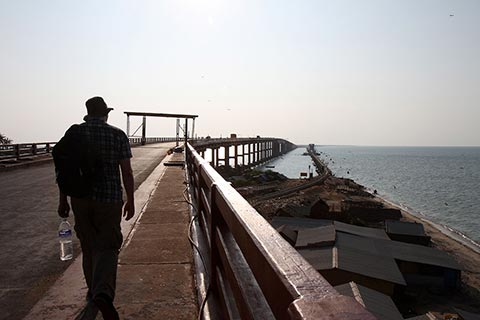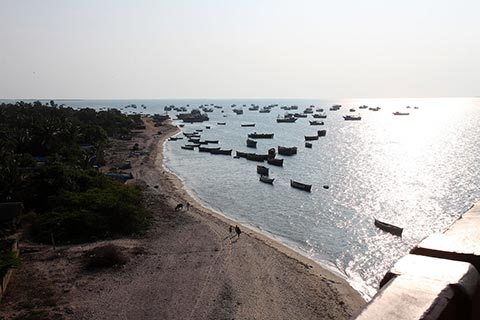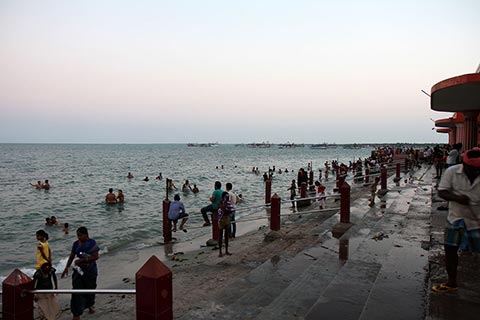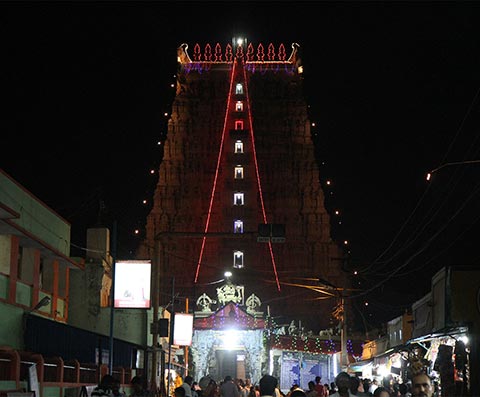 Night
After looking at the bridge, then wandering around the temple again and getting some dinner (we had Masala Dosas) we made our way to the train station, found our train, and got on. We almost immediately got talking to a family occupying some of the same section as us, and sat with them for a while chatting, before locking our luggage up with our special Bunnings Luggage locking wire and going to bed.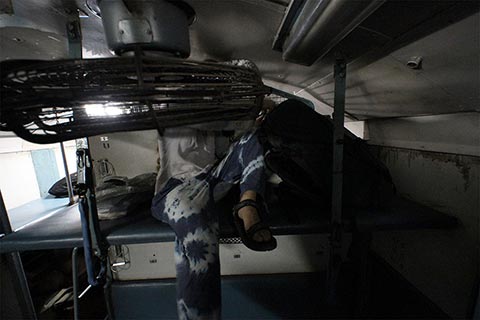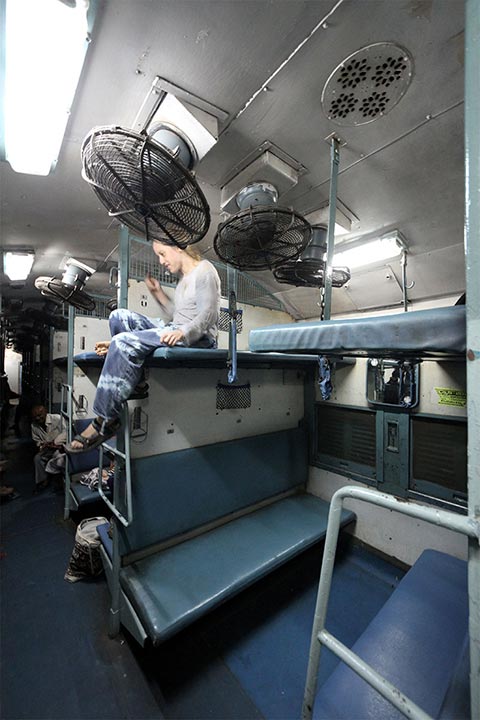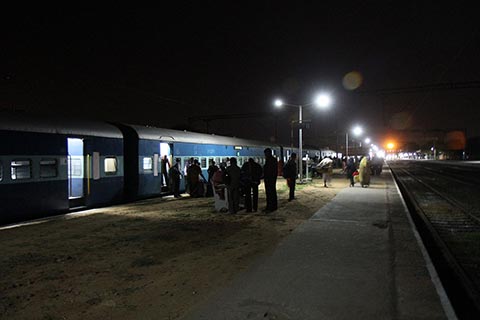 Kanyakumari (Cape Comorin)
Sunday 23rd February
Morning
We arrived at Kanyakumari (Cape Comorin) ridiculously early, as expected, around 4:30 AM. I'd had a fitful, but surprisingly good, sleep. Bronwen said her sleep was "Ok, I woke up a couple of times". We got off with our new found Indian friends, planning to go have breakfast with them, and then almost immediately lost them in the crowds, and couldn't find them anywhere. We felt quite bad, because we're sure they'll think we lied to them about wanting to hang out, and then intentionally ditched them.
After giving up on finding our new Indian friends, we walked from the railway station to the coast, trying to find a place marked on the map as "Sunrise Point", however we couldn't find it (which turned out to be fortunate), instead finding thousands of Indians also waiting for the sunrise outside their temple. Being so early, Bronwen and I got a good seat perched on the edge of a little cliff that dropped off into the ocean, and waited an hour or so for the sun to come up—apparently the sun doesn't come up early here. However, when it did it was quite spectacular—I'm not sure if it's the pollution, or just the weather, but the rising (and setting) sun goes a dim orange and can be easily viewed with the naked eye, disappearing quite some distance before it reaches the horizon. In this particular case, it rose over a large statue, and everyone rejoiced. Bronwen and I weren't pushed into the sea by the press of Indians behind us (though I wasn't entirely sure if we would be at some stages), and I think everyone else got religious brownie points. There is some sort of festival on, which seems to involve most of India travelling to a series of different locations, seemingly at the same time as us. There were definitely more people than the town was designed for—some of the crushes at narrow points weren't for the faint of heart (or those with bags that poke out at strange angles—I was nearly embroiled with a motorbike I came across suddenly in the middle of the crowd not once, but twice, as I was pushed totally out of my control in whatever direction the crowd decided was good.
After surviving the sunrise, we wandered around town, looking at a Gandhi memorial (and cleverly avoiding paying the "special fee" from the "gate keeper" to let us inside the area you're not supposed to go inside, and instead looked from a metre or so on the other side of the do-not-cross-without-paying wire), Bronwen went in the temple while I waited with the bags and watched the world (quite literally, a sizeable amount of it) go by.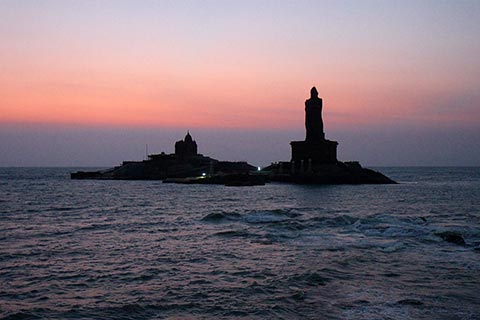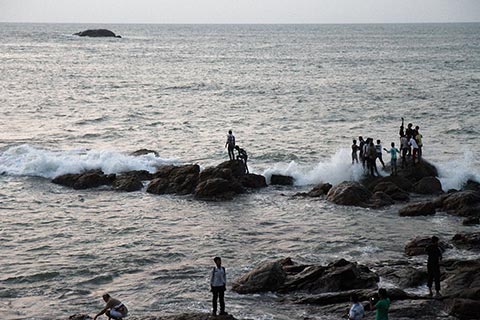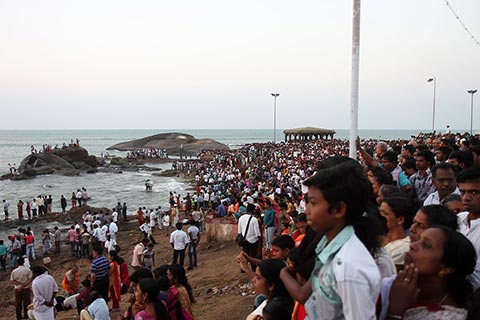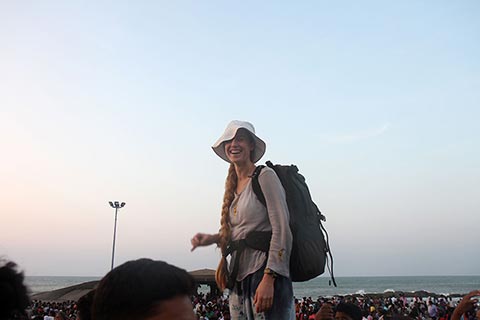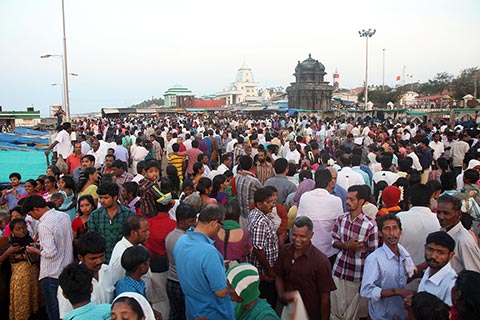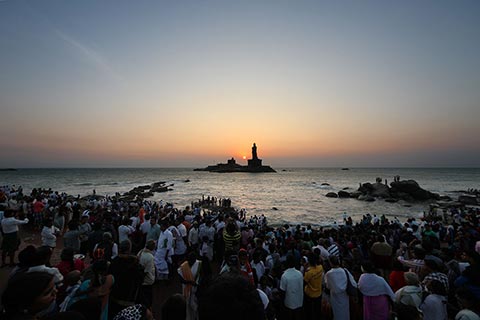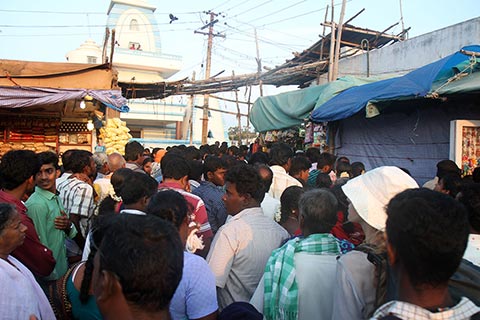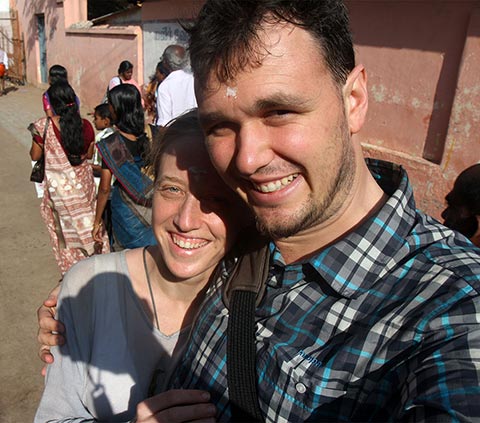 Bus to Trivandrum
As we had got to town hours before the sun, and due to the exceptionally large amount of Indians who were there, we figured it best not to try finding accommodation and staying the night. So instead, we walked to the bus stand, and from there, to the bus stand. Or to be less confusing, we walked to where the private buses were waiting for their fancy passengers, and from there, back a short distance to the city bus stand, where all the non-fancy people were waiting. It was exceptionally hot by now, and I had gone from risk of breaking sweat, to risk of drowning from sweat. We got a bus out of Tamil Nadu, heading to Trivandrum, leaving at 9:30 AM, costing ₹68 each, and arriving a little before midday (around 2½ hours).
Background: Map showing Tamil Nadu