Thursday 30th January – The Rent-a-Bomb
Morning
I caught a bus, and then a train, out to "Rent-a-bomb" at Northgate, which took ages. When I got there, they didn't have any $25 a day cars (which I found out don't have air-conditioning), so I ended up with a $28 a day car. Even though I was expecting an older car, it was a bit of a shock. First, I found a sign saying "Rent-a-bomb reception", and an open door—but poking my head in that door found only an empty concrete room with a guy with an angle grinder in it, making something. A little bit of a search later, and I found a closed, unmarked, windowless door, which when I opened it, turned out to be the office. The office looked much like any other office, except everything was old and empty. It had one of those machines where you put in some money and cans of drink come out—not the huge fridge sized ones, but the smaller bar-fridge sized ones with a clear glass door—except it was empty. That sort of summed up the whole look and feel of the place.
Nevertheless, the man there was quite nice, and after initially thinking I was being ripped off by there being no $25 cars despite me having booked one, I realised that he wasn't lying and it was just how it was. To be fair, I had received an email after I booked, telling me to call them to check availability of vehicles, but I couldn't do that as I'd booked late last night and had to leave on a bus early this morning to get there. So I ended up with a $28 a day (and a $1000 liability in the case of an accident) 1992 Toyota Camry, complete with (very cold—it appears that the lower fan settings don't work, so it's high or super-high) air-conditioning. I was surprised to find the car has central locking—but still shocked as I just wasn't expecting something so old and broken—quite literally, I was renting a bomb. Still, it seems to actually drive and function quite well, and if I ignore the wire poking out the bonnet that you pull to open it, the various holes in various bits of plastic, and all the rattles and funny noises, it seems to be in remarkably good condition considering its age and high level of general wear and tear—all the lights work, both inside and outside, the windscreen wipers work, and it seems to go both forward, backwards, and around corners, though stopping (or the severe and sudden lack of it) is always a bit worrying, but that's not really the car's fault—I get used to the excessively strong brakes on my Falcon, to the point that I start to think they're not very good, then I drive another car with "normal" brakes, and it always feels like they don't work until I get used to them.
Day
After picking up my rent-a-bomb, I drove to work—very slowly and carefully, feeling as though I may die at any moment. I then drove to lunch with Bronwen, still not feeling very safe.
Night
The car survived the journey home.
The Rent-a-Bomb
What does $28 a day (with a $1000 excess) get you in a hire car? See below...
Friday 31st January – Pie Face
Day
I began to get used to the rent-a-bomb, and the drive into work, via Bronwen's work, was pretty normal. Bronwen and I even drove into the city for lunch, because we felt like pies from Pie Face.
Night
Bronwen and I dropped some batteries off for recycling at ALDI and did some shopping, before driving home. The rent-a-bomb continued to function adequately.
Saturday 1st February – Chinese Lunar New Year Celebrations
Day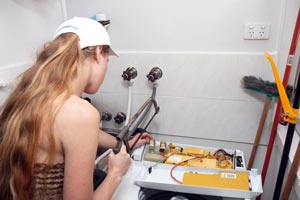 After a quiet morning at home (during which time Bronwen fixed the washing machine with the use of a hacksaw (we replaced the cold water inlet valve, and it works remarkably well now)), Bronwen and I drove to Toowong Sizzler, and ate many things. I'm pretty much used to the rent-a-bomb now—I wouldn't say I'm confident in its handling abilities, but my feeling of imminent and almost certain death has turned into more of a fear of lack of control should anything unexpected happen, such as the lights turning orange or a car deciding to merge into my lane.
After Sizzler we drove to the Mount Coot-Tha Botanic Gardens, and stayed there until it started to get dark, then drove to Fortitude Valley and watched some of the Chinese Lunar New Year celebrations.
Mount Coot-Tha Botanic Gardens
Playing around on dusk with some cactuses and a flash in the botanic gardens.
Chinese Lunar New Year Celebrations
The Shanghai Dancers, who were also the Chinese Pop Girls, stole the show...
Sunday 2nd February – Quiet
Morning
I had a quiet morning at home.
Afternoon
I went for a walk up the mountain.
Monday 3rd February – Last Day at Work
Day
I had my last day at work. I also got a call to say that my car, which I'd been told wouldn't be ready until Thursday at the earliest, or probably Friday, was now ready for pickup. Having hired the rent-a-bomb until Saturday, this was both annoying, and good news, at the same time.
Tuesday 4th February – Holiday Leave Approved
Day
I drove the rent-a-bomb back to its home, paying an extra day's cost and a twenty dollar fee for cancelling the booking early, meaning I got $59 back by taking it back several days early. I then caught a taxi to Crawford Crash Repairs, collected my car, and drove it home—being careful to brake slowly, now that I had a car with super-brakes again.
Bronwen found out from her work that her request for leave would be approved, so assuming we can get Indian visas, we should be going to India soon!
Night
I picked up some Dominos pizza (because it's Tuesday and it's cheap today) and drove into Kangaroo Point, where I met Bronwen, and we ate the pizza. After pizza, we walked to the South Bank peeing pool, and had a swim. It was surprisingly cold.