Wednesday 22nd April – Getting Ready
Getting Ready
Bronwen and I ran around (or sat at our laptops) all day getting ready for America, backing up the server here, etc. I even mowed the lawn. It's a bit stressful now—many things still to do, including some fairly important ones like figuring out enough of our itinerary that we can book a hire car for it.
Night
Amanda dropped past to pick up her hard drive, then Bronwen and I drove over to Maz's to say goodbye to him and to copy some media onto a hard drive. It was after 3 o'clock by the time we got to bed.
Thursday 23rd April – Packing
Packing
Bronwen and I spent the day preparing and packing.
Avengers: Age of Ultron
We rushed into South Bank where we saw "Avengers: Age of Ultron" at the Cineplex there.
Dinner
We drove over to Bronwen's parents' place where we had a lovely curry dinner.
Late Night
Bronwen and I continued to pack and stress late into the night.
Friday 24th April 2015 – Flight to Dallas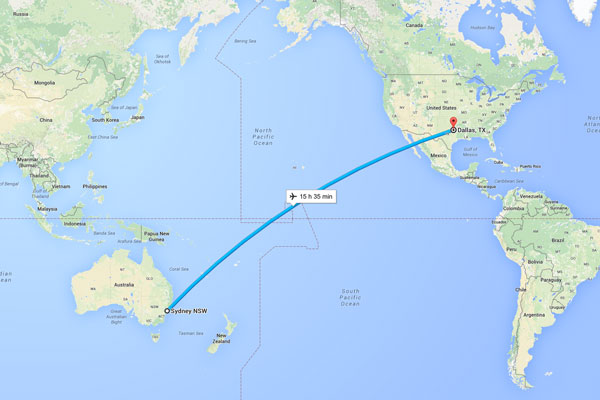 6am
Bronwen and I got up at six. Very sleepy. Finish packing. Turn off water, gas, etc., then walk to the bus and catch it in to the Cultural Centre at Southbank, where we met Bronwen's dad, who drove us to the airport.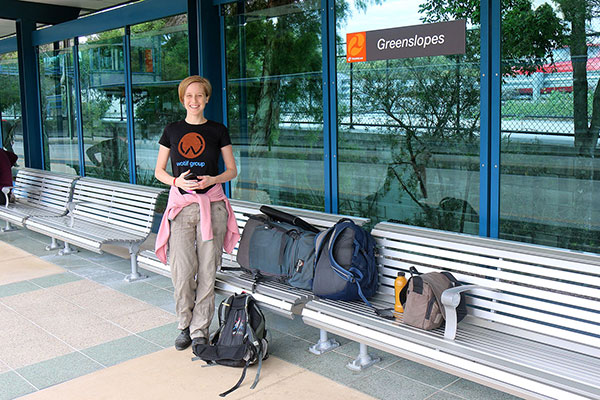 We got to the airport to find that the Dallas to Sydney flight (the longest non-stop commercial flight in the world) had been diverted to Brisbane due to fog in Sydney (we were told they didn't have enough fuel to attempt a landing in Sydney, because if they had to go around a few times they'd run out… sounds like cutting it a bit too fine to me). This had caused chaos at the check-in, with around 300 passengers from that flight trying to check-in for unexpected flights to Sydney.
We were worried this would cause problems for our flight—considering that was the return leg of the same flight we were supposed to catch out of Sydney—but were told that an identical but different plane would be on hand in Sydney.
After standing in line for ages and then asking three times (including the same lady twice) we were told to rush to the front of a special queue and check-in more hurriedly. Despite this, we still only managed to check-in two minutes before our flight closed, and people were already boarding by the time we got to it.
We were seated apart and Bronwen had to rush over to the Qantas help desk to re-request seats together while I waited in line to board. We got seats 11A and B. The flight looks mostly full, presumably all the Dallas people trying to get to Sydney.
Take off at 09:45
Light refreshments to be served but not breakfast.
10am
This is why you pay the big bucks for Qantas.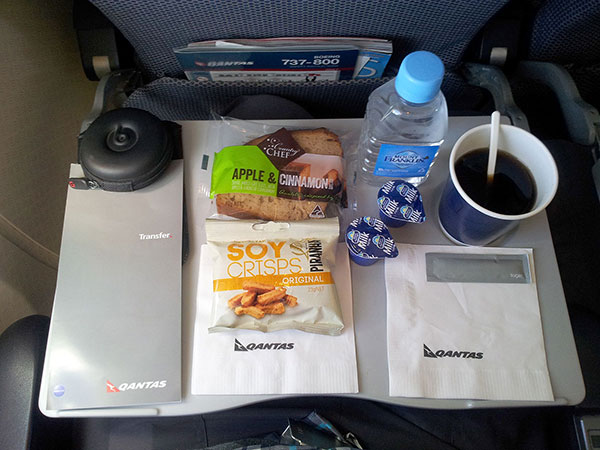 Instead of breakfast at breakfast time, or a paid menu to choose from like the budget airlines, you get half a slice of bread and a soy crisp or two.
They call it "light refreshments".
Sydney
Arrived on time at eleven o'clock. Our map of where the transfer bus leaves from was wrong, but we were still on the bus by 11:25.
Midday
All through customs, TRS (to get the GST from my camera back), etc. by midday and waiting for the flight.
12:30pm
We asked if we could get an upgrade but were told that while some airlines will upgrade people Qantas requires you to use frequent flyer points, pay, or be a frequent flyer and enter some kind of lottery system some time prior to the flight. We then went and queued for our flight to Dallas.
1pm Brisbane/10pm Dallas
Our A380-800 took off. We're seated in seats 66F and G, for which we paid a $25 seat selection fee, but no extra exit row charges because it's technically not an exit row. It does have lots of legroom, and cool pop out entertainment unit—and despite the rumours online, it does have USB charging (and playback) ports. Definitely worth it for the extra legroom.
We were given pomegranate cordial.
3:30pm Brisbane/12:30am Dallas
Everyone got served dinner. Except me. Apparently Qantas wasn't aware I was vegetarian. Apparently, even if you book vegetarian meals, you should still check when you check-in to ensure they actually bothered to tell anyone.
Considering it's quite a long flight and I haven't had any breakfast or lunch yet, I wasn't overly happy about this. Fortunately the nice hostess—who is also vegetarian—managed to get me a variety of mostly mushrooms (which Bronwen ate and said they were very good—better than anything she'd expect to get in a restaurant back in Brisbane), a roti, some pumpkin parcels, garlic bread, and some fancy biscuits and chocolates from first class, as well as cheese and biscuits and chocolate mousse from the peasant's food.
After dinner I had a hot chocolate with marshmallows and a Lindt ball, while Bronwen had a decaf coffee.
6pm Brisbane/3am Dallas/10 hours out
I went for a walk and had a quick look upstairs, did my teeth, and was then given a mango Weiss bar.
The staff have a door directly in front of us, which they disappear into and down some stairs to sleep. It's amusing.
4:20am Dallas/7:20pm Brisbane
I am given an apple, and Bronwen has gone to bed and stopped using my headphone adaptor (in some kind of attempt to ensure they go bankrupt, even in new planes like this, Qantas still use the archaic two-pin headphone plug, in case any of the people who just paid thousands of dollars for this flight with their expensive beats earphones want to steal the essentially useless Qantas 5¢ headphones) so I watch "Big Hero Six".
5:17am Dallas/8:17pm Brisbane
Having finished watching my movie, and with 7 hours 48 minutes (7306km) to go, I decide to try get some sleep. This doesn't work very well, and while I doze fitfully, I'm still awake enough to find it odd that Qantas gives people hotdogs at 6 AM.
11am Dallas/2am Brisbane
They turned the cabin lights back on. I've managed to doze fitfully, but haven't really had any sleep to talk about. Bronwen says she's got a bit.
We were served a fruit salad earlier than everyone else because the hostess last night who did such a good job getting me vegetarian food after Qantas never got my vegetarian meal request got them to bring me breakfast early. Then when everyone else got their food we got coffee, apple juice, another muffin, and some muesli and yoghurt.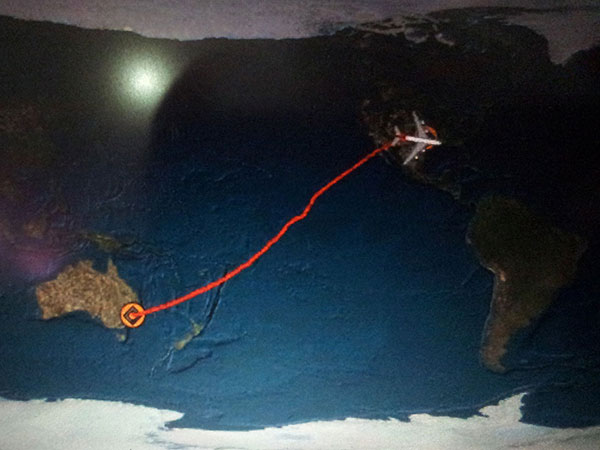 ETA 1:20pm, 19°C
We arrive on time at Dallas/Fort Worth International Airport and go through customs and border control without any problems They don't fingerprint Bronwen's right hand due to her finger being in a splint, but they fingerprint all my fingers. We are now in the United States of America–land of the free! Also, Dallas, Texas.
2:45pm
After a bit of walking around and talking to people we catch a free shuttle (perhaps we should have tipped him? Who knows?) from our terminal to terminal A, where the DART (Dallas Area Rapid Transport) station is. $2.50 (fortunately Bronwen has some American dollars leftover from our Indian holiday) gets us a 2 hour local pass on the train, which we catch to the correct station, and then with the help of Google's offline maps feature, manage to walk to our room. Things are much smaller than I was expecting—perhaps Dallas central is bigger, but this area seems to be a combination of tiny lakes and small industrial areas. We hear lots of large-calibre gunshots going off. Unsure if it's an invasion, normal locals doing their day to day business, or the nearby National Guard practising killing communists.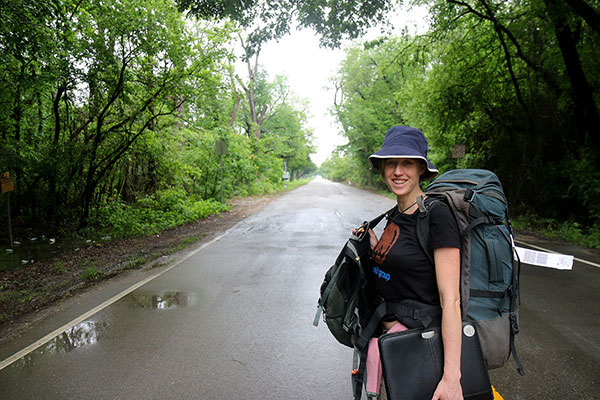 5pm
We're finally all showered and in our motel room. We walked from the train station to the Tropicana Inn through a light sprinkle, arriving just moments after it began to rain properly, to find out that they have no record of the Expedia booking Bronwen made some time ago. Several frustrating phone calls later, using the inn's office phone, we had managed to get Expedia to fax through a confirmation so that we could check in and go to our room. Not exactly an ideal way to book a room, but it did eventually work.
The room seems nice—certainly a lot larger than anything we saw in our travels in Europe, Africa or India—though I'm pretty sure, at $50 US a night, this is firmly in the budget category over here, though perhaps just above the getting murdered in your sleep category (though I suppose we won't know until tonight). The bed is at least nine Australian people (which is about two and one ninth American people) wide.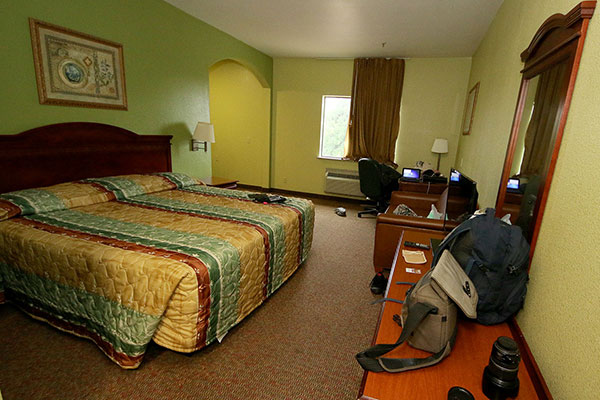 Evening
Having no food, we decided to avail ourselves of our room's Wi-Fi and find somewhere with a Citibank ATM and food, and walk there. Unfortunately, that turned out to be basically impossible, due to the road here being unwalkable. We got as far as a nearby overpass, which went over a railway. As it had no footpaths and the railway was fenced, we simply couldn't get across without running across in traffic and being killed. Eventually we were forced to catch a bus (which just pulls up at a bus stop sign placed, seemingly at random, on the side of this busy and fast highway) which cost us another $2.50 for 2 hours, and which took us to a nearby Subway and a 7-11 servo which had a Citibank ATM inside it.
Fortunately, putting my card and my magic number into the Citibank ATM made it give me money, though sadly the $400 USD I got out cost me $511.38 AUD. Subway didn't seem to have veggie patties, so we had a "veggie delite" (i.e. salad only) subway, which cost us $5 ($6.39 AUD according to Google's calculations). The guy working there gave us a large drink for free because we were Australian.
While we were eating our Subway a storm blew over—and by storm, I mean a proper storm. There was huge lightning and people who are presumably locals and have lived here some time went outside to look at it and comment on the storm, and then it rained sideways and everything turned into a fast flowing river. We put our Bunnings ponchos on and swam to the nearby 7-11 to buy chocolate milk, and by the time we had bought that, it was sunny and nice outside. Very weird.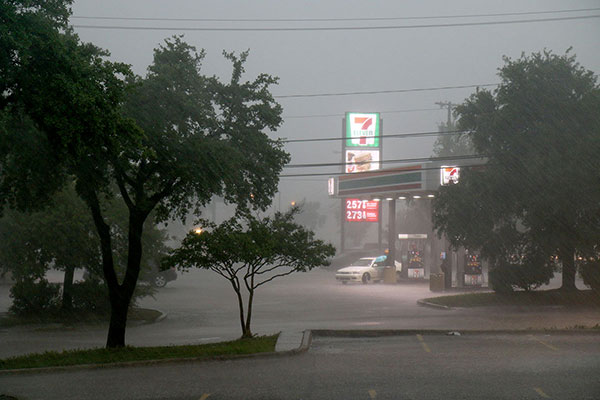 We then walked back to the bus stop, and caught the bus back to our hotel again, by which time it had started to sprinkle lightly once more.
Despite all the rumours to the contrary, our Subway here seemed to be pretty much identical to a Subway back home in Australia. The strawberry Fanta was worse, the bread was probably not as good as I'm used to, the salad somehow wasn't quite as good as Australian salad, and they didn't have carrot or beetroot and somehow it was spicier than expected, but overall very similar.
Night
We lazed about in our room for a bit, and then went to bed. It didn't get dark until half past eight, and was after nine by the time we got to bed.
Saturday 25th April – Dallas
Morning
Bronwen and I awoke when our alarms went off at eight o'clock—or more specifically, I woke up and Bronwen got up a while later. I'm not sure about jetlag, but I certainly didn't want to get up—however, I never want to get up back in Brisbane either, so it's possible that's just me.
After having a breakfast entirely of chocolate milk and Qantas cheese and biscuits, we checked out, walked back to the train station, caught the train to downtown Dallas, walked to the Hyatt Regency, and checked in there.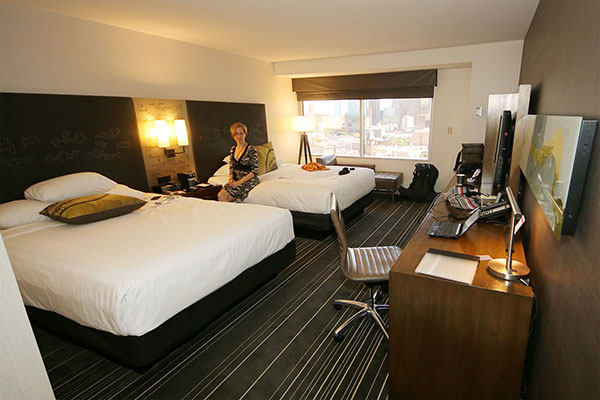 We then went for a walk through downtown Dallas. There were hardly any people, or shops, to be seen anywhere. We came across a "don't shoot" rally at one point, where we—un-ironically—weren't shot. We did eventually come across a handful of shops and a few people, but certainly nothing like the mall in Brisbane.
Afternoon
After lots of walking and clever use of Google's offline maps, we came to the shopping area recommended by the concierge at the hotel. On the way we walked through what must be the pub area of town. They were having some kind of drink beer for cancer event, so there were many groups of people wearing coloured shirts at pubs and walking between pubs. We kept on until we got to a Walmart, where we did our first Walmart shop—and discovered that, should we be shot, Walmart has blood clean-up kits.
We bought a few things, and headed back to the hotel. By this time we'd discovered that Dallas has Melbourne trams—quite literally. They purchased the old trams from Melbourne when Melbourne was getting rid of them, and called them trolleys. Not only that, but they made them free—so we caught one of them most of the way back.
Night
Our Walmart meal turned out to be relatively awful. The "cheese" isn't cheese—as Maz had predicted. It is too jelly-like to slice properly with a knife, and tastes awful. The rest of the stuff was alright, but not as good as the equivalent in Australia.
After dinner Bronwen went to her SAS thing, and I went for a walk to have a look at the building the SAS thing was in, with its bright lights. By the time I got back Bronwen had also got back and gone to bed, so I did too.
Sunday 26th April – Dallas
Morning
Bronwen got up early and went to her SAS thing, and then confusingly for me, turned up again shortly later, having registered and found out that the first thing she needed to go to today wasn't until 4:30 PM.
We went for a walk to Dealey Plaza—the nearby grassy knoll made famous when JFK was assassinated there—and looked at the X-marks painted on the road to mark where JFK was when the first and second shots were fired.
After that we went and bought a drink from 7-11 and walked to Pioneer Plaza—a park full of metal sculptures of cows. Then we walked back to the hotel and went up the attached Reunion Tower—getting 20% off the $16 entry fee for being hotel guests—and had a look out over all of Dallas, and admired the rotating restaurant, which according to our calculations didn't rotate once every hour, but I assume our calculations were incorrect.
Afternoon
The hotel is still full of young girls and their mothers, who appear to be in some kind of dance competition, probably for the New York City Dance Alliance. There are quite a lot of them. After we'd made our way through the crowds of dancers and to our room, Bronwen got ready for her SAS thing again and left, and I made the mistake of trying to eat some more Walmart food, but was unable to finish it due to it tasting disgusting.
I then had a nap, waking up when Bronwen got back from her SAS thing, and going to bed again shortly after.
Monday 27th April – Observations So Far
Morning
Bronwen got up early to go to her SAS conference. I stayed in the hotel room doing some research on the ridiculously small-screened and slow netbook, trying to figure out how to get a SIM card for just over two months, with data, which would work in the U.S. and Canada… without paying a fortune for it.
Afternoon
I went for a walk to an AT&T store, who told me they can give me a SIM card with 1GB of data for $55 a month, which will work here and in Canada. This is significantly more expensive than Australia—which I had naively assumed was expensive. I then walked even further and went to a T-Mobile shop, who told me they could do roughly the same for $40 a month. Considering how much richer the average Australian is than the average American and how much higher the population is here, I find it unusual that their mobile services are several times more expensive and the coverage far worse than Australia—I pay about $13 USD a month for 1GB of data (and more calls and SMS than I will ever use) in Australia, and expect that to work in nearly any populated area, and Bronwen pays only a few dollars a month for her phone (though she pays per MB for data).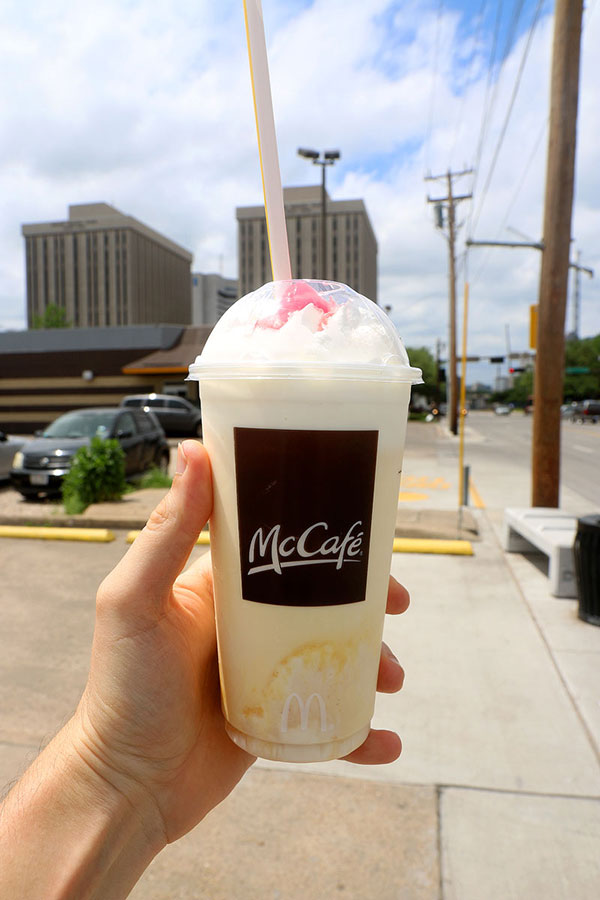 Observations so far
So far, America hasn't been at all like I was expecting. I realise a lot of this may be because I'm in Dallas, and it'll probably change when I go elsewhere.
Dallas has been far smaller than I expected. There are plenty of roads, cars, and buildings around, but hardly any people or shops. The city centre is almost shop-free, and I walked through it today at lunchtime and again in the evening when in Brisbane it'd be packed with people, and there weren't many people anywhere. There's skyscrapers in the city centre, and a fair smattering of them around in other areas too—which when added up, and considering Dallas is the ninth most populous city in The States (with around 1.3 million people), and the list of large Australian cities doesn't actually get to nine so they had to include "significant urban areas", making Sunshine Coast the ninth most populous area in Australia with a measly (and I suspect mostly retired) 300,000 or so—Dallas starts to look a lot bigger. Nevertheless, walking through the city centre trying to find shops to buy things from and not being able to find any shops and there being only a handful of people on the weekend or on Monday is not something that'd happen in an Australian city.
Another thing I wasn't expecting is how polite the people are—incredibly more so than Australians, and Brisbane is already a lot more polite than Sydney. "Excuse me my friend" is how the cyclist points out to me that I'm in his way. Nearly half the people I've walked near have said "Excuse me" or "I'm sorry" as they (or I) divert slightly so as not to walk into each other, as you do. The people in the lift say something polite when they (or I) get out—"Have a nice night". I don't think anyone has ever talked to me in a lift in Australia before. Even the young, excited girls running around downstairs all weekend for their dance competition would stop for a second and say "Sorry ma'am" as they rushed past Bronwen. Everyone calls me sir, and Bronwen ma'am.
Unfortunately, the rest is bad. Food has, so far, been as bad as I had been made to expect. The "cheese" isn't edible—or what we'd call cheese. Today I bought a large shake from McDonalds, to try this mystical "large" thing that Americans supposedly have. I was expecting it to cost 25¢ and be three litres, only to find that it cost me $3.19 ($4.06 AUD) and was possibly smaller (or perhaps the same) as an Australian one. I can't remember what they cost in Australia, but I think it's comparable. It did come with whipped cream and a cherry on top though.
As mentioned above, mobile phone service costs several times what it costs in Australia, which really is odd.
There's very few billboards (compared to Brisbane), which might be a good thing, but makes the place look old and rundown to me. The roads, parks, and general feel of the place seems like everything is a little bit old, and a little bit run down, compared to Brisbane. It could be just the style of things, but it's a lot of little things together—all the parking meters are still the old single-meter-on-a-stick-per-car style that Brisbane got rid of some time ago, for example, and there's plenty of piles of dirt and various sorts of construction going on, which would be a lot prettier if they were happening in Brisbane.
Almost everyone I've spoken to speaks Spanish, and I assume is, or was, Mexican. This is probably because most of the people I've spoken to have been in more menial positions, such as working at 7-11. I asked one 7-11, which didn't sell milk for some reason, where I could buy a half-gallon of milk—and the guy had to go ask the other guy (in Spanish) who then went and asked the third guy, who wasn't sure but recommended I go to another 7-11 further away which probably sold milk. I can't say I've ever asked, but I'm pretty sure in Australia even the people running 7-11's would know where the nearest supermarket was and be able to tell me. It was the kind of answer I'd expect in India.
Speaking of milk, it's more expensive here than in Australia. My 1.89L (½ gallon, because Americans are weird) milk cost $2.19 ($2.78 AUD) from Walmart, and that was the cheapest one we could find.
I did buy a burrito from Chipotle today, which was so large I couldn't finish it (though it wasn't really any cheaper than Australia, costing me $7.04 ($8.95 AUD))—so perhaps there's some hope yet.
Night
I've come down with a sore throat, unfortunately. Bronwen has had a cold/flu/rare Texan disease ever since getting here, and said she was getting better today, so I imagine I've probably caught that—and being male, I'll no doubt suffer far more than she did.
Tuesday 28th April – Sick
Day
I haven't had a very good day today. I'm still sick with a sore throat and blocked nose (presumably Ebola) so slept in for a while. Bronwen—who is also still a bit sick—headed off to her conference nice and early. I researched hire cars, coming to the conclusion that America sucks. It seems that locals probably have the required insurance as part of their own car ownership, so it's probably relatively cheap for them—but for silly foreigners, the cost of insurance once you add all the liability and damage (and perhaps less importantly, roadside assist) together is probably double the cost of hiring the car itself. After looking at lots of different options, I contacted Hertz online, who told me a few things I couldn't really make sense of, so I walked down to their office, who told me some more things which probably contradict what their website says (including that you can't take any of their cars into Canada). It's looking like hiring a car is going to cost a lot of money.
Wednesday 29th April – Hire Car
Morning
I spent all morning (after having stayed up late last night because Bronwen didn't get back from her conference until the wee hours of the morning) trying to find someone who would sell us rental car insurance. I eventually gave up. There are numerous places that will sell residents of the EU rental car insurance which would have been perfect—and saved us a huge amount of money—here in the US, but I couldn't find a single place that would sell it to an Australian.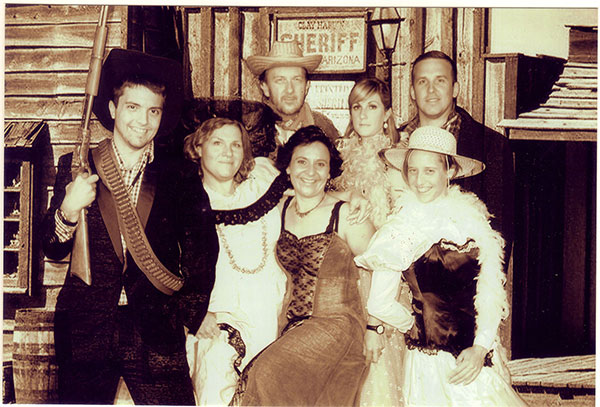 Afternoon
Bronwen got back from her conference, which has now ended, and we both looked into rental cars some more, eventually both giving up, and booking a Budget car through Expedia with Expedia's insurance (at $9 a day, it's a lot cheaper than the $33 a day many of the rental places were charging). We'll probably still need to pay $16 USD or so per day from the rental place for supplemental liability insurance. We had expected to be able to get a rental car relatively easily for $30 a day—most are cheaper than that. However, we'd forgot to factor in how screwed up America is, and with all their different state laws and lack of consumer protection, it turns out that if you don't already have fully comprehensive liability umbrella insurance to cover you in the event an American decides to sue you for making their coffee too hot, or wrapping their burger anti-clockwise, then you need to get liability insurance (for when someone runs into you on purpose and then pretends it was your fault and you have to fight them in the courts), as well as a collision waiver fee (for when you damage the rental car), and underinsured insurance (for when someone else who has no insurance hits your rental car)—and if you're paranoid, an extra $9 a day or so for roadside assistance because, believe it or not—unlike in Australia, they don't come with it. Each of these insurance options costs nearly as much—or sometimes more—than the car itself. Then there's all the other costs, random taxes, and a large one-way fee because we're not bringing the car back.
It looks like it will cost us closer to $75 AUD per day, which considering we'd been assured that $30 a day was heaps, isn't a pleasant surprise.
With a bit of luck, the car will actually be at the rental place tomorrow and we won't have to pay some extra huge fees, and all will be good.
Night
Bronwen and I went for a walk through the city, got a vegie burrito from Chipotle, and did some research on what to do tomorrow and washed some clothes, before going to bed.
Thursday 30th April – Route 66, New Mexico
Morning
Bronwen and I got up, mostly-packed, and walked to the Budget rental car place. Despite knowing how far it was, it was further than we expected. Nevertheless, we got there on time, filled out various bits of paperwork, and were given a brand-new (it still had lots of tape on it from the factory, had done 76 miles and been delivered 20 minutes earlier) Chevy Cruze. We signed a "mini lease", which was sort of two leases—we have to swap the car for another one after a month, due to them wanting it back (to service it I suppose?) after we've done more than 3,000 miles.
We drove back to the hotel, parking in the nearby Union Train Station's 15 minute parking, rushed back to our room, finished packing, checked out, and carried all our stuff to the car.
We then drove, gingerly due to everyone driving on the wrong side of the road, to the T-Mobile I'd walked to a couple of days ago, only to be told there that none of their prepaid plans would work in Canada.
Afternoon
We used T-Mobile's Wi-Fi to navigate to a Walmart that had an AT&T shop nearby and was on the way out of Dallas, and drove the hour or so it took to get there—including a few stressful times when we took the wrong exits and had to figure out how to get back on our route without any data to re-route.
Once there we bought a $55/month AT&T prepaid SIM which comes with 1GB of data which works in the US and Canada, supposedly, and then promptly changed it for a micro-sim because my phone takes a mini-sim and Bronwen's takes a micro-sim and we figured we'd be able to buy an adaptor.
Then we went to Walmart and bought a cheap tent, air bed, air bed blow-up-er thing, gas cooker, saucepan, car inverter, and some food. This took far longer than we'd hoped, and it turned out Walmart didn't sell sim card adaptors, so we had to rush to another shop nearby, who also didn't sell them. By this time it was starting to get later than we wanted, so we got the shop to open Bronwen's phone up and put the sim in there, and we headed off to New Mexico, getting out another $400 USD from a 7-11 servo we passed on the way.
Cadillac Ranch
We had wanted to get to the Cadillac Ranch before dark, but unfortunately it was quite dark by the time we got there. The drive itself was uneventful, though stressful at times. We bought $34.72 ($2.399/Gallon) of petrol at Amarillo, the town where the Cadillac Ranch was, then parked where Google said the Cadillac Ranch would be. Fortunately another couple turned up and explained it was a short walk away, and lent Bronwen one of their spray cans to further embellish the row of old Cadillacs embedded into the ground a quarter mile off Route 66.
Tucumcari
After trying to take a few photos of the cars in the dark, we continued on our way as it was getting quite late, and got to our accommodation at the Tristar Inn Xpress, on Route 66 in Tucumcari, New Mexico, just after midnight.
We had a can of soup for dinner, and went to bed.