Friday 1st May – Monument Valley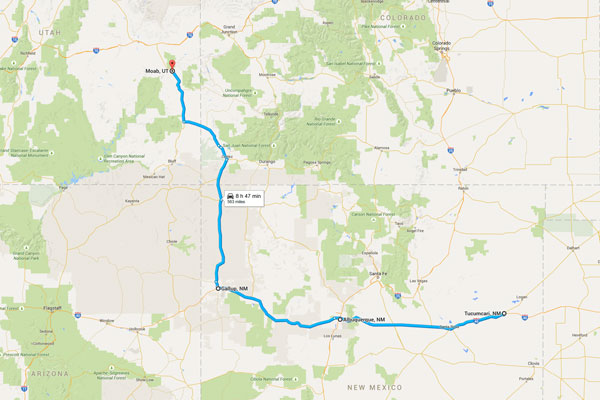 Day
We got up and left our inn early. We'd changed into Mountain Time without changing our clocks so we got a free hour.
We spent the rest of the day driving through New Mexico, along Historic Route 66 a few times, through Albuquerque, stopping for Hungry Jack's in Gallup, past the edges of Monument Valley, and through the corner of Colorado, to Moab in Utah.
Night
We got to Moab just on dark and found that the first two campsites we checked were full. Considering one of them could hold 120 RVs, we decided they were probably all full and decided to camp in the car.
The visitor information centre, which was shut, has toilets and free Wi-Fi, and a nice lady who we asked directions to a shop from gave us a lighter, meaning we didn't need to go to a shop anymore, so we went and set up our stove at a nearby recreation area and made hot water for Bronwen and hot soup for dinner, before driving back into town and parking for the night, near an RV which had obviously done the same thing.
Sleeping in the car, while not as comfortable as the hotel, didn't seem too bad.
Saturday 2nd May – Arches National Park
Day
Bronwen and I woke up after an average sleep in the car and went to the information centre.
After getting some maps from the information centre, we rushed to some campsites to look for place to set up tent. The first one had a full sign out the front, as did the second one, but we drove into the second one anyway wondering if the full signs hadn't yet been updated. It was fortunate we did because we met the camp host there, who told us that there was a tent spot in the first camp (Goose Island Camp) becoming free today, where we set up camp.
We spent the rest of the day driving and hiking around Arches National Park. We probably went too hard and should have rested more. Both Bronwen and I got partially dehydrated. We only had corn chips for lunch and the worst pretend orange juice to distract us from drinking our water.
We kept walking until dark, trying to fit in the last few walks. We rushed to Delicate Arch just after sunset, which was quite impressive and had a small crowd of dedicated people sitting around sipping wine and watching the moon rise, but on the way back I slipped and stubbed my toe, and now (though I'm not sure if it's related as I think it might have started to hurt earlier) my right knee hurts, which is really unfortunate timing as we had lots more walks planned.
Night
We stopped at the campsite on the way into town to pump up our air bed which doesn't fit through the tent door so we have to carry the tent to the car, pump it up, and then carry it back to the tent site. Fortunately, as it's a cheap tent, it's quite a simple and logical design. I find that cheap tents are far better designed than expensive ones—just built cheaply.
After setting up the tent we drove to a shop and bought some hydrogen peroxide and band-aids for my toe, then sat outside the information centre using their Wi-Fi to plan tomorrow and book a room for tomorrow night, before heading to a recreation area where Bronwen made hot water for her finger and a quick mostly beans and celery on flatbread dinner. We had a quick, and very cold, bucket wash and I cleaned my toe before driving to the campsite and going to sleep.