Monday 14th July – Running for Work
Day
I got up, and nearly missed the bus to work. I had to run. It's not a good way to start the day. I had sushi for lunch.
Night
I got off several bus stops too early, and had to walk a long way through the cold to get home.
Tuesday 15th July – Annoying buses
Day
I caught the bus to work. Then I worked.  I had a fancy burger for lunch.
Night
I caught the bus home. Somehow it's much worse catching the bus home than it is to work. I'm not sure why—but annoyingly there's no good buses leaving at the time I need to leave. It's a big problem for me.
Wednesday 16th July – Not the best bus
Day
I again caught the bus into work. Today, for lunch I had Subway—a foot-long veggie patty. It rained.
Night
I had put in some time doing some research on what the best bus to catch home would be, so at exactly half past five I left work and walked as fast as I could towards the city, arriving at the bus stop just on time. Another little red man refusing to let me walk would have made the difference between missing it and catching it. According to Translink, the bus (which turned out to not be a Brisbane City bus, so was a bit more comfortable and less squashy, and also instead of being air-conditioned like a fridge, was nicely heated) left at 5:40, and arrived at Griffith Uni at 5:53, in time to connect to another bus at 5:59. However, having got on the bus on time, by 5:53 we were still in the city—nowhere near Griffith Uni. To be fair, once we got out of the city and onto the busway it was remarkably quick, but nevertheless by the time I missed my connection at 5:59 I was only halfway there. In fact, I still hadn't arrived at Griffith Uni by the time Translink said I should have arrived home. Then, to make things worse, once I arrived—having well and truly missed my connecting bus—Translink told me that there wasn't another connecting bus for forty four minutes.
The irony was that Translink recommended I hop back on a city-bound bus and go meet the normal later bus I would normally have caught, and catch that home. This sucked, so I walked home—through the pitch black, avoiding trees and puddles.
Thursday 17th July – Tired
Day
I worked. Due to some unexpected client changes, I'm not sure how much longer I'll be needed here. Confusingly, despite being told that I might not have much more work, I was also asked if I know anyone else who might want some work. I'm not sure they've thought that one through.
Night
I was tired, so I went to bed.
Friday 18th July – Avoiding buses
Morning
Buses suck, so I'm parking in New Farm and walking to work. I'm much less likely to get halfway there, find out the next footpath is running late, and have to sit down and cry for half an hour. Plus I left home twenty minutes late, and not only did my car not care, but I'm still going to get to work on time.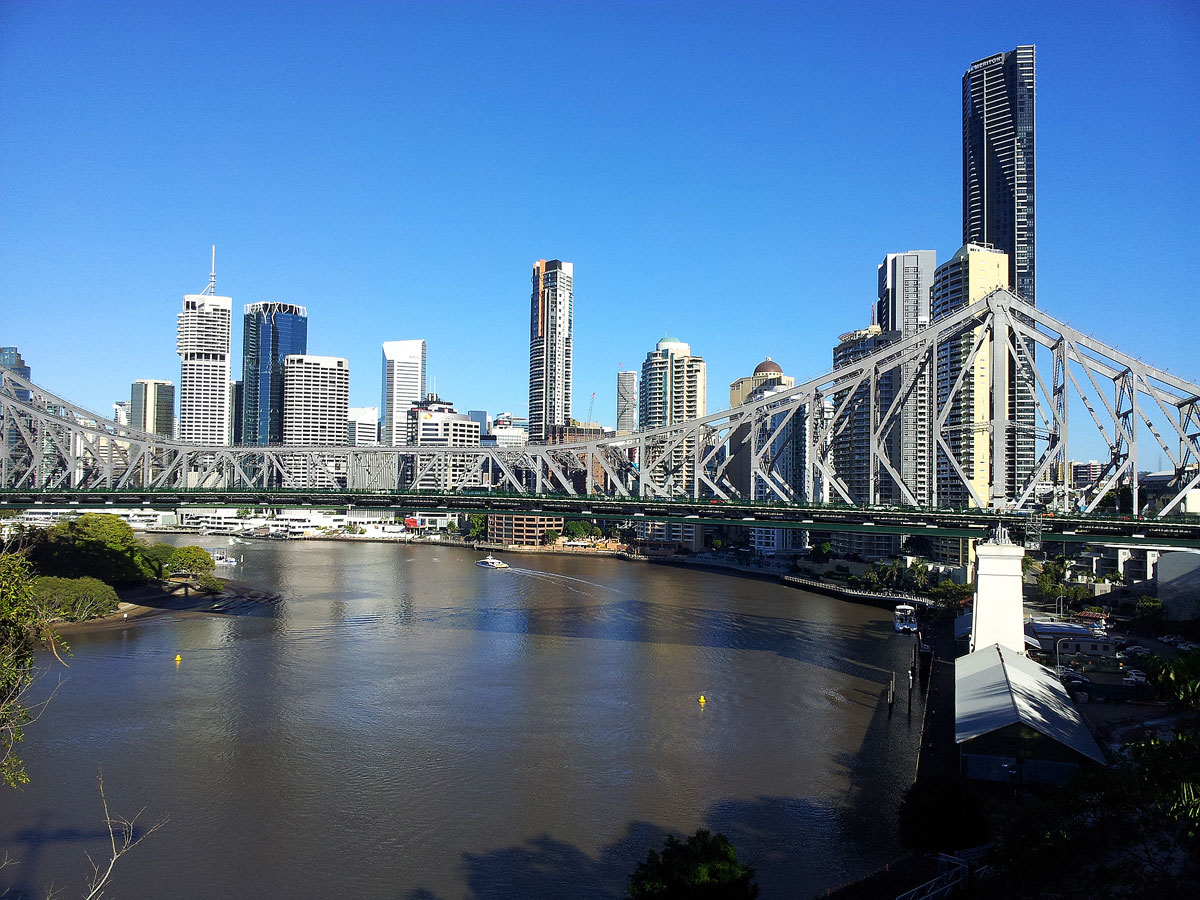 Day
It was incredibly windy, and the wind was icy, so I went to Kuan Yin's and ate what I always order when I go there—sizzling something or other spaghetti. It really sizzles too, and was hot and delicious—just the thing to eat when the wind outside is howling and it's freezing cold out of the sun.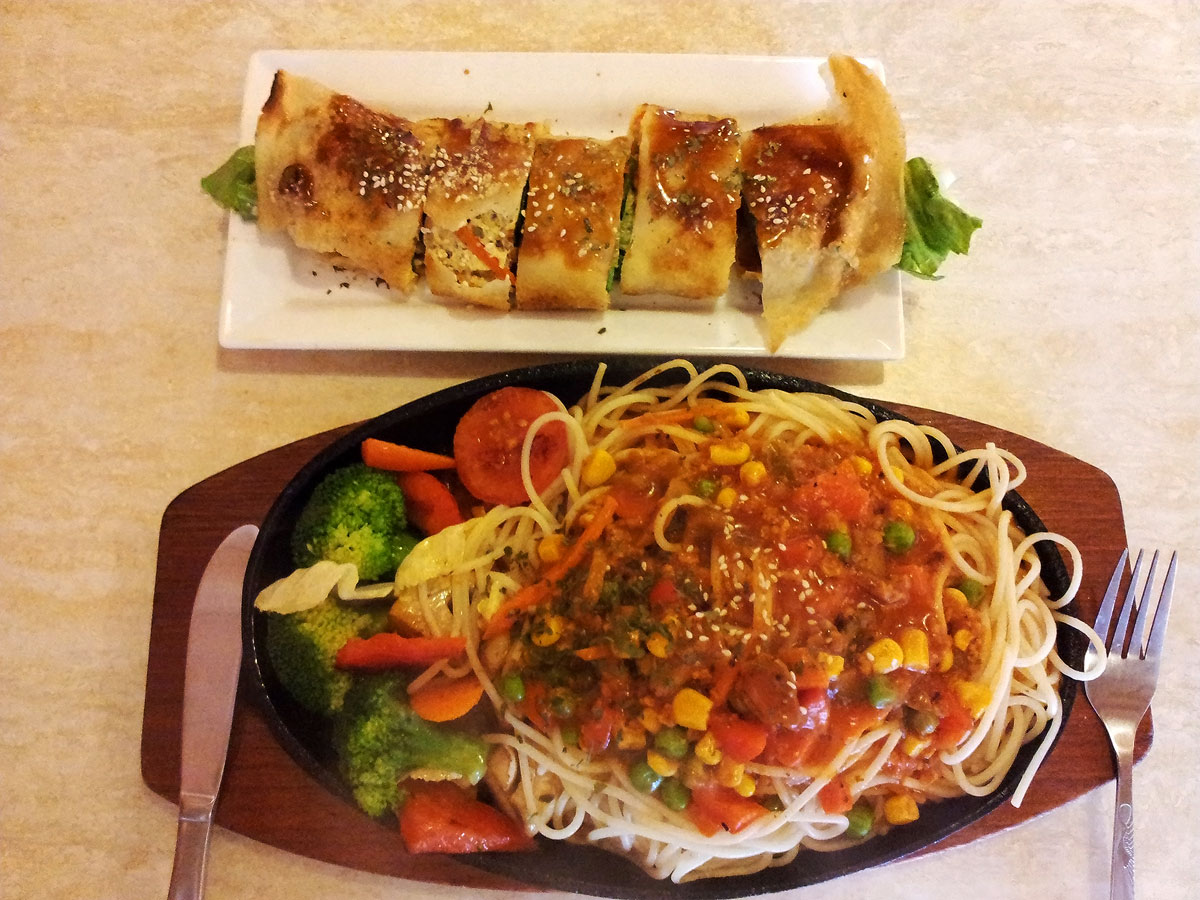 Night
Bronwen was sad, so I collected her from her work and we went to her parents' place, and had dinner there.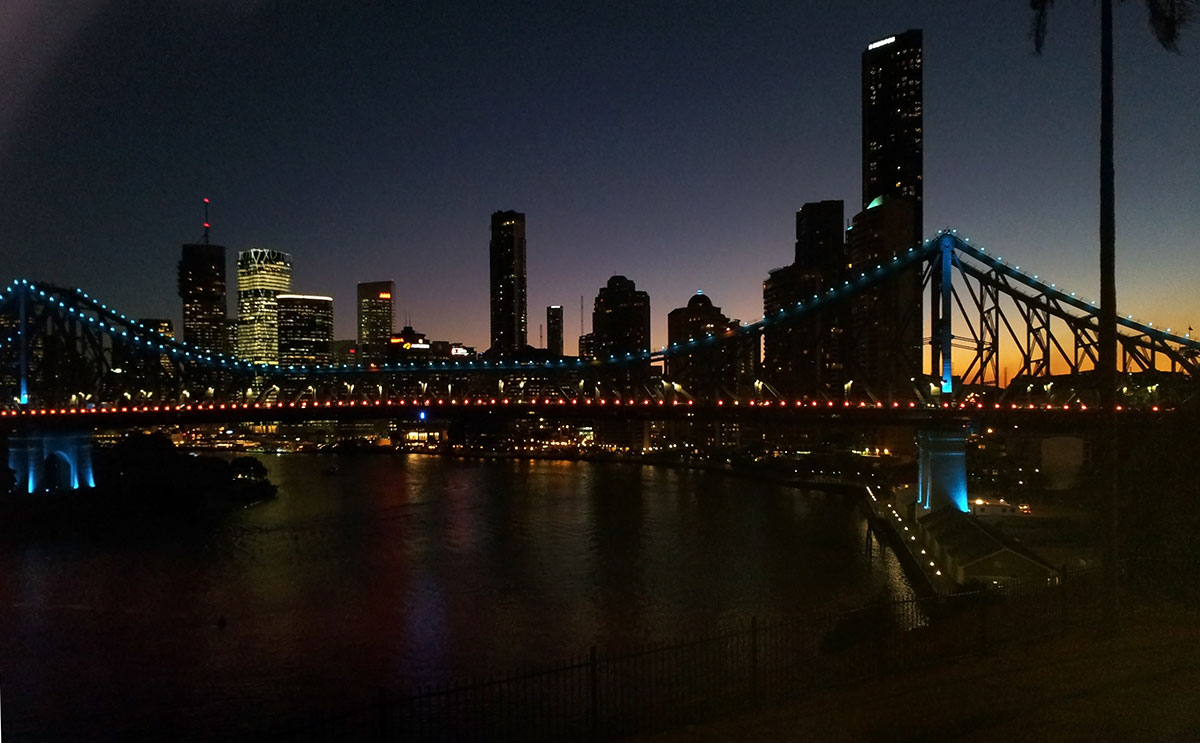 Saturday 19th July – Orienteering
Day
Bronwen and I drove over to Maz's place to pick up Amanda's hard drive, and then rushed to White's Hill, where we went orienteering. Bronwen had signed us up, so of course she picked the hardest and longest course they had (Hard 3). That, combined with us being three quarters of an hour late, meant that by the time we got to the last marker… it had been collected and packed away. Of course, we didn't know this, so we spent ages looking for it. I got quite lost on the very first marker—because I almost immediately found what I assumed must be the first marker, because it wasn't numbered, and then wasted a while looking for the second marker, until I randomly stumbled across the correctly numbered first marker, at which point I was confused. Having not done this before, I wasn't sure how accurate the people would be—and thought perhaps they'd screwed up and put the first marker in the second marker's spot. It didn't help that there was a bituminised track marked as an unsealed track on the map. Eventually, I found the second marker, and realised that the people who set this stuff up were actually very precise and accurate, and from there on it was more a matter of scratching my legs on sharp things and getting puffed than it was getting lost. A bit worryingly, I didn't see or hear a single other person after the fourth marker, right up until I ran into Bronwen at the sixteenth marker.
By the time we got back to the start they were busy packing up, and we were half an hour late.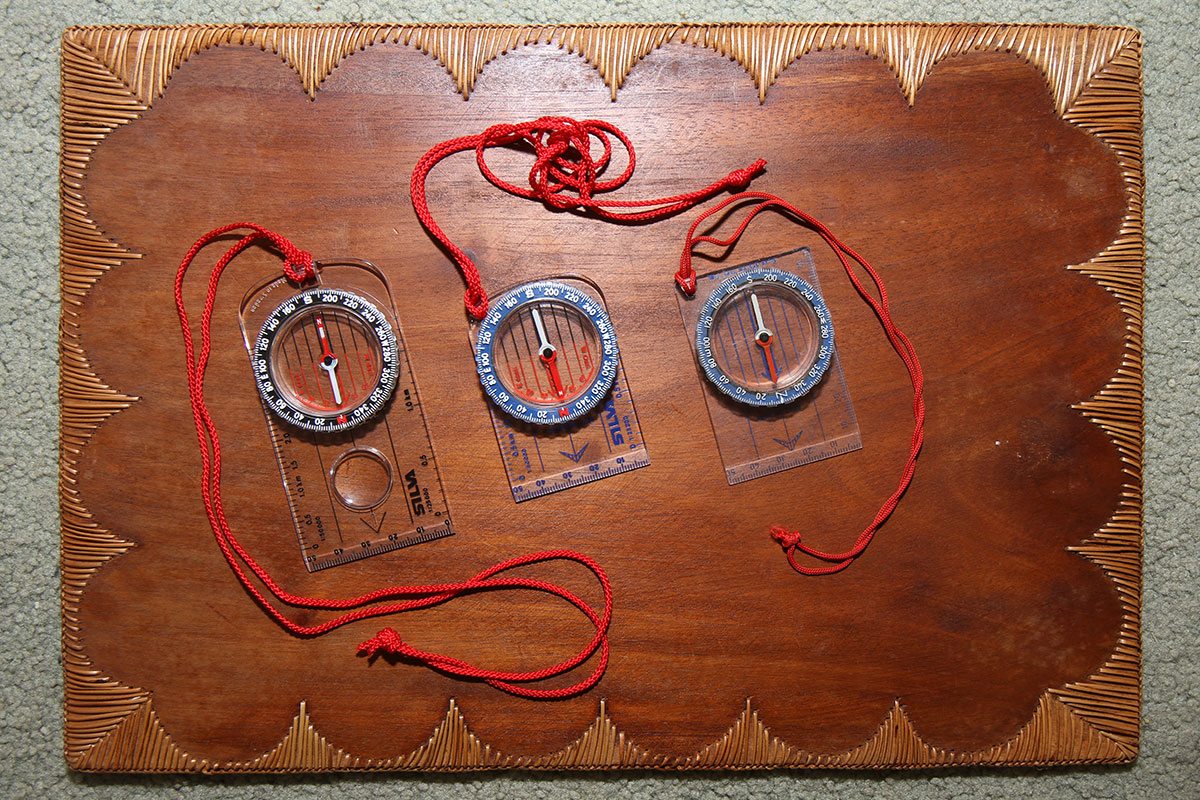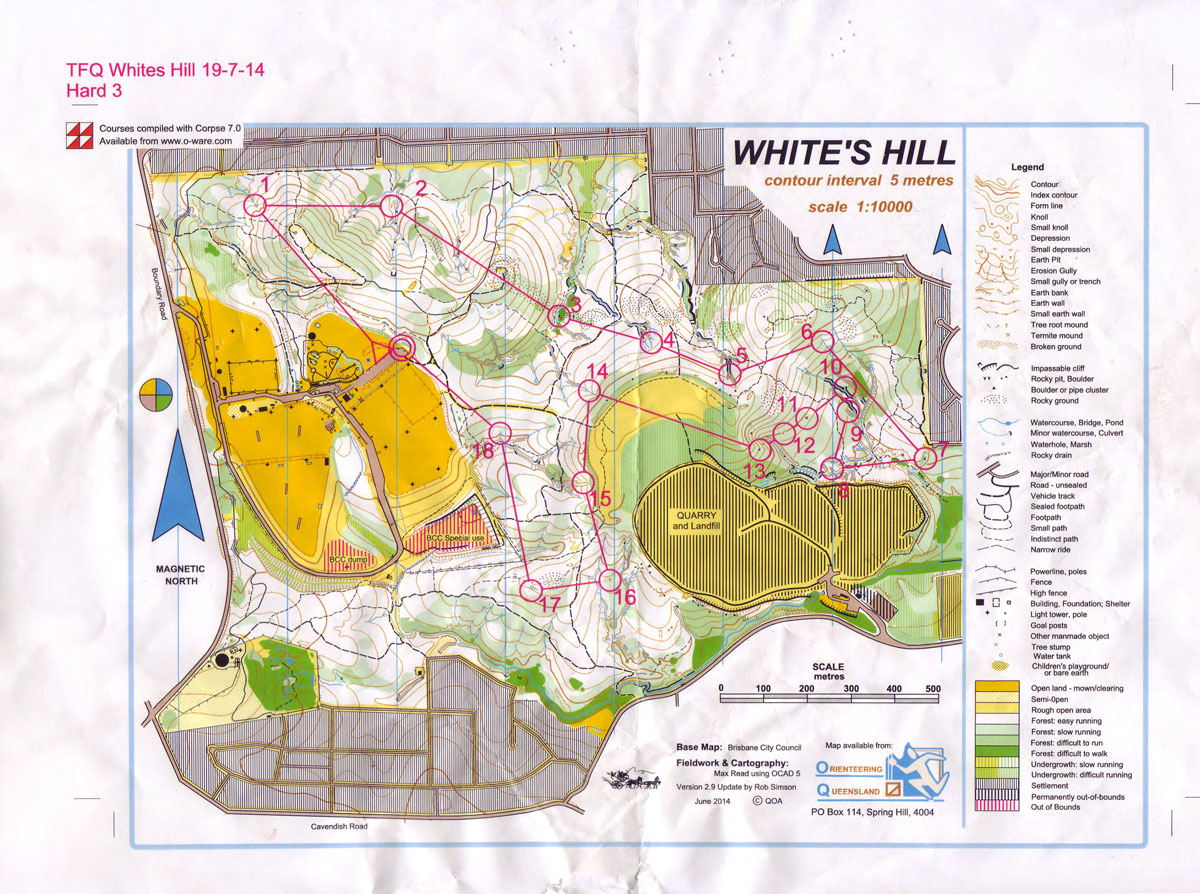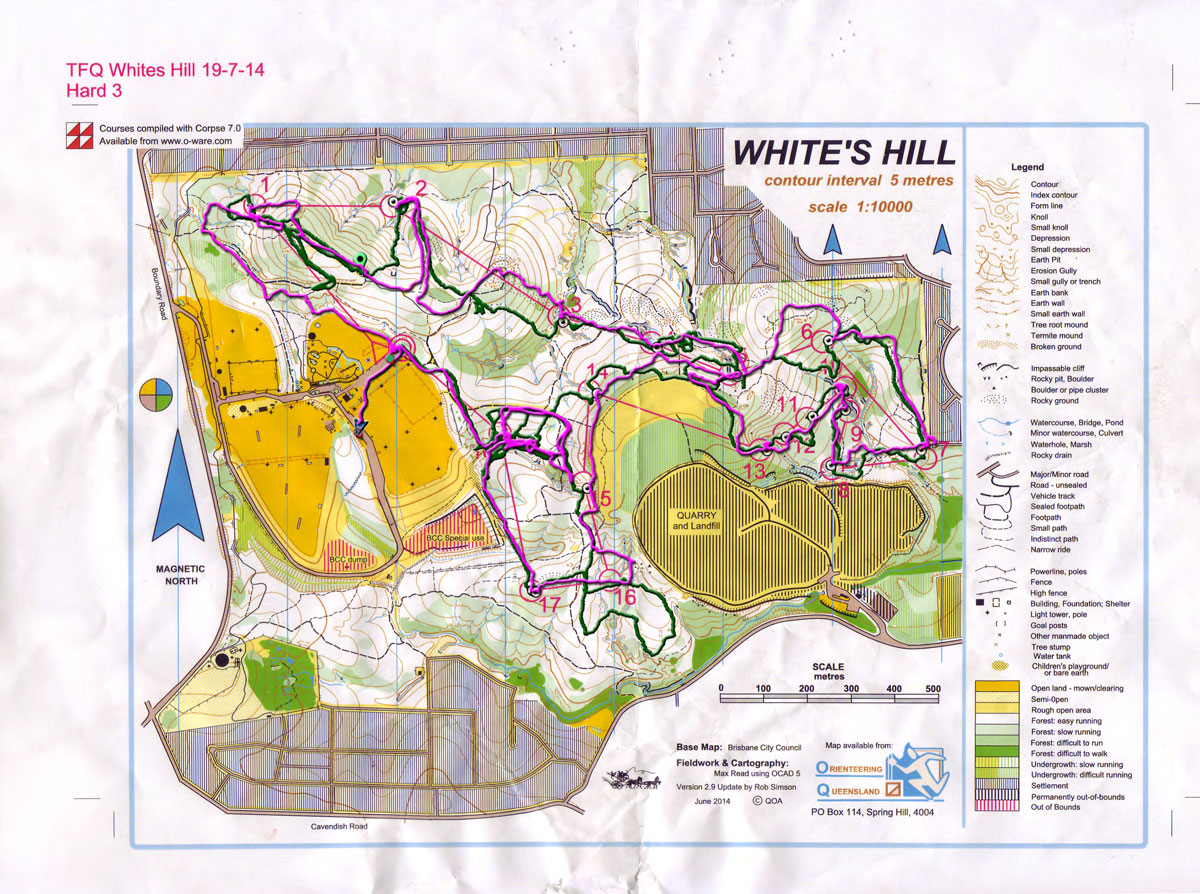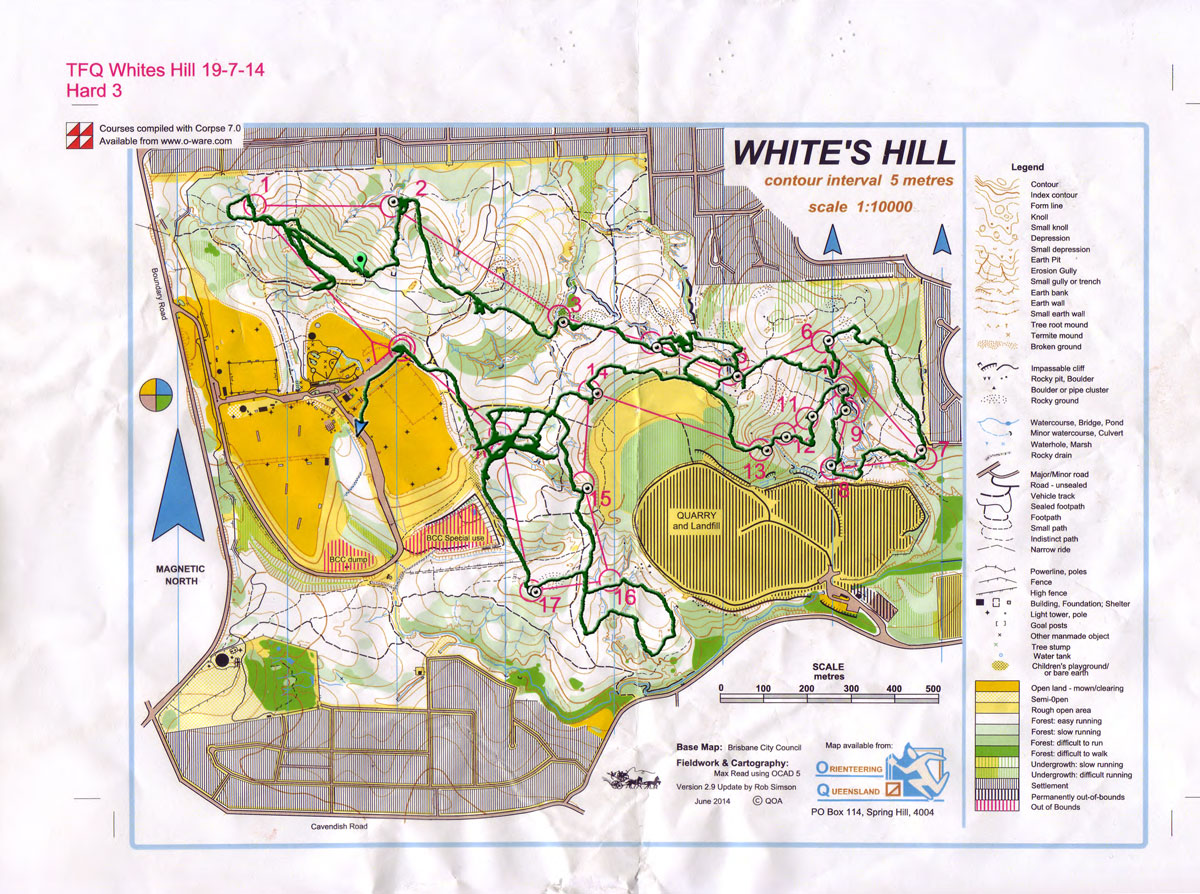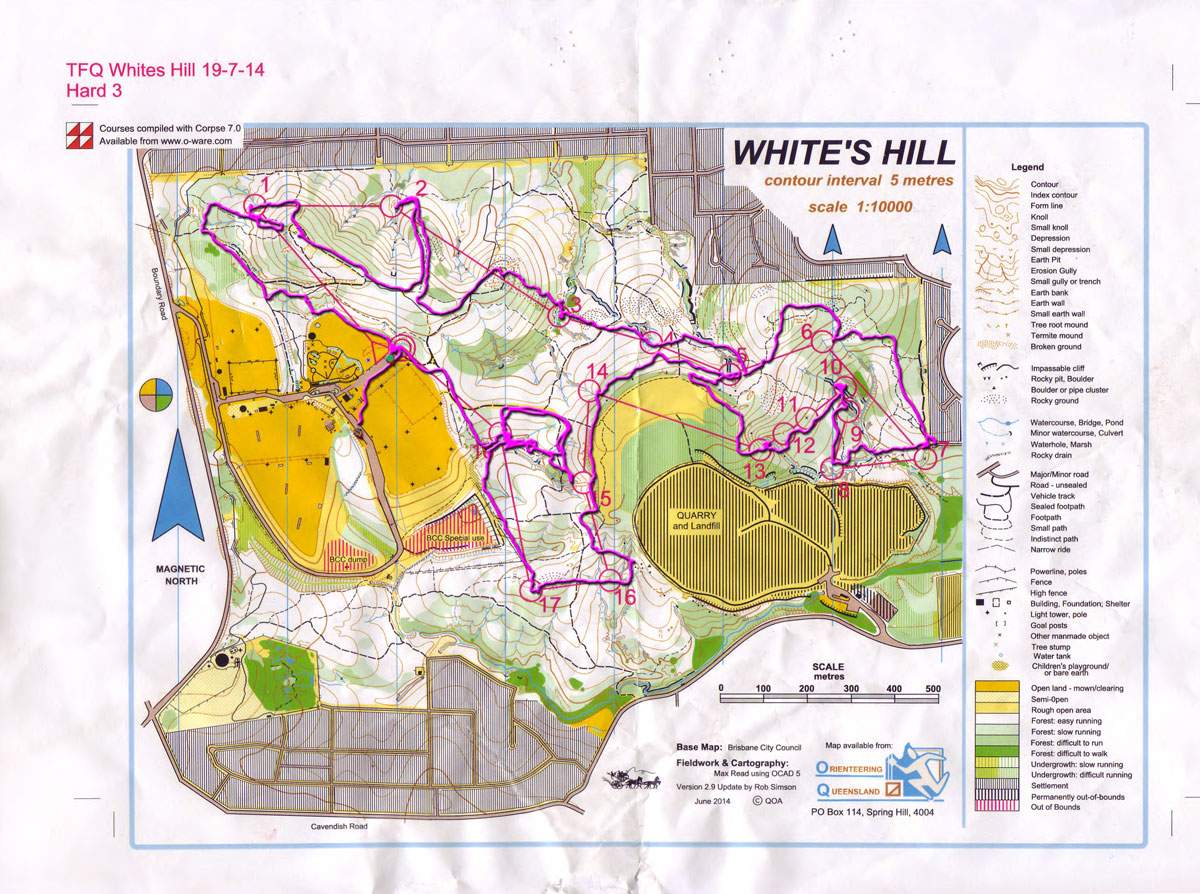 Ned & Bronwen's times
| Marker | Ned | Bronwen | Ned's Total | Bronwen's Total |
| --- | --- | --- | --- | --- |
| 1 | 9:16+8:39 | 14:35 | 17:55 | 14:35 |
| 2 | 17:30 | 8:33 | 35:25 | 23:08 |
| 3 | 14:47 | 12:38 | 50:12 | 35:46 |
| 4 | 5:29 | 7:11 | 55:41 | 42:57 |
| 5 | 4:14 | 8:05 | 59:55 | 51:02 |
| 6 | 6:36 | 7:20 | 66:31 | 58:22 |
| 7 | 6:14 | 5:02 | 72:45 | 63:24 |
| 8 | 4:44 | 5:39 | 77:29 | 69:03 |
| 9 | 2:24 | 4:23 | 79:53 | 73:26 |
| 10 | 1:32 | 2:17 | 81:25 | 75:43 |
| 11 | 2:07 | 2:41 | 83:32 | 78:24 |
| 12 | 2:01 | 4:03 | 85:33 | 82:27 |
| 13 | 1:59 | 1:19 | 87:32 | 83:46 |
| 14 | 13:02 | 5:26+5:43 | 100:34 | 94:55 |
| 15 | 3:32 | 4:28 | 104:06 | 99:23 |
| 16 | 6:18 | 10:52 | 110:24 | 110:15 |
| 17 | 3:37 | 3:20 | 114:01 | 113:35 |
| 18 | | | | |
| Home | 33:56 | 34:28 | 147:57 | 148:03 |
Overall Position
Hard 3
Time
1
Leo Theoharis
53.36
2
Joshua Morrison
EN
54.17
3
Mark Morton
60.26
4
Michael Burridge
UG Q
64.18
5
Oskar Donnelly
67.36
6
Oliver Judge-Mears
67.45
7
Su Yan Tay
72.02
8
Julie Leung
TF
78.56
9
Neets Pluschke
79.10
10
Mandy Caldwell
93.52
11
Tom Leung
95.29
12
Rebekah Apelt
TF
96.22
13
Brendan Henry
117.44
14
Ned Martin
147.57
15
Bronwen Fairbairn
148.03
Tony Bryant
EN
mp
Night
We drove over to Bronwen's parents' place to drop off a slow cooker. We were planning to have dinner at Halim's or Sing's in Rosalie, but there was a game on at Lang Park so there wasn't any parking, so we went to Kookaburra Café instead, and had a veggie lasagne and the pumpkin gnocchi with blue cheese that I'd been craving since we went there last time and they had run out. Though I did accidentally order a coffee milkshake instead of a coffee thickshake.
Sunday 20th July – Regional Flavours Festival
Day
I paid my car rego.
Bronwen and I drove to South Bank, where we walked around the Regional Flavours Festival, and sampled nearly everything. I ate countless relishes and dips, many cheeses, an entire row of different kinds of chilli chocolate, and numerous other things. It's an excellent festival!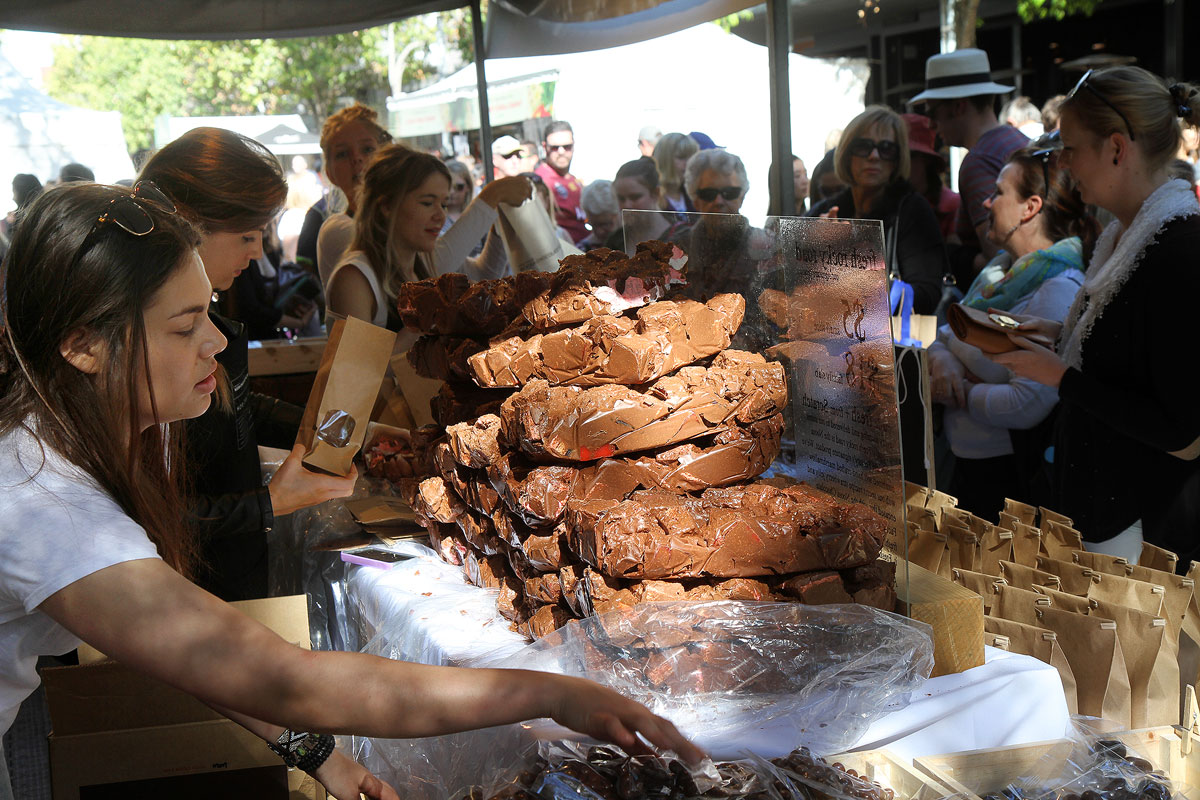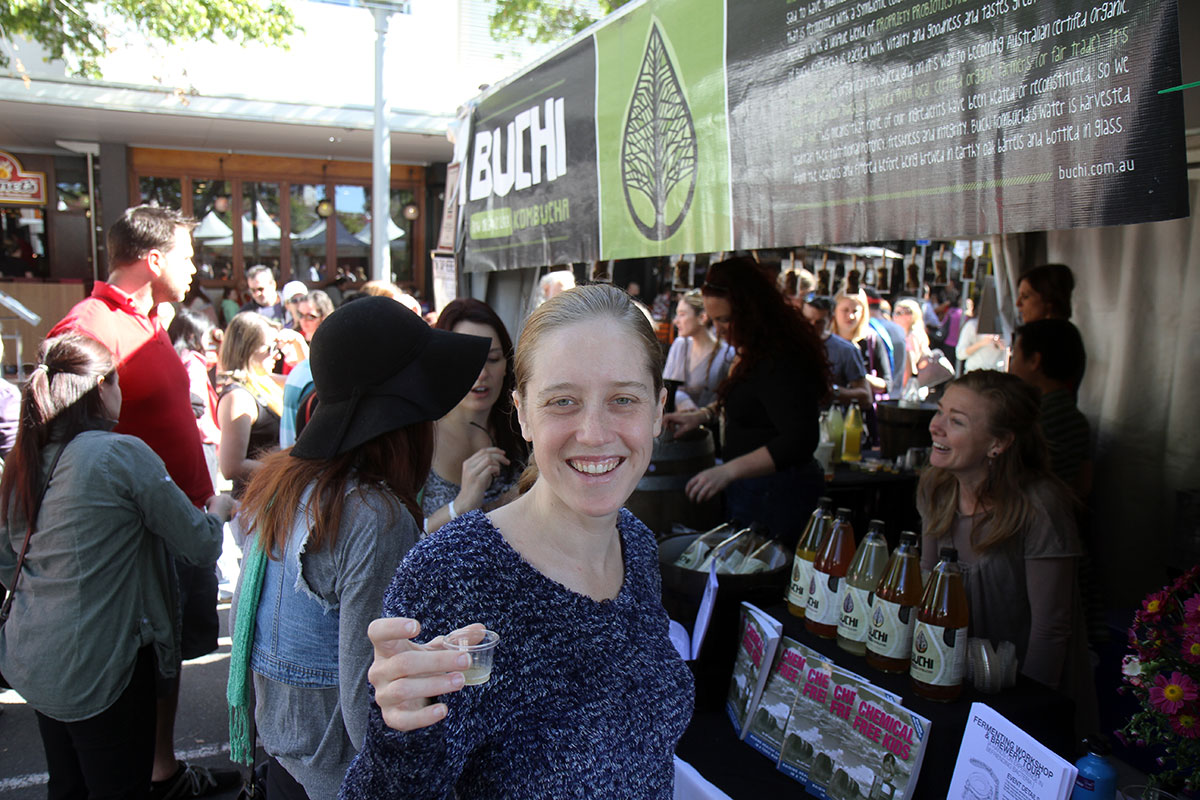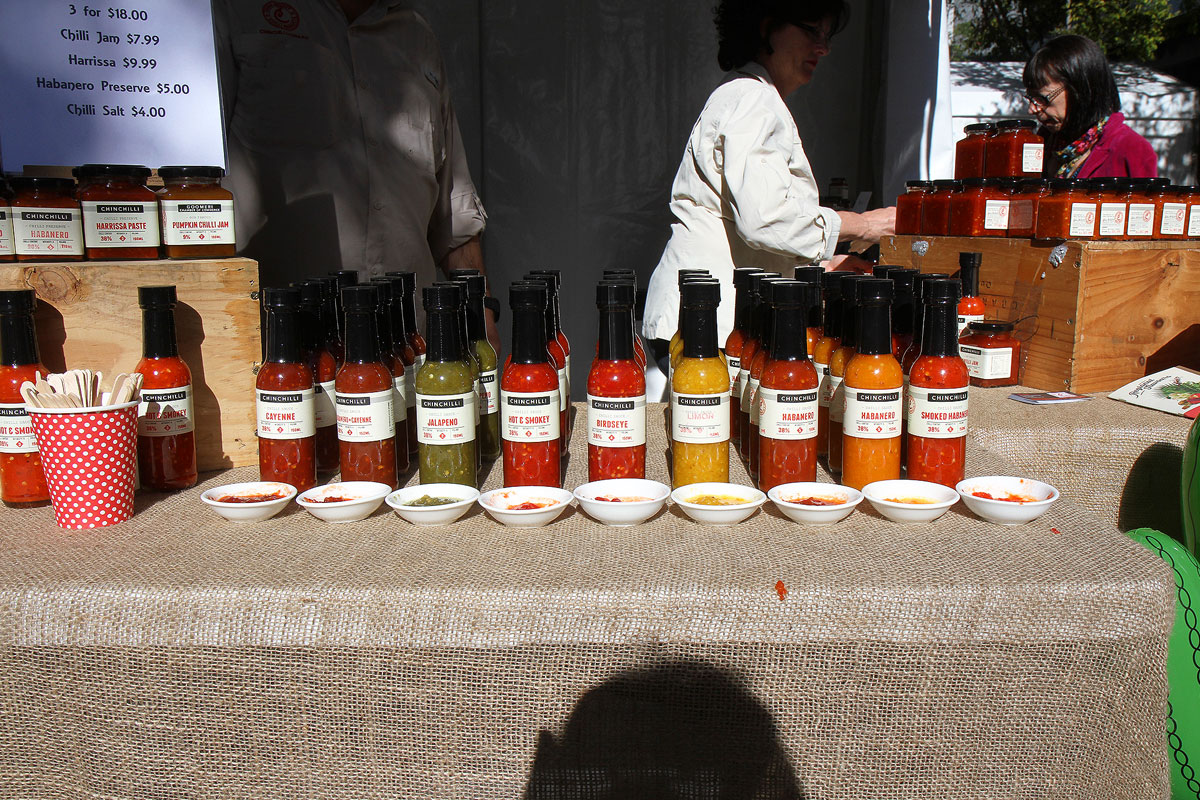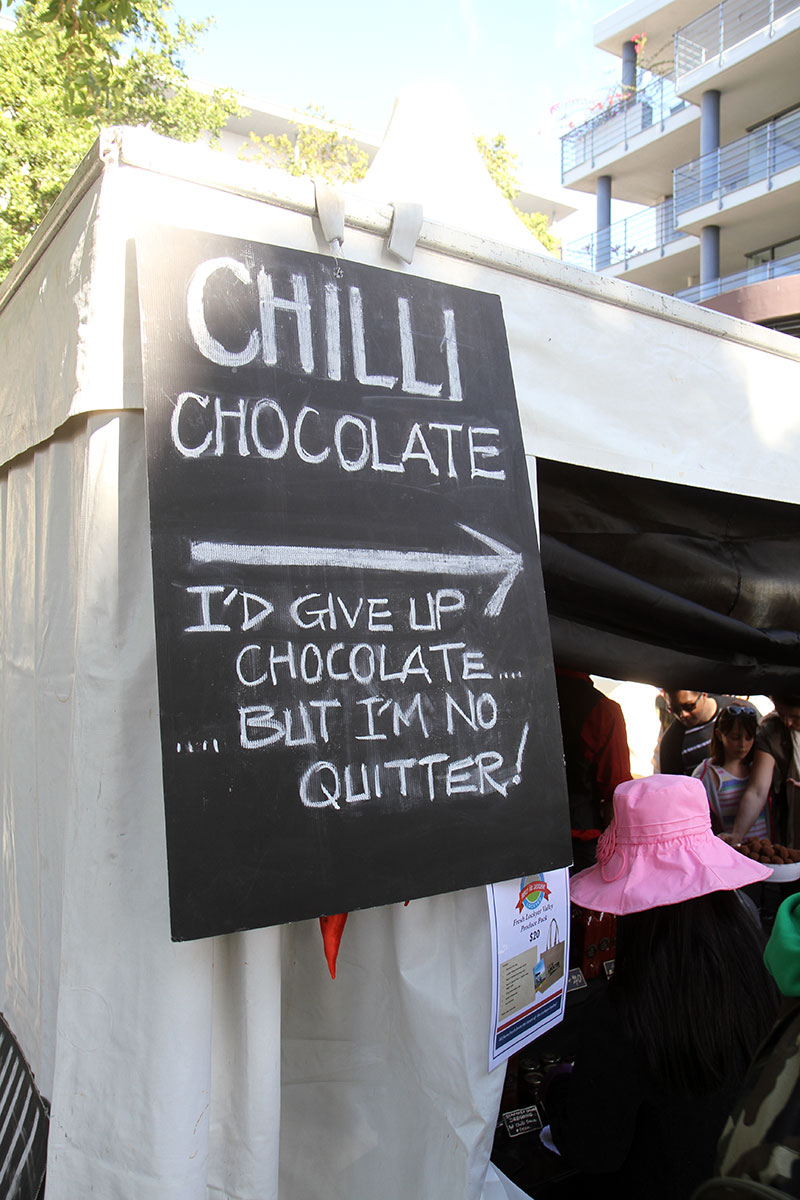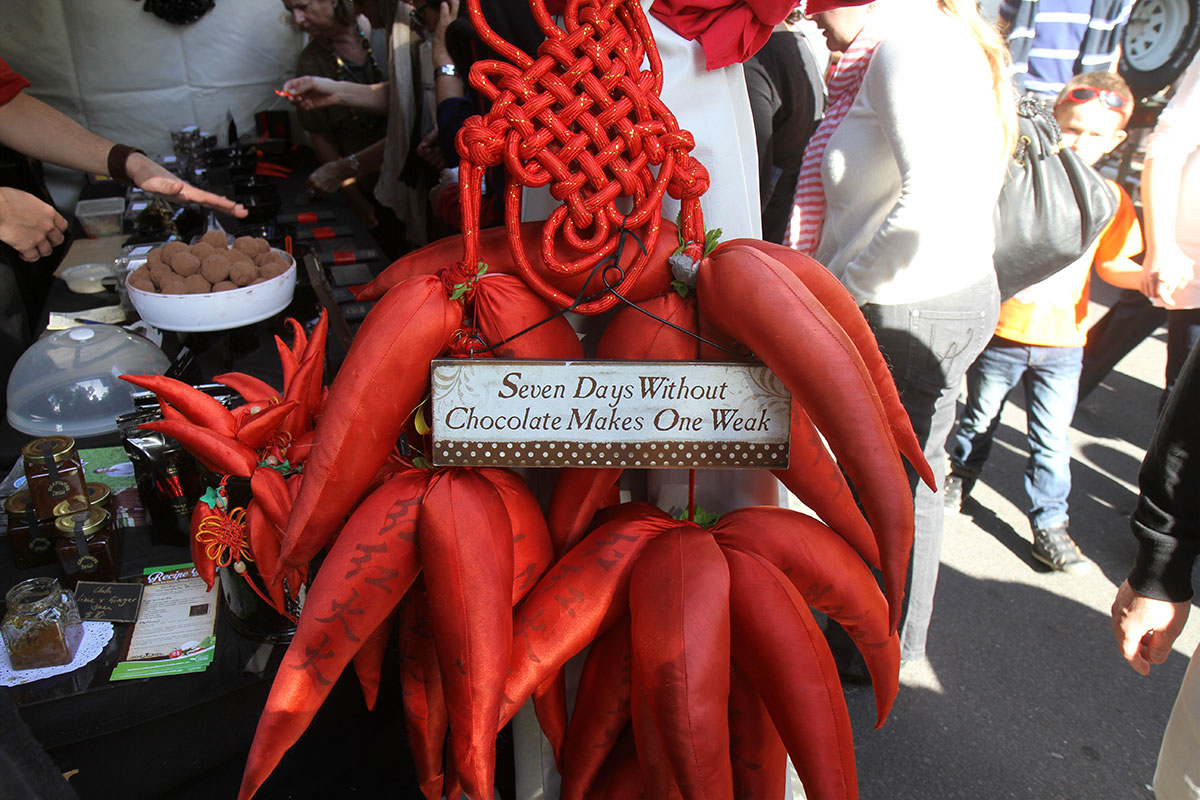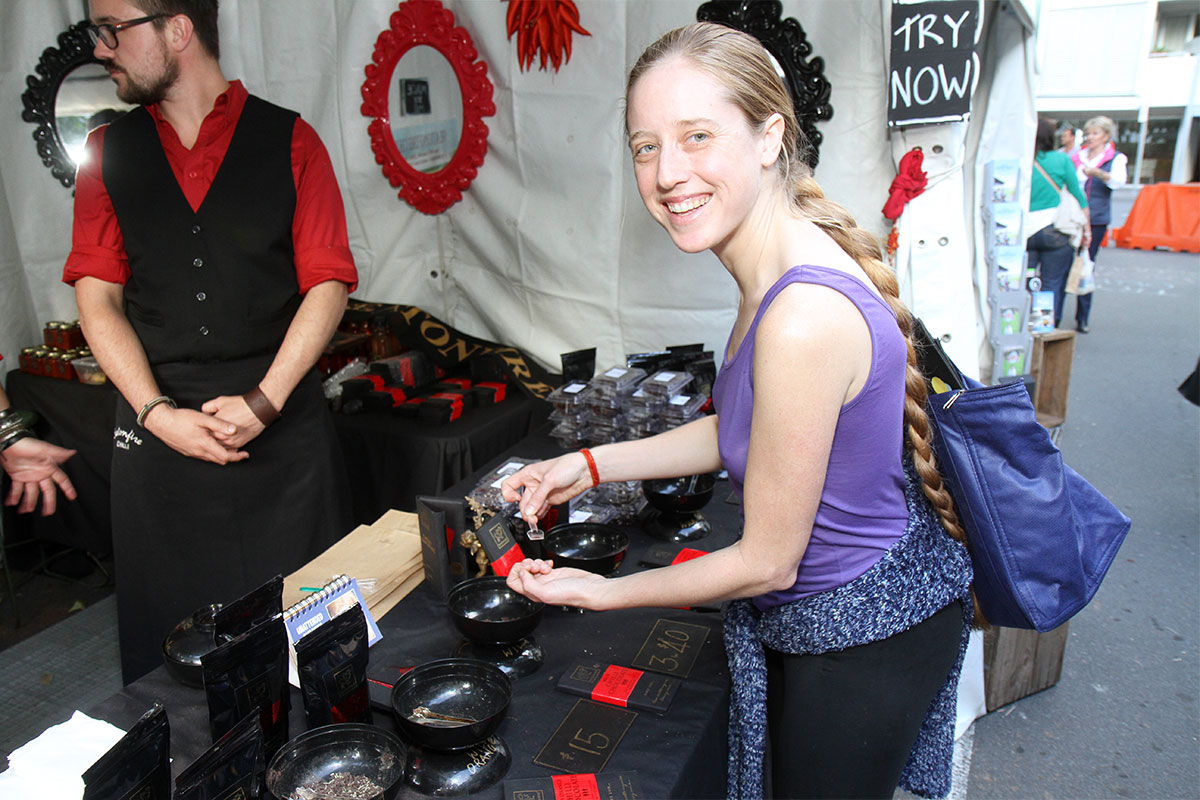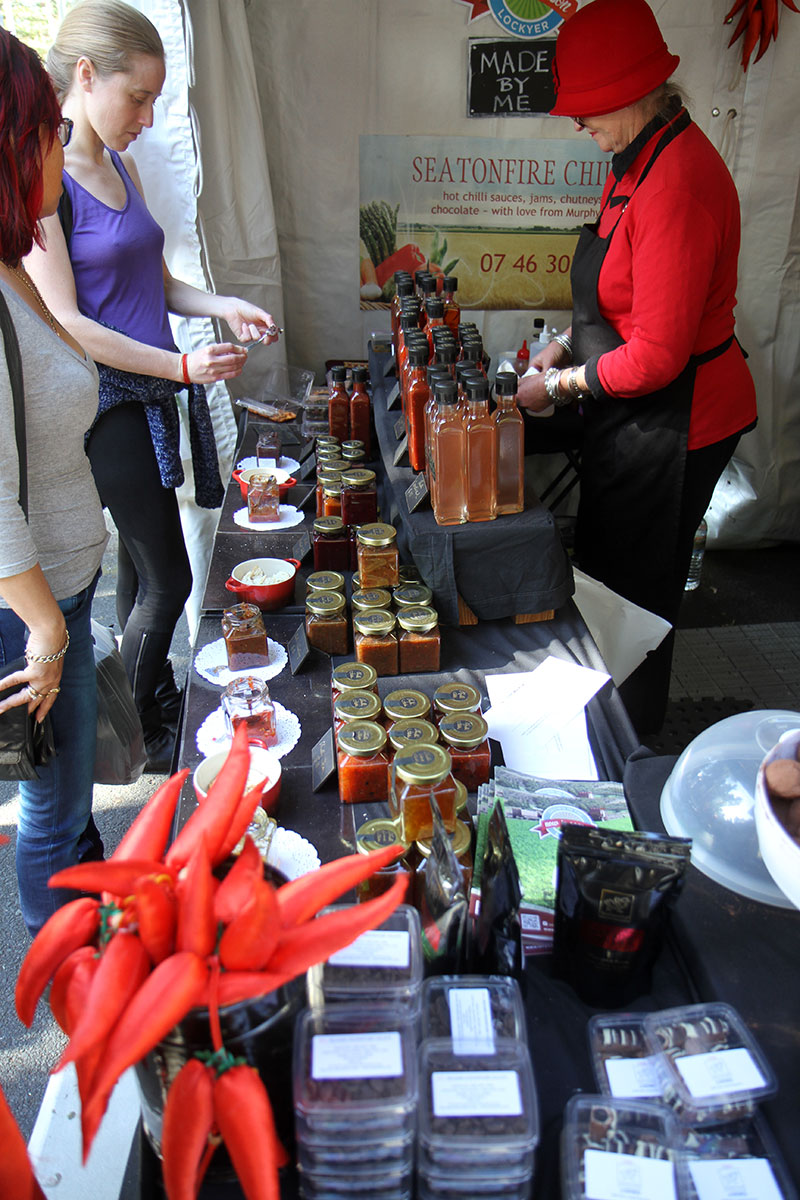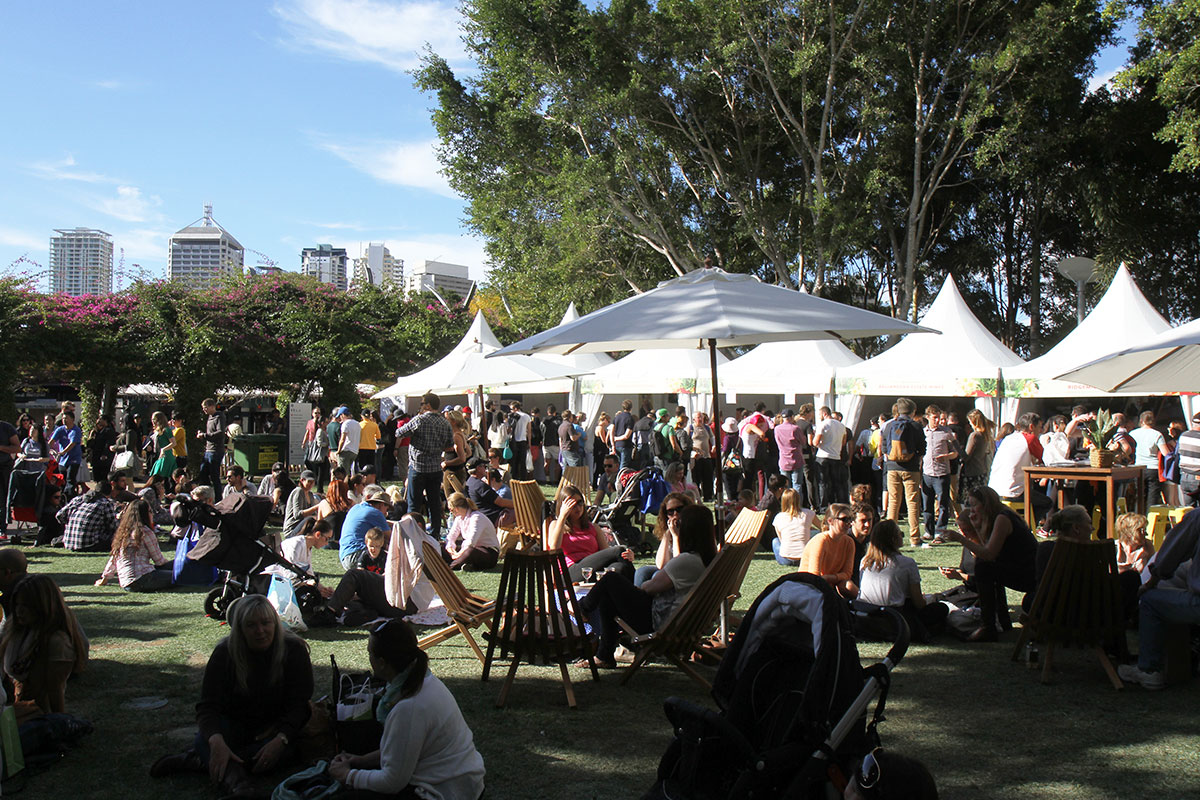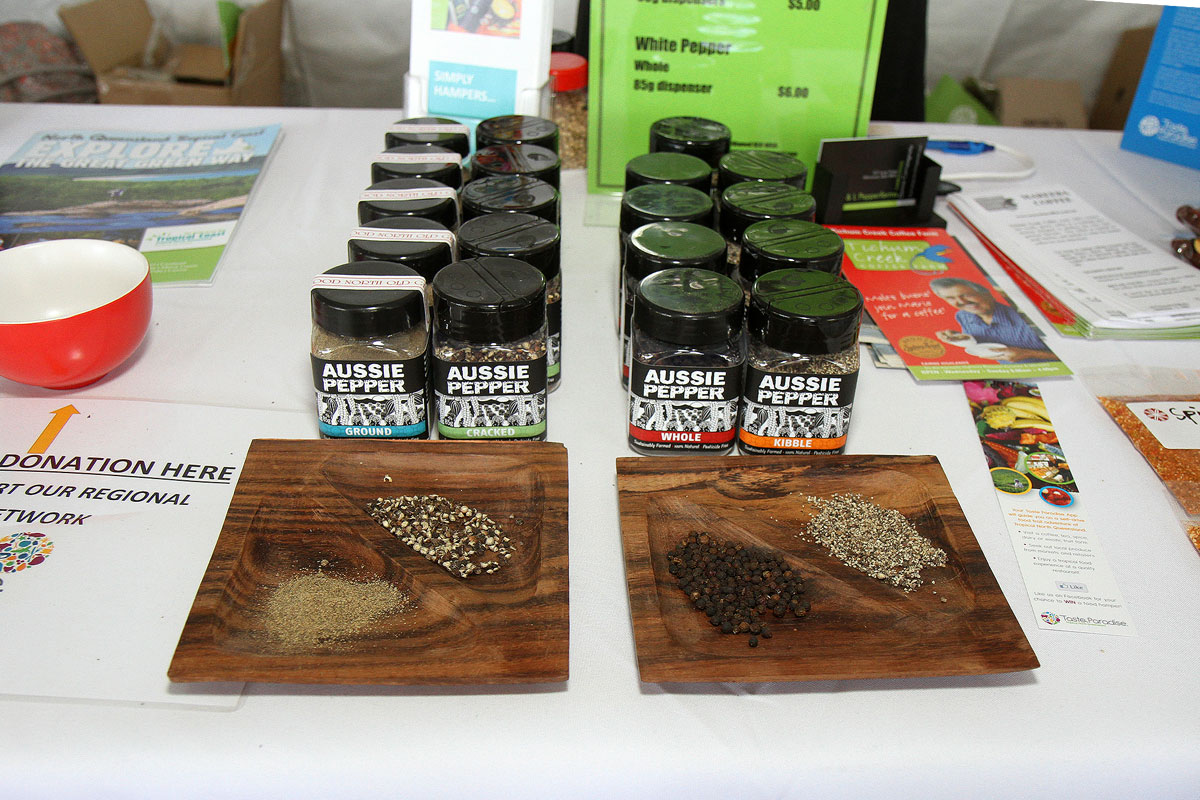 Night
After the festival we drove up to Bronwen's parents' place to drop off some relishes we'd bought them. Then we drove home, via Bronwen's work to get her bike. I'm tired.

Site design from regionalflavours.com.au