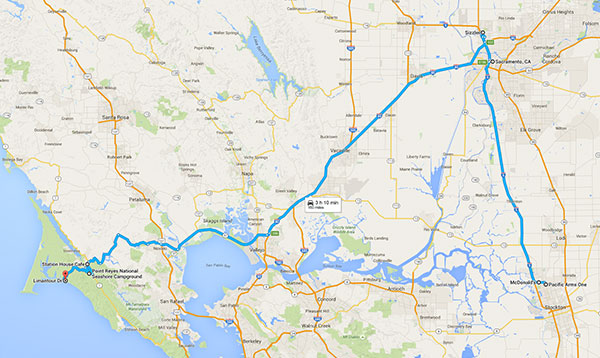 Sacramento
After waking, Bronwen and I drove to a McDonald's and used their Wi-Fi to plan what to do next. This was complicated. Then we drove to Sacramento, went for a walk, and had lunch at an American Sizzler. It was surprisingly similar to Australia, though drinks weren't on tap and all the salads were different.
Point Reyes and the San Andreas Fault
After Sacramento we drove to Point Reyes National Seashore and walked along the San Andreas Fault, looking at a fence that had been pulled sixteen metres apart in the 1906 San Francisco earthquake, and surviving intact and not dead.
Then, having not showered for some time, we went and showered at a campsite. It was very nice and warm—and because the camping office was shut so we had no way of paying, free.
Night
After our showers we drove (and walked) to the beach and went for a walk, watched the sunset, and saw some whales swimming by—remarkably close to the shore.
Once the sun had set we drove to a now-closed camp information centre where Bronwen heated some soup for dinner while I copied photos off the camera onto the netbook.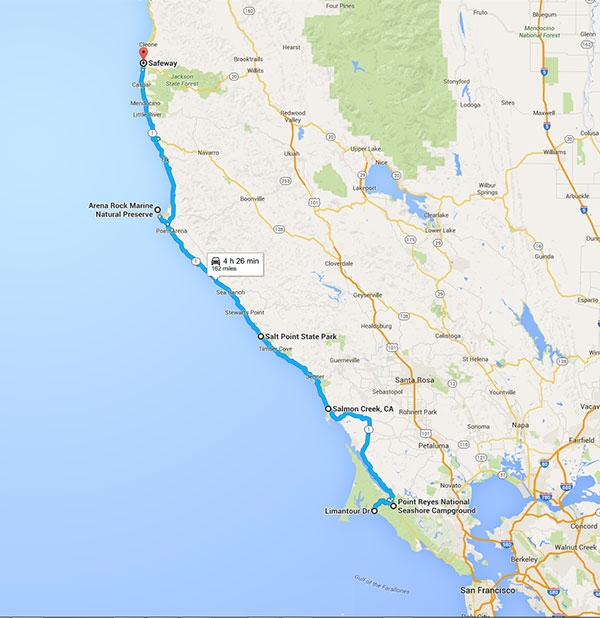 Point Reyes National Seashore
We were awoken very early by a forestry person telling us we couldn't sleep in the carpark. She started quite angrily, but let us off with a warning. Of all the places we went in the US, California was by far the worst when it comes to nanny-state-ism—in most other places, if we asked if there was anywhere we could camp for free they would be surprised anyone would bother asking, and tell us anywhere would be fine and there was a nice spot by a stream just up the road but watch out for bears.
We then drove to Point Reyes Lighthouse, and had a look around Point Reyes National Seashore, looking at the Point Reyes Lifeboat Station and climbing to the top of a hill.
Fort Bragg
We then spent the rest of the day driving through lots of marine conservation areas, historic state parks and state reserves, along the scenic coast to Fort Bragg, sleeping at a friendly Safeway. There were many oyster sellers, and the road was at times almost impassable because of the number of people stopping at them.