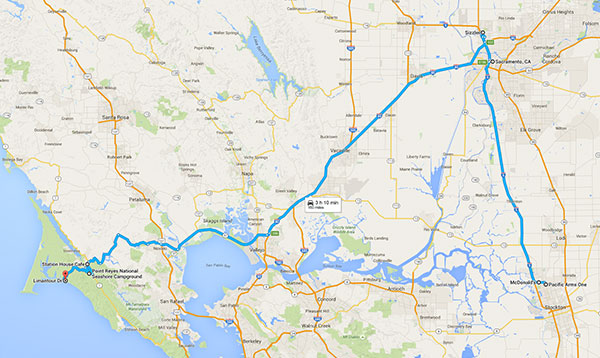 Sacramento
After waking, Bronwen and I drove to a McDonald's and used their Wi-Fi to plan what to do next. This was complicated. Then we drove to Sacramento, went for a walk, looked at California State Capitol, ate free lollies from The Candy Barrel in Old Sacramento, and had lunch at an American Sizzler. It was surprisingly similar to Australia, though drinks weren't on tap and all the salads were different.
Point Reyes and the San Andreas Fault
After Sacramento we drove to Point Reyes National Seashore and walked along the San Andreas Fault, surviving intact and not dead.
Then, having not showered for some time, we went and showered at a campsite. It was very nice and warm—and because the camping office was shut so we had no way of paying, free.
Night
After our showers we drove (and walked) to the beach and went for a walk, watched the sunset, and saw some whales swimming by—remarkably close to the shore.
Once the sun had set we drove to a now-closed camp information centre where Bronwen heated some soup for dinner while I copied photos off the camera onto the netbook.