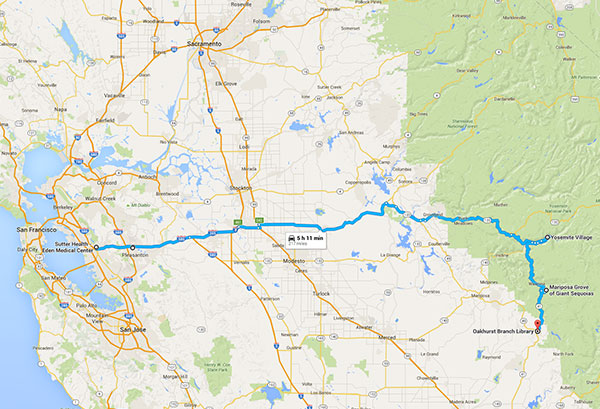 Day
Bronwen and I awoke and drove to Pleasanton Walmart for milk then to the nearby Owens Plaza Park to eat some breakfast cereal, and then to Yosemite National Park.
Unfortunately the weather wasn't very good and we were subjected to rain, sleet and snow depending on the height and the mood of the gods. Nevertheless we managed to wander around a bit, see some cool clouds with the occasional mountain or waterfall (including Yosemite Falls and Bridalveil Falls) poking through, and I got to drive through a minor snowstorm.
We went for a walk through some of the world's largest trees in the Mariposa Grove (seeing Grizzly Giant and California Tree) just before dark and got snowed upon, before driving out of the national park and spending the night at the Oakhurst Branch Library in a nearby town.
Night
The police pulled up and asked us what we were doing just after we'd had dinner at the library. I cleverly said we were using the Wi-Fi, and they didn't shoot us.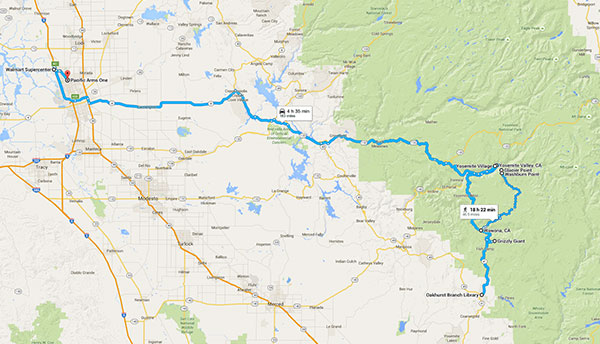 Day
We woke, bought some milk and ginger nut biscuits and an umbrella at Oakhurst Raley's, and drove back to Yosemite National Park. We stopped off at Grizzly Giant again, then drove through some snow up an only-just-open road to Glacier Point before heading back to Yosemite Valley where we drove and wandered around the park, finishing off the day by walking up Tenaya Canyon to Mirror Lake.
Night
Just before dark we left the park and went looking for petrol and a place to spend the night. We bought $40 petrol, went to Stockton Walmart, and ended up sleeping on a quiet side road at Lakeview in Stockton, though it was after midnight by the time we got to bed.