Brisbane No Pants Subway Ride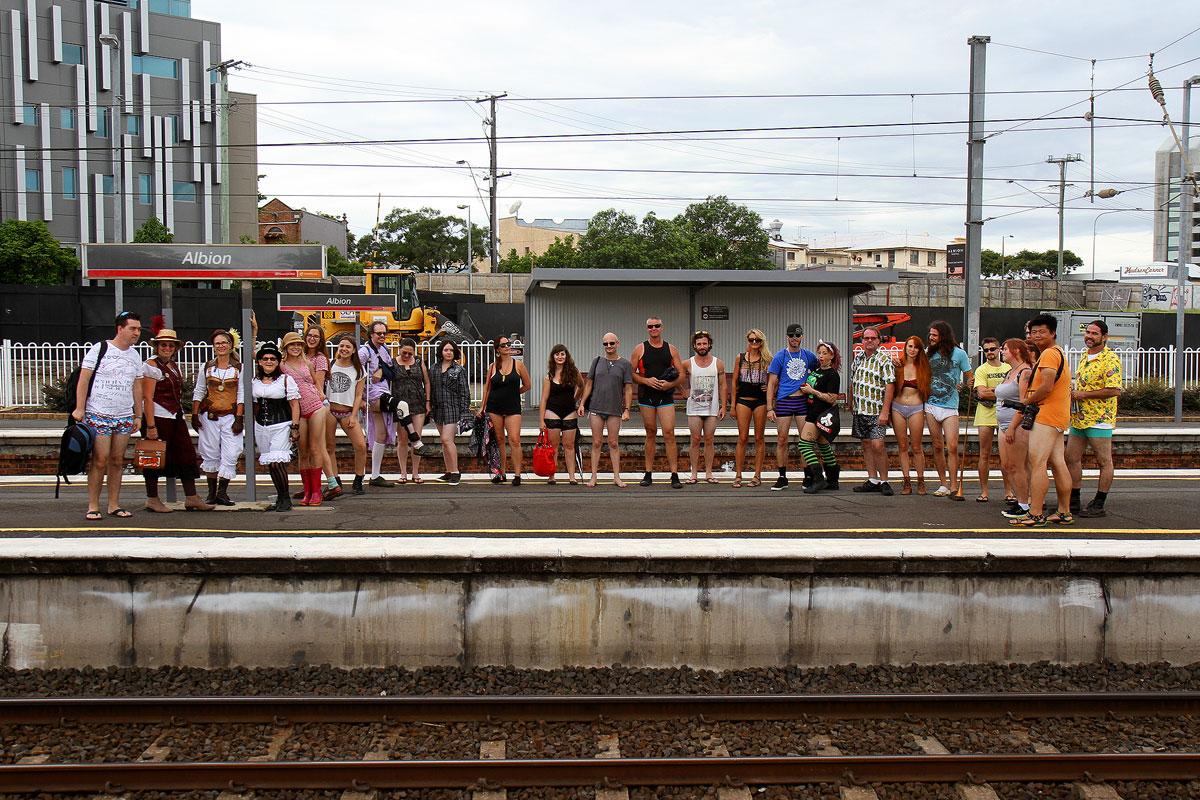 Monday 5th January – Dinner at Bronwen's Parent's Place
Day
I slept in.
Night
I drove into town and got Bronwen from her work, and then we drove up to her parents' place, where we stayed for dinner. It rained.
Tuesday 6th January – Pizza
Day
I had a quiet day at home, sorting through photos from Woodford. I'm not happy with the quality of them—but I'm not sure what I can do about it, or what's causing the problem. I'm not even entirely sure there is a problem, perhaps I'm just being unrealistic and have forgotten the quality to expect?
Night
Bronwen and I had pizza from Dominos for dinner. It's pretty awful compared to the Italian pizza from Woodford.
Wednesday 7th January – Cheap Curry
Day
I had yet another quiet day at home, slowly getting very few of the things I'm supposed to get done in my time off done.
Night
I drove over to Bronwen's parent's place, and Bronwen and I had dinner from the cheap curry place in West End.
Thursday 8th January – Dinner at Bronwen's Parent's Place
Day
I tried to sign up for Bell Direct in order to make my fortune in the share market, but it was too complicated to I postponed it.
Night
I drove over to Bronwen's parents' place and had dinner there with Bronwen and her Mum—her Dad has gone to Tasmania to walk amongst the mountains.
Friday 9th January – Up Late
Day
I had a quiet day at home.
Night
I drove into town to go to dinner with Bronwen, but she ended up going out clubbing instead. Picked her up around two o'clock and got to bed quite late.
Saturday 10th January – Climbing BBQ
Day
I slept in for half the day, which was a horrible waste of a nice day.
I asked some photographer friends online about my photography problems—I got a new Canon 7D in June 2014, and shortly after had it swapped for another new 7D, as it seemed unable to focus correctly. I did a stack of tests with the new 7D and came to the conclusion that I wasn't entirely happy with it, but that I couldn't reliably produce a fault, so I was probably just being too fussy. I did notice that with my cheap Canon 50mm prime, it seemed to focus correctly if the focus point was initially behind the object and moved to it, but not if the focus point was initially in front of the object. In this scenario, it was almost always slightly off-focus. However, this problem didn't seem to happen with any of my other lenses, so I figured I'd ignore it—perhaps some peculiarity with that particular lens.
I borrowed a trusted L series lens off Maz and wasn't able to come to any conclusive conclusion using that either.
However, after using the second new 7D body for some time, and taking a lot of photos at Woodford Folk Festival recently, I was still not happy with the results. I am no longer sure what the problem is—it could even be that my expectations are unrealistic and the photos are as good as can be expected. I am not sure.
My current theory is that my (now quite old and very well used) EF-S 17-55mm lens is faulty, though in testing with Maz's expensive 24-70mm 2.8 L lens I was not able to figure out anything useful. The problem is that when I go to test things, I can't reliably reproduce the problem with my lens either. It is only after taking a lot of photos at somewhere like Woodford that I find that far too many of them seem to be not very good.
I am not sure if they are overly grainy/noisy, or un-sharp, or if this is just as good as I should expect from a 7D with this quality of glass. I've spent quite a bit of time trying to figure out it, and don't seem to be any closer to a solution. It's very disheartening as I put in a fair bit of effort lugging my heavy camera gear around, and I feel like I'm not getting very good photos from it.
Evening
Bronwen and I rushed into town, via Bronwen's work, and found (with lots of difficulty) parking at Kangaroo Point Cliffs. Bronwen's climbing friends were having a BBQ combined with climbing there. I had taken Bronwen's Dad's camera and his EF-S 17-55mm lens—the same lens I have—to try to figure out if my lens or my camera is faulty, and Bronwen and I took a few photos, but couldn't come to any conclusion. There were a couple of photos which seemed less than ideal, but not enough to really figure anything out. It's very annoying being unable to work out what's wrong—or even if anything is wrong or if perhaps my perception of the quality I should be able to get from my equipment is skewed.
Sunday 11th January – No Pants Subway Ride & Sunset Gathering
Frew Park
Sunday started out dismally. After sleeping in for half of yesterday, I'd planned to get up early and go swimming somewhere, but even though I woke early when my alarm went off, Bronwen didn't, and as she's a bit sick, I didn't want to wake her. Then, by the time she finally got up, it had clouded over and begun to rain.
Eventually we decided to drive to The Mt Coot-Tha Botanic Gardens and have a picnic, but on the way there it began to rain so we stopped off at Frew Park—the new park they've built in Milton, near to where I used to live. It has a very cool children's play thing—a sort of concrete climbing thing designed for ten to fifteen year olds.
I took a stack of photos of Bronwen with my lens and her Dad's lens, to try to figure out if my lens is faulty, but annoyingly wasn't able to figure out much—many of the photos appeared to be poor quality to me, but the ones from her Dad's lens didn't seem any better than the ones from mine. I don't know what's going on.
No Pants Subway Ride
After the park we drove into town, parked at Central Station, and tagged along with a group of people for their "No Pants Subway Ride" (#npsr). They got on the train at Central and spread throughout three carriages and travelled to Roma Street. There, as soon as the doors closed to leave Roma Street, they all took their pants off. The idea was that they'd act as if everything was normal, and wear normal clothes on their tops, but only be wearing underwear on their bottoms. They were explicitly told not to wear anything inappropriate or too sexy, and to act normal and if anyone asked, make up a normal sounding excuse for why they had no pants on. Unfortunately, in Queensland, people in their underwear don't look that different from normally dressed people, and especially when sitting down on a train, it was actually quite hard to tell who had no pants on, and who was just a skimpily-clad British tourist recovering from their near-death Cairns sunburn experience. We rode on the train until our parking ran out (conveniently, even though we caught three different trains, it only cost us one fare because we initially got on and finally off at the same place).
Sunset Gathering
We spent the evening and into the night at Kangaroo Point Cliffs at the first Sunset Gathering of the year. It rained a little a few times, but overall it was quite a good gathering—many people did many things.
Sing's Asian Kitchen
We'd tried to go to Sing's Asian Kitchen a few times recently, but each time it got too late, or when we got there we found a ridiculous amount of people waiting for tables, but this time we managed to get there on time, and get a table right away. The nice girl who always takes our orders tried to convince us to order something different for a change, but we were not to be swayed—Green curry Thai vegetables with a large coconut rice it was, though sometimes we get red instead of green.