Friday 3rd April – Natural Bridge Glow Worm Cave
Day
It was another rainy day—raining quite heavily at times. I spent the day at home, doing nothing of any interest.
Night
Maz and Emmi drove over and we drove down to the glow worm cave at Natural Bridge. It rained on and off, but held off raining long enough for us to make our way through the coachloads of Chinese down to the glow worms in their cave, where we were annoyed by morons who kept turning up with spotlights (quite literally) and an annoying guy with a camera with a focus assist light.
On the way back we found some glowing mushrooms, and Bronwen found a stinging tree by brushing lightly against it. We'd been looking for glowing mushrooms for ages. It began to rain just as we were getting back from our walk, which was fortunate.
Saturday 4th April – Reclaim Australia
10am
I drove into the city to have a look at what should have been almost certain chaos—a group of communists had decided to hold a competing rally to protest the anti-Muslim "Reclaim Australia" rally in King George Square, and due to some freedom of speech caveat that the Liberals must have forgot to have got rid of, both were allowed to go ahead at the same place and at the same time.
Many (quite rude and aggressive) police turned up and set up a sort of no-mans-land between the two rallies, and enforced a variety of police lines and were mean to anyone who tried to cross them, which did seem to prevent anything exciting from happening and pretty much ruined the entertainment value of the day. They referred to the two sides as sides of an argument, which I found amusing—someone found to be on the wrong side would be told to "return to your side of the argument".
It'll be interesting to see how the media report it, but I think it's safe to say the Reclaim Australia side won—there were ten times more of them and the communists' rabid insanity made it difficult to sympathise with anything they spat.
While the police took a few people away, unfortunately—and despite the best efforts of a few—no violence broke out.
Apparently at least one person on the Reclaim Australia side was dressed in a Nazi uniform, and Pauline Hanson spoke to lots of applause, but overall they seemed to be pretty normal people with an unusually large amount of Australian flags and a slightly irrational fear of terrorists. The communist side, in stark contrast, had decked themselves out with identity-obscuring face-scarves and brought along a North Korean flag to go with their communist flag. I'm not entirely sure what their logic was with that, but I strongly suspect it simply wasn't.
Communists 0. Nazis 1.
Night
After staying up very late last night, and then getting up relatively early this morning and standing in the sun for hours watching communists hurl abuse at a group of walking Australian flags, I was incredibly tired. I sleep-drove home and went straight to bed, having a snooze for an hour or so.
Then, having wasted away the evening with my snoozing, Bronwen and I rushed to Northlakes to see a classic car show—only to find that the combination of us being so late and the rain meant they were all but packed up by the time we got there.
This was very annoying, but it was still far too early to go to Tom's Confectionery Warehouse (which is currently open non-stop, 24 sugar-filled hours a day, until 9 PM on Easter Sunday) and be able to say we were cool for having gone there late at night, so instead we drove to a weird looking pokey-out bit on Google Maps, which turned out to be a jetty in Redcliffe. We walked along it, and then drove to the big bridge that connects Redcliffe to the civilised world where we stopped to take some blurry rain photos of lights.
Continuing our tour of jetties, we then drove to Moora Park, where Moonfest is held on full moons when it isn't raining, and where the Shorncliffe jetty used to be but now isn't as they're refurbishing it. It was raining there too, and there were also mosquitoes and the jetty itself wasn't even there anymore, so we didn't stay long.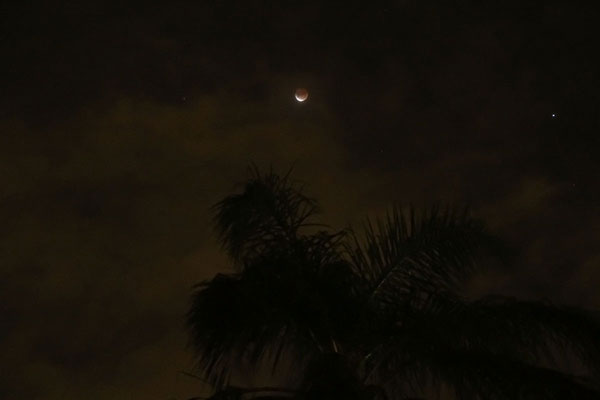 Having not yet had dinner, and it still being before midnight, we decided to go to Hungry Jacks—because an advert assured us the burgers were better there. Unfortunately, the ad wasn't the only thing that lied—the first Hungry Jacks we went to was shut, despite its web page saying it was open 24 hours, and the second one, while technically open, only had the drive-through part open.
Disenchanted with our Hungry Jacks experience, but having wasted a lot of time so that it was now late enough, we drove to Tom's Confectionary Warehouse. To our immense satisfaction, it was quite busy despite the time of night (there was even an undercover cop car there), but also nearly empty of chocolate. They had hardly any Easter Eggs left, and even their normal stock of lollies was greatly reduced.
After spending an absurdly long time with our calculators, we came to the conclusion that it was cheaper to buy Lindt balls in the small bags than it was in the larger bulk bags, and bought three small bags of dark chocolate Lindt balls to say thank you to Bronwen's parents for lending us their shed on Stradbroke Island.
Then, because we still hadn't had dinner, we stopped in the city and went to Hungry Jacks in Queen Street Mall—which had also closed its seating areas so really wasn't any better than the earlier drive-through, but was also our last option, so we bought some vege burgers and sat on the ground to eat them. A Samoan (where's the Reclaim Australia movement to get rid of Samoans? As someone who used to live in Logan, I can safely say Tongans and Samoans are heaps worse than Muslims) tried to punch me a few times because I was white, which in a strangely illogical way, greatly detracted from my enjoyment of my burger. Fortunately, he was stupid so I survived, and after that drove home and went to bed.
Sunday 5th April – Leslie Harrison Dam
Day
After a quiet day at home, Bronwen and I drove out to Leslie Harrison Dam at the Tingalpa Reservoir, as that seemed to be the closest dam which we were told was overflowing. Unfortunately, it seems it's not possible to actually get to it. We chatted to one of the natives we met nearby, who confirmed that the overlords had shut down all access to it some winters ago. We climbed over some fences covered in propaganda designed to stop people climbing over them and had a look at the dam wall from very far away, and then parked in a nearby park and walked through the tree-infested mosquitoes until we got to another large fence which was too difficult to climb over, and had a look at the other side of the dam wall from less far away.
The water was indeed spilling over it, but it wasn't very much, or very interesting. The dam itself is quite small, and they've lowered its level to 42% anyway, in preparation for changing the way the wall works.
Night
After not getting to the dam wall we drove to Bronwen's parents' place, via White's Hill Reserve, where we stopped off and ran up a heavily lantana-protected cliff face to have a look at the water in the quarry there, where I managed to get very itchy in the process and Bronwen put a hole in her leg to let some of her blood out.
We had dinner from Sing's Asian Kitchen, who brought us normal rice instead of coconut rice by accident. I thought of petitioning the local member to have the place shut down, but Bronwen suggested we bring the oversight to their attention instead, and they swapped the rice for coconut rice.
Monday 6th April – Mount Ngungun
Day
I'm very tired. I stayed up late again last night, and got up semi-early today to see what Clint and Maz's plans were, though I didn't hear from either of them until half past eleven, at which time Clint said "BEACH BEACH BEACH" and Maz said he wanted to climb Mount Ngungun with Emmi.
Some disjointed online and SMS discussion later, and Bronwen and I were on our way over to Maz's, where we were astounded to find out that everyone else knew that Coles was open—I had assumed it wasn't due to it being a public holiday—so we walked there and bought some milk and an apple turnover.
After that, we drove up to Mount Ngungun, and walked to the top. Somewhere on the way we arranged to meet Clint and Kelly at the bottom on the way back, and then once we reached the top, we arranged to wait there and meet them there—which we eventually did.
In what I think is a first for me, I was attacked by violent swarms of moths (technically flying ants I think), which were hiding right at the very highest point of the mountain.
After surviving the moths, admiring the view, and recovering from the exertion, we walked back down and drove to a nearby town for an iced chocolate, then Clint and Kelly went on their way while Maz, Emmi, Bronwen and I drove to Halim's Indian Taj, and dined on delicious curry.
Night
I stayed up making this journal entry.