I wake up and drive to work.
Drive home, pack as fast as I can, show my flatmates my tent to see if they want to take it to Nimbin, drive back to work, get a taxi to the airport, fly to Darwin. Arrive 1 am. Get hire car. Do stuff.
Packing for Darwin was hectic, hot and stressful, but in the end, I got it done on time.
Bronwen and I left my place and drove to work via the IGA. I left the car at work and got a $20.50 taxi to the airport.
After an uneventful check-in we left on-time in seats 26E and F on a Virgin Blue 737-800, flight number DJ459.
Our flights cost $509 return, for the two of us.
We arrived in Darwin, got our luggage and an almost brand new XR6 Falcon—1700km on the clock. We drove to the Esplanade, then wharf, found an open servo to buy a drink from, and parked near East Point Reserve, where we slept in the car. It was quite hot and uncomfortable, but we managed to get some sleep.
In the morning we drove back to the Esplanade—after a walk around East Point—bought some breakfast, saw Parliament House, and had a bit of a look around.
We drove to the Casuarina Shopping Centre and bought a $20 tent, $12 tarp, $2.50 of pegs, and $6 of ropey-string designed for making fish-nets. We also bought food, then drove south towards Litchfield National Park.
Just as I came up to a blind corner, at 80km/h, a Frenchman in a Toyota RAV4 came around the corner—on the wrong side of the road. There was no time for me to do much and he made no attempt to get back on the correct side of the road, so I had to drive onto the loose-gravel kerbing, where I was unable to avoid hitting a sign, but very fortunately did avoid leaving the road entirely and managed to get the car under control and stopped without killing anyone, or hitting anything big. The left mirror, doors, and running board are, however, badly damaged.
The Frenchman didn't stop so we chased him down. He seemed reluctant to stop but did and we got his details.
After the accident, there being no mobile reception and it being late, we continued on to Florence Falls, where we set up camp. Our $20 tent fits our airbed, but not me. We went for a walk to the falls, ate dinner, had a shower, and went to bed.
Sadly, the 18 million mossies, 4mm from my head, the overbearing heat, and me being longer than the tent, meant it took me a few unpleasant hours to get to sleep.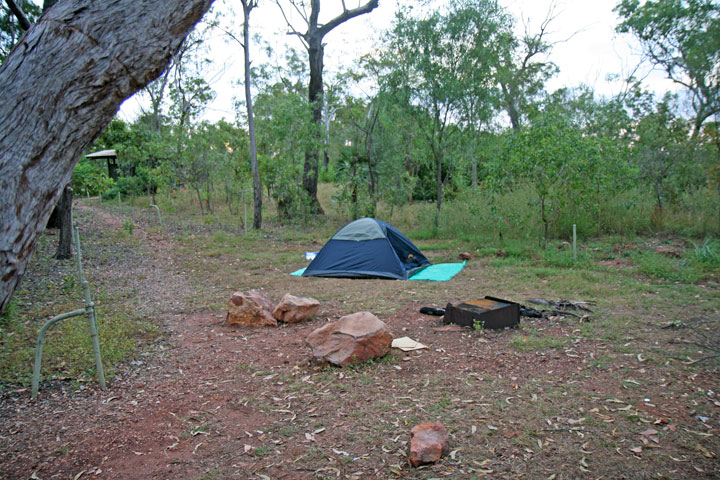 We drove back to Batchelor to try report our accident, but the police had gone to Darwin, so we drove back to Litchfield National Park, stopping at Magnetic Termite Mounds, then going for a swim in the lovely Buley Rockholes.
Cooled from our swim, and hungry, we stopped just before Florence Falls at Shady Creek Picnic Area, where we went for a walk and had lunch, looked at Florence Falls and its plunge pool, then walked back to find the front passenger window smashed—our phones and Bronwen's wallet gone.
Fortunately my wallet, camera gear, etc. hadn't been taken.
We drove back to Darwin, reporting the accident and theft at Humpty Doo Police Station, phoning 3 (the mobile phone company), and Thrifty Car Rentals, then driving to the airport to get our next Falcon—an identical white XR6.
Fortunately our insurance covered everything, so we didn't have to pay anything more and were simply given another identical, brand-new, car. Unfortunately, our rental had a kilometre limit, after which we would be charged a fee per excess kiolmetre—and we'd now used up a large amount of it having to drive back to Darwin again. We tried to get the rental company to agree to not include this distance in our limit, considering that it was a different car, and that our insurance was covering this incident, but they refused. This adversely affected the rest of the trip, because not only had we lost some time and our phones and Bronwen's wallet and become paranoid that we'd be broken into again or have another accident, but we were now constantly worrying about how far we were travelling and how many excess kilometres we'd have to pay for.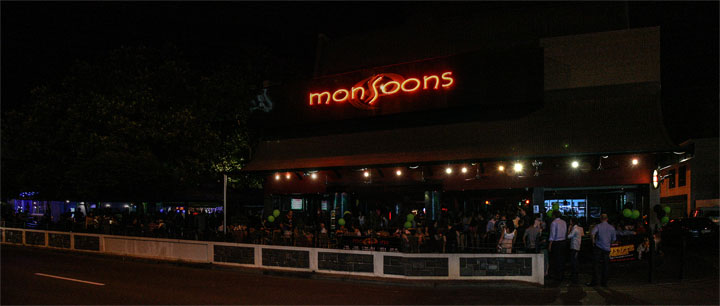 Bronwen and I went and had a shower then drove to the city, had dinner, a drink, went for a walk, then drove back to East Point, where we slept in the car—or in my case, stayed awake for hours, getting up when the sweat got too much and sitting beside the ocean.
We awoke, showered, drove to Darwin, Bronwen phoned her bank, and we bought food from Coles, and lunch, which we ate on the Esplanade.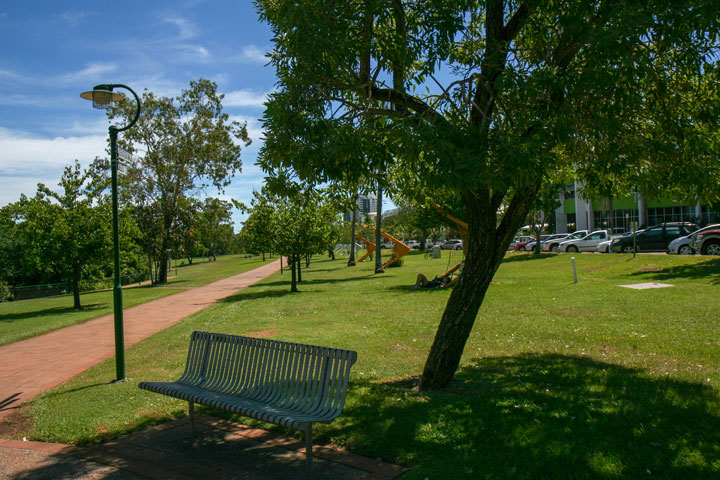 Bronwen drove towards Kakadu, stopping at Fogg Dam Conservation Reserve, going on a wetlands walk, looking at Humpty Doo's defence signals station, and now at 4 o'clock, Mary River Billabong.


Stopping at a few places, including the one where we bought $50 of passes to allow the both of us into Kakadu National Park, we made our way to Jabiru, where we have set up camp ($26) at Kakadu Lodge, and had a lovely swim and spa in their pool. The hot shower was nice too. Now all I have to do is wait for Bronwen to finish cooking pasta.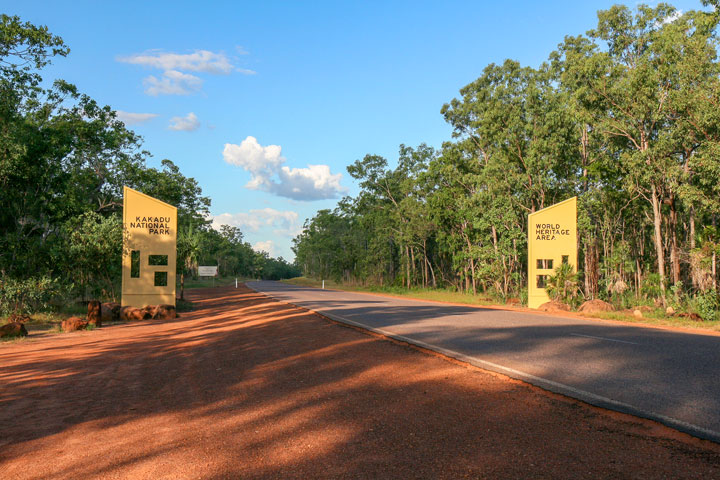 Last night was, again, awful. I could not sleep, sweating to the sound of a million mosquitoes. After a few hours, I moved from the cooler—but very noisy—end to the hotter, further from crazed mosquitoes, end of the tent. Surprisingly—or perhaps because of utter exhaustion—I then fell asleep.
When I woke, I found lots of mossies inside the tent—no idea how they got in. Sleep ruined, we got up, showered, and had breakfast.
After breakfast we went shopping at Jabiru Mall—a surprisingly large supermarket.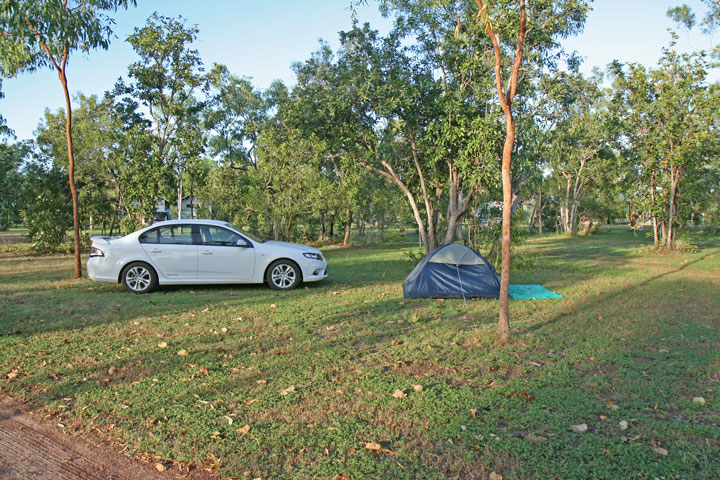 I drove to a rock lookout—quite spectacular—then on to a very hot walk where we saw lots of aboriginal cave paintings, smudgily through our sweat-soaked eyes. It was cool, in an ironic use of the word, seeing the famous rock paintings I'd seen previously in books.
Having been saved from death by drowning in sweat by the car air-conditioning, we decided to climb a mountain, now that the sun had fully warmed, and expire somewhere near the lookout-cum-lightning rod up the top. Surprisingly, a searing breeze cooled me enough that I survived, and the lookout was quite look-out-ish.
Once again saved by the aircon, this time Bronwen tried to kill me by taking me on a 2km walk through low, hot, flat—but high in biodiversity and a fearful wild brumby—brush. Regrettably for her, being flat and not a mountain, I did not die, and was again saved by the cooled drive, heading towards Katherine.
Our last stop in Kakadu was an unspectacular—but nicely close—lookout, before we drove South to Katherine, stopping for coffee and another lookout on the way.
We arrived in Katherine not long before dusk, had a little look around, went to 2 uninspiring van and camp parks, went for a swim in the hot springs, then decided to risk driving through the gathering dusk to Katherine Gorge, hoping there would be a campsite.
It turns out there's a lovely campsite ($15 per person) and we set up camp, had some Bronwen-pasta, and now I'm slowly fading to a vegetative—hasn't got a good sleep in days—state. So far there's not been any significant mosquitoes and a nice breeze is making me hope I might be able to get some sleep tonight. That said, the stress of writing that has me sweating, so I think humidity may still be high.
Bronwen and I spent the morning wandering around Katherine Gorge.
We left Katherine Gorge and began the long drive back to Darwin. Interestingly, the place we'd slept when in Darwin just a couple of days ago—along with a lot of other backpackers in campervans—was now heavily signposted with signs threatening fines for anyone who camped overnight.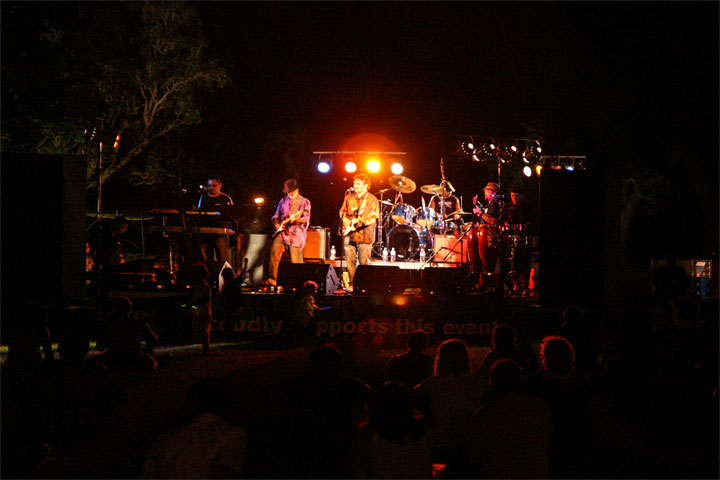 Virgin Blue flight DJ446 departed Darwin at 1:40 AM, arriving in Brisbane at 5:45 AM.