Morning
I packed, then drove to Bunnings and bought a variety of anti-moth things, as we seem to have encountered an outbreak of moths.
Brisbane Airport
I walked to the nearby bus—which turned up only two minutes early—and caught two buses and a train to the airport. I got my seat moved to 12F—an exit row, albeit the non-reclining one—and got sniffed by the anti-explosions machine as usual while going through security (which is much more annoying now I have a new laptop that I carry with me while flying as I have to get it out of its bag and put it in one of the bacteria-laden-trays, which it's quite difficult to get out of again as it fills the entire bottom surface almost exactly with almost no space around it to grab onto it again).
To celebrate clearing security I bought a Hungry Jack's veggie burger with cheese and no onions at the airport, which arrived without cheese but with onions. I paid more to get it as a meal which came with chips, then after I'd already ordered it, I remembered the Hungry Jack's shake and win app, so I shook it and won a medium (Hungry Jack's codeword for "extra small") chips, which didn't really compliment my cheese-free onion burger and the chips I'd already bought very well so I carried them onto the plane.
Jetstar were being jerks and making everyone weigh their cabin baggage and get it tagged with silly orange sticky tape, and consistently announcing that anyone who didn't get their bag tagged would risk having their luggage fly on a different flight. Given how paranoid they are about unattended luggage flying without its owners, this seemed pretty unlikely to me, so I boycotted the luggage-sticky-tape-man. As I was standing in the queue to board Mr Sticky Tape grabbed someone else from the line who didn't have their bag sticky-taped and got them to go weigh it, but I managed to sneak past him and board with my dignity intact.
My Jetstar A320 flight JQ817 took off at 18:45, a bit later than its scheduled 18:20 departure, and the flight was uneventful despite the pilot demanding everyone put their seatbelts on "immediately" just after they started serving food, and the far-off lightning. The flight seemed to be entirely full so I was quite glad I got moved to an exit row which had a huge amount more space.
Sydney Airport
I arrived in Sydney, found my luggage, walked to the train, discovered that it was cancelled, and boarded the next train along with several million other people. Apparently cancelling trains in Sydney means the next one is very full. Our train had Roxy the Door Fairy to keep us company with her happy announcements at each station, though she finished at Central and went home and was replaced by Generic Foreign Train Announcer Guy.
City Lodge
I arrived at City Lodge just after nine, and Bronwen—who was still at work—arrived shortly after.
Mejico
Bronwen and I had a very filling dinner at Mejico, along with a free bottle of wine under Citibank's Dining Program (spend $50 or more and get a free bottle of wine, which is worth more than the meal)
All the Colours at Frankie's Pizza
After dinner we popped into Frankie's Pizza and watched Melbourne band "All the Colours" for a while, before heading back to City Lodge to go to bed.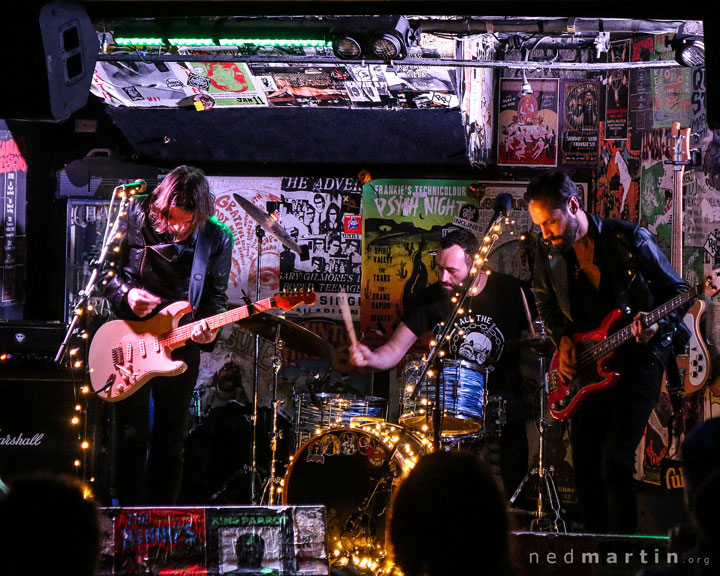 Chocolate Milk
I somehow managed to spill chocolate milk all over my chair, the room, Bronwen's clothes, and my fancy new laptop. Fortunately, I don't think any milk went inside the laptop. Unfortunately, it went all over the carpet, which was quite hard to clean.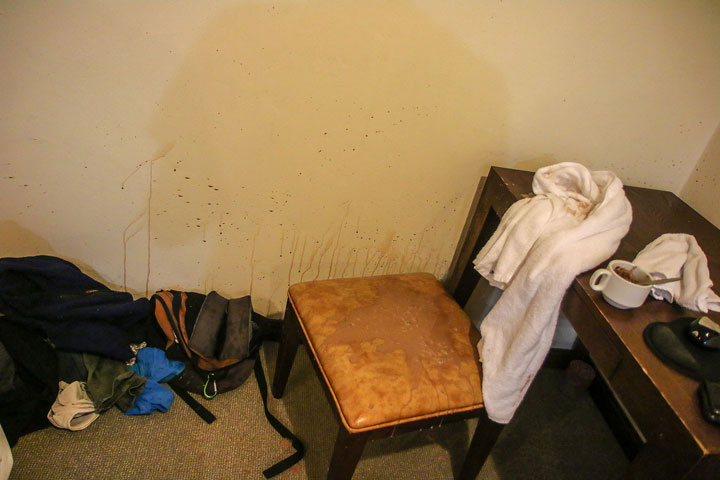 Pontoon Bar
Bronwen and I had pizza and a burger for dinner at the Pontoon Bar in Sydney, then dropped past Frankie's Pizza after, before going to bed back at City Lodge.
City Lodge
I spent a quiet day at the City Lodge Hotel.
Thrifty Domain
I packed up all my stuff and walked to Thrifty at the Domain, where I picked up a white Toyota Corolla and drove it back to City Lodge and picked up Bronwen and all our luggage.
We then drove to Cooma, via Casula Mall where we bought some food and a cheap quilt for Bronwen who had forgot her sleeping bag.
Car Accident at Cooma
Unfortunately, after driving for hours past incredible amounts of dead kangaroos that had been hit by cars, just after we'd fuelled up ($43 dollars) in Cooma and were looking for a place to stop for the night, around 12:15 AM, about 18 km outside Cooma, we hit a kangaroo. I would have been doing 100km/h (using cruise control). It was a large kangaroo that seemed to be standing right in the middle of the road and even though I swerved and almost missed it, it clipped the front driver's side of the car, quite effectively squashing most of the front of the car and making it so that my door couldn't open. Fortunately, we didn't go off the road, though it was a bit touch-and-go for a moment.
We drove back to Cooma slowly, with plastic parts of the car dragging on the road and hitting the wheel from time to time and making nasty noises. We called NRMA as per the instructions on the sticker in the car, and were told that we would need to be towed to the nearest Thrifty in Fyshwick (just over 100 km away) and that we could "book" a tow truck for 4 AM or 8 AM, so we chose 4 AM as this would give us a small amount of time to sleep and there didn't seem to be any point getting to Thrifty hours before they opened. However, shortly after, we got a call back from the lady at NRMA, who told us that she hadn't been able to get into a tow truck, and the earliest we could get a tow truck might be on Sunday. She said she'd keep trying.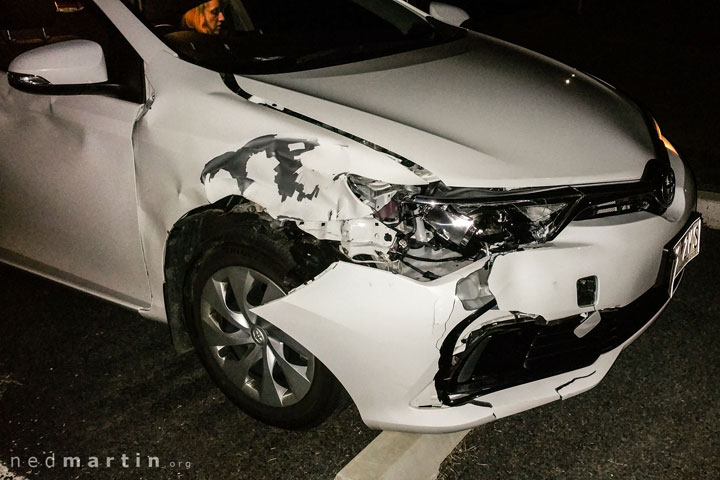 Thrifty Fyshwick
Bronwen and I tried to get some sleep in the car, and a little while later a different lady from NRMA called to say that there was no such thing as "booking" a tow truck for a specified time and they'd just turn up as soon as they could, and asked if we still wanted a tow truck. We said that we did, and she called back a short while later to say a tow truck was on its way. The tow truck arrived around 3:30 AM and drove us, and the broken car, to Thrifty in Fyshwick.
Thrifty Fyshwick
After almost no sleep in the car outside Thrifty Fyshwick (which unfortunately turned out to be a franchise, rather than a "real" Thrifty, even though it was quite big and had many cars all marked as Thrifty) waiting for it to open, Bronwen and I got up and went and chatted to them. We told them we'd had an accident, and they got us to fill out some paperwork, then when we said we wanted another car. They initially told us that they could only hire us a car that we'd have to return to them here as they weren't a "real" Thrifty, and as a franchise, they didn't do one-way hires. After I said I didn't think this was how it should work and stepped outside to call Thrifty (as the office was quite busy with other people renting cars) they found a Thrifty car (a red Mitsubishi ASX) and organised that for us, but then tried to get us to pay for it. I again called Thrifty, and before I had even finished explaining the problem, they changed their mind again and said they could do it for no extra cost. However, by this time the man at Thrifty Fyshwick had closed our original rental, and created a new one. This broke everything and took his manager quite a long time to "fix". Eventually they basically gave up, and gave us the car and we headed on our way. All up, I think we left just before 9:30 AM.
They also charged us the $4,000 excess straight away (plus a credit card processing fee and a 3.5% administrative fee).
Having sorted out the car, we drove to Coles Queanbeyan to buy some food.
Perisher
Having finally begun our little holiday, we bought a rather expensive two-day Kosciusko National Parks permit and drove to Perisher Ski Resort, and wandered around in the snow for a while.
Thredbo
After Perisher we stopped off at Thredbo very briefly, just as it was closing for the day.
Alpine Way
We drove along the scenic Alpine Way towards Khancoban, but it got dark before we got there so we stopped at Scammell's Lookout for the night and slept in the car.
Murray 1 Power Station
Bronwen and I got up very early to watch the sunrise, which turned out to be uninteresting, and then continued on Alpine Way towards Khancoban, stopping to have a look at the Murray 1 Power Station which was unfortunately closed for maintenance, and then having a look at the Murray 2 Power Station, before driving through Khancoban.
Tooma Road
We drove from Khancoban towards Tooma Road, coming across a sign saying that the road was closed with a locked gate ten kilometres ahead. Fortunately, we decided to keep going anyway, because it turned out that the gate wasn't locked. We drove through a lot of very heavy frost, past the Tooma Reservoir and the Tumut Pond Reservoir.
Cabramurra
We stopped off at Cabramurra and had a look at the Cabramurra Lookout, before wasting a bit of time driving down to the Tumut 2 Underground Power Station, which we mistakenly thought had tours because a sign at Cabramurra had quite clearly said that it did.
Kiandra
After figuring out that there weren't any tours, we drove to Kiandra, which we thought was a town. We were surprised to find that it's entirely abandoned, and now not much more than a few old things scattered about for people to look at.
Yarrangobilly Caves
We drove on to Yarrangobilly Caves and had a swim in the Yarrangobilly Thermal Pool—which despite its claim to be 27° all the time, seemed colder to me. We then went for a walk through South Glory Cave.
Tumut 3 Power Station
After the caves we rushed to Tumut 3 Power Station, worried that it would close before we got there, but found that it's not something that really closes—it's just something that we can look at. We looked at it, and went and had a look at the dam wall.
Blowering Power Station
As it began to get dark we drove to Blowering Reservoir and had a look at its dam wall and smaller power station, before driving to Woolworths in Tumut and buying some food, as well as getting petrol.
Yarrangobilly Village Campground
We then drove very carefully and slowly through a kangaroo area in the dark back to Yarrangobilly Village Campground, where we slept in the car.
Yarrangobilly Village Campground
After a night where Bronwen got quite cold in her really cheap Kmart quilt and I got a bit cold in my expensive sleeping bag, we woke up to find the car telling us it was minus six degrees outside.
Four Mile Hut
We drove to Selwyn Snow Resort and walked to Four Mile Hut, which was really amazing—coming out of the forest and finding a genuine old hut surrounded by nothing was quite something. We took a stack of photos as it was quite scenic, including some of Bronwen in a tree which didn't turn out quite how she had in mind, and a few of her with the hut, before walking back to the Selwyn Snow Resort.
Selwyn Snow Resort
Back at the resort we met some people who had found some toboggans and gave us two, so we spent a few hours tobogganing down the snow, which was a lot of fun.
Batlow & Gundagai
After deciding we'd done enough tobogganing we headed back to Sydney, via the scenic route through Tumbarumba, Batlow (where Bronwen tried to eat the big apple), and out through Gundagai (where we stopped at The Dog on the Tuckerbox)
City Lodge
We got back to Sydney not long after 11 PM and I dropped Bronwen and the luggage off at City Lodge and the car off at the Domain Car Park and then walked back to City Lodge.
Thrifty Domain
I walked to Thrifty Domain to talk to them about the hire car, which was all screwed up from what the people at Thrifty Fyshwick had done. The manager wasn't there and the other people weren't able to help much, so I had to wait a while, but once the manager got back she promised to try to fix everything. Basically, the people at Thrifty Fyshwick had cancelled the original booking instead of just giving us a new car, and had then somehow reopened it and made a new booking under the same booking, and had then charged but afterwards refunded all the extra costs they shouldn't have charged us, like the one-way fee and so forth, but had not taken into account the fact that their new hire was a different (and far more expensive) rate. Then, to confuse things more, many other charges are a percentage of that charge, and because it was the original booking modified, it didn't show the old charge and then a new charge—it showed the old charges but with a different rate, so it was all very confusing. (I did eventually get a refund of the correct amount several days later, so the lady from Thrifty Domain must have fixed it)
Luna Park
I walked over the Sydney Harbour Bridge to Luna Park by myself in the afternoon, while Bronwen was at work.
Pancakes on the Rocks
After having delicious nachos last time we went to Pancakes on the Rocks, we decided to go there again and not order any pancakes this time. However, this time the nachos were really terrible, and when we went to pay it turned out that someone else had already paid for our table, and this was a big problem and no one knew how to fix it, so we had to stand around for a long time while they tried to work it out.
City Lodge
I walked to Bronwen's work with her in the morning, and continued on to New Zealand Natural where I bought a disappointing thick shake. I spent most of the day at City Lodge.
Long Chim
Bronwen and I had (rather spicy) Thai food for dinner from Long Chim.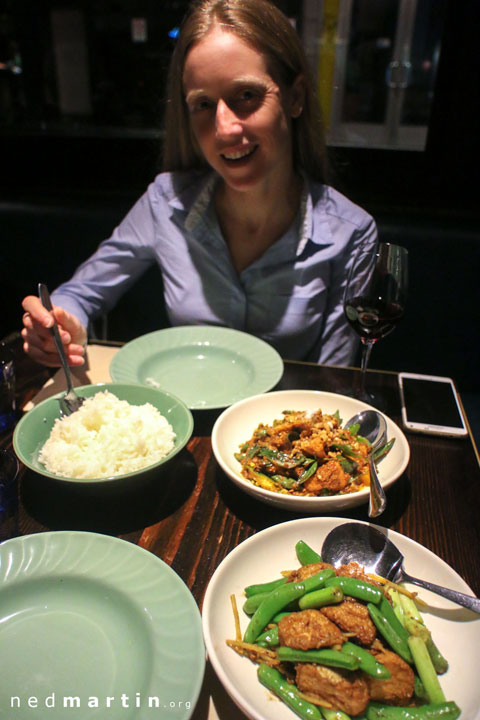 Flight to Brisbane
I got up at 4 AM, finished the tiny bit of packing I hadn't done last night, left City Lodge, and walked to Wynyard Train Station. It was raining, but it's covered most of the way. My train was on time, and I got to the airport, checked in (it turns out I've been allocated an exit row seat—1E—so I suspect that's why I couldn't check-in online), got through security, and to the gate half an hour before the flight closes. The bag-drop lady made me weigh my cabin luggage—my laptop, camera bag, and camera—and told me that it was 8 KG which is 1 KG over and I need to try to lighten it in future, and that I can only take two pieces, so I'd need to put the camera in one of the other bags somehow. I'm very dubious about it weighing 8 KG, and considering my bags are at least half the size of most people's carry-on luggage, I'm not particularly impressed with being told to put my camera away (which I can't do with this bag anyway)
My Jetstar A320 flight JQ810 left the gate at 6:04, a minute early! It was a totally full flight apparently.
A girl went to the toilet before we took off, and then again immediately after, and again a third time, and caused a very unpleasant smell For the whole flight. Then a man felt sick and thought he was going to faint. Then a queue formed for the front toilet and a baby had a tantrum.
We landed ten minutes early at 7:25 AM.
I then lazed about at home feeling sleepy and going to the supermarket to buy food.
Chang-Yi's
I drove to Indooroopilly Shopping Centre where I had Japanese curry from Hanaichi for dinner, meeting Chang-Yi, Maz and Mark there and going back to Chang-Yi's place to watch (and photograph and film) them playing virtual reality games and using Chang-Yi's ViewR software to view the virtual world.
Maz's
I dropped Mark home and then dropped Maz home, staying at Maz's until 3 AM.