Tuesday 31st August – My Car Breaks (& Eagle Boys Suck)
Morning
Work, as usual.
Night
As I was pulling out of the drive, when I shifted into first gear, the gearbox did not sound as it should. I drove to Kangaroo Point, got Bronwen, drove to Woolworths, then picked up some pizza from Eagle Boys, drove to Maz's, and ate our pizza. Maz's pizza wasn't what he had ordered, and mine had random bits of meat in it, so none of us were very happy.
Wednesday 1st September – My Car is Gone (& U2 Tickets)
Morning
I slept in, and then walked down to the mechanics my neighbours work for, who are going to look at my car. It sounds like I've snapped some teeth off one of the planetary gears in first gear, which sounds expensive to fix.
I dropped the car around to the mechanics, who are going to look at it.
Midday
Maz and I went to the bakery, then down to QLD Transport to get a new numberplate for Maz, then up to Kieran's.
2:50pm
Maz drops me off at at Suncorp Stadium, where I join the end of a line of a hundred or so residents queuing for U2 tickets. Roughly two hours—and some sunburn—later, I buy two tickets. For $477, I hope they're good. Ticketek weren't allowed to show on a map what price zone corresponded to what seating zone—or in fact, show the seating zones at all—so everyone had to ask when they got to the ticket booth, which was the main cause of the delay I believe. Interestingly, two army helicopters spent some time flying around overhead.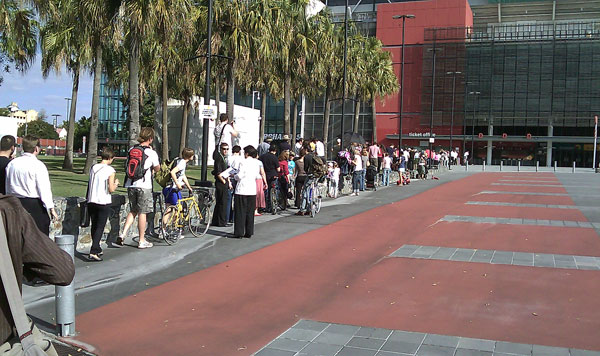 Night
Bronwen turned up, dissatisfied from having to catch public transport. I helped her carry her things up to her parents' place, then drove her grandfather's car back down here, lazed about for a while, and went to bed.
Thursday 2nd September – Tomorrow, When the War Began
Day
I drove Bronwen's grandfather's car to work, and worked.
Night
Bronwen and I went and saw "Tomorrow, When the War Began" at South Bank. She wasn't overly impressed—not as good as the book apparently—but I was. I think it was a great movie. Afterwards, we had dinner from Hungry Jack's in the city, and walked home, getting to bed shortly after midnight.
Friday 3rd September – My Car Returns (& Peter Berner at the Sit Down Comedy Club)
Morning
There was a terrible shortage of milk at work.
Mid-Morning
Hallelujah, we have milk.
Night
Bronwen picked up my car from the mechanic. $2000. We dropped her Grandfather's car back to her parents' place, and then walked down to the Sit Down Comedy Club, where we had dinner and watched Peter Berner, before walking home.