Tuesday 1st June – Congestion
Afternoon
Bronwen and I went for a walk, then I dropped her off at her parent's.
Night
I drove over to Maz's, and we had Nandos for dinner. I'm still congested.
Wednesday 2nd June – Phone ROMs
Day
I flashed a few ROM's onto my phone, trying to work out why I can't send SMS from Outlook via my phone, even though SMS sent and received on my phone do synchronise with Exchange just fine.
Night
Bronwen and I drove over to Maz's with Bronwen's computer to swap some parts around and work out what was wrong with it, and I flashed another two ROM's onto my phone, getting rather sick of it.
Thursday 3rd June – Quiet Day
Day
I spent a quiet day at work.
Night
I spent a quiet night at home.
Friday 4th June – Titanic
Night
I watched "Titanic" at the Regent, as part of their closing-down week of movies, playing a classic from each decade, each day. It's quite a long movie, and much better than I was expecting—I'd never seen it before, but had had lots of friends tell me how bad it was… but really, it's not that bad at all.
Saturday 5th June – Paddington & Paypal
Morning
Bronwen and I went to the Paddington Fair—BATS were there—but it wasn't very big, so we didn't stay very long, instead walking up to Bronwen's parent's place. I attempted to buy some lunch—having not had dinner last night, or breakfast this morning, and not feeling so good about it—but everywhere was too busy, so I became angry and didn't eat.
Afternoon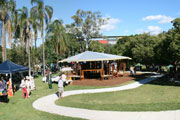 I left Bronwen at her parent's place, and walked back to my place, via the bakery and a much-needed vegetable pasty, then drove to Maz's. He's bought a new laptop—A Sony Vaio TT something or other, the last one left in Brisbane. We had Hungry Jack's and KFC for dinner, and messed around doing computer stuff.
3am
Well, I've just got home. I should go to bed I suppose, but I had too much 7-11 Slurpee. Oh, and I finally won my Paypal resolution. Several weeks ago I bought a "32 GB" microSD card. It came in a sealed tamper evident Sandisk packet, with a "32" sticker stuck over the 2, and formatted as a 32 GB card, but couldn't hold data. Paypal said I should send it back to the seller. Considering it seemed pretty clear the seller would have been aware of the fraudulent nature of the item, and that it had been removed from eBay so I had no way of getting in touch with the seller, it did not seem likely that sending the item back would give me a fair result, I refused to do so. Unfortunately, Paypal doesn't have this option—it only had options to confirm postage, and a note explaining that failing to do so would result in the dispute being awarded to the seller, and that I'd have no further recourse.
So I emailed Paypal, who re-opened my dispute and asked for an independent expert to write a detailed report on how the item different from a genuine one, at my expense of course. I asked someone at Officeworks to write up something, but they said they didn't have the expertise, so I asked someone at Harvey Norman's to, but their manager forbade them, so I got the boss lady at Kmart (where the item scanned just fine as a 2 GB microSD card) to write me up a letter explaining that, and I faxed it off to Paypal.
Paypal then sent me a message explaining that I had to destroy the item, and sign and return a certificate saying so, which I did, and now they've awarded the dispute to me, and returned my money—or at least said they're going to.
Sunday 6th June – Suitcase Rummaging
Morning
I had a bit of a sleep-in, not that it helped much considering how late I went to bed, and then drove up to Bronwen's parent's place, got Bronwen, stopped at the bakery, drove out to Bronwen's place, spent a while attempting to fix her server cum media centre, then drove back to my place, where Kara was.
Afternoon
Kara, Bronwen and I caught a bus into the city, rummaged through suitcases at the suitcase rummage, and watched Kara play in her band at King George Square, before drinking a milkshake and catching the bus home again—or walking, in Bronwen's case.
Night
Kara is making me go for a run. After the run, we order Thai food from My Thai, and head over to Maz's, where we eat it and I get a UPS, drop Bronwen off at her parent's, and go to bed—though somehow it's now after midnight.
Monday 7th June – The Best Joke Ever
The best joke ever: An Alsatian went to a telegram office, took out a blank form, and wrote "Woof. Woof. Woof. Woof. Woof. Woof. Woof. Woof. Woof."
The clerk examined the paper and politely told the dog "there are only nine words here, you could send another woof for the same price".
But the dog replied "that would make no sense at all".
Night
I had a quiet evening at home. Bronwen dropped past. Kara told me lots of jokes. I stayed up too late.
Tuesday 8th June – Pizza
Night
I walked and jogged to Kangaroo Point, met Bronwen, and walked home. We got pizza, and ate it. Kara stayed the night.
Wednesday 9th June – Far Too Late
Night
Kara left to go to a dance class, and I drove to Maz's, staying far, far too late, and getting very, very little sleep.
Thursday 10th June – Rushing
Night
My phone battery charger arrived. It's exciting having eBay things arrive every second day, even if half of them don't work. My flatmates appear to have had a drink or two, and are looking pretty. I gave them a lift to West End, drove home, and was just about to go to the supermarket when they called to say they'd forgotten their ID, so I went through their rooms, found it, rushed back to West End, dropped it off, and managed to find a Coles five minutes before closing time.
After coles, I rushed to Maz's, then on to KFC, only to find a seven minute delay in having the dead chooks fried and delivered meant only five minutes to get to Hungry Jack's, however all was good, we made it on time, and had dinner at Maz's.
Now I'm back at my place, too tired to pack for The Dreaming tomorrow, so instead I'm making a comprehensive, ordered list so I can do it very fast while asleep tomorrow morning.