Day
I again had a quiet morning, though after lunch (lunchtime that is—I hadn't actually eaten anything yet) Bronwen and I drove to Francy's Patisserie only to find it had nothing we wanted. Heartbroken, we wondered whether it was worth continuing, but after some soul searching, remembered that some people go to the IGA for salad from their deli, so we did that. As fate would have it, the IGA's deli isn't anywhere near as good as hoped, and I did not like the salads they had, which was yet another terrible hardship, and so hard to bear coming so soon after the patisserie tragedy. Once again, after some discussion, I was convinced to go to Coles in Toowong, and there they did have delicious deli salads, and shaved cheeses, and dip, and chocolate milk, and we did buy.
Now fully equipped, we drove to the Mount Coot-Tha Botanic Gardens, arriving just in time to see the band we'd gone to see packing up and taking some photos. Nevertheless, it was a nice picnic and lovely to just sit in the great outdoors and relax in perfect weather. Not a single ant bit me.
Night
After our picnic we drove to Bronwen's parents' place, where we chatted for a while and Bronwen chopped vegetables, before we drove to Alexandra's and from there to Toowong Sizzler with her. Sizzler was remarkably empty, which made a nice change from the past few times we'd been there on the two-for-one-queue-for-hours-everything-has-run-out-catch-plague-from-all-the-children nights. We all ate far too much, then I dropped Bronwen at her work, drove Alexandra home, picked Bronwen up again, and drove home and went to bed.
Morning
Bronwen and I drove to work, she to hers, and I to mine, carpooling to save the polar bears. I have moved into a new office—all four of us are in one office now, instead of two of us in two separate offices, which is better in some ways—it saves a lot of walking—but it's also more distracting and less roomy.
Afternoon
I had to have lunch by myself—though I still went to the bakery as I normally would. It was very sad, though looking on the bright side, I did get a #cool new cup.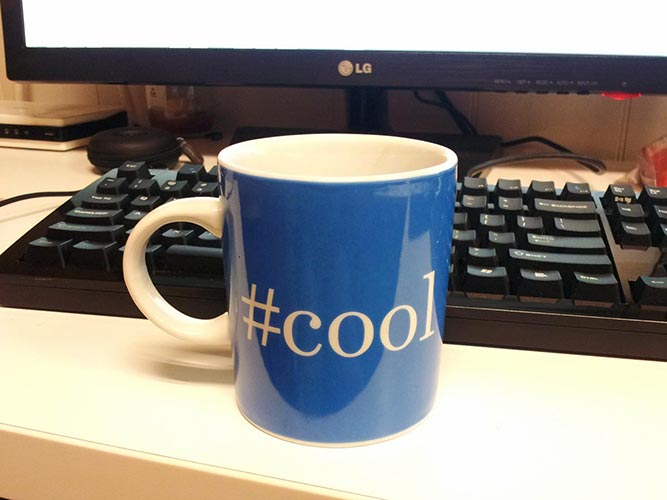 Night
After work Bronwen and I rushed to South Bank Cineplex, parking in the cinema (parking wasn't even full!) and watching "The World's End"—which, sadly, wasn't as good as I'd hoped. It was nice to see some British humour for a change, but it was too stupid to really be good. I galloped down to Subway after we got seats in the cinema and bought a veggie sub for dinner, and after the movie I dropped Bronwen off at her work, and myself at my work, and did some more work as I've got lots of time to make up for from last week.
We then drove home, and went to bed.
Day
I worked. I had the office to myself for most of the morning. I had lunch at Francy's Patisserie with Bronwen.
Evening
I drove and got Bronwen from Kangaroo Point, where she'd been climbing, and we ordered Dominos pizza online.
Night
On the drive home I was pulled over for a random breathe test, and asked if I had recently paid my car registration. After some initial bewilderment, I worked out that my registration was due twentieth of last month, and according to the police, had not been paid. I remembered going to pay it and finding that the TMR website was having scheduled maintenance, and paying for it via another method—however I couldn't remember exactly when, or how. The policewoman wrote me a permit to drive home, and a $352 fine for driving an unregistered motor vehicle, and advised me that if I could bring proof of payment to the police station, she could withdraw the infringement notice.
I dropped past Dominos to pick up our pre-ordered pizza—probably technically breaking the "must drive straight home" rules of my temporary permit—and after getting home, searched through my bank records. I found my registration renewal—which I had scanned—but I couldn't find any proof of payment. I'd recently closed some bank accounts, so it's possible I had paid from one of them, but it seems that I have no way to prove I have paid, and clearly the department of stealing money in the name of safety never received it, so it appears I shall have to allow them to steal yet more money from me.
I also paid my car registration (quite possibly for the second time) including an extra amount for paying late (I wonder how they justified that?)
$352 for driving an unregistered car, plus $877.14 to register my car because it's late. I don't see how that's justifiable. It certainly makes late library books seem a bit irrelevant.
I Worked.
I had Sing's Thai with Bronwen for lunch.
Bronwen caught the train to the airport after work, to fly to Sydney, but got her flight time an hour wrong (or they changed it without telling her—who knows, Virgin's systems have all been mostly broken). It was quite stressful for me—I had to look up things and phone people and find out that the flight was delayed and check train timetables and look at traffic maps—and her train was scheduled to arrive four minutes after her flight was to depart. Though, luckily in the end, her flight was delayed by enough that she still made it.
I then drove home and had a boring night alone.
I worked. Bronwen is in Sydney. I stayed at work late. Bronwen's flight was delayed by over an hour—it spent nearly an hour doing circles down on the NSW border, which is pretty crap for a flight that's only about an hour long.
I have found something that is even more relevant, even more exciting, than photos of my food—graphs of the temperature in the office!
Bronwen arrived by taxi shortly before midnight.
Day
Went to work. Dropped Bronwen off. Left work at 1, caught taxi with Cat, Niall and Alex to the Stokehouse. Had a very expensive, but very delicious, lunch. Didn't get back to work until nearly five.
Night
After work drove to Bronwen's parents' place, where I had yet more delicious food—they'd prepared a multitude of colourful Indian-inspired dishes.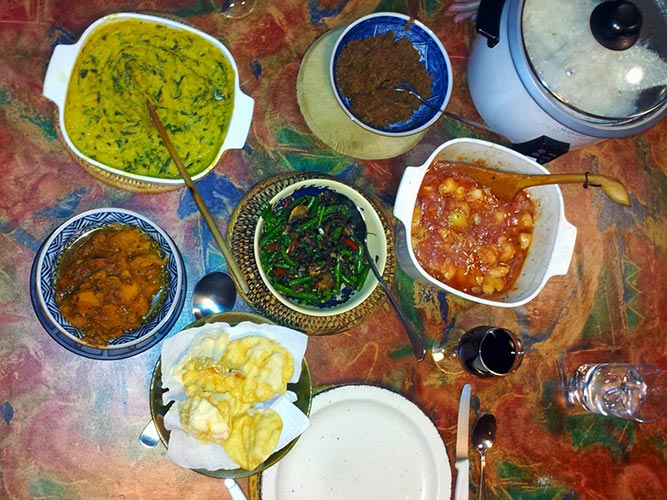 Quiet day. Slept in. Went to Kuan Yin Tea House for late lunch. Was exceptionally full after. Drove to South Bank. Caught free Cityhopper. Nearly froze, but it was a romantic kind of freezing. Then watched some movie about magicians ("Now You See Me") which seemed kind of interesting, but probably wasn't—however I'd have to watch it again to know for sure, as it was confusing. Then it was late, so went to bed.
Quiet day. Slept in. Went to bakery (Francy's Patisserie at Rosalie) for late lunch (and breakfast in my case), then spent evening and dinner at Bronwen's parents' place. Discussed politics.
Day
I went to work early, as Bronwen wanted to go to work early, and I am nice. I had pasta from Pasta Pantry for lunch, which I shared on Facebook because I hadn't shared any photos of my food for a worryingly long time. I also realise that some people don't like photos of my food, so for them I posted a wildlife photo—some aphids, happily munching away on the hedge near my lunch.
Night
I had nachos from the Burrito Bar with Bronwen and Maz for dinner, before driving home and sleeping for dessert.
Day
I worked. I had lunch with Bronwen, Anne and Andy—we sat in the park at Rosalie, and I ate a veggie pasty and apple turnover from Francy's patisserie. It was yummy.
Night
I stayed at work late, ordering pizzas as I left and picking up Bronwen from Kangaroo Point on the way home—stopping via Dominos to pick up aforementioned pizza, then eating said pizza while watching "So You Think You Can Dance". Unfortunately they kicked the wrong person out—and I believe it's biased and not really based on dancing skill—so I've decided to stop watching it.
Day
I slept in, as it's a holiday here for the Ekka—the Royal Brisbane Show. I didn't really do much once I got up either. I eventually got myself to West End, where Bronwen and I had a veggie platter and felafel roll from King Ahiram's Lebanese Food, then drove out to "Elements in the Park" at Colmslie Beach Reserve (which isn't even remotely near the ocean). It was a "free outdoor dance event", and quite impressive given its free-ness. As far as I can tell, no one stood to profit from running it and it would have cost a bit, so it seems Trent (Dj Tranceducer)—the guy who put it on—did it out of the goodness of his heart (though owning an A/V hire place would help I suppose.)
Night
I had two minute noodles, TVP, tomato sauce, curry powder, mixed herbs, vegemite, grated carrot, sweet corn and cheese for dinner. It was chewy.
Day
I had a busy day at work, full of terrible failures and scary deadlines. I rushed down to Francy's Patisserie at Rosalie for lunch with Bronwen, and to get help solving a database problem, and eventually sorted things out.
Night
I stayed at work late, eventually making my way down to Halim's, where I met Bronwen and had dinner.
Day
I had another busy day, finally getting the site I was working on live. Both Bronwen and I had five dollar burritos from the Burrito Bar for lunch.
Night
Bronwen and I went to Govinda's for dinner, and had a chat to Alexandra.
Morning
I slept in.
Afternoon
I went to the Rally for Gay Marriage at Queen's Park in Brisbane. For something that's supposedly widely supported yet controversial, it would appear no one cares. I'd say there were about three hundred people there—about half of which were insane, socialist alliance, greens or otherwise broken (and no, I'm not being funny—some of these people do their cause a disservice just by showing up), leaving around 150 seemingly-normal people who support gay marriage (which, ironically, makes them very angry—apparently they support "marriage equality", not "gay marriage")—and in a show of hands, about half those were straight people. Anyway, it was overall quite boring—they shouted slogans, no one much seemed to like Tony Abbott, the local Labor liar said some things about how good she was, the greens (who, to their credit, actually had their leader with them) mentioned discrimination over and over and explained how Rudd promising to bring what is, I believe, the sixth piece of legislation regarding gay marriage (the other five having failed dismally) is really irrelevant and pretty much guaranteed to fail, and some people advised everyone to find out what person they could vote for supported gay marriage, and then ignore any and all other issues and vote purely on that matter—presumably the just over 1% of Australians who "identify as" gay are far more important than, say, the vast majority of Australians who work, or the single mothers who need support, or the working mothers who need employment-based recognition of their roles as mothers, or… you know, anything important. I think it was at that point that I remembered these people are an overly vocal minority and it should not be something that is even considered at this election.
Then, they walked around the city. There was a potentially exciting moment when they sat down in the middle of the road at the start of Queen Street Mall and claimed they were having their "own democracy" and chose to alter the route and go through the mall (apparently "taking the issue direct to the people"—who, it should be noted, treated them more as a curiosity, perhaps escaped zoo animals, than a cause to be supported)—but unfortunately the police did nothing, there was no tear gas, and nothing exciting happened.
Evening
After all the protesters were again absorbed by society, Bronwen and I walked to Chinatown in The Valley (via eating a pie in the mall, which I managed to spill on my leg, and which was very hot and bright orange, and caused me both pain and embarrassment—perhaps akin to how gay school children must feel in Russia) and went to the Indian Independence Day Festival. On the way, we saw a bus which had apparently just exploded. There were police, an ambulance, and a fire truck. It was all very exciting, though sadly no flames or body parts could be seen. I was also briefly involved with a group of hens—they needed a man with a hat, to hug in a phone booth, and I had both a hat, and my manhood.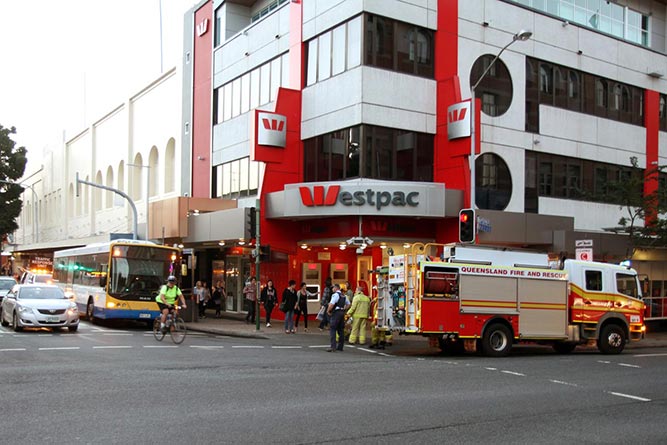 Interestingly, once at the festival, I saw no reference to Ghandi—though there was lots of Indian dance (and Bronwen was called to dance in front of the stage), Bronwen get a henna "tattoo", sitar's were played, and we ate the largest laksa I've ever eaten from Pho B, along with some delicious spring rolls.
Night
After eating lots, we walked back to the city, where we ate even more at The Pancake Manor—an iced chocolate and a banana pancake. Now overly full, we had to walk many, many hours back to the car, parked in the outback somewhere on the other side of the river near West End.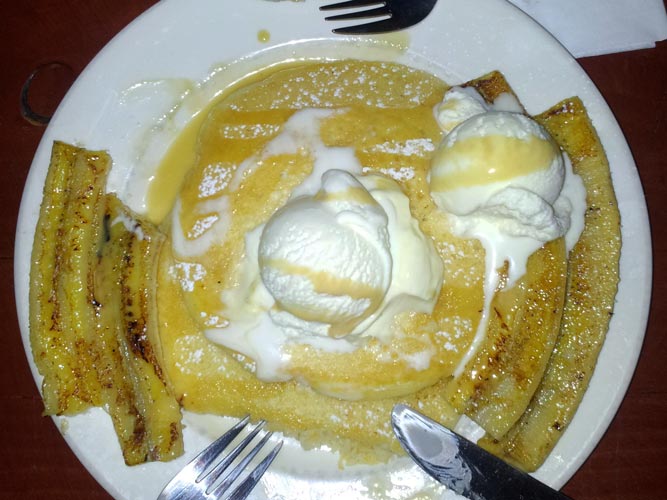 I feel sick. This is probably because I ate a dozen spring rolls. However, it wasn't my fault. It all began a long, long time ago… in the morning.
Unrelatedly
I have a toothache.
The Morning
I got up. Today, in stark contrast to most days, is full of things to do—in fact, more things than I can do. The Brisbane Billycart Championships (formerly Carindale Billycart Championships) are on—and I'd like to go see them—but the Brisbane Thai Festival is on at South Bank, and the Japanese Cultural Day is on at the Mount Coot-Tha Botanicals Gardens, and Robotronica is on at QUT Gardens Point, and they are all in the opposite direction to Carindale… so we drove to Mount Coot-Tha.
There was no parking/there were no parks. Cars were everywhere. I ended up parking on the side of a cliff, nearly still on the road, nearly sliding off the hillside. Bronwen had to be careful she didn't fall down the hill getting out her door. As expected after the parking chaos, the Japanese Gardens were also swamped with people—there were two immense queues waiting to sample some kind of food, and crowds filling the small Japanese Gardens. Bronwen managed to squeeze into see a few things, tasting tea and so forth, while I sulked outside.
Having mostly wasted our time bothering to go to the Japanese Cultural Day, we now drove to South Bank and walked through the Thai Festival. It was also incredibly busy, and was mostly a collection of stalls from all the Thai restaurants, selling various kinds of pork. It would appear Thai people like pigs, or dislike pigs depending which way you look at it. We stopped at Subway for lunch (and they forgot to put mayonnaise on my sub… making it nowhere near as nice as I had hoped), bought a milkshake from Cold Rock because it was right beside Subway, and made our way to QUT's Gardens Point campus.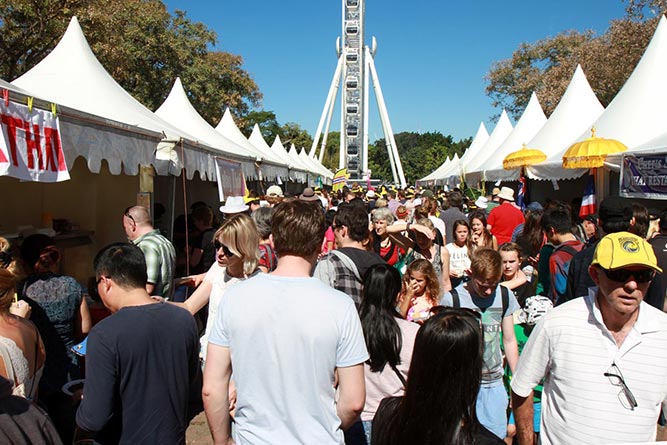 The Afternoon
We spent the afternoon at QUT Gardens Point (where the "Q" stands for "queue"—they clearly aren't used to being popular), watching $20,000 Nao robots fall over (when they weren't lying down in the hands of suspiciously attractive redheads, looking cute and recharging), having a "behind the scenes" tour through some of the more expensive new machines QUT has—which was probably the most interesting part of the evening, and I got to see machines which can see individual atoms—watching Professor Hiroshi Ishiguro's famous geminoid talk, and a 30-strong swarm of lit-up quadcopters from Austria dance through the darkening sky and spell QUT upside-down. I also bought an iced chocolate that wasn't very good at all, stood in many queues and got squashed in crowds, and became very suspicious when all—and I mean all—the people showing off the robots and various related displays were attractive young women. Not meaning to be sexist, but the guys behind the laptops, and the guys who answered the questions on behalf of the girls (who did not seem to know the answers), were all guys… but the people actually showing things off were all women—and above-averagely attractive ones at that. Back when I was at uni, there weren't very many women anywhere in engineering, let alone robotics—and I find it a little difficult to believe modelling has taken a sudden downturn and all the women have had to enrol at QUT to build their bright robotic futures instead. Nevertheless, if you're a guy, and you like women more than robots, apparently robotics at QUT is where you should be. On the other hand, if you actually prefer robots, stick with UQ—when I went to their robotics show, some years ago now, it was a lot more impressive and a lot more about robots, and they had a whole floor that was full of autonomous robots, mostly stuck behind doors.
Oh, the agrobot—I nearly forgot him. He was a tractor thing, which was driving around QUT—or at least a small part of it—by himself, cleverly not running into anything, though he did have a human rider just in case something went wrong.
Oh, that's sad. I partially take that back—it appears the guy behind the cool robotics at UQ has moved to, of all places, QUT. I guess it wasn't bioinformatics enough. Anyway, university rivalry aside, the new building at QUT is quite cool, albeit not as big as it looks—lots of solar panels on top (though not as many as UQ of course, which is nearly 25% larger than any other rooftop solar system in Australia, and significantly more sandstone) make it seem like it's futuristic (UQ needs to build a nuclear reactor and power its whole campus with it, I think, complete with pointless but satisfying shows of excess power consumption, man-made waterfalls, large spotlights, a monorail, an ice skating oval, etc., and a pretty graph explaining how it's helping the environment by doing so) and the cube—while clearly just an ad—does look large and shiny, even if mostly pointless. Speaking of the cube, we talked to the people who designed and built it, and they said that while it does have some useful applications, it's mostly to encourage people to get interested in science—or in other words, it's a large advert. Though I do have to say the rooftop garden in the new Science and Engineering centre is very cool—it feels just like a normal not-rooftop garden, the kind UQ is full of, but being nearly in the middle of the city that is something of an achievement (if we ignore the huge garden that is the botanic gardens I suppose).
Here's how cool UQ robotics used to be: "Three 2010 and one 2011 undergraduate thesis projects are based around the iRat (which is basically a rat-sized robot that acts much like a rat): Development of a whisker system to sense proximity and texture; Development of a visual obstacle avoidance system; Initial work on developing legs for a future quadruped version; Development of a telerobot framework." Someone did an entire thesis to give the iRat whiskers!
The drones arrive…
Night
After QUT's robot thing finished without any exciting explosions, Bronwen and I walked back to the car via South Bank, accidentally buying 24 spring rolls from one of the Thai places that was in the process of shutting down so sold us them cheaply. Bronwen also bought two eggs, and I some chips, and we then ate all the spring rolls and now I feel quite sick. Annoyingly, Bronwen—who also ate two disgusting tea eggs that apparently taste nice—feels quite well.
4am
I got up around 4 AM, my tooth hurting, and had a Nurofen.
Morning
Bronwen and I drove to work. I had lunch by myself, and worked all day.
Night
I drove to Bronwen's parents' place, and from there Bronwen and I drove to Woolies (who had nearly run out of milk) and then to Sing's Asian Kitchen, where we got takeaway, which we ate with Bronwen's Mum, who had popped back from the island to do some work.
Day
I worked. I had chips for lunch with Bronwen.
Night
I argued with people about Abbott's paid parental leave scheme.
I bought some painkillers from the Chemist Warehouse for my teeth, which are still hurting lots. I woke at 3 AM this morning in pain and had a painkiller, then woke again at 7 feeling ok, but it has been hurting all day.
Day
I worked. I had a veggie pasty for lunch. Bronwen had meetings so popped down for a quarter hour but didn't have lunch with me.
Night
Bronwen and I had dinner at Halim's Indian Taj, then watched "Elysium" at Southbank Cineplex. While quite a basic movie really, I found the contrast between the idyllic Elysium—where all diseases can be almost instantly cured, and the broken "Earth" where a disease like cancer leads to death—to be a stark reminder of the very same divide between first and third world countries. I wonder how many people watched Elysium and thought how unrealistic it was to have a machine that can just cure cancer, without realising how many people die every day from diseases which can be easily cured in the west. It's not as interesting as "District 9", but I think worth watching just for a reminder of how we, the lucky ones, really are living in Elysium, with people risking their lives on boats just to get here.
Day
I worked. I ate bakery for lunch, with Bronwen in the park.
Night
I drove to Bronwen's parents' place to get Bronwen, and had pasta at home for dinner.
Day
I went to work. Bronwen also went to work. We went in the same car. It did not break down. Halfway through my work day, I went to lunch. Bronwen also went to lunch. We went in the same car. It did not break down. We ate burritos. They cost $5 each. I also bought some chips.
Night
After work I drove to Bronwen's work and then to the city, where I drove around in circles while Bronwen rushed to the mall and bought clothes. Then I drove to Bronwen's parents' place, where we had dinner and did a quiz, before driving home and going to sleep. Oh, and buying Alexandra a bass guitar from Tennessee.
Morning
I had a quiet morning, not realising I was missing the International Cosplay Day gathering at Roma Street Parklands.
Afternoon
Once I realised what I was missing, I—along with Bronwen—rushed to Roma Street, but could not find anyone. Terribly disheartened, and with only fifteen minutes before the lunchtime menu turned into the far more expensive dinnertime menu, I made the heart-wrenching decision to discontinue my hunt for "cosplayers" (I don't know what the plural is—weirdos is too generic) and instead go to Sizzler.
This may have been a good decision, because Sizzler was somehow especially good—they had new, yummy things, everything was fresh and full, and it was just somehow better.
Night
After Sizzler Bronwen and I drove to, and parked at, South Brisbane, then walked to South Bank, and eventually to QUT, where we stayed and photographed the "Glow Run" people. I am not sure what the point was, and at $50 (or $60 on the door) it seemed like an extraordinarily expensive thing to do, but it appeared that you paid $50, got given a 10¢ glow stick, a headband which as far as I could tell did not glow, and a relatively boring white t-shirt. You then ran in "waves" for five kilometres from QUT around South Bank and back to QUT again, passing a few little DJ stations they'd set up. Perhaps there was something really cool at the end which made it all worthwhile, but if it was just the run, everyone got very ripped off. Nevertheless, an immense amount of people went in it, totally eclipsing the amount of people who bother to protest anything (or to put it another way, many, many more people care about glowing than they do saving the reef or letting gays marry). Wave after wave of people ran by, posing crazily for me as they ran past, as I probably looked like an official photographer. I also, for the first time, had a problem with my flash recharge (and cool-down) times—it was frustrating to miss a cool photo because it had decided it was going to explode and needed to wait.
After watching the people who organised the glow run make a fortune, we drove home and went to bed.
Morning
Bronwen got up at some insane hour of the morning to ride around in circles on a mountain, and ended up riding a hundred kilometres, according to the friendly satellites in the sky. However, it took a very long time, and I was expecting to have breakfast with her, so I kept waiting around not having breakfast until finally I got sick of waiting and drove into the city and went to the Rally for the Reef instead.
Afternoon
The Rally for the Reef was a lot bigger than the rally for gay marriage—the gay marriage people claimed over a thousand people went, though I count it as nearer three hundred, and the reef people claim around four thousand went, which I—and the media articles I've read since—counted it closer to a thousand. Still, it's nice to see people care more about saving the reef than they do gay marriage.
After that I dropped in on the rally against chemtrails and geoengineering—which was significantly smaller and I don't think actually ended up having a march—though what they lacked in people they made up for by having a crazy glowing-eyed head on top of a huge stick.
Then things started to go wrong. I walked into the city and won a small frozen Fanta from Hungry Jack's (which had a huge queue, a good quarter of which were just redeeming things from their phones—some people had three phones and were getting three free things). I sat and drank this, then redeemed my free pearl iced tea from my pearl iced tea redemption card, and began to walk back to the car to go get Bronwen, while drinking my iced tea. Almost immediately I began to feel violently sick, and it was only with great difficulty and self-reserve that I managed to get back to the car without exploding and most likely dying, and increasing difficulty to drive home as I psychologically got closer and closer to the bathroom. Fortunately for everyone and everything involved, I didn't fumble with the keys and managed to unlock both doors almost immediately.
Once home I lay in the bathroom—my bed, being on the other side of the hallway, is far too far away—until I felt well enough to get up, after which I immediately felt unwell and lay in the bathroom until I felt well again, and so on until I worked out it was more efficient to just not feel well, and stay lying. After a while I figured out a sort of happy medium where I could feel unwell and use the internet on my phone at the same time—which isn't really the triumph it sounds. Once I was actually well enough to get up I drove back past town to Bronwen's parents' place, and then—as I was still a little paranoid, and hadn't yet eaten anything—walked down to Woolworths and bought some plain chips, which I ate without dying and decided I was officially well.
Night
Now that I was well, Bronwen and I drove home; I ate leftover Halim's curry for dinner while watching "So You Think You Can Dance"; and everything went back to normal.