Election 2013: Krishna's Birthday, The Fire, The Snake, Serbians, The Kurilpa Derby & Alexandra's Bass Guitar
Day
I had a quiet day, working busily. I went to the bakery at Rosalie for lunch with Bronwen, and had nachos from The Burrito Bar for dinner. All in all, an ordinary day—apart from the almost surreal announcement from Rudd that he supports high speed rail. Remember trains? Those things from last century, made obsolete by air travel? Apparently, given enough money, they can still be built. What concerns me is that there must be a demographic somewhere here in Australia who somehow believes building a high speed rail link between Brisbane and Sydney (currently $65 at 800km/h in an airplane) is somehow a good idea. With people like that being given the power to vote on behalf of us sane folk, what hope is there for humanity?
Day
I worked. I had chips with Bronwen for lunch.
Night
I had cheap Dominos pizza. Also, the accursed Media Centre wouldn't start (or more technically, spun up its fans, made some exciting hard drive spin-up noises, then reset and repeated the procedure, seemingly without ever init'ing the graphics), though after unplugging, and then replugging, some hard drives, it did—so who knows what is, or was, wrong.
Day
I had a normal day at work, normal lunch at Grill'd with Bronwen and left work a little earlier than usual.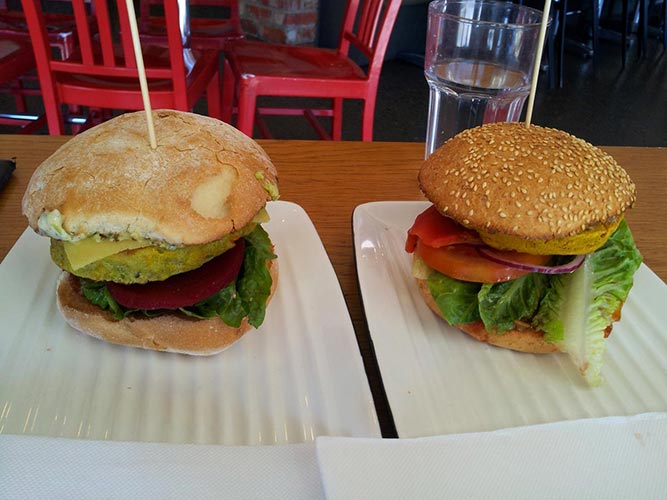 Night
I drove to ALDI where I bought some coffee capsules, and then to Govinda's for dinner.
Day
I worked.
Night
Bronwen and I drove out to the Hare Krishna temple at Seventeen Mile Rocks for Janmastami—Krishna's Birthday. We got there shortly after ten, and left around 2 AM, making for a rather late night. The dessert we were served shortly before two o'clock was delicious.
Day
I worked.
Lunch
I had lunch with Bronwen at the Burrito Bar, and then on the way back to work, discovered a fire. It wasn't a very big fire—it was on a second-floor balcony, and it looked like something plastic had caught fire and melted into a burning mess, however there was a gas bottle nearby, and no one around, so I figured I had best call 112. I called at 1:28, and two fire trucks arrived seven minutes later, at 1:35. An ambulance arrived two minutes after that, at 1:37, followed shortly after by a Channel 7 cameraman, and at 1:45 Energex. Every time they tried to put the fire out, it flared up ten times larger, and they couldn't access it because the whole balcony was security-fenced in, so they ended up dragging the fire around and folding it in on itself with a long spikey thing, before putting it out. They said it seemed like it had a lot of fat or something like that burning in it. I suspect it was a BBQ on a plastic stand, and the stand had caught fire and melted.
By 2 o'clock, the fire had been put out and everyone left. It was quite a big fuss for such a small fire, but better than a gas explosion or a large fire I suppose. One of the fire trucks kindly hit my mirror on the way out, but other than that, there wasn't much to show for all the excitement after they left.
Evening
After the fire I did a small amount of work and then left to go to Amanda's to fix her a laptop. Traffic wasn't too bad, but it still took a while. Amanda was very tired—having just flown back from Brazil, via half the world and several stopovers. I spent hours copying things off her laptop in case something went wrong when fixing it, and then minutes fixing it (during which nothing went wrong).
Day
I awoke to find Bronwen was trying to remove the "washing machine" (her confusing name for the dishwasher). After teaching her how to undo taps, we headed off to the hardware store for some parts, and I got a haircut. We then removed the "washing machine", and replaced it with some cupboards. Rather randomly, everyone at my barber likes Bill Glasson. One customer had put up a sign supporting him in their yard, one of the staff used to get a lift home with him, two others had kids who were friends with his kid and knew him that way, another knew his wife, and one had lots of praise for him medically… and we're not even in his electorate.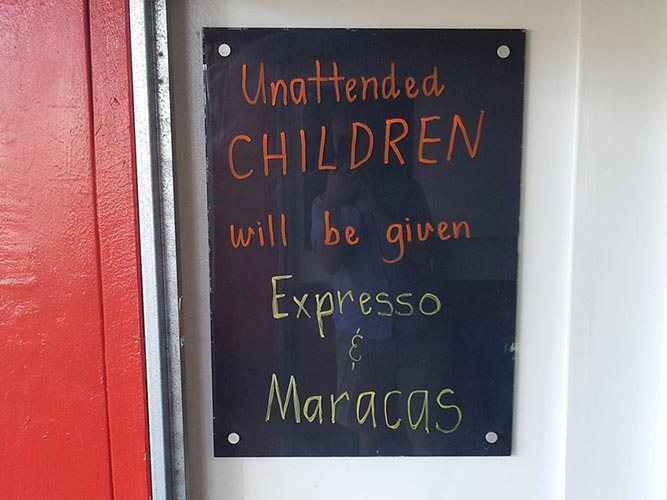 Night
Bronwen and I drove over to her parents' place (stopping to wait for a large snake to get off the road), and then on to Kookaburra Café where I had my favourite pumpkin gnocchi and blue cheese sauce for dinner, while Bronwen had a ricotta filled ravioli with basil and cream sauce—overall it was delicious, but too strong and I couldn't finish it all, so Bronwen got the world's smallest takeaway container to take it home.
Day
I had a relatively quiet day. Bronwen and I drove to Dutton Park to see the Brisbane Serbian Festival—which was surprisingly busy, though we didn't stay long. Instead, we rushed off to West End, finding to our surprise (and my slight annoyance, as I'd checked five or so different sources of what's on information and none had mentioned it) that the Kurilpa Derby (and famous squid race) was on, so we watched that. After it finished I finally got some food—a milkshake and some curry.

Night
After eating, we went to Livewired at the Powerhouse—which had more comedians than normal due to the upcoming Fringe Festival.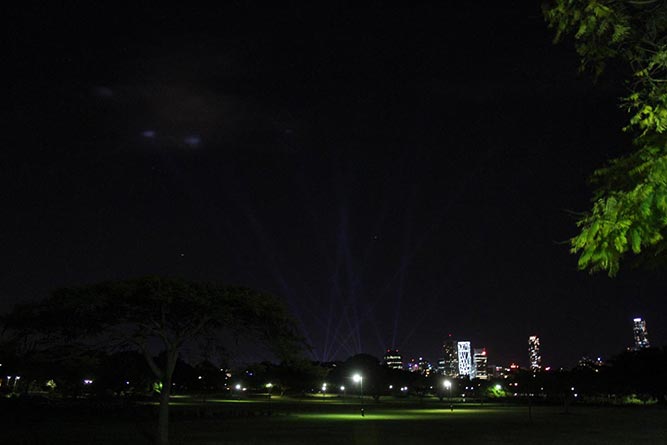 Day
I worked. I had Sing's Thai for lunch. I then worked some more.
Night
I had a lovely pasta dinner at Bronwen's parents' place.
Day
As is my habit, I worked.
Night
Bronwen and I watched "Red 2" at South Bank Cineplex. As expected, it was amusing and entertaining but ultimately pointless.
Day
I worked.
Night
I got home to find Alexandra's bass guitar had arrived. I then went to Woolworths, who do not seem to sell any Australian made toothpaste anymore, and after drove to Alexandra's to drop off her guitar. She was very excited.
Day
I worked.
Night
Bronwen and I went to "The Sit Down Comedy Club" at The Paddo, where we had a rather yummy lasagne that came in its own little ceramic baking pot, and were amused by the comedians, all of which were actually quite funny for a change.
Day
I worked. Bronwen was sick so had stayed home.
3:30pm
I rushed home to get Bronwen, and then, being late, rushed back to South Bank, and watched Brisbane Writer's Festival's "Day of the Drones" with some of the free tickets I had got from building their website. It was quite interesting—an Israeli spent a lot of time lying and arguing that Israel wasn't bad, while the other two (one of whom was David Hick's lawyer) argued that killing people very far away who didn't pose a threat and when you're not really in a war was probably not acceptable, and Phillip Adams (who, for some reason, did not seem to have a microphone and as such was nearly impossible to hear) tried to keep them all on track.
Afternoon
After learning about drones, I rushed back to work.
Night
After work I drove up to Bronwen's parents' place, and we all went to Kookaburra Café, where I ate far too much pumpkin gnocchi with blue cheese sauce and was thoroughly full.
Morning
I slept in all morning.
Afternoon
Bronwen and I walked to the wrong school (after, it should be noted, I pointed out it was the wrong school), and then to the right school (by which time I had almost melted) where Bronwen voted while I observed Get Up pretending to give independent political advice (which I'm pretty sure should be illegal). Bronwen specifically asked them and they said they did not represent any political party, but were providing independent advice on party policies.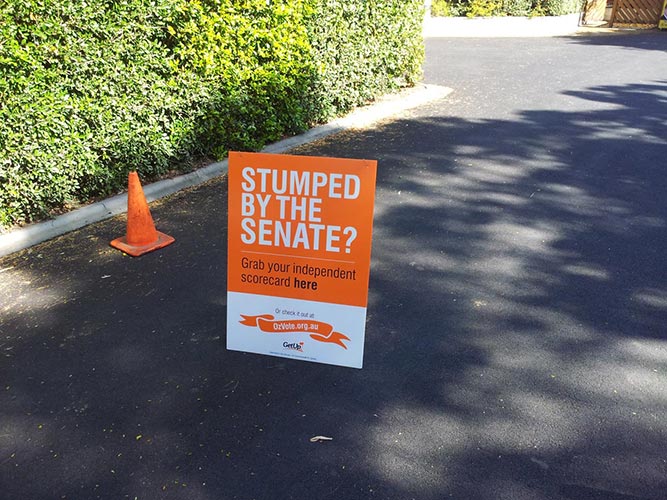 4pm
Bronwen and I drove to the State Library of Queensland, where we watched some people talk "Inspire: Design", along with Bronwen's dad.
After this, we drove back to Bronwen's parents' place and had a delicious pasta dinner while watching Abbott beat Rudd and waiting for her Mum to get back from being an election person, however she didn't so we rushed back to the city—fortunately managing to find some parking—and walked to City Hall where we watched "The Great Debate: Australia Needs Leaders. Not Politicians" Amusingly, while it was declared a draw, the negative team actually lost due to Godwin's Law—as the affirmative team pointed out. Unfortunately, due to the acoustics in the hall, it was quite difficult to hear anything. Worryingly, everyone else seemed to be able to hear just fine, though I asked Bronwen after and she couldn't either.
Night
After the debate we drove back to Bronwen's parents' place and watched Kevin Rudd stroking his ego with what was supposed to be a concession speech, but went for 22 minutes and was mostly full of cheering and references to fires burning on hilltops and small people. Then, Tony Abbott gave a more traditional victory speech, pointing out that Labor got the its lowest primary vote in over 100 years, and that he'd stop the boats.
Morning
I slept in. Bronwen is still sick.
2:30pm
Bronwen and I drove to town, parking in South Brisbane and walking to the State Library of Queensland, where we watched "Old Dogs New Tricks: The Changing Face of Journalism" at the Brisbane Writer's Festival.
After learning that journalists can be trusted after all, and that there's nothing wrong with Murdoch having an opinion—because his readers also hold that opinion and he's actually supporting them—we walked to South Bank and I bought a milkshake and Subway.
Night
I dropped past Woolworths to buy some pasta salad.