Sunday 17th February – Australian Sand Sculpting Championships
Day
Bronwen and I drove to the Gold Coast, where we had a look at the "Australian Sand Sculpting Championships"—fortunately arriving with just enough time to have a look at all the sculptures before the rain started and they were covered with plastic sheets.
As the rain began to arrive, we walked back to the car and put my camera and our gear in the car and walked back to the beach with just my phone in its waterproof case and my keys, and went for a swim. Interestingly, apart from Bronwen, not a single woman was on the beach or in the water—they had all left when it began to rain. There were quite a few men swimming and wandering around, but not one single woman.
Night
Bronwen and I had dinner at home.
Monday 18th February – First Day of Work
Day
I had my first day at my new job. I left home shortly after eight, and got to work about ten to nine—however I drove past Bronwen's work to drop her off.
I spent some time in the morning setting up my computer (running Windows 8), only to have it automatically reboot for updates and then fail to boot Windows, eventually rolling back to a previous state, which was prior to my user account being created, so I couldn't logon. Fortunately I'd brought my laptop, so used that for the rest of the day while we installed Windows 7 on the other computer.
Night
After work I drove to Bronwen's work, and from there to Maz's, where we met Maz's new flatmate. Maz, Bronwen and I drove to Rosalie and had dinner at The Burrito Bar—in my case, nachos.
Tuesday 19th February – Working Again
Day
I drove to work, again via Bronwen's work, and again leaving shortly after eight and arriving shortly before nine.
I got my computer mostly set up and began work in earnest.
Night
Bronwen and I had Dominos pizza for dinner. It continued to rain.
Wednesday 20th February – Testing Traffic
8:45am
I left home just after a quarter past eight, and drove to work via Bronwen's work—trying leaving late, to see what difference it makes to traffic. Traffic was different to yesterday—certainly better in some places, but worse in others. Overall, I don't think it was a huge amount better—definitely not as much as I'd been hoping it would be. I was at work, sat down and working, by half past nine.
Lunch
I drove down to the Burrito Bar in Rosalie for lunch, meeting Bronwen there. I actually had a burrito for the first time—normally I get tacos or nachos.
Evening
I stayed at work until just after seven, and got home in fifteen minutes exactly—now timing it with Oruxmaps.
Night
Bronwen and I had a quiet night at home.
Thursday 21st February – Lunch at Rosalie
Day
I worked. I had a weekend veggie pasty with Bronwen at Francy's Patisserie for lunch… during the week… how odd!
Friday 22nd February – Grill'd
Day
Working again. This time for lunch, I went to Grill'd and had a burger with Bronwen.
Saturday 23rd February – Relaxing at Orleigh Park
Day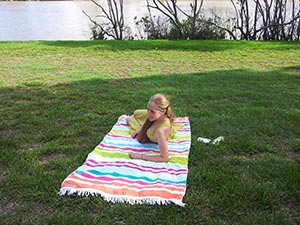 I got so bored I had to go get a milkshake—with Bronwen at Ice Cream Mania.
After, I bought a kebab (Brisbane's best apparently, and only $4) to offset the milkshake—with Bronwen at King Ahiram Lebanese Food.
Then we went and lay in the shade at Orleigh Park.
Sunday 24th February – The Media Centre Again
Day
One of the hard drives died in the media centre. I messed around for a while working out which one, and that that was what the problem was (I'm not sure, but I'm fairly sure, that's the problem). After removing it, I drove over to Maz's and we went to C'est La Vie for lunch, got a new car key, then to K-Mart and Godfrey's to buy a vacuum cleaner, then drove to Bunning's to buy some paint and fans, then back to Maz's.
Night
Maz and I drove to my place and got Bronwen, then drove back to Halim's for dinner, then back to Maz's place where we made the mistake of walking to the Night Owl and got very rained upon.
Monday 25th February – Work & Chips
Day
I worked, having chips for lunch.
Tuesday 26th February – Work & Burritos
Day
I worked, going to the Burrito Bar with Bronwen in Rosalie for lunch.
Night
I stayed at work late, picking Bronwen up from the city and driving to Maz's, where we had our traditional cheap Tuesday Domino's pizza.
Wednesday 27th February – Cirque du Soleil: Worlds Away
Day
I worked, meeting Bronwen at Rosalie for lunch, and eating noodles.
Night
Bronwen and I drove to Stones Corner Govinda's for dinner, then parked at the Cineplex in South Bank and walked to the city, winning two free medium soft drinks from Hungry Jack's on the way past, and getting two free (well, Bronwen had paid for the vouchers some time ago I suppose) frozen yoghurt ice creams from Copenhagen in the city, before walking back to the cinema and watching "Cirque du Soleil: Worlds Away" in 3D. It's very impressive. Worth seeing.
Thursday 28th February – Work & Chips, Again
Day
I worked, having chips for lunch.
Friday 1st March – Work & Thai
Day
I worked. I had Thai food for lunch, which was quite delicious.
Night
I had a quiet night at home.