Saturday 2nd March – Flooding
Morning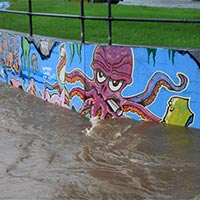 After a quiet, and rather wet, morning Bronwen and I drove to Sizzler's for breakfast/lunch. It has been raining most of the day.
4pm
I drove to Stones Corner to give Natacha and Alexandra a lift home, only to find that it was flooded—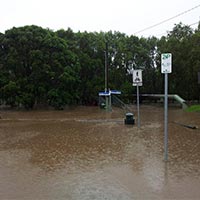 I drove to the car park, but it was full of cars with water up to their doors. I went for a little walk around the flooding, then drove the girls home.
Evening
I rushed home and got my camera and Bronwen, and we drove back to Stones Corner and spent the last of the day's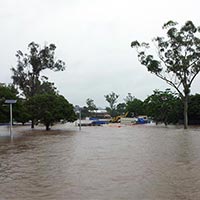 light following along the creek taking photos of it flooding. It was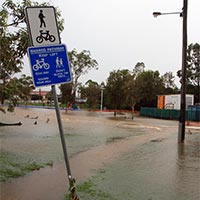 going down fairly quickly and had gone down a foot or so by the time we got there.
Night
Bronwen and I drove to Halim's for dinner—and took their last table. It was extremely busy. They had two tables of around twenty people, and every other table was full. People with reservations were turning up only to find there were no tables left, even though they had made a reservation. Nevertheless, our dinner was delicious.
Sunday 3rd March – Raining
Day
I had a quiet, somewhat boring, day at home. It rained most of the time.
Monday 4th March – Propaganda
Worked.
Had my weekend veggie pasty for lunch, with Bronwen.
Drove home from work. Then to Maz's. Kieran dropped over. Maz, his flatmate, Bronwen and I went to Chez Tessa for dinner.
I made my Propaganda site.
Tuesday 5th March – Halim's & Pizza
Day
Work. Halim's for lunch with Bronwen.
Night
Pizza for dinner.
Wednesday 6th March – ¡Lé Gõnè!
Oh no! This entry has gone!
Thursday 7th March – Burritos
Day
Work, and chips for lunch.
Night
I drove to Maz's, and then back to The Burrito Bar in Rosalie, where we met Bronwen, who had just arrived from the airport, back from Sydney.
Friday 8th March – Anne
Day
I worked.
Lunch
I had lunch with Bronwen and Anne—a French friend of hers from work.
Saturday 9th March – WYSIWYG
Day
I had a quiet day, relaxing and not doing much of any excitement at all. I messed around with my website a little, adding a WYSIWYG (CKEDITOR) to my public site, but basically wasting away the day.
Night
Bronwen and I drove in to West End for dinner. I had a Thai red curry—somewhat ironically, it being from Little Malaysia. It was quite different too—I don't think I've ever had tomato sauce instead of sweet and sour sauce with my spring rolls before (which is not an improvement), nor does my Thai normally have pineapple in it…
Bronwen had a felafel roll from King Ahiram's, and then we drove home.
Sunday 10th March – Southbank
Day
I slept in, then in the afternoon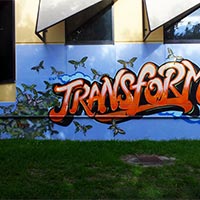 Bronwen and I drove to Stone's Corner and went for a walk to see if the bikeway is all clean after the flooding.
Evening
After our walk we drove to South Bank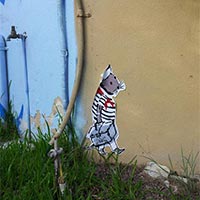 and went for a walk into the city, stopping at South Bank to have Subway and laze about on the grass for a while.
Night
I had a quiet night at home eating Bronwen's home-cooked pasta.
Monday 11th March – Natacha & Alexandra
Day
Bronwen and I drove to Bronwen's work, and then me to my work. I then worked.
Lunch
I had my traditional weekend veggie pasty for lunch.
Night
I drove up to Bronwen's parents' place after work, meeting Bronwen there, and then to Stones Corner Govinda's, meeting Natacha just as we arrived, and Alexandra there, and having dinner. We went to ALDI after.
Tuesday 12th March – Aldi
Day
I worked—I was very busy, rushing to get something done and feeling like I was taking more time than I should have. I tried out my new Chai Latte I'd got from Aldi—work has one of those Aldi capsule coffee machines.
Lunch
I had a Thai green curry from Sing's Asian Kitchen with Bronwen for lunch.
Dinner
Bronwen and I had Domino's pizza for dinner. It wasn't very good. Oh, and Aldi garlic bread. We again failed to decide what car to hire for New Zealand.
Wednesday 13th March – Tom's Confectionery Warehouse
Day
I drove Bronwen to work, and then myself to work, and worked.
Lunch
I drove down to Rosalie for lunch, having pasta and salad from the Pasta Pantry in Rosalie.
Dinner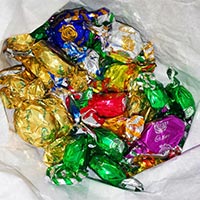 Bronwen and I drove to her parents' place to move some things, then back to Rosalie where we met Maz and his new flatmate,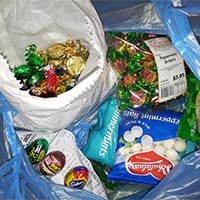 Ashleigh, and went to The Burrito Bar—who actually got our orders right for a change. After dinner we drove out to Tom's Confectionary Warehouse,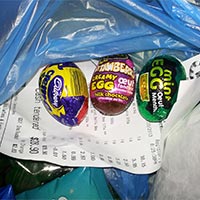 where I bought a mixture of mint-related things.
Yum!