Bris Brick's Lego Exhibition
Saturday 3rd October – Wellington Point & King Island
Day
After a quiet morning Bronwen and I decided to drive to the nearby Bris Bricks Lego Fan Expo at the Sleeman Sports Complex in Chandler. We'd been last year, and it had been interesting.
Unfortunately this year they've upped the price to $10 per person, and made ticket purchases online-only. Of course, I didn't know this, and of course, I was running late—so Bronwen and I drove out to Chandler, rushed to the Lego thing, and found out that we couldn't get in without pre-purchased tickets. This seemed excessively expensive and annoying, and as it was already quite late we decided the best thing to do was to be angry and go home.
Our plan was ruined, however, by our own humanity—in all the rushing and anger, we had fallen prey to one of the great weaknesses of being human, something no Lego man has ever had to worry about—we'd become hungry.  So, after deciding that sushi in the city was too far away, we drove out to Wellington Point, bought chips, and walked to King Island instead.
Hopefully that'll teach the Lego people to rip normal human people off!
Sunday 4th October – Bris Brick's Lego Expo
Day
Having not quite recovered from our choice to not have sushi yesterday, Bronwen and I drove into the city to get some. We also dropped past the suitcase rummage, where Bronwen always buys clothes to store in her wardrobe.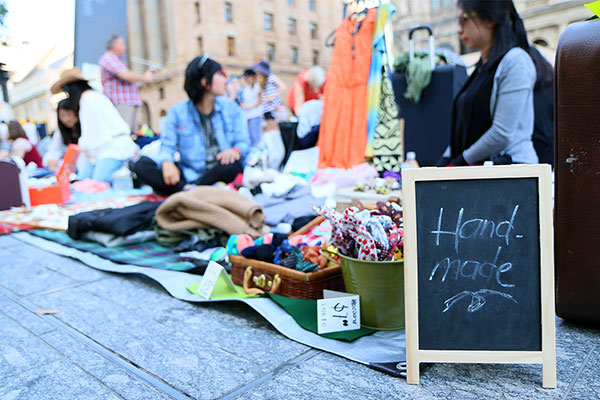 Sushi was delicious (apart from the strangely hot one, and the one that was mostly made from yucky stuff), but deep down I knew that I still wanted to go see the Lego, even though Bronwen didn't. Being bold and individual (and having found out that Maz also wanted to go), I pretended for a moment that I was rich and ignored the ridiculous cost and decided to go without Bronwen. Then, as always, it magically got late—and as it was a public holiday tomorrow, we'd collected a pile of cold things from Coles in the city—so we rushed home, where I left Bronwen and the cold things to pack themselves away into the fridge and store their new clothes into a wardrobe, bought incredibly overpriced $10 tickets online, and rushed back to the Chandler Arena at the Sleeman Sports Complex, on the corner of Old Cleveland and Tilley Roads, in Chandler—with Maz (who took some videos).
Lego
Maz and I wandered around the Lego expo until it closed. I learnt that the depth of field is much smaller than expected when taking photos of Lego, and that they are very vibrantly coloured. It seemed slightly smaller than last year, though after looking at photos of last year, I think it was mostly that the layout was slightly different this year. There were a few of the same displays as last year, but most of it was new.
Videos from Maz:
Photos from me:
Dinner
After the Lego expo closed and Maz and I had to leave, we drove back to get Bronwen, and we all went to Halim's for dinner—which cost a lot more than the Lego expo, but was edible.
The font used is a modified version of Lego Thick, which I modified myself with much difficulty and little skill… Concept for the design & the background from minifigures.us.lego.com