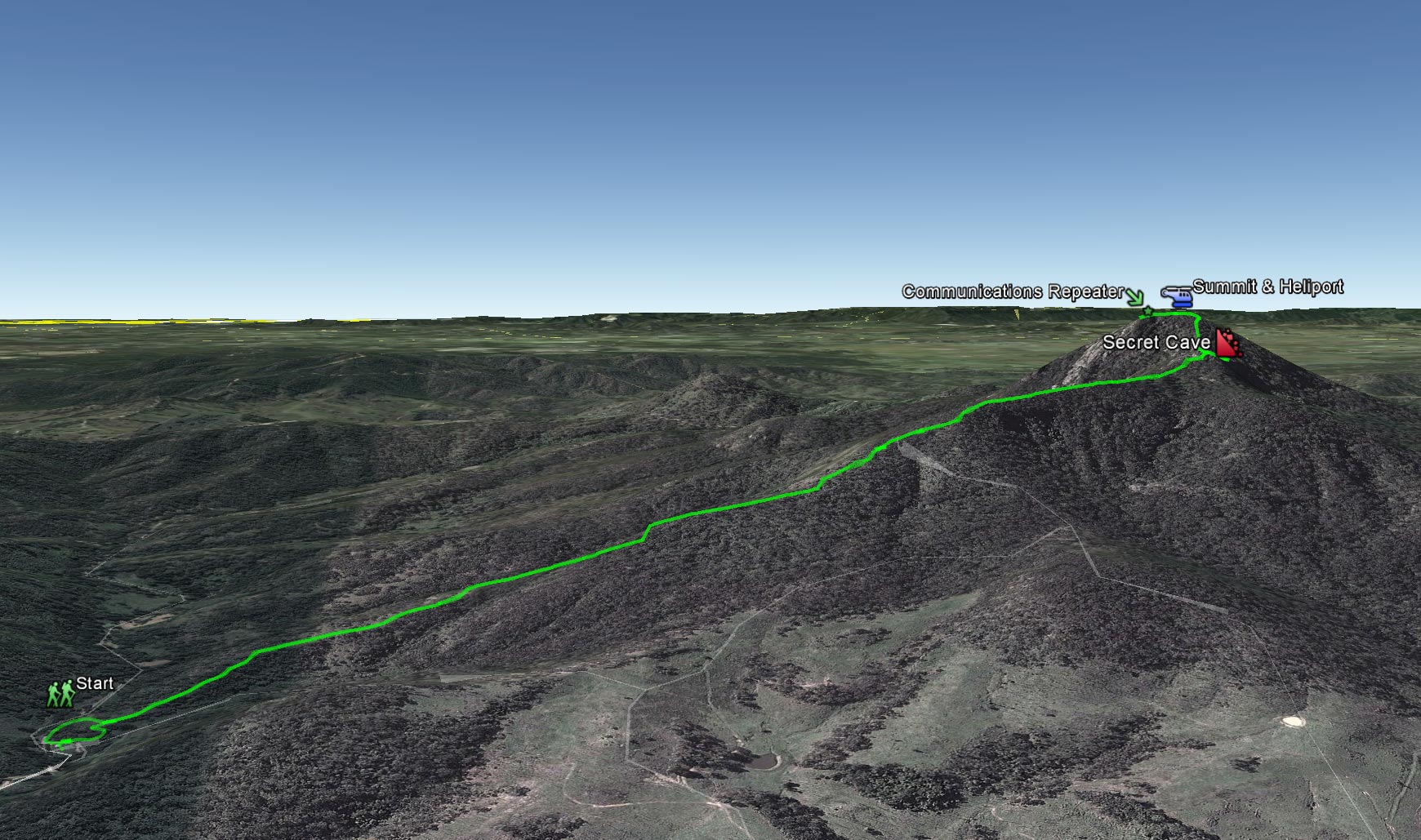 Saturday 28th July – Korean Multicultural Festival
Day
I sleep in, and then Bronwen and I drive to King George Square to have a look at the Korean Multicultural Festival and buy some $1 multigrain Pringles from the Reject Shop. After failing to find any useful sandals at Target or Big W, we drive to Sizzler in Toowong.
Night
After Sizzler, we are surprised to find that the West End Twilight Markets haven't been cancelled—for a change—so we spend a little time looking around them and listening to some music. Then, we drive to Chez Tessa—which is under new ownership, though mostly the same as before it seems—with Maz.
Sunday 29th July – Flinder's Peak & Secret Cave
Morning – Zombies & Burning Tyres
Bronwen and I got up far too early and drove to Derek's place, and then on to Eric's place—which, despite being in Ipswich, was not on fire and nor did we see any zombies or burning car tyres. Instead, we found a Robert, redistributed our packs, and drove in Robert's car through a marathon to Flinder's Peak.
7:30am – Frost & Unexploded Ammunition
We arrive at half past seven, to find that it is rather cold—the frost is still thick on the ground (or at least, on the ground—though "thick" sounds better. There were also unicorns prancing around in the snow). Shortly after arriving we set off, boldly blowing little clouds of personal mist and heading upwards, into the scary unknown.
By a quarter to eight we've got to a "Remote Area Closure" sign, which we pass and continue, onwards and upwards, and promptly arrive at a "Danger: Entry Prohibited" sign. Being free men at least partially in control of our own destiny (and quite capable of thinking for ourselves, unlike the general public who apparently need protecting) we decide that it is not dangerous, and continue on.
We get rapidly warmer as it gets steeper, and a few minutes later come across the high security fence and fallen over sign informing us that "unexploded ammunition may be found in this area", and in case we hadn't thought of it ourselves, that we should "not handle any suspicious items". As the sign had clearly fallen over, and the fence was clearly for show, we decided that it was likely we would survive, and continued on.
8am – Nice Views & No Explosions
By eight o'clock we were already getting some nice views out over all the terrible danger and unexploded ammunition—having gained height quickly. Three quarters of an hour later, we again stopped at a lookout and to catch our breath and check for explosions—amazingly, none of us had yet exploded.
9am – Don't Fish for Stone Fish
At nine o'clock we came across another warning sign, helpfully telling us not to... well, it's a little hard to say. It could have been a "don't fish for stone fish" sign—or maybe a "don't pull people's ponytails" sign, or most likely a warning that should a siren suddenly appear over the cliff edge, we should not grab hold of her, as she would certainly pull us to our deaths.
As it didn't seem to apply to any situation we could think of, and look as we might we couldn't see any naked women anywhere, we ignored it and continued on our way—and half an hour later, arrived at our first stop.
9:30am – Secret Cave
Robert and Eric set up ropes, and I found that I didn't fit the spare harness—which while a little disappointing was fine with me, as I hadn't been entirely comfortable with my first abseil being in the middle of nowhere in an area that may or may not have been prohibited and full of explosives.
Everyone else abseiled down into whatever mysterious thing lay below (many sirens, playing with unexploded bombs, I assumed), while I discovered that, as I stopped sweating, it was still quite cold in the shade.
11am – Ascending
A little after eleven and after lots of laboured movement on the ropes, Derek appeared over the cliff—quite alive and unexploded. By half past eleven, everyone had ascended back up, and we continued on our way to the top of the mountain—and presumably, great danger.
12:30pm – The Summit
At almost exactly half past twelve, we arrived at the top, to find it full of criminals—I mean, freedom-loving bushwalkers who had also not been killed or harmed in any way on the perfectly safe ascent up the clearly marked track. We spent some time up the top taking photos, having a look at the emergency services repeater station, and chatting to the other people.
1:30pm – Descending
At half past one we started on our descent—which was much easier than the ascent, probably due to gravity—and quickly arrived back at the car, almost entirely unexploded and alive.
Download KML/KMZ (Google Earth)
Evening – Eating
Being a little peckish after our terrorising near-death experience with all the prohibited danger and explosives, we drove to a series of small towns, finding nothing of use open on a Sunday evening.
We eventually found a place which sold us milkshakes and a very late lunch, and after our meal, drove back to Eric's—which I was surprised to find was still not on fire, and no zombies could be seen. Perhaps they don't work weekends, or perhaps Ipswich isn't all it was made out to be?
Monday 30th July – Getting Sick
Morning
I gave Bronwen a lift to the bus stop and then drove to work, arriving just on time. I'm still feeling a bit sick—sore throat, runny nose, and my head overall doesn't feel as fantastic as it rightfully should.
Midday
I walked to Govinda's for lunch. My throat feels, if anything, even worse now.
Tuesday 31st July – Bronwen's Last Day
Day
I woke up feeling terrible—bad sore throat, perhaps a little fever, and just generally druggy and hurting. I sent an "I'm dying" email to everyone at work, and went back to bed.
I was woken sometime around two o'clock by Bronwen calling. Her contract hadn't been renewed—despite assurances from those who should have known that it would be—so today was, unexpectedly, her last day and she needed someone to pick up some of her stuff. I drove into town, got some of Bronwen's stuff, and drove home via a veggie pasty from the bakery at Rosalie.
Night
I felt mildly better.
Wednesday 1st August – The Three Monkeys
Day
I felt much better this morning—not entirely well, but not deathly and in pain either.
Night
Bronwen and I drove to Natacha's place, and then on to Three Monkeys in West End for Natacha's "Temporary Good Bye" party. I then drove to Govinda's to get Alexandra and Shane, then back to Three Monkeys, where we drank lots of creamy things and chatted until they closed. I then drove everyone home, dropped an MP3 player off at Natacha's, and went to bed.
Thursday 2nd August – Booking Flights to Cairns
Day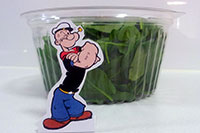 I worked. I went to Govinda's for lunch. I'm almost entirely over my sore throat now.
My sister contacted me to say she had some flights which had become available unexpectedly at the last minute after the people they were booked for cancelled, and which could only be changed before sometime around midday today, so a big rush and some phone calls to her and Bronwen later, and Bronwen and I have flights to Cairns on Saturday 11 August, and back again on Wednesday 15 August.
Night
I drove into town with Bronwen, got Maz from work, and drove to the Burrito Bar in Rosalie for dinner. It was very cold (the weather... not dinner). After, we drove to Maz's.
Friday 3rd August – Woolworths
Day
I worked.
Night
Bronwen had a phone interview so I went to Woolworths and bought things vital to our survival. Then we had roast veggies and salad for dinner while watching Top Gear. We are up to Season 14, Episode 6—The Bolivian Special, which was originally broadcast on 27 December, 2009.