Saturday 1st September – Natural Bridge Glow Worm Cave
Morning
Bronwen had gone climbing with scary climbing people, so I went to Francy's Patisserie all by myself and ate a veggie pasty all by myself.
Afternoon
After breakfast I drove to Maz's, and we drove out to the confectionery warehouse.
Evening
I drove home to get Bronwen, and we—along with Maz and Kate—drove to Nando's for dinner.
Night
Maz dropped Bronwen off at her parents' place, and Maz, Kate and I continued on to Natural Bridge Glow Worm Cave to look for glowing mushrooms. It was a pleasant drive, but sadly, we didn't find any glowing mushrooms. Plenty of glow worms though.
It was five o'clock in the morning by the time I got to bed.
Sunday 2nd September – Milk Boobs, Pancakes & Chuck Norris
Morning
I got woken by a call from Bronwen at nine o'clock. Having just got to sleep a few hours before, I wasn't in the mood to go have an early breakfast with her, so didn't.
Midday
I drove over to Francy's Patisserie again, collecting Bronwen from her parents' place, and had my usual veggie pasty. There were no seats, so we sat in the nearby park instead. Unrelatedly, it has free council Wi-Fi.
Afternoon
Bronwen and I drove to Maz's, and then out to the confectionery warehouse because Kate wanted some things from there. We then tried Ngoc's "milk boobs"—a literal translation of their Asian name apparently—before driving to the Burrito Bar for nachos and tacos, then back home to get ready for a movie tonight.
Just Moments before the Movie
Bronwen and I rushed to South Bank. Fortunately there was parking under the cinema, or we'd have been very late. As it was, we only just got there on time. We watched "The Expendables 2", which, while very American and not exactly a thinking man's movie, did have quite a large amount of classic scenes—Chuck Norris destroying everything, Arnie saying "I'm Back", Jet Li fighting everyone very fast, Van Damme kicking everyone and everything, Bruce Willis being Bruce Willis, Jason Statham having an attitude problem… and almost all at the same time.
Night
After the movie—and after waiting a rather long time for inept people to work out how to place a barcode under a barcode scanner and open the gate to get out of the cinema car park—Bronwen and I drove to Pancakes where we met Maz, Ngoc and Allie—who, knowing one of the staff, managed to continue today's breast theme, and get her pancakes and ice cream shaped like breasts, which is a clever way of getting far more ice cream than everyone else.
Monday 3rd September – Getting Fit
Lunch
I had an extremely hot laksa from Govinda's for lunch.
Night
Bronwen and I went for a walk in Toohey's Forest, as the start of my new "get fit" thing. We then drove to Woolworths, did some shopping, and had pasta and salad for dinner.
Tuesday 4th September – The Spider in my Shoe
Morning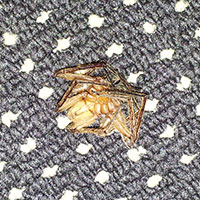 My cheap work shoes are falling apart, so it didn't really surprise me when, on the drive to work, what felt like a piece of cardboard floating around in my shoe somehow made its way up to my toes and began to annoy me. I kicked around a bit and it shifted out of the way, only to move back later. When I got to work, I took my shoe off to empty it, and found a squashed spider in it. I'm not especially scared of spiders—I wouldn't sleep with one, but I don't run for miles when I see one either—but somehow this just didn't seem right. I had to go for a quick walk to the kitchen and get a very large napkin before I could face it.
Strangely, my right eye became inflamed and red and was quite annoying for an hour or so. I can't quite see how it's related to the spider, but then I can't quite see, so…
Lunch
I'm now partially deaf, but it isn't because of the spider. While I was sitting quietly eating my Govinda's, outside, in a corner where sound echoes nicely, two policewomen turned up in an unmarked Falcon and went to the nearby fruit shop. Falcons honk their horns quickly to confirm remote locking if you double-lock them.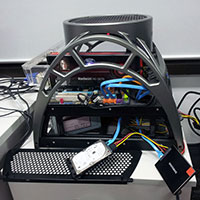 Apparently they still do this when fitted with police edition riot dispersing, dead awakening, million decibel air horns. While not rioting or dead, I am now certainly awake.
Night
I drove in to Maz's work, and we cloned my laptop drive across to my new Samsung 830 256 GB SSD drive. As it took quite a long time, we drove to The Burrito Bar for some tacos while we waited. After, we met Bronwen and drove to Maz's place where I pulled Sarah's laptop apart again. Sadly, nothing obvious seems to be broken, yet it's still broken, so it's probably not long for this world.
Wednesday 5th September – Cloning Hard Drives
Day
I worked.
Night
As we had a half price pizza coupon—or more technically, as someone who had one had put it on ozbargain.com.au—Bronwen and I had a little each of three half price Domino's pizzas for dinner. We also cloned Bronwen's laptop hard drive to her new SSD in the Media Centre, and swapped the drives over in her laptop. She says it's noticeably faster.
Thursday 6th September – Shoe Shopping
Day
I worked.
Night
Bronwen had left her bike locked up at Maz's work on Tuesday, so I rushed home from work, got Bronwen (who, despite having had all day to get ready, wasn't yet ready), rushed back into the city, met Maz, got Bronwen's bike from Maz's work, then drove to Indooroopilly to go shoe shopping. I managed to buy a pair of sandals somewhat reminiscent of the few dollar ones I bought in Africa, and a pair of cheap work shoes to replace my previous cheap work shoes which had, for some reason, fallen apart.
After shopping we met Maz, who also bought some shoes and a frypan, and then drove to Halim's Indian Taj, for a curry dinner, before dropping Bronwen off at her bike, via her parents' place.
Friday 7th September – The New Chez Tessa
Day
I worked, walking down to Govinda's for lunch. Sadly, it's getting far too hot to walk and my new shoes hurt.
Night
I rushed to town to pick up Bronwen—who was off gallivanting up and down the river on a free ferry the council is apparently now running just for that purpose—and then rushed to The Ville, where we met Maz and had dinner from the new Chez Tessa. I managed to find the dish that was most similar to what I used to get at the old Chez Tessa, and I'm pleased to announce it's almost the same—it's not quite good, but not quite bad either, just like it used to be. Handily, what used to be the Coles, and then Foodworks, is now an IGA and is open until midnight.