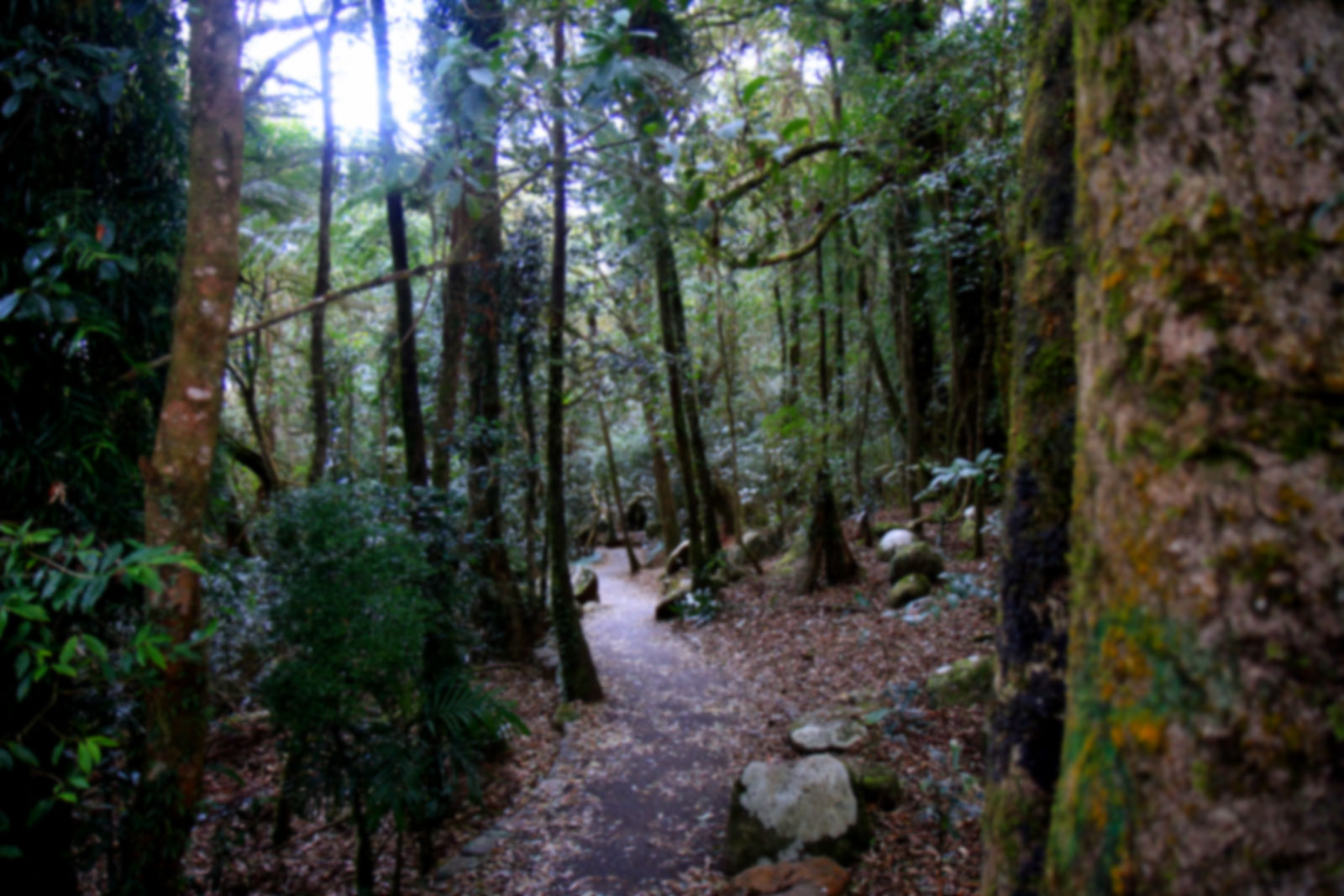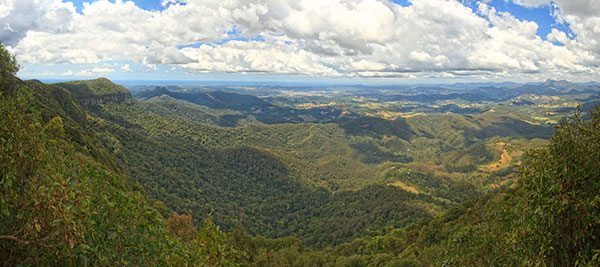 Saturday 13th October – Housework
Morning
I drove to Bronwen's parents' place, where Bronwen was, and then we drove down to Francy's Patisserie for my habitual veggie pasty breakfast.
The Rest of the Day
The rest of the day was spent quietly at home. Bronwen insisted on doing housework, while I wrote a journal entry, and got in her way—though I did start the lawnmower, as it's sexist and can only be started by a man.
Sunday 14th October – Springbrook, Twin Falls & Natural Bridge
8:30am
My alarm went off, waking me. Half an hour later, I actually got up. Bronwen and I had a quick breakfast, packed a few things, and by ten o'clock, were on the road—driving south to Springbrook. The drive was uneventful—no deaths, explosions or aliens. Once we got to Springbrook, we followed the helpful tourist signs to "Best of All Lookout"—which was best of all—and then to each of the other tourist attractions we'd not had time to look at on our previous trip with Maz.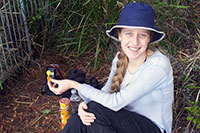 We stopped for lunch (Cheddar Cheese Pringles) at Goomoolahra Falls Lookout, then walked the four kilometre Twin Falls Circuit, through some amazing caves and rock clefts, and past several waterfalls. Unfortunately, there's not been enough rain, so the waterfalls are only just flowing. Unfortunately, about halfway through our walk, it began to rain. Having on me most of my camera gear and my phone—and no rain protection other than an old plastic bag—this posed something of a problem, but having no other choice, we simply hurried up. Fortunately the rain wasn't too heavy and stopped not long after it started, and we—and our gear—survived seemingly unharmed.
Evening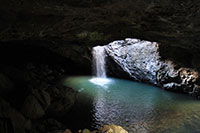 As evening drew on, we drove to Natural Bridge and had a look at the glow worm cave in the daylight. It was interesting to see it in the day, having seen it at night several times before. The cave was much as one would expect—though I was surprised to find it's made out of many, many rocks seemingly cemented together, rather than one large rock—but the bush and track around it were quite different to how I thought they were at night.
Night
After our many adventures, we drove home, then to Maz's, and then to Halim's for a delicious Palak Paneer, Chana Masala and Garlic Naan. After dinner I dropped Bronwen first at her work, then at her parents', and then Maz home—and finally, myself home.
Start time: 10/14/2012 09:59 Finish time: 10/14/2012 18:42 Distance: 248.4 km (06:48) Moving time: 04:23 Average speed: 36.5 km/h Avg. Speed Mov.: 56.5 km/h Max. Speed: 123.1 km/h Minimum altitude: -6 m Maximum altitude: 1053 m Rise speed: 1599 m/h Fall speed: -1603.1 m/h Elevation gain: 3718 m Elevation loss: -3723 m Rise time: 02:19 Fall time: 02:19 Download KML/KMZ (Google Earth)
Monday 15th October – Beans
Day
I had a busy day at work.
Night
Bronwen and I had salad, beans and garlic bread for dinner.
Tuesday 16th October – Lasagne & Pizza
Day
I had a busy day at work, and lasagne from Govinda's for lunch.
Night
 I went for a brisk walk up Mount Gravatt, then back down the road. Once Bronwen arrived home from climbing, we drove to Woolworths to buy some drinks, and then on to Dominos to pick up our pizza and garlic bread.
Wednesday 17th October – King Ahiram's Lebanese
Day
I worked.
Night
Bronwen and I drove to King Ahiram Lebanese Food in West End for dinner.
Thursday 18th October – Tacos & The Bike Carrier
Day
I worked.
Lunchtime
I drove to Govinda's—who has now turned the air-conditioning on—for lunch. After lunch I went and chatted to a mechanic about getting my tow ball taken off. Unfortunately they weren't very keen to do it right there on the spot, and asked me to bring the car back in tomorrow morning.
Night
After much banging and smashing, I managed to get the tow ball off, and shortly later, drove to the Burrito Bar in Rosalie where I met Maz and Bronwen, who had been skating. We ate Tacos for dinner, and then Bronwen and I drove to Bronwen's work, put the bike carrier on, and drove her bike home.
Friday 19th October – A Large Shifter
Morning
I drove to work, worked, ate some dark ALDI mint chocolate, moved my car, and worked some more.
Lunchtime
I drove to Govinda's for my usual "Feast Meal" lunch, and dropped in on Supercheap Auto on the way back to by a shifter large enough to do up my tow ball. I also used my Note's S-Memo app for a real-world use for the first time—I drew the nut onto it so I could tell if a shifter would be large enough without taking the nut into the store.