Saturday 12th March – World Naked Bike Ride
Morning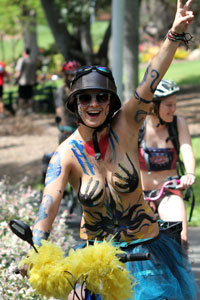 Bronwen and I rushed into the city and—being too stingy to pay—had heaps of trouble finding parking, eventually parking at the top of Roma Street and rushing to the amphitheatre,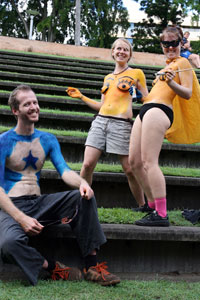 arriving ten minutes late… only to find that no one was there. However, just before we decided we must have missed the whole thing,
it began to rain, so we stayed a while… and lo and behold, some cyclists—not at all naked—turned up,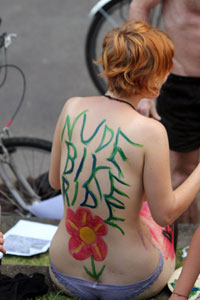 and an angry security guard who threatened to put everyone in handcuffs, and said—and I quote (or at least, paraphrase)—"In this park,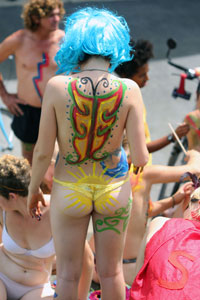 I have the power of a policeman", and eventually some more cyclists, and a few more… and then they began to get naked,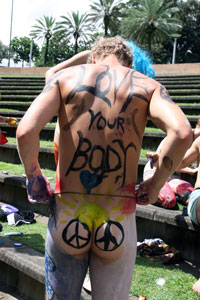 painting themselves, putting on crocheted penis pouches and the like, as one does before a ride, and eventually rode off through the city.
Afternoon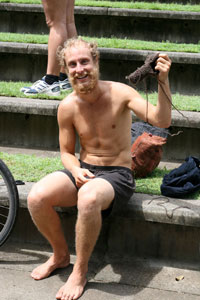 Unfortunately, Bronwen and I had driven to the city to go to the bank, which, due to the late start of the bare-breasted bicyclists, was now shut, and due to running through the city trying to keep up with them, we both had borderline heatstroke and sunstroke and most likely a few other terrible maladies, so stopped in the air-conditioned "Broadway on the Mall" for a yummy, yummy lunch and a milkshake,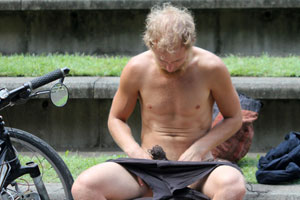 and a small trip up to Harvey Norman's where we viewed 3D TV and didn't find a bargain netbook, before driving back home again.
Evening
I spent the evening procrastinating, lazing about, watching "Gilmore Girls", and fattening. I think I have watched so much "Gilmore Girls"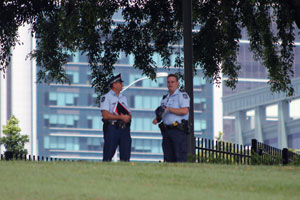 that I'm starting to think like women do… Oh the emotions! The confusion! The world is becoming so blurry!