Alexandria Bay, Noosa National Park
Saturday 10th April – Noosa
G'day,
It's no longer a normal hour, so I figure instead of writing this normally, I'll write it in hindsight, from the perspective of myself, at the time. Yes, that does make sense at three o'clock in the morning.
So, to begin…
I wake up this morning. Not something I really feel like doing. Well, it's not that I don't want to wake up—I'm not hoping to die—but I don't want to wake up this morning. Waking up this afternoon would be a lot nicer. Except then I'd feel guilty for having slept in all day.
Anyway, seeing as I do wake, I drive to the Green Flea Markets at West End, with Bronwen and Valerie. I'd not been to them for ages, and for some reason thought they'd have died out. But no, they're larger than ever, and still the best markets I know of in the Brisbane area.
I share a Langos with Bronwen. It's finger-lickin' good; in this case, literally.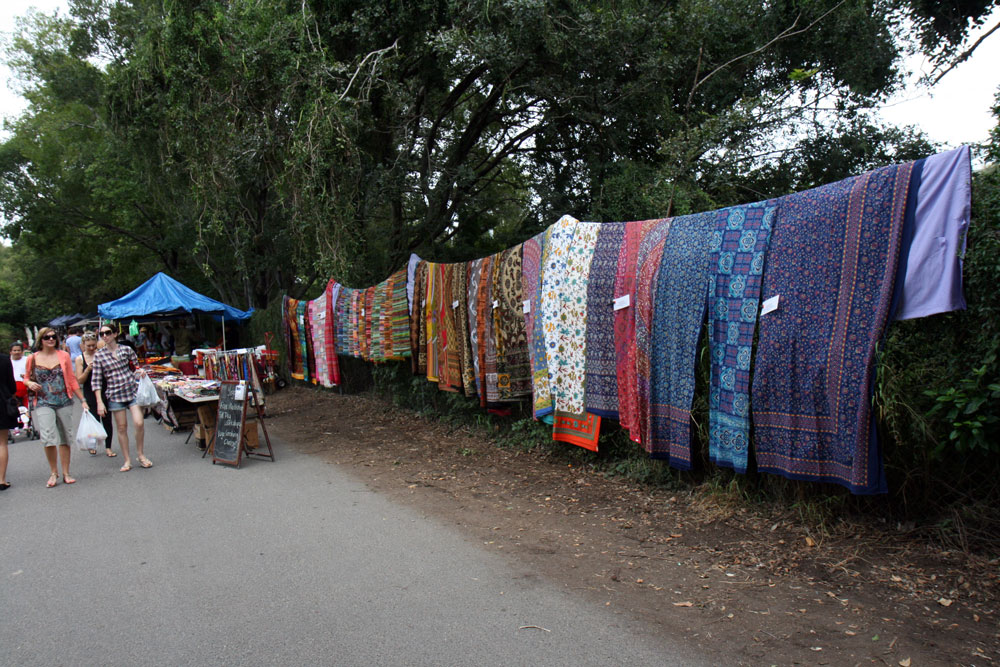 West End Markets, Brisbane
After the markets, I drive Bronwen to her parent's place, and Valerie and myself back to my place, where we get ready for a trip to the Sunshine Coast.
Once ready, we drive to the Sunshine Coast, pick up Kara, and continue on to Noosa National Park. There is no parking. After a few circles around the car park, we find a spot that magically appears. We are fairly sure it wasn't there before. This seems worryingly like the start of a horror movie.
Now parked, we walk to Alexandria Bay. It turns out to be a nudist beach. Unfortunately for Kara and Valerie, the only nudists are old men. We go for a short swim. Valerie reads the first few pages of her apparently boring book. I etch cuttlefish shells, impress people by drawing houses, have sand thrown in my face by Valerie, and discuss all the various types of food we want to eat, in the context of clouds.
Once the sun moves off the sand, we walk back to the car, drive to the other end of Hasting's Street, find that pasta there is horribly expensive, walk back to the other end of Hasting's Street, buy Kara's favourite ice-cream, and then walk back to the car, at the other end of Hasting's Street.
Our walk—and ice-cream—over, we drive to Coolum, where we play cards while we wait for our lovely pasta—or in Valerie's case, pizza.
Dinner consumed, we drive to Kara's place, pet her dog for a while, chat, and after a while, drive back to Brisbane.
Once in Brisbane, I go walking, put some washing on, forget to hang it out, and relax with my laptop.
And that, my friends, is where I am now. The washing still hasn't been hung out, and I'm off to bed.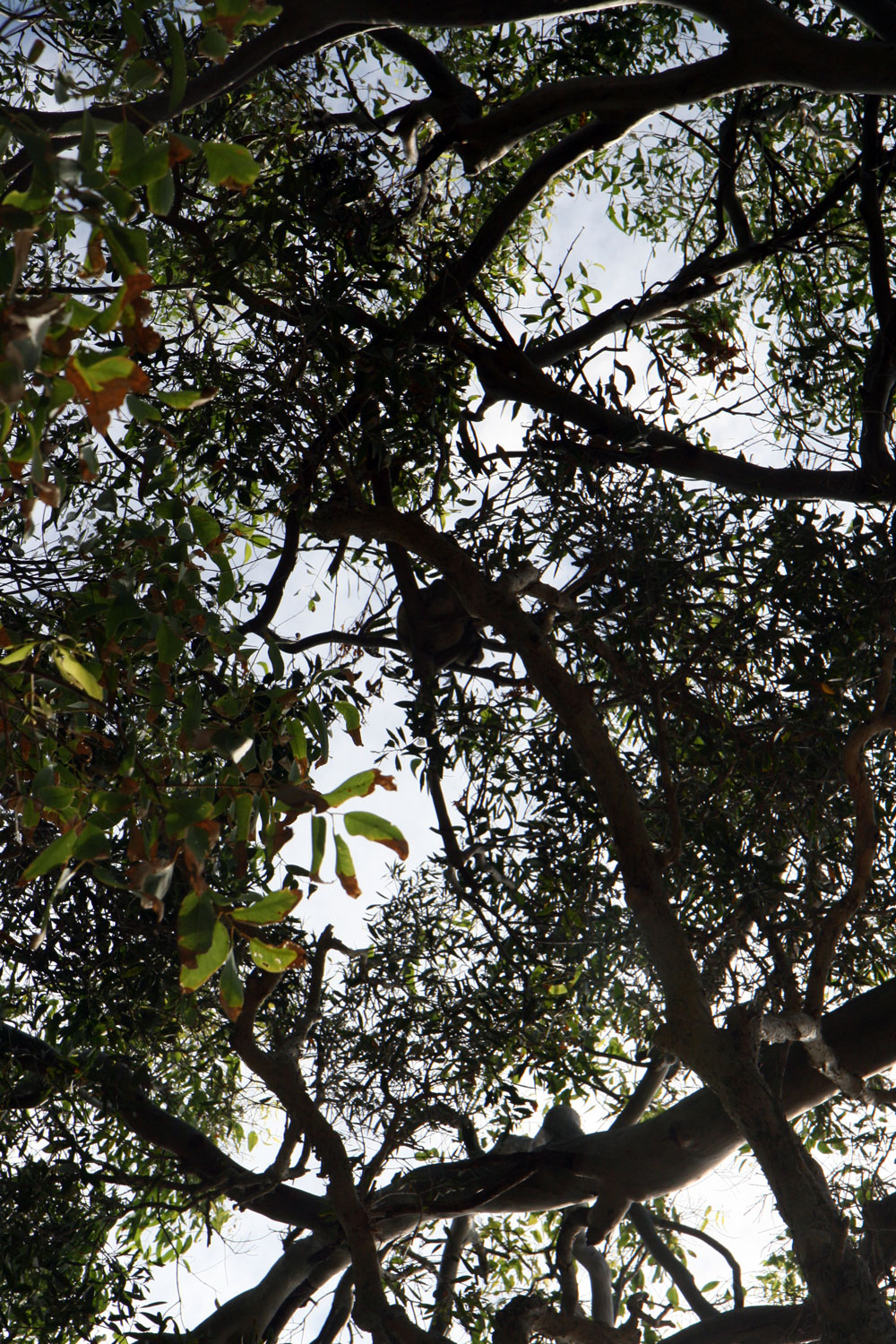 Koala in a tree, Noosa National Park
Sunday 11th April
Morning
Mr Alarm Clock woke me up. I suppressed the natural killer instinct, and instead of killing him, I got up, phoned Bronwen, had a lengthy discussion about how bad Sony are, and eventually drove up to Bronwen's parent's place via the bakery.
Afternoon
I've spent all afternoon going to JB Hi-Fi, Harvey Norman, Wow Sight and Sound, Bunnings, Subway, etc., with Bronwen finally getting a $759 surround sound system for $429 from the middle of nowhere Harvey Norman's (i.e. Oxley), which goes to show what a rip-off Harvey Norman are. I also bought a door mat from Bunnings.
Night
After hours of installing aforementioned surround system, that is, after hours of sitting at my laptop while Bronwen installed aforementioned surround system, we drove to my place, ordered Thai food, and watched "The Princess and the Frog". In other news, it's so hot.
Kara & Valerie, Alexandria Bay, Noosa National Park
Monday 12th April
6:30am
I got up an hour earlier than I normally would, drove Bronwen to work, drove to the German Bakery, bought some bread, drove home, ate breakfast, and then drove to work myself.
Day
Dean is back, so some of the pressure at work is off me. I had a normal day at work.
Night
I went to woollies, watched TV with Valerie, and went for a walk, not getting home until well after midnight.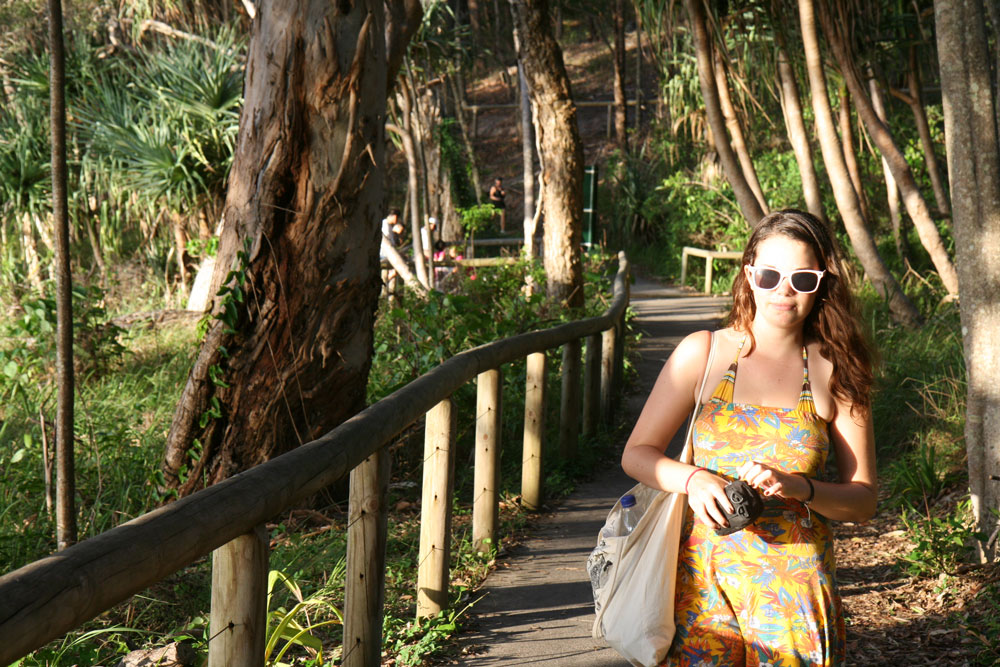 Valerie, Noosa National Park
Tuesday 13th April
Morning
I drove to work, arriving on time—or perhaps a couple of minutes late, but close enough I hope. It was very slimy, with just enough rain to lubricate the road. I suspect I should buy new tyres, as driving in straight lines, cornering, or accelerating from lights has become something of a black art—or perhaps Russian Roulette—in my car in this kind of weather. Sliding five metres on full-locked-ABS-brakes towards the back of a car on the way home from the German Bakery yesterday wasn't ideal either. ABS is great on those occasions when I've had to merge at high speed into slow moving traffic and lock the brakes while cornering—without them I'd not have been able to have survived back in the airport taxi war days—but they sure slow down stopping at slow speeds on slippery surfaces. Sliding five metres at 10 km/h is ludicrous, and quite dangerous.
Day
I worked, ate my salad roll, some peppermint creams, and worked some more.
Evening
I picked Sabine up from the very crowded airport, and drove her home. Apparently it's cold in Melbourne. In entirely unrelated news, the new stove has now been converted to natural gas, meaning it actually works now, and we can grill, bake, boil and burn things at will!
After relaxing at home for a while I drove down to Kangaroo Point and watched the climbers, before driving Bronwen to a dinner at her parent's place, buying myself some pizza, watching "Friends" with my flatmates, and going to bed.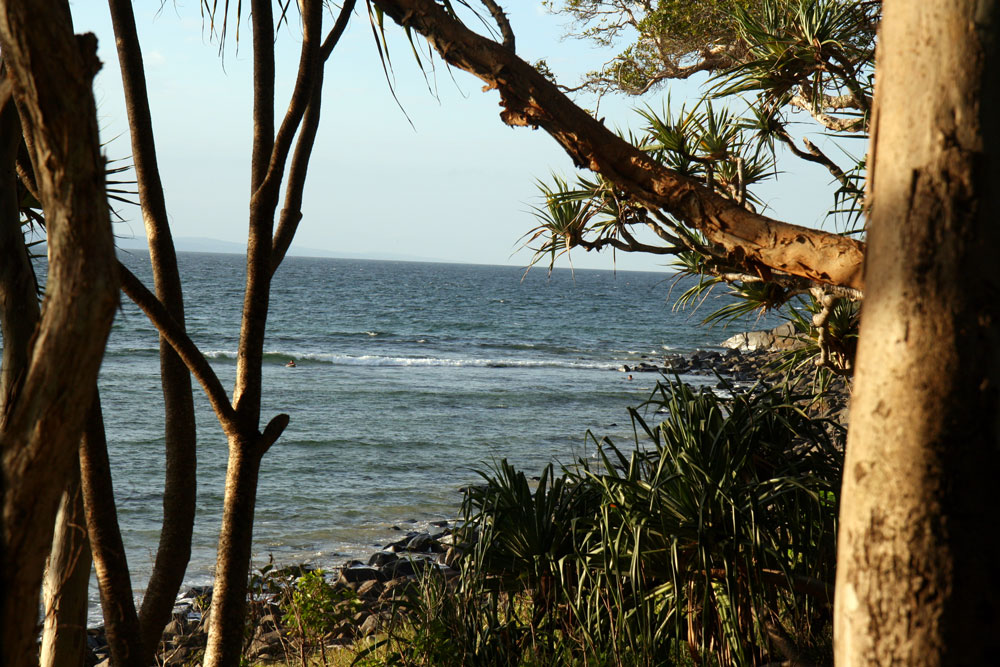 Alexandria Bay, Noosa National Park
Wednesday 14th April
Morning
Up bright and early, and traffic was awful, though I still managed to get to work only five minutes late, despite everything being congested, and found that Jon is still in America, Dean is off sick, and Peter is in Sydney.
Afternoon
I home drove, city via, Bronwen picking up, then South Bank peeing pool walked, swum, and home walked again. After, curry ate.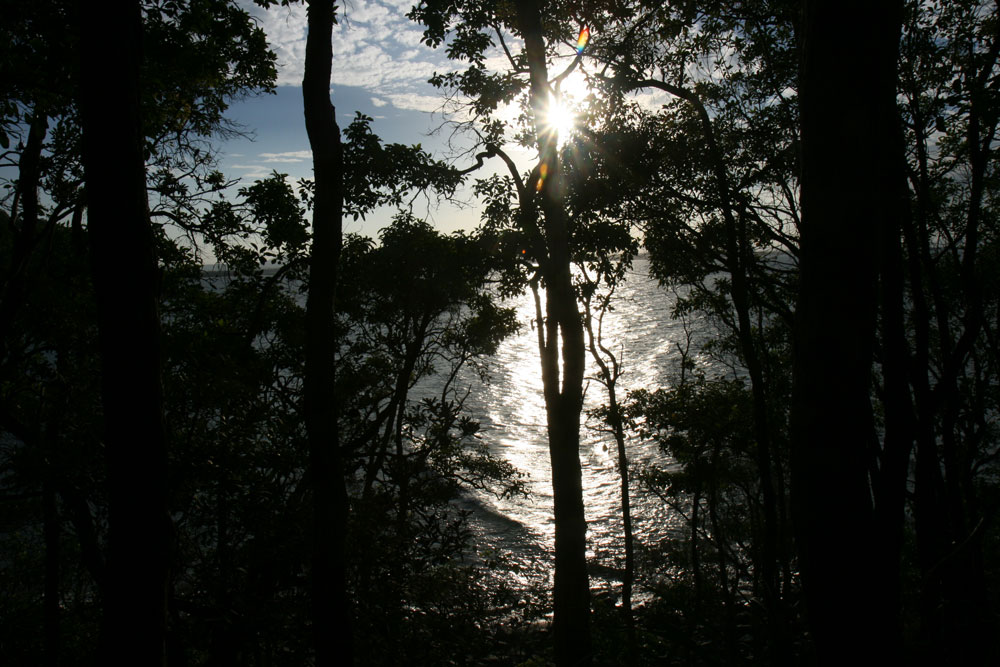 Alexandria Bay, Noosa National Park
Thursday 15th April
Morning
Traffic was ye olde traditional bad. I drove through the city to drop off Bronwen, and took the first left when traffic stopped. The very scenic, mostly one lane, traffic carming filled, and over the top of a mountain 40 km/h road was still faster than waiting for traffic, and I got to work on time.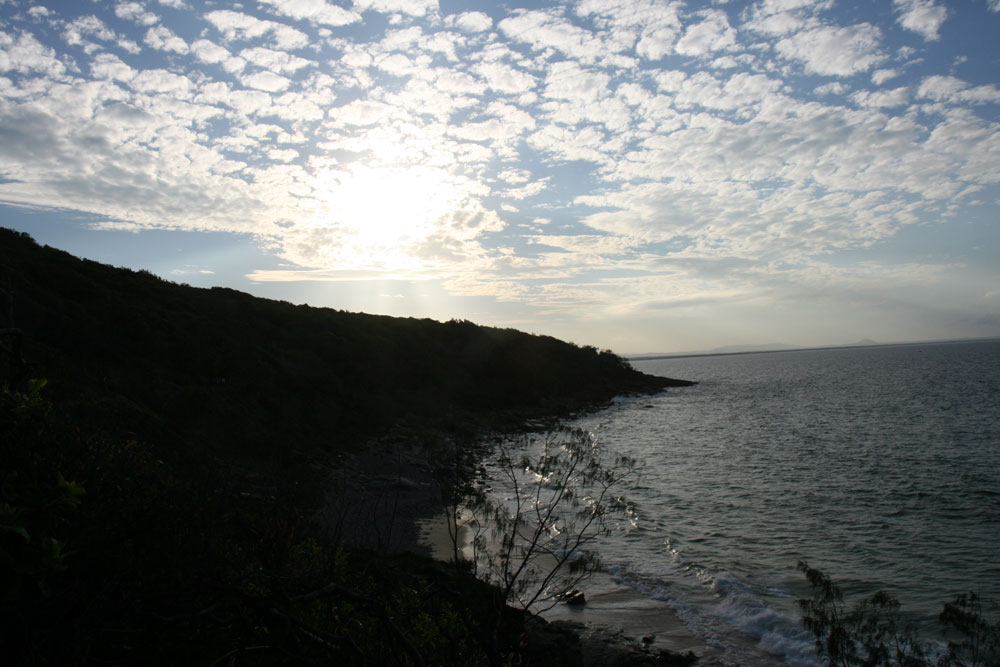 Alexandria Bay, Noosa National Park
Day
Dean was still off sick, and Peter away still, but Jon arrived back.
Evening
My flatmates are studying for an exam tomorrow. It's funny, though I feel sorry for them. They've eaten most of a huge chocolate cake so far, and are now pretending to be on a diet.
10pm
I was just lying down for a moment. That was three hours ago. Now it's ten o'clock and I've not had dinner, or hung out my washing. Argh.
Midnight
Now it's midnight, and I've not gone for a walk. Argh. Will have to skip it tonight.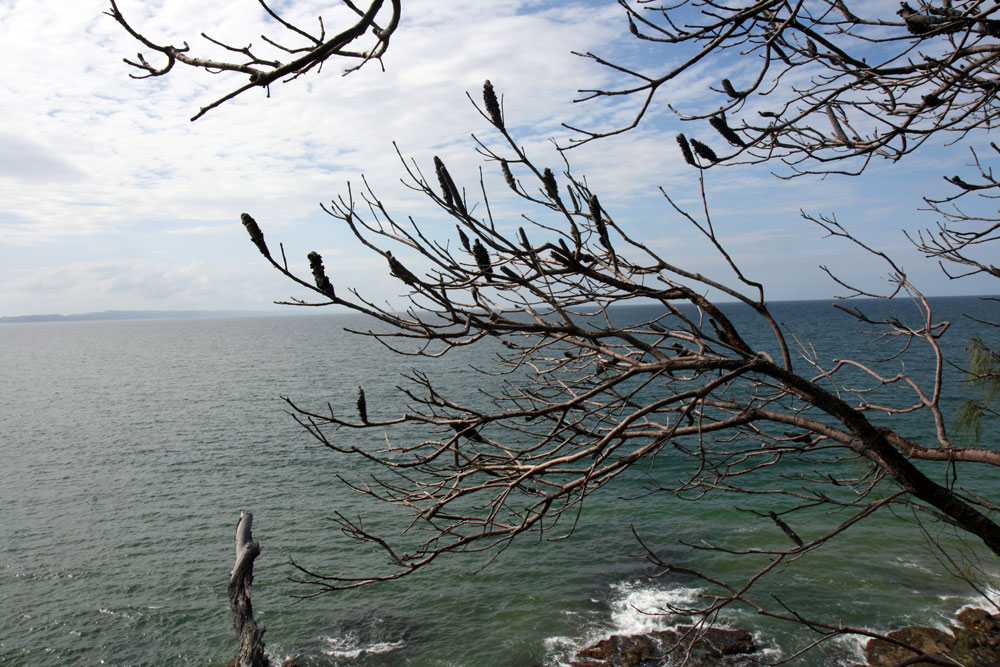 Alexandria Bay, Noosa National Park
Friday 16th April
Day
I worked.
Night
Bronwen and I went to the Music Kafe at West End, had a nice feed, and then drove the flatmates to the city. Now, being worryingly close to two o'clock in the morning, I must go to bed.
2:30am
Yay for calls from America. Fortunately, this time I had my laptop, and an internet connection, and knew how to fix the problem. Unfortunately, I'm now awake.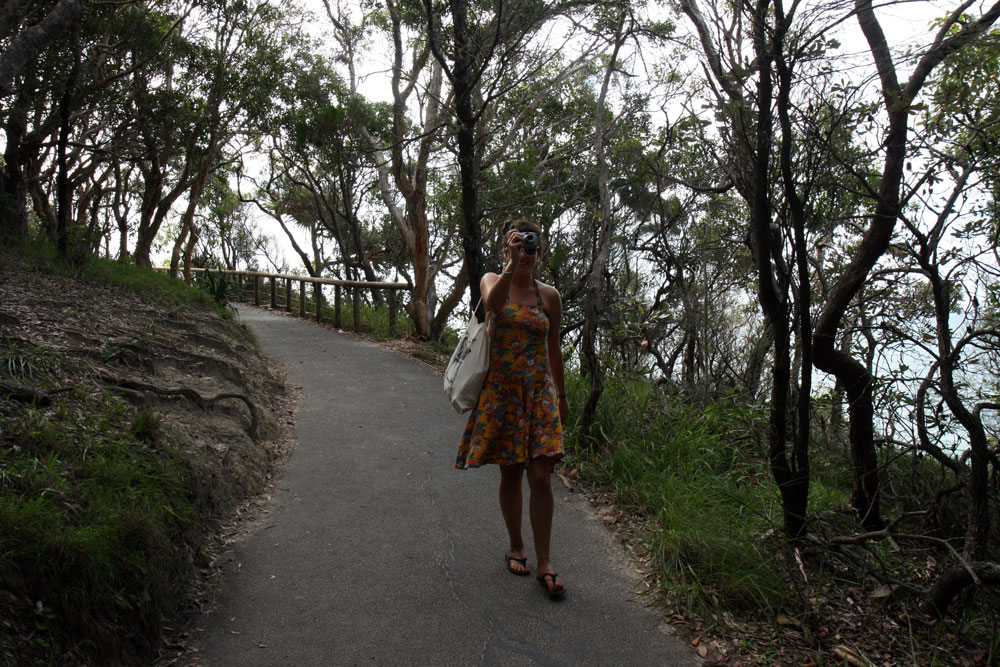 Valerie, Noosa National Park