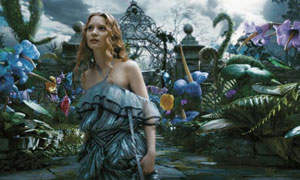 Alice in Wonderland
Monday Eighth March
Day
I worked.
Night
I drove home. My flatmates went to play pool with Maz. I went to see "Alice in Wonderland" in 3D, at South Bank, with Bronwen. I'm loving 3D movies—and this one was, in an expectedly quirky way—wonderful.
Later Night
I drove to Maz's to pick up a power supply and drop off some TV shows. I ended up having quite a late night.
Tuesday Ninth March
Day
I changed my internet plan to TPG's new one hundred thirty GB plan, shaped to one mbps. My old one hundred ten GB plan has changed to a two hundred GB plan, shaped to two mbps.
Night
I drove to Toowong Coles with Valerie and Sabine to do some shopping, then to Maz's, then to GoMA to pick up Bronwen, then to Bronwen's parent's place to drop off Bronwen, then back to Maz's place, where I still am.
Well After Midnight
There's a lot of mosquitos around tonight. I have driven back from Maz's, and am in the process of slowly going to bed.
Wednesday Tenth March
Morning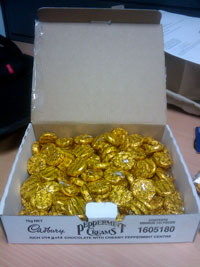 One Hundred Forty Peppermint Creams
I went to the Ophthalmology department at Royal Brisbane, with Sabine and Valerie on their way to uni.
Midday
I caught the bus home from hospital, gave back a phone I found in the park, bought a power supply from Umart, and drove to work.
Evening
I bought a kilo of peppermint creams, worked, then drove home. I took some photos down to Officeworks for laminating, had noodles for dinner, and generally relaxed.
Thursday Eleventh March
Morning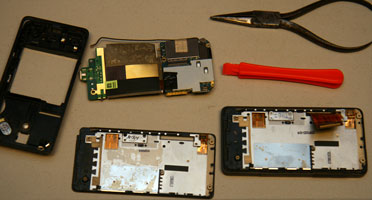 HTC Touch Pro Disassembled
I drove to work, where I worked.
Evening
I drove home, where I homed.
Night
I drove to Maz's, via My Thai to pick up dinner. We walked in the rain by accident, upgraded Maz's car computer, replaced the keyboard on my phone, and were generally depressed—me anyway. The SIM card failed after putting the phone back together, but taking it out and putting it back in fifty times fixed it, and now I can type lovely-ily again.
Friday Twelfth March
Day
I carred to work, worked, installed a new ROM on my Touch Pro, ate lunch, worked some more, and carred back home again. My eye is still sore, but getting a lot better.
Night
I carred Bronwen from work to my place, then to her parent's place. I was then glum.
Late Night
After some wine, some poker with zee Germans, and some "Cheat"—which is the best, and most hilarious, card game ever—we went to The Caxton, which isn't a particularly great idea on a game night, but it was quite busy and the girls danced while I pretended to.
Four Thirty AM
I went to bed.
Saturday Thirteenth March
Nine Thirty AM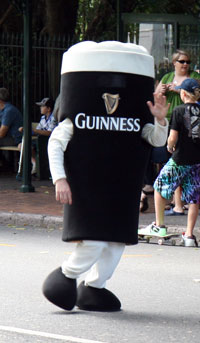 Walking Guinness
I woke up, showered, and caught a bus into the city to look at the St. Patrick's Day parade with Bronwen. I then caught a bus home, drove out to Bronwen's place, helped her flatmate set up his wireless, dropped Bronwen off at her parent's, and went home to relax.
Afternoon
I had a relaxing afternoon, hung some photos, bought butter for making biscuits, and didn't do much else.
Evening
I drove Stella to her work in the Valley, then picked up Bronwen from her parent's place—via her having dinner there. Unfortunately, my flatmates—who had said they wanted to go to the valley with Bronwen—decided they didn't want to after last night—so I dropped Bronwen off in the valley by herself.
Two Thirty AM
I went and picked Bronwen up from the Valley, and sometime later, went to bed.