Coronavirus Lockdown Day 36
1,033 cases: 3 new (all linked to a cruise ship). More than 1 million Australians sign up for Government's COVIDSafe contact-tracing app. In Spain children under 14 have been allowed outside for the first time since the Government declared a state of emergency on March 14.
Day
Bronwen and I went grocery shopping—well, technically we popped down to by milk and bread, but somehow that ended up costing a lot more than just milk and bread—but other than that, we both spent the day at home.
Mt Gravatt
Bronwen had been intending to go over to her parents' place tonight and replace a tap at her commercial property (though she ended up going tomorrow instead), so I went for an earlier walk up Mt Gravatt with Natalie.
It turns out it's really busy before it's dark—I met 64 people in total.
Coronavirus Lockdown Day 37
1,033 cases: Zero new cases in QLD. 2.4 million have now downloaded the COVIDSafe app. New Zealand goes from "Level 4" to "Level 3" restrictions—similar to what we've had all along here. Global confirmed cases pass 3 million. China threatens Australia with economic boycott over Australia's push for a coronavirus enquiry.
Interview
Today started with a bit of a mistake—I had a Zoom interview scheduled for 10 o'clock. I'd been told about it by a recruiter yesterday, and told that I'd receive an email with the details and—most importantly, the Zoom link—directly from the employer. I checked my email before the scheduled time of 10 o'clock and no email. I waited until 10 o'clock and still no email. I even checked through my spam mail in case it had gone into spam. I figured it's chaos at the moment with everyone working from home, so them not being on time wasn't surprising, but by a quarter past ten I figured something might have gone wrong so I went digging around further. It was then that I noticed Gmail had a calendar entry for the meeting, with all the required details. I logged onto the meeting, but by this time no one was there. I had a look through, but there was no record of any email—somehow the client had put a meeting request directly into my Gmail calendar (which I don't use—I use Exchange and Outlook) without any record of me ever receiving an email from them.
The interview was subsequently rescheduled to 4 o'clock, though that never happened and it was then rescheduled again to "later".
Home
Unsurprisingly, I spent the day at home.
Bronwen's Parents' Place & Maz's
Bronwen and I drove to her parents' place and replaced a washer in a leaking tap at her commercial property and then drove on to Maz's place to drop off a tree Bronwen was giving to Maz, and say hello.
Coronavirus Lockdown Day 38
1,034 cases: 1 new. NSW records 11 new cases. SA has now recorded no new cases for a week. In total, Australia has 6,746 cases (19 new today), 5,667 recovered, 90 deaths.
Home
Bronwen and I both worked from home—along with the majority of Australia.
Mt Gravatt
Both Bronwen and I got caught up in work that went late, so we went for quite a late walk—leaving home around 8:30. We expected Mt Gravatt to be closed from 7 PM like it is supposed to be, so were surprised to find cars still driving up it. We walked down to the bottom of the road and found that someone had hit the extremely-strong looking gate, and snapped it off, leaving behind a small part of their car. There were 15 cars up the top at 9:25 PM.
Coronavirus Lockdown Day 39
1,033 cases: Zero new cases. Woolworths says sales for the 13 weeks to early April jumped nearly 11% to $16.5 billion.
Home
Bronwen and I spent the day at home, as usual.
Mt Gravatt
We went for a walk up Mt Gravatt. The gate had been fixed (or so it seemed) and was closed when we walked up, but on the way down cars began to drive past us, and when we got back to the gate, it had been opened.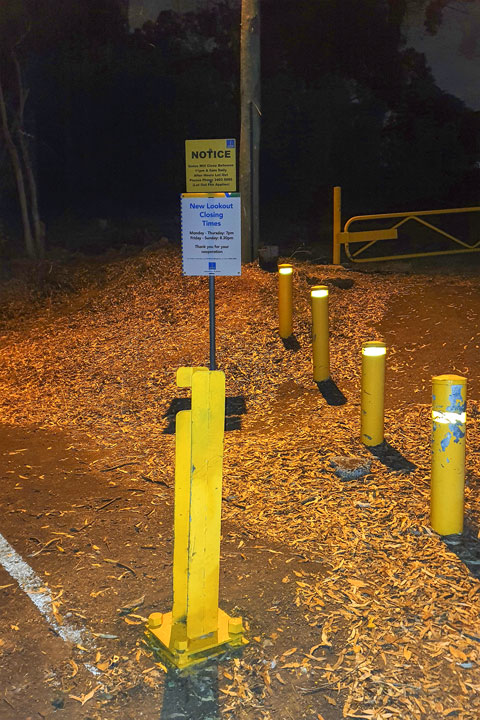 Coronavirus Lockdown Day 40
1,033 cases: No new cases. 3.5 million downloads of the COVIDSafe app.
Garden City
Bronwen and I drove down to Garden City to buy a pizza slicer from Kmart, go to ALDI, and get some orange recycling bags for the stupid "Containers for Change" recycling scheme. Unfortunately, the local member wasn't there, and there was only one bag left outside her office.
Mt Gravatt
Bronwen and I went for a walk up Mt Gravatt. There were 20 cars up the top when we got there at 8:15 PM. Security turned up around 8:30 and kicked them all out. We walked down the road after it had been closed, and had a look at the closed gate. The lock no longer works—which explains why it was opened yesterday. I guess whoever "fixed" the broken pole on Thursday didn't do a very good job.