Monday 16th December – "American Hustle" & The Christmas Parade & Pantomime
Day
I was very tired, having stayed up most of the night, only getting a few hours' sleep.  Not even Burrito Bar for lunch could wake me up.
Night
Bronwen and I rushed into the city where we watched the Myer Christmas Parade and Pantomime.
We then had dinner at Halim's, before driving out to Portside Dendy to watch "American Hustle". I wasn't a fan—it seemed needlessly weird, which I found detracted from the already confusing plot and made it less believable. You can't hit people on the head with old school telephones (those things are heavy) and not have something happen. That isn't how reality works. And what was with half the women showing most of their breasts, for no apparent reason, at all times, whether it was appropriate or not—now that's not something I'd normally say, but it just didn't fit in with what would have happened in reality, and it started to detract from the movie. So they're in the middle of a serious discussion with some people and it can't possibly go wrong or they'll probably get killed and… oh look, one of the supposedly serious negotiating girls isn't wearing appropriate clothes… and there we go, hit in the head with a telephone. Quick, take some heart tablets. Everyone will be fine, and no one will get in trouble.
One star for believability, one star for plot confusion, but three stars for weirdness and three for being unpredictable enough without an absurd and unfitting plot twist for no reason just to make it seem complex. I wouldn't recommend anyone bother seeing it—overall, barely a fifth of a True Lie.
Tuesday 17th December – Christmas Lights
Day
I had a busy day at work, and Pasta Pantry for lunch. I also found myself thinking about the plot of "American Hustle"—not something I'd normally do for a stupid movie, so I should probably upgrade it to two fifths of a True Lie.
Night
Bronwen and I drove to several Christmas Lights displays. We did a couple of hundred kilometres all up, and it took a few hours, and overall we only saw, I think it was seven, properties with lights all up. Nevertheless, some were quite impressive. I'll let the photos do the talking.
This is where we drove.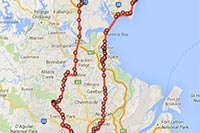 "Best Church/Community Group"
Sandgate Uniting Church, 116 Board St, Deagon
There were a lot of people at all the Christmas Lights, and buses were running tours of them.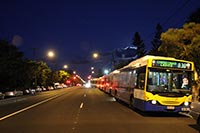 But without further ado, let the pictures speak for themselves.
"Best Synchronised Lights and Music Display"
Ben Bartel, 50 Paul St, Brighton
I wasn't so impressed by this, but Bronwen really liked it.
"Second Place Neighbourhood"
Beach House on Suttons, 43 Marine Pde, Redcliffe
As I was using my GPS to navigate here, I knew I had nearly arrived… and then we came around the corner and the full impact of all the lights hit us, all at once. I was expecting a street with most of the houses lit up—not a single glowing pinnacle of Christmas light extravaganza. Going from boring night-time road to joyful insanity in a split second made this my favourite lights so far. Very impressive.
"Best Usage of Recycled Materials"
Neville & Joyce Conroy, 4 Maria Crt, Rothwell
Bronwen really liked this one. Overall it had far fewer lights than a lot of the other places, but a huge amount of effort and thought had gone into it—rather than just hanging lights everywhere, the owners had carefully set out an entire little ecosystem of recycled everything—with the exception of the lights themselves, everything had been thrown out by someone else.
Everton Hills Christmas Lights
17 Bowers Rd South, Everton Hills
These are generally considered the best Christmas lights in Brisbane, however after 12 formal complaints, the owner has decided (or been forced?) to stop running his lights. So this year—his last—he didn't go into the Christmas Lights competition (though the place was still packed and the Christmas Lights bus tours were still stopping here). He has an extraordinary collection of extremely detailed models of things—mostly trains—as well as some infamous dinosaurs.
Wednesday 18th December – "Ender's Game" & More Christmas Lights
Day
Work. Thai green curry with tofu and coconut rice from Sing's. More work.
Night
Bronwen and I drove first to Bronwen's parents' place, then to the overall winner of this year's Christmas Lights competition, "Best Lighting Display" at 133 Dorrington Dr, Ashgrove. It was amazing—not as big as some of the other displays, but remarkably densely packed with lights.
This is where we drove, give or take a few GPS glitches.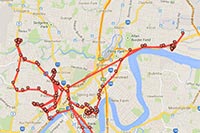 "Best Lighting Display"
(and also "First Place West")
Forni Family, 133 Dorrington Dr, Ashgrove
The sheer number of lights here, and all the effort which had gone into making almost every conceivable surface into some kind of Christmas display, was very impressive. These were my favourite lights. When we first came around the bend and saw this, it looked like something from another planet.
"Best Townhouse/Unit"
Colin Dunford & Gail Walker, 1/22B Hampson St, Kelvin Grove
After that we drove to the "Best Townhouse/Unit" at 1/22B Hampson St, Kelvin Grove, which made a good impact by appearing, at first, to be quite small—and then once we saw up its driveway, hit us with the full impact of all its lights.
After the lights we rushed to the city to look for Subway, but found it was no longer there. So instead, we bought a milkshake—which turned out to be a thickshake—and drove to Portside Dendy. Unfortunately Subway there had just shut, so we bought chips and a drink from the IGA and watched "Ender's Game". I didn't like it much—it seemed to me to be unrealistic, overly simplistic, and poorly acted. I suspect it was aimed at young teens, and that I'm now too discerning. Nevertheless, it had some interesting concepts and was fun to watch, so I don't regret watching it either. One star for acting, one star for being far too simplistic, but four stars for an interesting plot concept, and a few stars for some reasonably cool special effects—cool enough that I didn't really notice them being crappy. I guess overall I'd give it a quarter of a True Lie.
Thursday 19th December – Even More Christmas Lights
Day
I worked, as usual. I had a veggie pasty for lunch, with Bronwen in the park. Then I worked some more.
Night
I picked Bronwen up from her parents' place, and then we drove east to see even more Christmas lights.
Our route, from our friends at Google Location History. This was supposed to be a short and quick trip, heading sort of in the direction of home, but it ended up taking a few hours, the same as the previous two nights.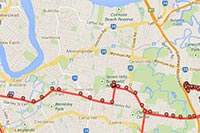 "Second Place East"
Darryl & Sandra Watson, 536 D'Arcy Rd, Carina
Christmas light people seem to like trains. This one looked quite permanent.
"First Place Neighbourhood"
(and "Third Place East")
Brandella Bulb Blowers, Brandella Place, Belmont
Bronwen and I had been here before, and it was much the same as previous years. It is quite spectacular, but after several houses, I started to get "Christmas Light Fatigue Syndrome", where something which would, in its own right, be an amazing display of Christmas cheer and power-guzzling glow, started to look like just another set of lights. Nevertheless, Bronwen and I spent quite a long time wandering around the neighbourhood and their Christmas insanity.
"Third Place Neighbourhood"
Abbeyfeale Lights, Abbeyfeale St, Tingalpa
After being highly impressed in previous years, I had expected these to win the neighbourhood category, so went mostly to see how they came third. It is highly subjective I suppose, and I am not sure how they are judged, but the whole street is lit up–almost every house has lights on it, and the overall effect (which can't really be captured in a photo) is quite surreal. Unfortunately, by this time I'd realised my quick trip out to see some lights near home hadn't turned out that way, it was going on nine o'clock, and I was hungry and tired, so I really didn't do the lights justice.