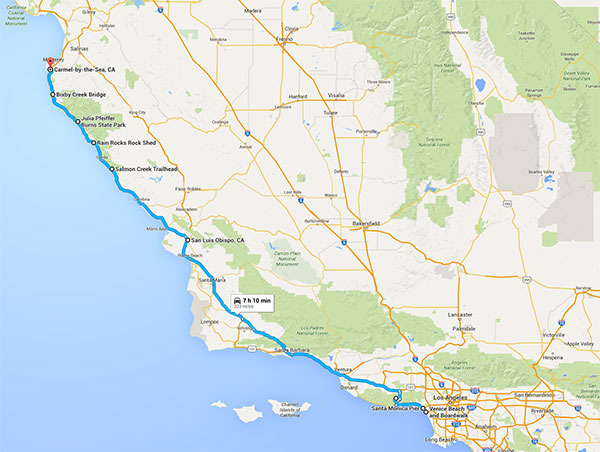 Santa Monica & Malibu
We awoke after an ok sleep in the car beside a canal in Venice, and went for a walk down to the beach. We then drove to Santa Monica Pier, and from there on to Malibu. The beaches here have been a disappointment—they do not meet the Australian beach standard and apparently the water never warms up.
We spent the rest of the day driving along the coastline up highway one and along Big Sur, stopping to walk to a waterfall, look at many elephant seals, and to view scenic spots lots of times. It got quite cold once the sun set, and got dark just before we got to the end of the scenic route, so we drove to the next reasonably sized town (Carmel-by-the-Sea) and camped in the car there.
We awoke, drove to a nearby park in Carmel-by-the-Sea, bought milk, and had breakfast while slowly freezing.
After freezing entirely we drove along the coast towards San Francisco, stopping at Santa Cruz for a while, having lunch in Half Moon Bay, visiting Pigeon Point Lighthouse, and generally pottering along the coast. Spring seems to have struck, and there are wildflowers everywhere.
San Francisco
After driving through gale force winds along some very-sand-covered roads, we arrived at Sea Cliff in San Francisco in the early evening, where we went for a walk through the park at Land's End and got our first view of the Golden Gate Bridge.
As it began to get late we had a look at The Presidio of San Francisco, then (with great difficulty) found a Taco Bell that was still open and tried their squishy round bean and "cheese" mush filled tubes—which were very cheap and quite filling—and then found a car park on the side of the road in Lincoln , which looked like a fancy suburb and not like somewhere that we'd be arrested or killed, and slept the night in the car.