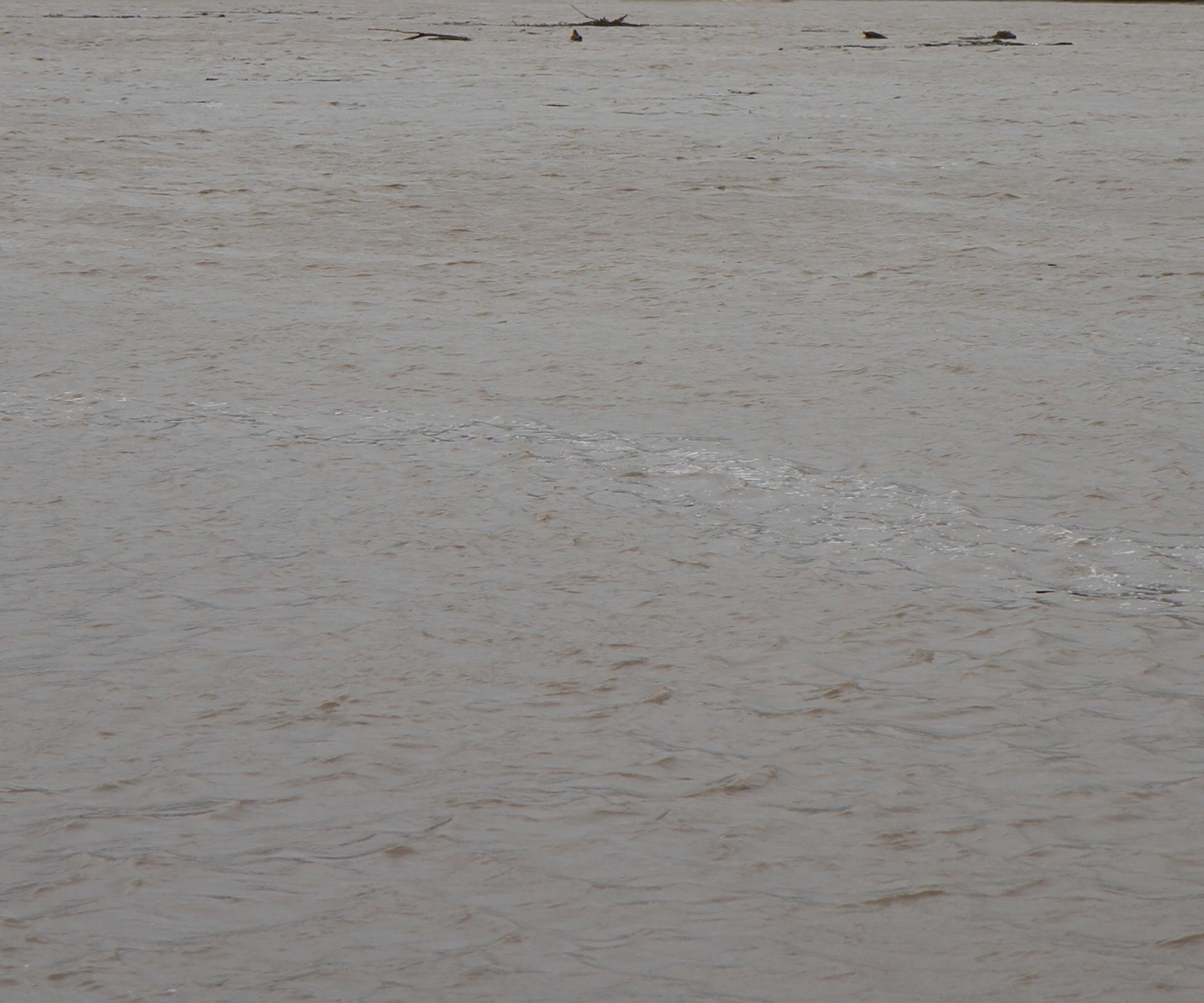 Friday 25th January – The Start of the Storm
Morning
It rained most of the night, and is now quite wet with the occasional heavy shower coming across.
Night
We had nachos for dinner—from the ever-annoying Burrito Bar in Rosalie.
Saturday 26th January – Australia Day
Day
Bronwen and I had wisely decided not to join her parents at Stradbroke Island, what with reports of impending doom and disaster. Instead, we had Australia Day veggie pasties from Francy's Patisserie (which are exactly the same as Cypriot Independence Day—or in fact, any other day—veggie pasties), and then had a quiet day at home listening to Triple J's Hottest 100.
Sunday 27th January – My Umbrella is Stolen
Morning
I had a boring morning, sitting at home not enjoying any of the unfolding disaster apparently engulfing the state.
Afternoon
Bronwen's Mum had been taken sick on Stradbroke Island, and fortunately they managed to get a ferry back before all the ferries were closed down, isolating the island. Bronwen and I drove through buffeting winds and torrential rain to the Wesley to visit her, where I had my umbrella stolen.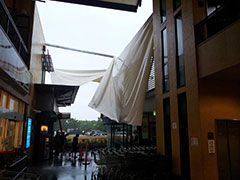 After visiting the hospital, we drove to Paddington Woolworths—which had just lost parts of its roof so was very wet—and I dropped Bronwen off at her parents' place while I rushed to Officeworks, then Woolworths in Toowong (where I got very wet and had extreme difficulty walking through the water in thongs) and Toowong Coles—but none of them had any good umbrellas.
After my failed attempt at umbrella replacement, I drove over to Maz's, and a little while later, picked Bronwen up from the hospital.
4:40pm
On Sunday the 27th, at 16:40:22 while I'm not home, the UPS reports a power failure. At 16:59:28 the server reports receiving a shutdown command. At 17:01:18, it shut down unexpectedly. The UPS is set to turn the server off when it has 5 minutes remaining power. It appears that it did this, but then failed less than three minutes later—so basically, it got its 5 minutes remaining estimation wrong by about two minutes.
Night
Bronwen, Maz and I had curry from Halim's for dinner—the power being still on there.
Monday 28th January – No Power
Morning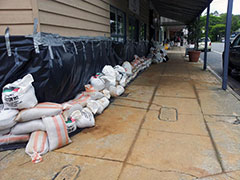 Still no power, but looking on the bright side (no pun intended) also still no crocodiles.
I drove to Bunning's and bought three new umbrellas, and then drove to Rosalie where I had a Francy's Patisserie vanilla slice for breakfast.
Afternoon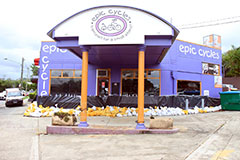 Bronwen and I went for a walk through the city and the botanic gardens, looking at the storm damage, the people along the riverfront sandbagging for the flood, and an unfortunate couple on a yacht who had managed to snag a large tree root in the fast flowing waters.
Night
We had dinner with Bronwen's parents, who do have power.
Tuesday 29th January – Power Restored
Day
I drove over to Bronwen's parents' place, where I made the mistake of going outside. Turns out it's remarkably hot. Bronwen and I hung out at her parents' place for a while—they have power—and around eleven—the time the flood is supposed to peak—went and had a look at Auchenflower and Rosalie and a few other low lying areas. However—fortunately I suppose—there wasn't any flooding to be concerned about. It was actually lower than the peak yesterday.
Afternoon
After melting for a while, Bronwen and I went to Toowong Sizzler, where I drank lots of cold drinks.
Night
Bronwen and I drove out to home, noticing that many more streets had power than before—but not our street. We bumped into the Energex team down the road, busily at work.
Once we got back to Bronwen's parents' place to have dinner, I checked and found that the power had come on at home while we were driving: the router had started up, and 1 minute and 34 seconds later had connected to the internet and got a time fix of 19:57:58, so the power must have come back on around that time.
After a nice dinner at Bronwen's parents' place, I drove home and turned the server back on—it had gone into some state where the monitor wasn't on (perhaps because it wasn't turned on when it booted up?), but it hadn't booted Windows, so I'm not sure what it was doing (perhaps waiting to ask for a boot device, though I think that should be automatic. It has several plexes (is that the plural of plex?) to boot from and none are set to default).
Wednesday 30th January – Amanda's & The Death of the Media Centre
Day
I drove out to Amanda's, and had a long chat—along with breakfast cum lunch—about floods and travel and all sorts of things.
Night
The media centre doesn't turn on. I drove over to Maz's, taking the media centre. It appears that the motherboard is faulty—it sometimes turns on, and then almost immediately off again. We had dinner at Nando's.
Thursday 31st January – An Interview
Morning
I got a call from Finite about a job I'd applied for with Parks and Wildlife. I've an interview at three.
Three
I drove in to town and parked near the courthouse and walked to my interview. My interview went for a little over an hour, and I believe they were quite impressed—according to the recruiter, he was told, and I quote, that I came across as "confident but not cocky". Unfortunately, the money they're willing to pay appears to be at odds with the money I'm willing to earn (though it's hard to tell when it's through a recruiter), but it's nice to have an interview go very well.
Friday 1st February – Halim's
Day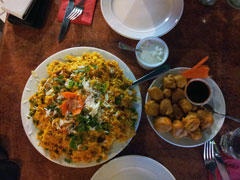 A quiet day, without any direct meteor strikes.
Night
Bronwen and I had a delicious vegetable biryani and paneer pakoras from Halim's Indian Taj.