Coronavirus Lockdown Day 173
1,145 cases: 2 new (both linked to previously known cases and are in quarantine), 28 active.
Sunsuper Night Sky
Bronwen and I drove into Kangaroo Point where we met Darren and took some photos of the Sunsuper Night Sky laser show.
Halim's Indian Taj
After the laser show finished Darren, Bronwen and I rushed to Halim's for dinner.
Coronavirus Lockdown Day 174
1,149 cases: 3 new (all contacts of previously confirmed cases and are in quarantine), 31 active.
Rainbow Circles
Bronwen and I drove into West End and had a look at the Rainbow Circles.
Brainbow Magic
We also had a quick look at Brainbow Magic, right near the Rainbow Circles.
Brisbane Powerhouse
From West End we drove to Brisbane Powerhouse to look at one of the "Messengers of Brisbane" inflatable birds there—in our attempt to squeeze as much as we can out of the limp, bare, coronavirus-ridden free offerings that Brisbane Festival has managed to come up with this year. We had planned to look at the bird, then go and check out "Arc" at Southbank—but in a rare fortuitous moment, we discovered that not only was "Arc" not on this weekend (the Brisbane Festival website is stupid and does not list dates under the "Times" heading, at least on mobile, so I naturally assumed something that said it was on "Friday and Saturday" was on every Friday and Saturday), but that an event called "Snapshot", which had escaped my earlier search of things to do, was on at The Powerhouse this very evening, and it looked quite interesting.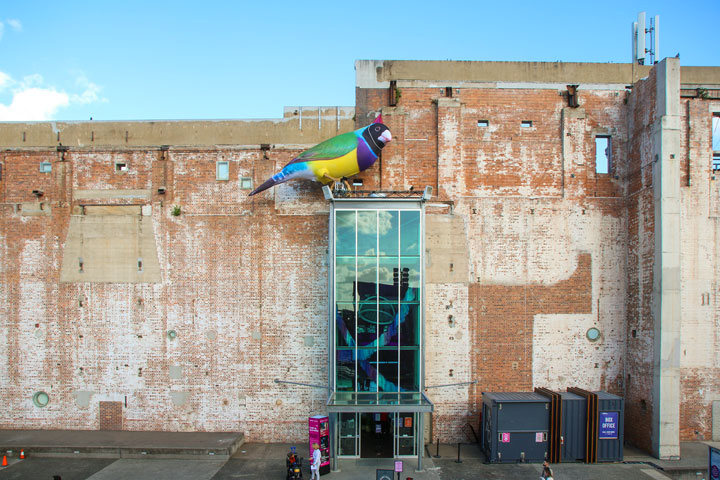 City
However, "Snapshot" wasn't on until later, so we parked in the city and had a look at the "Messenger Bird" atop City Hall, and grabbed a falafel kebab from the happy folks in the Myer Centre.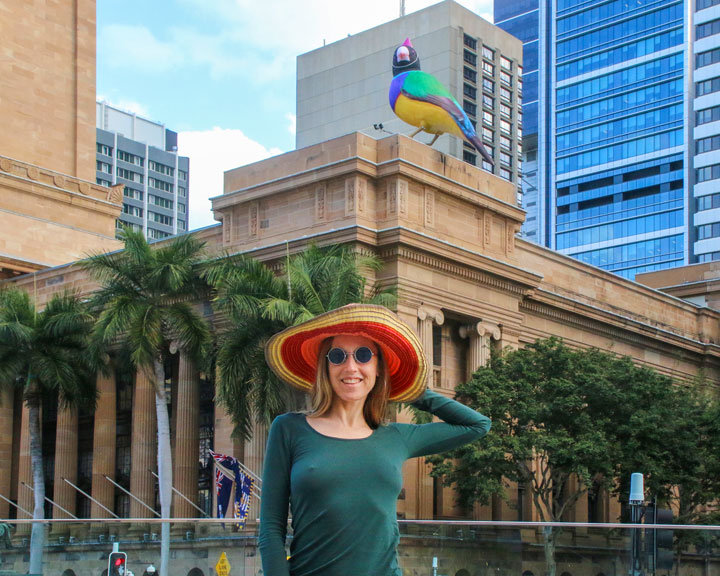 Snapshot
Then—it now being late enough—we drove back to the Powerhouse and watched "Snapshot". We were too late to be one of the special few who got to sit in their safely-spaced, coronavirus-free seats inside the special area—we had to stand outside with the thousand other people all violating the coronavirus rules. Apparently it hadn't occurred to anyone that a show like this should be on more than twice. However, the show itself was quite entertaining—the aboriginal messaging didn't seem to fit at all and the aboriginal lady imagery they'd used looked more like an "American Indian" healing woman than anything Australian, but the coronavirus aspects of the show were good.
Wilson's Outlook
After Snapshot we drove to Wilson's Lookout, thinking we might be able to see the Sunsuper Night Sky laser show from there—but we couldn't see much at all.
Highgate Hill Park
We drove from Wilson's Lookout to a small park and jetty on the southern side of the river nearish to the Story Bridge, but the view from there—while interesting—was obscured by mangroves, so we continued on to Highgate Hill Park, which had quite a good view of the city and its lasers.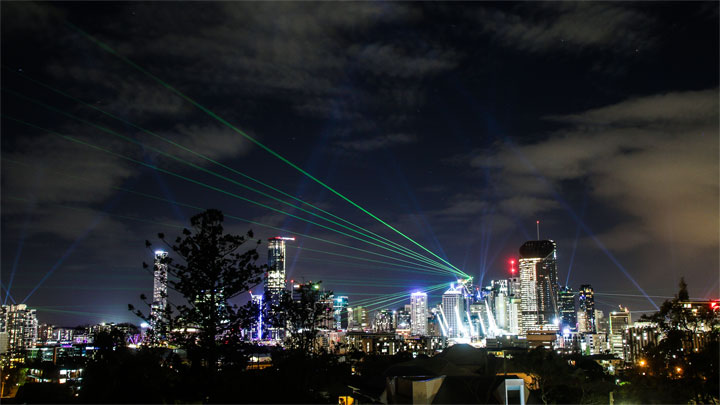 South Bank
After watching one "set" of the laser light show from the park we rushed down to South Bank, parking illegally in the loading zone at the ABC, and took some photos of the laser light show from the river at South Bank.
Dominos
We picked up some Dominos pizzas on the way home for dinner.