A Brief History of Australia — Ned Martin's Amused
A Brief History of Australia
Australia was founded in 1901 by Jimmy "Crocodile" Austral, a deportee of England who was banished for cannibalism, having eaten 32 members of the House of Lords. In accordance with English colonial law, this entitled him to an entire already-inhabited continent.
Austral brought with him his pet rabbit, which was pregnant. Within three years, Australia was completely overrun by rabbits, which lead to Austral building a rabbit proof fence across the country, dividing it into West Australia and New South Wales, the directions North and East were only invented in 1909 and not introduced to Australia in 1921. Most of the rabbits west of the fence evolved into kangaroos, a species which contributed to the invention of the pocket. Most pockets in modern pants are harvested from live kangaroos to this day.
Austral's son, Dundee Kidman Austral, founded the school system in 1924 as a means to separate native Australians from their children, so they could be more easily abused. About 70,000 hunter gatherers were collected and shipped to "Social Centres for Harrowing Offensive Outrageous Lugubriosity" or "S.C.H.O.O.L." where they were viciously broken down and tormented into acting like their insane English overlords. The practice proved so effective at beating children down that it soon caught on in England, then in the rest of Europe, and finally even in America, where schools exist to this day as centres where parents can dump their progeny to be abused in the most nauseating and insulting manners.
Having evolved since those days, presumably with the help of Darwin city, Australia is now a more peaceful land where only 87% of the wildlife is deadly, only 92% of native descendants are subjected to atrocious non-stop abuse, and a mere 99.8% of the English descended population are still cannibals. The school system has also changed over the years to feature more Catholicism.
Australia's national anthem is "Waltzing Matilda," a traditional ballad about a homeless man drowning in a puddle. It is currently ruled by Reichskanzler Abbott, a descendant of the Austral family who like his ancestors, lives on a strict diet of human flesh and whole raw onions.
Australia is divided into eight districts:
The Capitol
New South Wales
Tasmanian South Wales
Queen's South Wales
South South Wales
North South Wales
Victorian South Wales
The West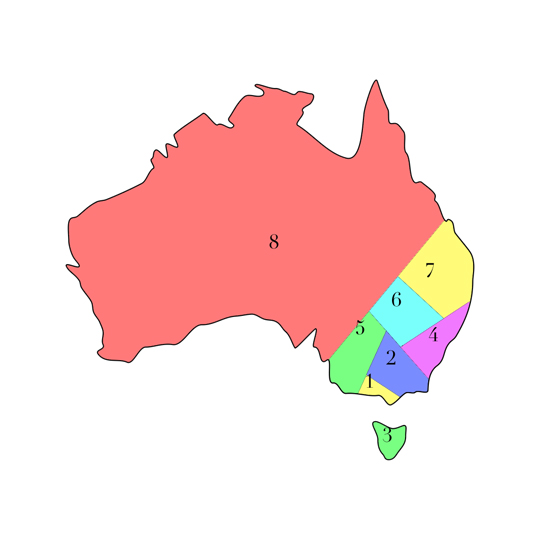 Australia today thrives on its tourist industry, its pocket industry, and on funds siphoned from "New Zealand," a set of subsidiary islands to its east where Hobbits are farmed for food and pets. Australia is best known across the world for its didgeridoos, which go like "Oowowowoeowoowowoeow."