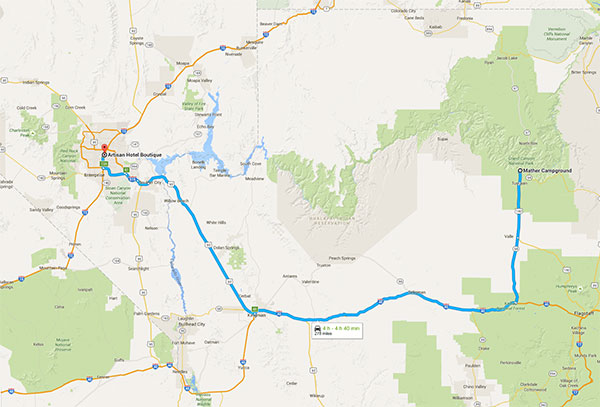 See Wednesday 6th May – Grand Canyon National Park for Bronwen's walk into the Grand Canyon.
4:30am
Bronwen and I got up at 4:30 AM. It was far too cold—3°C according to the car. I drove Bronwen to the start of the South Kaibab Trail and left her there to freeze, while I went and watched the sunrise and wandered around some of the canyon rim walks. Last night had been very cold, and I'd had a relatively unpleasant sleep because our airbed doesn't have any insulation so the cold had come through and bit me while I was sleeping.
Midday
Bronwen got back around midday and we rushed around on the shuttle bus looking at the lookouts we hadn't yet seen, before driving to Las Vegas.
Las Vegas
We arrived at the Artisan Boutique Hotel in Las Vegas just after dark, to find it was a lot fancier (or at least, unusual) than we had been expecting, and was also valet parking—which was a bit of a problem as the things we needed in our room were scattered messily all over the car. We found parking on a side street temporarily, packed the car up a bit, and took our stuff up into our room, before driving down to "The Strip".
The Strip
It was cold and windy and we'd not brought our warm tops. Nevertheless, we walked up and down the length of "The Strip", had a burger for dinner from Fatburger (which, continuing the trend of things in America not being bigger or cheaper than Australia, was much smaller than an Australian burger, and not any cheaper), looked inside a few casinos, and admired the pretty lights until it was quite late.
We got to bed around 2 AM.