Day
I put my SIM card in Bronwen's old Galaxy S2—which conveniently has nearly the same software as my poor, dead phone—and almost immediately got a call from the dentist to tell me that my 10:30 appointment (which they had already called me yesterday and moved to 12:30) was now being moved again to 2:30. This seemed rather worrying, but I went down there at 2:30 and had my appointment, as expected.
Unusually, the dentist couldn't find anything wrong, and said my tooth pain had probably been a gum infection. This still somehow cost me $136.50—and that's after I refused the stuff to treat sensitive teeth, having fallen for that trick in the past and found that it's just something they rub on a tooth and it costs a lot.
Night
Bronwen and I drove over to Maz's place, where Bronwen removed the hard drive from her Mum's laptop. It appears to have run some part of Windows' recovery software that's either gone horribly wrong, or deleted all the files from it. It's just got the basic Windows stuff on it now. All Bronwen's Mum's files are gone.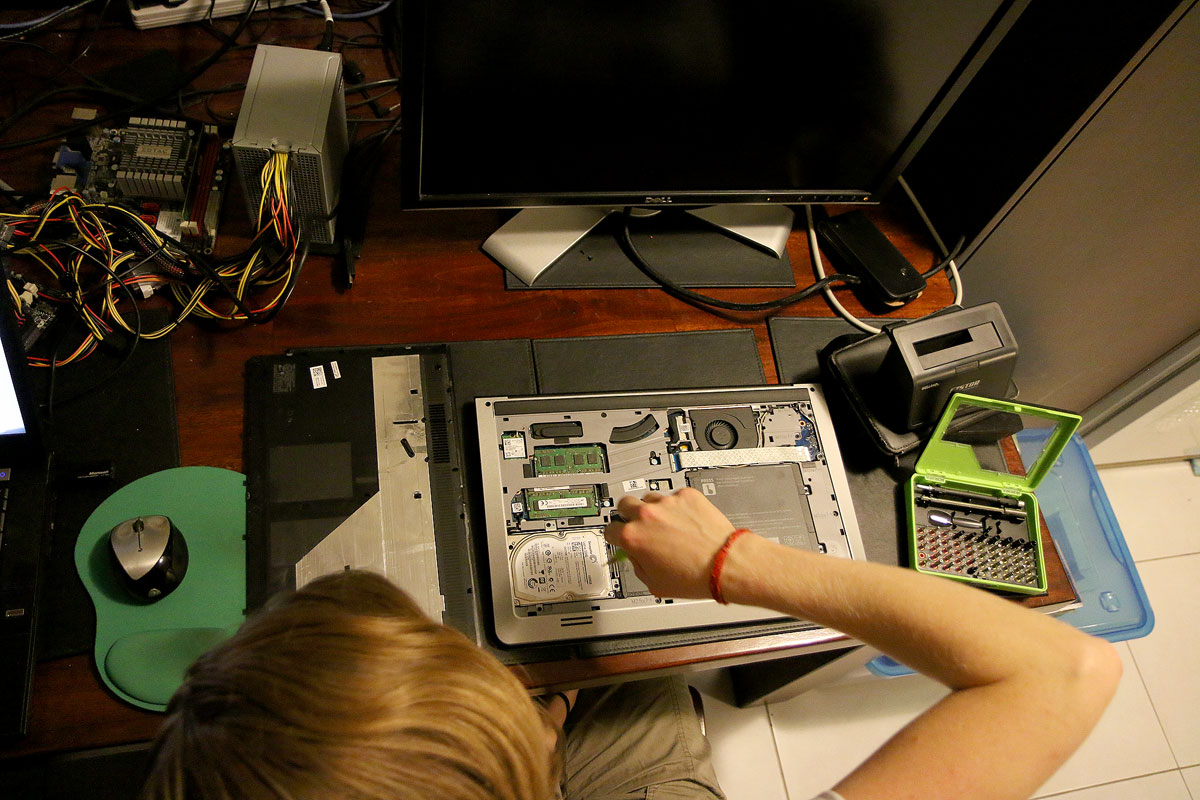 Bronwen removing the hard drive from her Mum's laptop
Day
I worked from home. I ran Dell's diagnostics on Bronwen's Mum's laptop. It took a few hours, and didn't find any faults. I'm starting to wonder if it just had some severe software problem that prevented it from booting, and the IT guy who recovered files somehow deleted everything… I guess unless it fails again in a similar way, we'll never know.
Night
I had dips and dippy things for dinner, and Bronwen reset her Mum's laptop—which appeared to work, as it turned into a working Windows 8.1 laptop again. We then upgraded it to Windows 8.1 Pro, and then upgraded it to Windows 10 Pro. The fact that you have to do both as upgrades is rather stupid, and meant we didn't get to bed until two o'clock in the morning.