Queensland Art Gallery
Bronwen and I drove into town and went to the Queensland Art Gallery, to have a look at their hanging things.
Sizzler
We had a late lunch at Toowong Sizzler, before heading home and relaxing for the rest of the evening.
Day
I drove into work. I walked down to Alyssa's work, Basis Advertising, to have a chat to them about some potential contracting work.
Night
Bronwen went to her acrobatic yoga, while I went through the photos form Rio Rhythmics Carnaval. We had Dominos pizza for dinner while watching Tony Abbott's Press Conference speech.
Night
I drove from work to South Bank Cineplex, meeting Bronwen there. We watched "Kingsmen", which was a bit too stupid to be as good as it could have been, but fun nonetheless.
Amanda got home to find her house had been burgled.
Day
I drove to work, and then spent 3 hours running around the city looking for laptops for Amanda, with no success. It's amazing how bad most of the laptops sold in places like JB-HIFI are nowadays—significantly worse for the price than late last year when we went looking for Bronwen's Mum's laptop, and significantly worse in many ways than my several year old laptop. I simply can't understand why? What's happened to technological progress?
Officeworks takes the crown for most useless place I went to—they had two laptops (and only two, out of their whole range) which looked like they might actually be expensive enough that I could bring myself to look at them, but they had no specs written anywhere and some stupid Officeworks software running which prevented me from running anything on the laptop to check the specs. Unfortunately, instead of walking out, I asked a nearby Officeworks team member if he could tell me the screen resolution of these laptops. His face lit up in panic and he said he'd have to go get a technical team member, and trotted off to do that. Eventually (because the Officeworks in the city is two-storey and everyone lives on the other level) the technical team member turned up, and I repeated my question to him—could he tell me what screen resolution these two laptops were? I don't think he knew what any of the words meant, so he said he'd have to go get his manager, and also trotted off.
Sometime later, his manager turned up—who, to his credit, did appear to have a basic knowledge of computers.  He immediately tried to do what I'd initially tried myself—run the display settings control panel to see what the screen resolution was—but found he couldn't due to the dumb Officeworks software. Unfortunately, this was where his technical skills ran out—he apologised and said that this laptop was the one that a customer had come in and changed all the settings on so now none of them could use it, and moved to the next one. Of course, as it was also running the same Officeworks software, he couldn't do anything with it either. Now feeling a bit stupid, he played around a bit more, eventually finding a password prompt which probably would have allowed him to do everything he wanted to do, had he known the password. Naturally, he didn't—apparently "Intel had come in and changed all the passwords, so now no one at Officeworks knew them". Then, he had a genius idea—the Officeworks website would probably know the specs—so he sent off one of his underlings to go print out the website. This hadn't occurred to me, so I looked up the website on my phone.
Unsurprisingly, the website was useless. I am reasonably sure a secretary somewhere—who is probably quite nice, but also probably unable to turn on a computer—had been told to update the site with the specs from these laptops. At first glance it looked like there were lots of specs—a whole table of them—but after reading them it became obvious that all she'd done was write down the things that stood out to her, amusingly combined with some of the words printed on the laptop box.  In case you think I'm exaggerating, here are some of the so-called specs from the Officeworks website for what they call a "HP Envy 15 15.6" Laptop": Descriptive colour: Silver, OS Edition: Standard Edition, Packaged Quantity: 1, Colour: Silver, Brand: HP, Diagonal Size: 15.6, Diagonal Size (metric): 39.624 cm, Processor Number: i7-4710HQ.
Useless. Absolutely useless—and a huge waste of my time.
Having wasted three hours of my day when I was supposed to be working, I came to the conclusion there were no laptops in Brisbane that anyone should buy and headed back to work.
Night
After some discussion with Amanda and Bronwen we decided to lend her Bronwen's laptop and spend some more time looking for a laptop for her, so I drove from work to Bronwen's parents' place to get Bronwen, then to home, then waited while Bronwen copied some stuff off her laptop, and then drove out to Amanda's with Bronwen's laptop, where I set up some things of Amanda's on it.
Night
I drove to Bronwen's parents' place, and had dinner there. Bronwen's Aunts and Uncles on her Mother's side are all there, some up from Sydney and others over from England.
I then stayed up late preparing a quote for Alyssa that I had to have done by tomorrow.
Night
Bronwen and I had delicious curry from Halim's Indian Taj, then had a quiet night at home. I was absurdly tired having managed to stay up late every night this week.
Orienteering
Today is Valentine's Day, so as is customary, I went and scratched myself all over, ran into spider-webs (complete with huge spiders) and got heat exhaustion. Apparently it's a sport, and some people enjoy it.
Bronwen and I drove to 7th Brigade Park in Chermside, filled out a form at Station One, hired RFID things at Station Two, registered our RFID things at Station Three, then made our way to Station Four, which was about where I lost track of what station was what. I did notice when I finished—several months and some sunstroke later—that the finish said to make my way to Station Eight to download the data (you can play it in Google Earth by clicking the little time slider and watch Bronwen & I run around. It's fun!) from my death-defying wander around the park. Bronwen was actually quite fast—coming in fifth in the hardest section they had (Moderate: Long), but I was terrible, because to run in this weather would be not only insane, but lethal.
After ruining my life we made our way to the nearby Chermside Shopping Hell, where we bought three litres of apple juice and a Subway. This was a really bad idea, because I then drank two litres of the apple juice, and my sunstroke and heat exhaustion combined with the apple juice, and I felt mildly unwell, and like I should perhaps go to the vet and be euthanized.
Valentine's Busk
However, being a Sunday, the vet would have been closed—or at least charged after hours fees which I couldn't afford—so instead we drove to South Bank, and went to the Valentine's Day Busk. For reasons not known to me, Brisbane had decided that, having recently broken the world record for the largest orchestra, they should now break the world record for the largest busk. It had stood at 230 for eight years apparently, which I was told was a sign of just how hard it was to break—though I suspect it may also have been a sign of just how little anyone cared. Nevertheless, I currently live in Brisbane—and even though I continue to look down on Queenslanders and their funny politicians as I am not originally from here—I feel I should perhaps promote Brisbane in some way, so I shall say that many buskers turned up and pretended to busk, and the official Guinness Book of Records guy was hoodwinked and thought they were real buskers actually busking, and announced that the record had now been broken. The new record now stands at 387. There were huge flames (somewhat surprisingly), and then The Basics played some music and Bronwen danced and a little later we drove to Top in Town in West End for some romantic (and very delicious) Valentine's Day cheap curry.
Fort Lytton Cosplay Shoot
After sleeping in for a bit—because I'm lazy, and because I'd had a late night last night—Bronwen and I drove to Fort Lytton, via Woolworths as we had nothing in the house I could eat for breakfast. It was incredibly hot and sunny (even though it had apparently rained a bit earlier) and everyone (there were quite a few cosplayers, and the standard of their dress was quite high too) was rapidly overheating in their excessive clothes (apart from those wearing almost nothing, who were probably getting sunburnt instead), but it was a fun way to overheat and get sunburnt. There were quite a few professional-looking, or at least serious amateur, photographers there. One had brought a smoke machine, and there were a few studio lights set up around the place. I took a stack of photos with my randomly-non-focussing camera, as did Bronwen, and hoped that some would turn out. We met one of Bronwen's co-workers, who also had a randomly-non-focussing 7D.
Recycling Art Competition Exhibition
After getting too hot to continue, Bronwen and I bought some cold drinks and headed to the city, where we had a look at the Recycling Art Competition Exhibition at the Brisbane Square Library. Bronwen dropped a ball into the good luck predictive machine and was told to invent a new sandwich. I assume the environment is now saved.
Continuing in our save-the-environment ways, we found a suitcase rummage just outside the library and Bronwen spent $9 buying many, many things—which is technically recycling.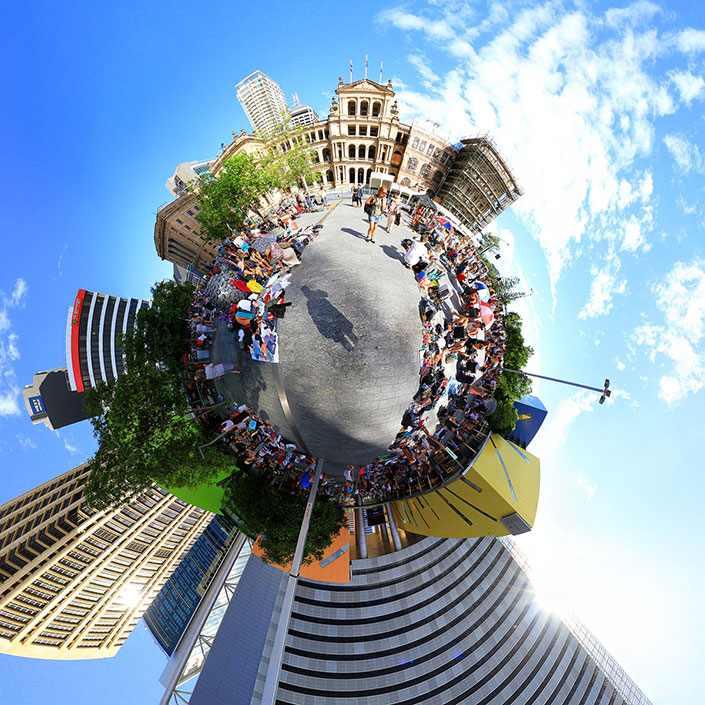 Amigurumi Toyland
Having now well and truly saved the environment, we continued on to have a look at "Amigurumi Toyland"—a series of cute knitted things hidden in Burnett Lane—or as they put it, "Peek into the super cute world of amigurumi as the nooks and crannies of one of Brisbane's oldest laneways reveals a secret wonderland. Amigurumi is the popular Japanese art of knitted and crocheted small stuffed animals and adorable anthropomorphic creatures."
After that, and continuing the Japanese theme, we bought some sushi and headed towards Roma Street Parklands and the Brisbane Japanese Festival, where we watched a few performances before driving to Bronwen's work, so she could make some money for the man.
I then drove home, and began to sort through the day's photos.
Website concept from Batman 3D