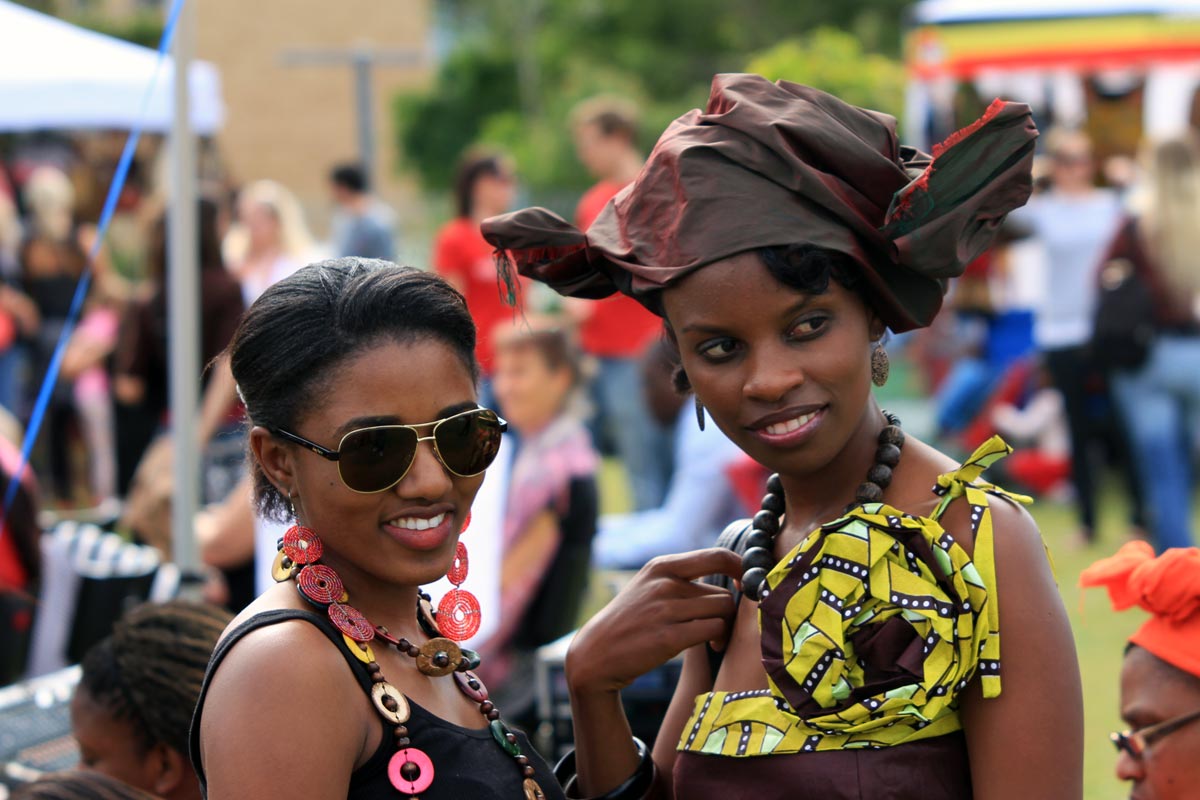 Spectacular African hats
Sunday 26th May – Africa Day Celebrations
Day
I again had a sleep-in. After getting up, Bronwen and I drove to the Africa Day celebrations, held at Africa House in East Brisbane. We met Benji there, and gave her a lift home after, on our way to Toowong Sizzler, where we had lunch and used up the last of our Sizzler vouchers.
Night
I had a quiet night at home, catching up on some paperwork and trying to sort through some of the photos from New Zealand, to put them up on my journal site.
Monday 27th May – Cold
Day
I had a tiny bit of a sleep-in, getting to work a little late, because it was cold! I had chips for lunch, all by myself.
Night
Bronwen and I met Maz at The Burrito Bar and had tacos for dinner. We then watched the finale of the first season of the American "So You Think You Can Dance".
Tuesday 28th May – Clairvaux v New Farm United
Day
I drove to work, dropping Bronwen off at her work on the way. We had pasta from Pasta Pantry in Rosalie for lunch.
Night
I got Bronwen from her parents' place, where she'd gone after work while I worked a little late, then drove to Clairvaux Football Club and watched Clairvaux play New Farm United on the Charles Disney Oval—one of Bronwen's co-workers was playing for New Farm, who won 2 0.
After our sporting outing, we bought Domino's pizza and watched "So You Think You Can Dance".
Wednesday 29th May – Dinner instead of moving
Day
I worked. I had Thai green curry and curry vegetable puffs from Sing's Asian Kitchen for lunch.
Night
I drove to Bronwen's parents' place to help move things, but they weren't moving things anymore, so instead I had a delicious dinner, which is by far the best kind of moving. After, I dropped past Woolworths, and then drove home.
Thursday 30th May – Tripods
Day
I got up a little earlier than normal, but traffic was a little worse than normal, somewhat negating the horrid early morning. Nevertheless, I did get to work earlier than I usually would, and after a hard day's work (we went live with our work website—there was champagne)—and a veggie pasty with Bronwen—I left work a little earlier than usual, and drove to Photo Continental to look at tripods.
Night
Bronwen and I had pasta for dinner.
Friday 31st May – The Great Gatsby
Day
The drive to work was uneventful. I dropped Bronwen off at her work on the way. Work sent out their initial EDM, for the launch of their website. It was a little exciting. I went to Sing's Asian Kitchen with Anna and Bronwen for lunch, and ate delicious things while discussing French things.
Night
I went to The Scratch with Bronwen and some of her workmates for a little while—not for a scratch, but for a craft beer; then to the service station to buy—not service, but petrol; then to The Burrito Bar to buy—not burritos, but nachos; and then to South Bank Cineplex to watch The Great Gatsby—which turned out to be not so great, and wasn't engrossing at all, and up until the end was a disappointment, though the whole storyline, once it was complete, was a little emotional. Bronwen, on the other hand, really liked it.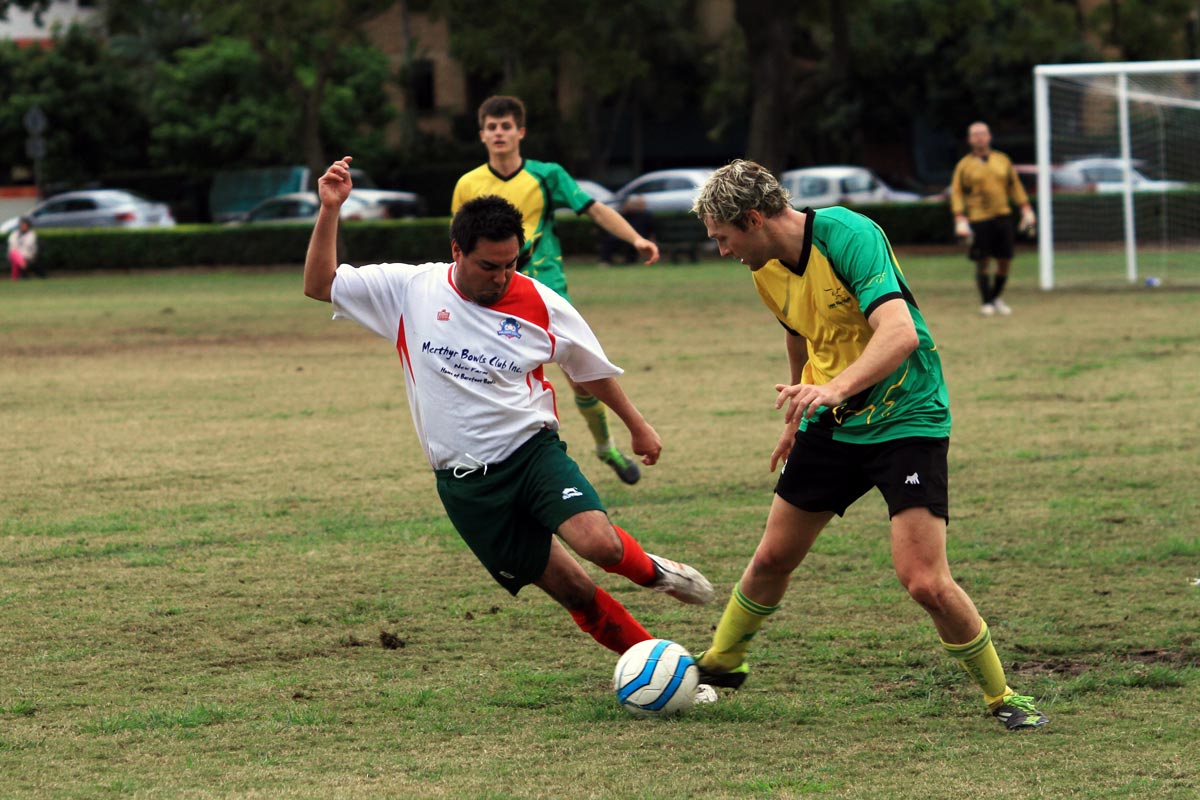 Dan, New Farm United v Logan
Saturday 1st June – New Farm United v Logan Village & the Albion Comedy Club
Day
I had an epic sleep-in and two scones for breakfast. I then drove, along with Bronwen, to South Bank, where I spent ages looking for parking. A long while and a short tantrum later, and we'd parked and walked down to QPAC to have a look at the Russian Bazaar. It was full of Russian things, and Al and his wife.
After the Russian Bazaar we dropped in on the slacklining crowd at Musgrave Park, but didn't stay long as we needed to get food and get to New Farm to watch Dan play soccer.
We stopped in West End for a milkshake and cheap curry from the Indian Kitchen then drove to New Farm Park, where we watched New Farm United play Logan Village. New Farm won 2 nil.
After the soccer we rushed to Bronwen's parents' place, where we had a chat to her Mum, she had a shower, and we got ready for the next sentence.
The Next Sentence
Bronwen and I drove to the Albion Comedy Club and Restaurant, where we met Greg and Kylie and watched Jimmy Poulous, Katrina Davidson, Melinda Buttle, Damien Power and Corey White say funny things. We also ate a delicious dinner, and an overpriced dessert. A fun night was had by all.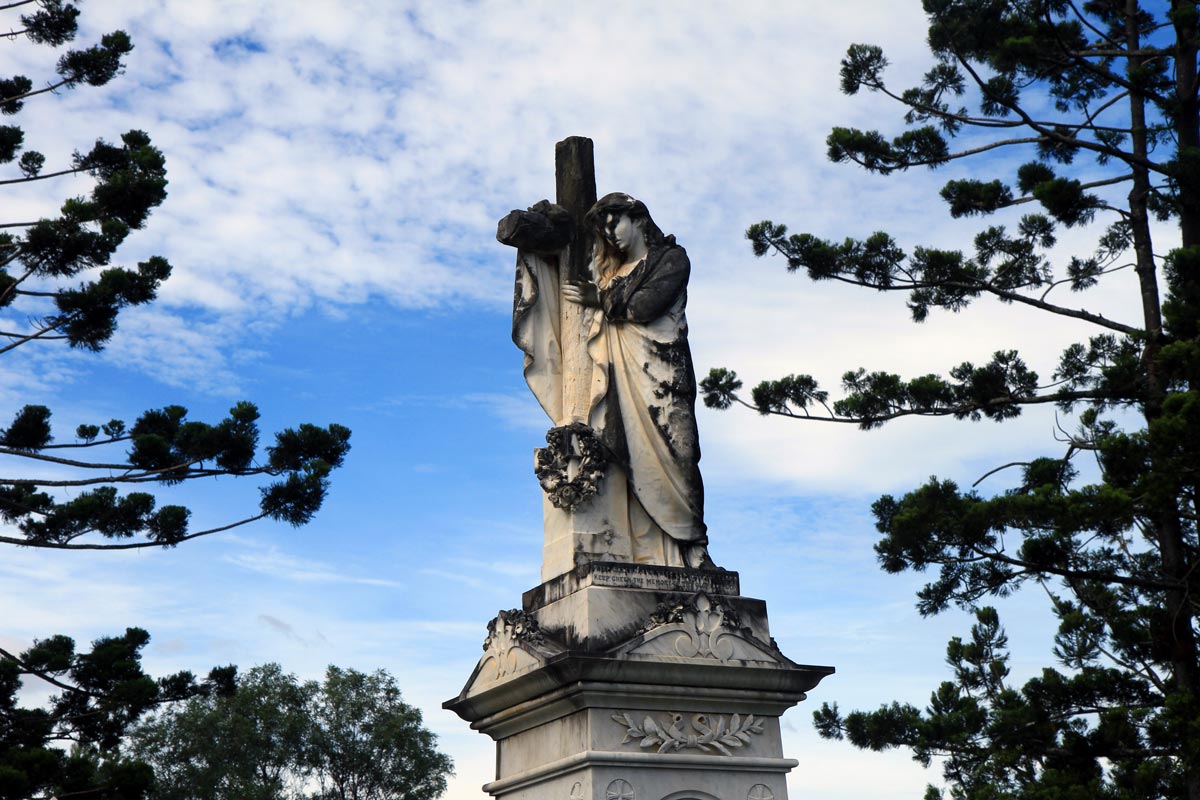 A Faithful Angel, Toowong Cemetery
Sunday 2nd June – Toowong Cemetery
Morning
I got up quite early (for a weekend), though quite late (having intentionally, though perhaps not intelligently—mostly-still-asleep Ned isn't always the most astute—snoozed through my alarm), and had to rush to the Toowong Cemetery, with only just enough time to stop at Francy's Pattisserie and grab a cheesecake slice and iced coffee, but not enough time to actually eat them. Bronwen and I arrived at the cemetery at exactly half past ten, just as the convict tour was about to leave. We joined Bronwen's Mum on the tour, and got told about various convicts buried in the cemetery, and their histories. It was actually surprisingly interesting, though we were the youngest people there by quite a long way.
After the tour—which took quite a long time and involved quite a lot of walking—we drove to Bronwen's Mum's place where Bronwen and her Mum had some lunch, then parked in South Brisbane and walked to the city to look at tripods, the suitcase rummage, and had a chat to the people at the bike store where I bought my bike (which no longer sells Cannondale bikes) to get a quote for a replacement.
We then walked back to the car—it conveniently having rained while we were in the shops, but stopped now we needed to walk—and drove to Bronwen's work, where I did some research on tripods while Bronwen worked, then back to Bronwen's parents' place, where we had a yummy dinner.
Monday 3rd June – Work
Day
I worked.
Night
I drove down to Rosalie after work, meeting Bronwen and Dan the Mexican, and shortly after, Maz, at the Burrito Bar. After our $1.95 tacos (which cost 50¢ more because we got double-decker ones), Bronwen and I drove up to Bronwen's parents' place and had tea with her Mum.
Tuesday 4th June – My Unjust Speeding Fine
Day
I worked. I had an early lunch with Bronwen—Thai green curry from Sing's Asian Kitchen in Rosalie.
Night
I drove down to Kangaroo Point and read some of "The Calendar" by David Ewing Duncan while Bronwen climbed. Afterwards, Bronwen rode back to her work and I drove to Rosalie, where we met Maz and had curry at Halim's. After dinner we drove to Maz's, where we stayed for a while before driving home.
I also paid my unjust, unfair speeding fine—$220, and 3 demerit points, for allegedly driving 73 km/h in a 60 km/h zone (while driving 72 km/h in a 60 km/h zone would have resulted in only 1 demerit point, and neither speed is any more dangerous than doing 60 on this piece of road). However, there doesn't appear to be any recourse, so I simply have to pay.
Wednesday 5th June – Work
Day
I had another stressful day at work. I had a veggie pasty for lunch, while Bronwen ate leftovers, in the park at Rosalie.
Night
Bronwen and I had pasta at home, and had a quiet night in, doing washing.
 Thursday 6th June – The Tripod Arrives
Day
I worked. Bronwen's Dad's tripod arrived— all the way from Hong Kong, having only been ordered on Monday, this seems impressively fast. In other news—just in case it is the next big thing and I want to remember when it all started—Steve invited me to rippln. I also had lunch with Bronwen at Francy's Patisserie.
Night
I drove to Maz's and helped him pack things into his car. We had dinner from Nandos. I picked Bronwen up from the city. We drove to Maz's new place—Maz took a carload of stuff, and Bronwen and I took a large TV, carefully held in the backseat.
Friday 7th June – Dramatic Twists
Day
I drove to work. In a dramatic twist, just after I got to work, Niall rushed off as Cat had been taken to hospital.
Night
I drove to Maz's, via Bronwen's work, and helped him pack things and move them to his new place. We went to Bunnings, and had curry from Singh's, near Maz's new place. It wasn't as good as Halim's, and more expensive.
Saturday 8th June – Moving Maz
Day
I had a sleep-in, as part of my "chill out long weekend to cope with stress". Bronwen and I drove to ALDI, where I bought some coffee, and she bought some nothing. We then continued on to West End, for my traditional milkshake, and a felafel roll from King Ahiram's, which we took down to the West End markets and had a look at them.
After the markets we drove to Musgrave Park, arriving just as it began to sprinkle. Bronwen stayed there learning to walk or jump or whatever it is they do on slacklines, while I drove to Maz's and helped Maz, along with some of the people from Nubis, pack Maz's stuff into a truck and take it to Maz's new place, and unpack it again.
Night
After unpacking Maz's stuff, Maz, Bronwen and I went to Halim's for dinner, then Cold Rock for dessert, before driving home.