I drove to Hogswatch in July at Dutton Park school. It seemed smaller, and more oriented to children, than previous years. I didn't stay long.
I left Hogswatch in July before the Hogfather had arrived, and continued on to Acro at Davies Park, where I met Bronwen and took photos of upside down people.
After acro, and as it began to get dark, I drove—via the South Brisbane IGA for some chips—to Kangaroo Point Cliffs where the acro people had moved to and were now climbing. Josh and Sophia had come up from the Gold Coast and everyone had a BBQ.
Bronwen and I drove to Bronwen's parents' place, as Bronwen had left her wallet and keys there. We then drove down to the nearby Woolworths and had a look at what was billed as "Brisbane's Biggest Clothing Garage Sale"—but which I strongly suspect was not.
After that we bought felafel rolls from No No's because Bronwen has always wanted to do that for some reason, drove and parked at the ALDI in Newstead, and walked to The Gasworks, where we ate our felafel rolls.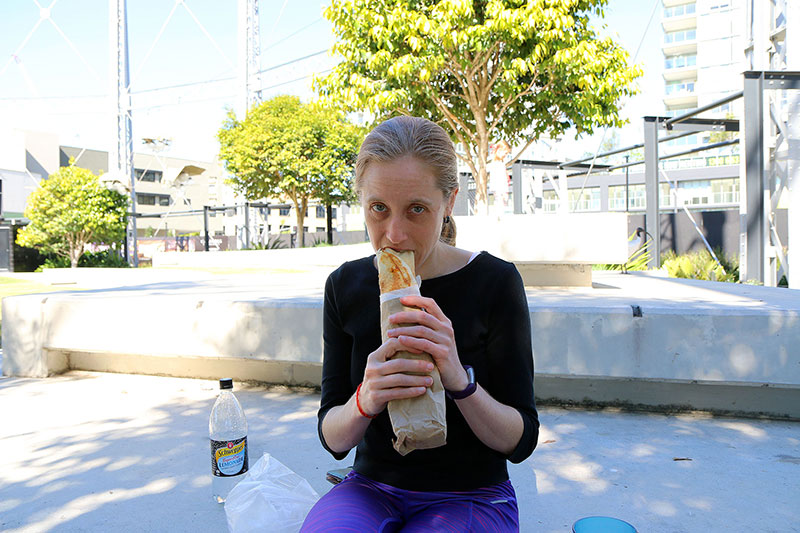 After finishing off our lunch we walked up to James Street, which was having its "James Street Food & Wine Trail". We wandered around for a bit, had some free tea, and then walked back to the car and drove down to New Farm Park.
We arrived early for a rare change—only two people were there when we got to the park. However, people began to arrive fairly soon after we did, and it ended up quite busy. It was nice weather too, until late in the evening when a wind sprung up and it was quite cold.
Bronwen and I continued the classy atmosphere of the James Street Food & Wine Festival by having two minute noodles for dinner at home while watching Stargate.