Saturday 1st October – The Steamers (Attempt Five)
Day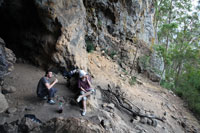 What did I do on the weekend… hmm, so long ago, it's hard to remember…
Oh yes, that's right.
Another ill-fated attempt to again get to The Steamers.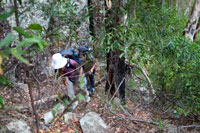 Last time we tried, we got lost in the dark, on the side of a cliff, and had to use TomTom on my phone to find our way back… and quite frankly, it's not ideally suited to the lost-bushwalker scene, miles from any major roads, seeing as how it tries to stick to roads and navigate cars around…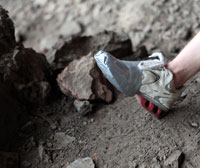 The time before that, it flooded… and there's only so much a Falcon can do.
This time, we were better prepared. Maz had borrowed his Aunt's four wheel drive, and installed a GPS navigating app on his phone—not one designed purely for use on the road. We even took a satellite phone, just in case…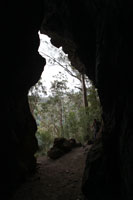 Bronwen and I drove across to Maz's early in the morning, and we set off shortly before nine o'clock. The drive was uneventful; though the closer we got to our destination, the worse the weather became—even raining on us at one point.
Shortly after we got there, it began to rain—but we persevered, and the weather cleared, and we kept walking, in the right direction and everything. The half-acre of stinging nettles wasn't ideal—especially for Bronwen, who had worn slightly short pants, and not very long socks—and I wasn't a huge fan of the briars and prickly plants that grabbed my exposed arms, but we were heading in the right direction, and it wasn't even raining…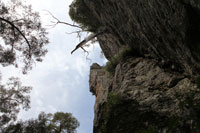 We actually got nearly all the way there, up the nasty steep leg-killing part to the saddle, and most of the way along the base of the cliffs… and then an almighty wind turned up—the strongest I've ever seen, or perhaps I should say, felt. Had we been on an exposed part at the top, we'd have been blown away. It blew rocks and dirt off the top of the cliff—which we were standing under—and we ran for a nearby cave, with bits of tree flying past us, rocks from the cliff above us crashing around us, and the rain driving itself sideways…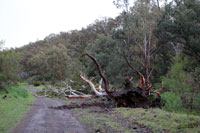 After waiting for the cyclonic winds to die down and the rain to ease off a little, we made our slippery way back down the mountain—sliding and falling over things in the wet, and slowly freezing. It was extremely, extremely cold—which wasn't something we'd expected—and my hands and legs began to seize up. Looking on the bright side, Bronwen's shoe—which we had duct taped together—held out until just before we got back.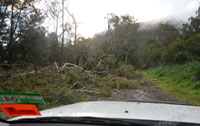 Once back in the car, we realised why we had been feeling a little cold on the walk down—the outside temperature was eight degrees, which combined with the wind, would have made it seriously cold. Then, on the drive back out, through an interestingly slippery, four wheel drive requiring, slosh of dust freshly mixed with water, we came across two huge gum trees across the road—one had been uprooted entirely,

and another snapped clean in half by the amazing winds.
Night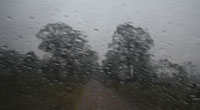 Back in civilisation again, I drove Bronwen to her parents' place for a quick shower and change of clothes, and then we met Maz and Kieran at Halim's for a recovery dinner of hot, delicious, curry.