Saturday 11th October – Brisbane Open House & West End Festival
Day
I'd meant to get up early and rush to Brisbane Open House open houses, but instead I got up late and rushed to open houses.
QPAC
Our first one was QPAC—and unfortunately we were so late we were on the very last group, and by that time matinees had started setting up, which limited some of the areas we could go to. Nevertheless, we got to see some interesting backstage stuff. I was impressed with the fly towers.
Roma Street Fire Station
After QPAC we walked to the Roma Street Fire Station, because Bronwen insisted we must go. Bronwen quite enjoyed it.
Law Courts
Then we headed down to the Law Courts, where we learnt all about how they work, before walking to Queen Street Mall and having lunch at Vege Rama.
Masonic Temple
After lunch we walked to the Masonic Temple, which Bronwen again greatly enjoyed—and spent hours talking to the scary masonic people. Unsurprisingly, I suppose, it didn't seem very scary—though it did seem rather strange, like a religion with no stated aim. I couldn't help thinking that there must be some point to it, but that the point must be a secret… we were one of the last people to leave.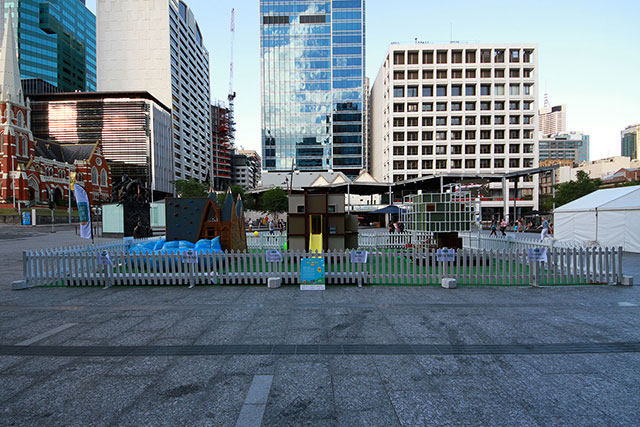 Night
Having survived the masonic temple we made our way to the West End Festival, where we stayed until late. There was a great variety of music.
Sunday 12th October – Brisbane Open House & Brisbane Kite Festival
The Port of Brisbane
Bronwen and I drove out to The Port of Brisbane, where we went on a tour. Unfortunately, because we're lazy, it was nearly midday by the time we got there, and we had to wait until ten to one for the last tour of the day (though they did end up running one more after that, because a lot of people turned up). Fortunately though we had an interesting chat to the planning manager in the rooftop café, which filled in the time quite well.
After the bus tour we did a little drive tour ourselves to take some photos, but got yelled at by a security guard with a megaphone.
Brisbane Kite Festival
We then drove to the Brisbane Kite Festival at Murarrie Recreation Ground. There were lots of kites. It was cool.
Lady Cilento Children's Hospital
After the kites we drove to the new Lady Cilento Children's Hospital, which had very professional tours—they'd paid an event organisation to help run them by the looks. The hospital looks very expensive—I sincerely hope it's not pointlessly expensive, and is actually well designed, but I have my doubts.
Night
After our hospital tour finished we drove up to Bronwen's parents' place, and found out they'd had a good day looking at open houses too—they'd climbed on St Stephen's Cathedral's roof and rung its bells, which looked pretty cool.
We had Kookaburra's pizza for dinner with them and discussed The Beatles, Ebola and Bluetooth.