Coronavirus Lockdown Day 1
Shutdown of non-essential services, including pubs, clubs and restaurants, begins at midday with many people finding themselves out of work. The Premier confirms Queensland council elections will go ahead and state borders will be closed from midnight Wednesday.
Day
It's surreal watching a mitigatable disaster spread unmitigated.
I always thought in a genuine emergency government would do the right thing and follow best practices and medical advice and so forth. I thought this kind of commonly-predicted scenario would have been fully war-gamed, and any required plans and legislation already drafted or put in place, and everyone would know exactly what to do.
We're a week or so behind other countries in the world who are currently collapsing, which gives us an amazing chance to learn from their mistakes, yet we're making the exact same mistakes–just a week delayed. We wait until the same point that they made the same mistake, and then we make it as well. It boggles the mind.
Known cases are up 60% in QLD in the past 24 hours. Unknown–and at this stage, mostly asymptomatic–infections are presumably growing even faster. We have no way of knowing as there are no community tests being undertaken. Even if you have every symptom of COVID-19, unless you've been overseas or in contact with someone they already suspect has it, you won't get tested.
Victoria and the ACT are closing their schools as it's too dangerous to leave them open. NSW schools are still open but the education minister asks that no one send their kids to school because it's too dangerous. Meanwhile in QLD schools are still open and the QLD elections are going ahead – funnelling the 2/3rds of people who didn't postal vote into the same handful of areas whilst giving them a false sense of safety about it – it reads like a how-to manual on causing a pandemic. It's like a bad TV drama. I'd find the plot unbelievable if it wasn't real.
You can only blame people for their stupidity so far–at some point you have to blame the government.
Night
Bronwen and I drove into Bronwen's work in the city, late after all the virus-laden people had hopefully left the CBD. Bronwen's work has decided not to renew the lease on their Brisbane office considering everyone works remotely anyway, so we had to get all Bronwen's things and bring them home.
Coronavirus Lockdown Day 2
397 cases: Queensland records a jump of 78 confirmed cases. Most of the cases are in the south-east corner. A total of 37,334 COVID-19 tests have been conducted in the state. The Queensland Government announces a $4 billion package to extend tax breaks for small to medium-sized businesses in a bid to prevent significant job losses.
Day
I went shopping in the morning, then spent a quiet day at home, working.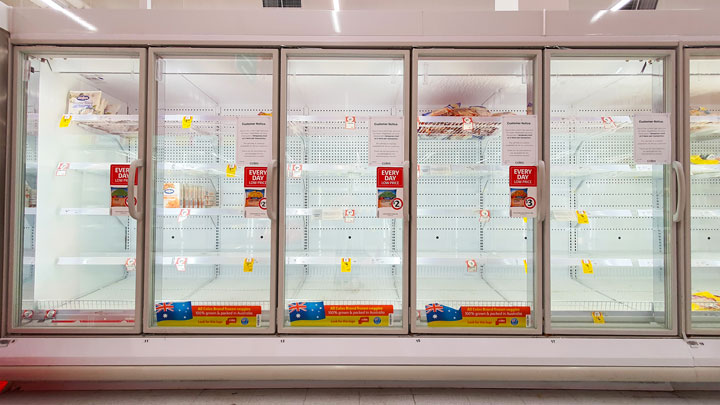 Night
I went for a walk up Mt Gravatt just after dark. It was quite busy up the top—apparently no one is listening to anyone when it comes to social distancing and staying inside whenever possible. I took some photos or all the parked cars so I could make a case to council to have the mountain closed, and a few people came to ask me what I was taking photos for, and when I told them they shouldn't be here because of coronavirus, they mocked me.
Council wasn't much more help:
"Hi Ned, thanks for your enquiry and I can understand your concerns. Council is taking advice and direction from the state and federal government during the pandemic. We're encouraging residents to practice social distancing and good personal hygiene at this time. James"
Coronavirus Lockdown Day 3
443 cases: Queensland Health issues a public health alert for people who may have eaten at Sails Restaurant in Noosa after four staff members test positive for coronavirus. At least 13 people who attended a function at the restaurant also test positive. Toowoomba man Garry Kirstenfeldt, 68, becomes the first man in the state to die from coronavirus in a Queensland hospital. Queensland shuts down its borders at midnight and remains open to local residents, essential travellers and freight.
Home
I woke up with a headache and a sore throat, which has continued throughout the day.
Night
I went for a walk up Mt Gravatt—where I counted 35 cars, none of who should have been there—and came across a nightmarish pile of caterpillars on a tree. There were so many of them that I could hear them clicking.
I contacted our local member about all the people ignoring quarantine rules and hanging out up on the mountain.
Coronavirus Lockdown Day 4
493 cases: The State Government announces Queensland schools will become "student-free" from Monday with children whose parents work in essential services still allowed to attend. The next sitting of Queensland Parliament gets cancelled with the next sitting date to be in April.
Day
Bronwen and I had a quiet day at home, avoiding the infected outside world. My headache and sore throat persisted, but seem to be a little better than yesterday.
I achieved something meaningful! Even if it's only a tiny thin…. the local member replied to me to let me know that they were going to start closing Mt Gravatt early:
"Due to current Covid-19 restrictions on social gatherings, the Mt Gravatt Mountain Outlook Reserve road access gate will be closing earlier than 11pm from tonight. Please note the following opening times:
Mon-Thurs 5.30am -7.00pm
Fri-Sun 5.30am-8.30pm
The The LoveWell Project cafe is open for takeaways until 8pm Fri/Sat/Sun."
Night
Bronwen and I went for a walk up Mt Gravatt, timing it so we'd be at the top during the new earlier close time of 7PM. There were quite a few cars up there, but security turned up on time and got them all to leave and closed down the mountain.
On the walk home we went past the election pre-polling place, which had quite a long queue of people, all properly spaced apart.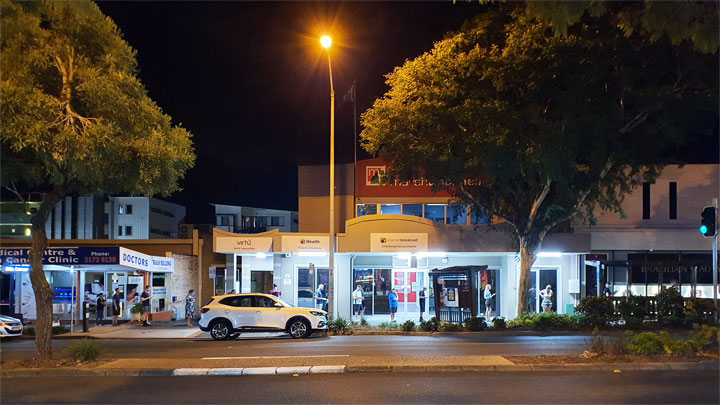 Coronavirus Lockdown Day 5
555 cases: Another 62 cases are announced as Queensland pushes ahead with Saturday's local government elections with the State Government saying the risk is low compared to activities like grocery shopping. There have now been 42,965 people tested across the state, with only one person requiring intensive care.
Day
Another quiet day at home. My headache and sore throat are still there, but are a lot better.
Mt Gravatt
I walked up Mt Gravatt to get some exercise.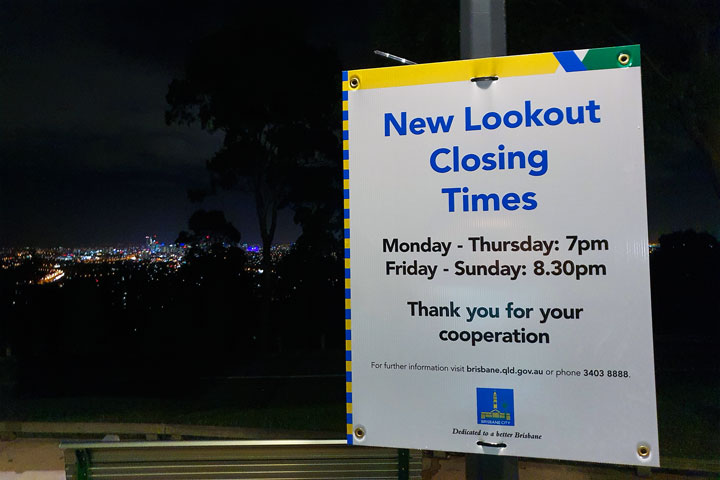 Coronavirus Lockdown Day 6
625 cases: Authorities confirm 70 new cases as Queenslanders head to the polls in local government elections, though some people refuse to vote during the pandemic.
Shopping
I drove to Coles and Woolworths very early—arriving just as they opened at 7 AM. The idea had been to check out if they had extra stock early in the morning—but they didn't. They also weren't very busy. I then drove to ALDI just as they opened at 9:30 AM. Unlike Coles and Woolworths, they were insanely busy with a huge queue and the manager having to wait until people left before letting new people in.
Home
I spent the rest of the day at home.
Coronavirus Lockdown Day 7
656 cases: A 75-year-old woman dies in Caboolture Hospital, north of Brisbane, after contracting the virus while on board a cruise ship. Another 31 people test positive in Queensland as the Chief Health Officer directs Queenslanders to limit the number of household guests to no more than 10 at any one time.
Home
Bronwen and I spent a quiet day at home, as mandated by our Prime Minister during these difficult times.
We went for a wander around our local shops in the afternoon to look at how they are handling the pandemic.
Night
The PM announced that they're now going to limit groups to a maximum of 2 people.
Coronavirus Lockdown Day 8
689 cases: The Premier dramatically tightens social-distancing restrictions and announces a two-person rule for all Queensland households. It means residents are allowed to gather and exercise with only one other person, outside of their family members. For home visits, a limit of two visitors is imposed, meaning "two visitors who are not ordinarily members of the person's household". Queenslanders are also put into further lockdown, with travel outside the home banned except for four essential reasons: getting food, medical reasons, work and exercise. Queensland police say they will issue on-the-spot fines of $1,334.50 for breaches. Another 33 cases are recorded locally.
Day
Bronwen and I worked from home.
Night
Bronwen and I went for a walk up Mt Gravatt. The road up the mountain was closed at 7 PM—about the same time we got there—so it was nice and quiet. We passed one cyclist riding up and down the mountain, and there were two people with motorbikes (which can go around the gate) up the top.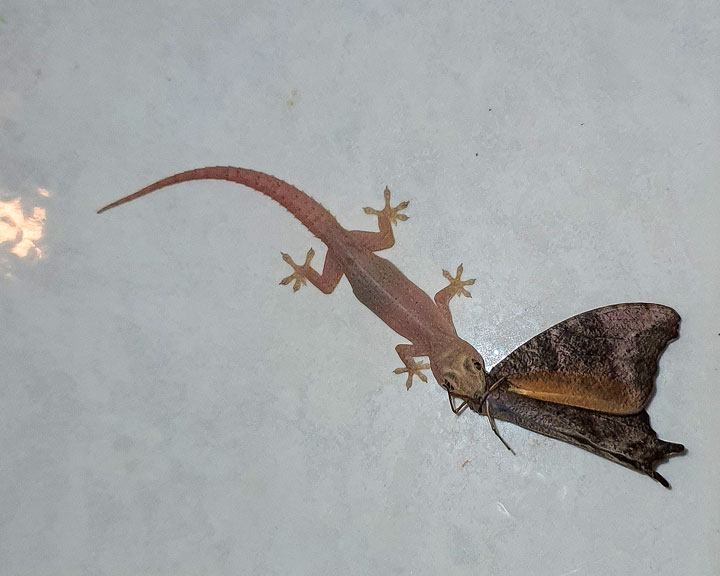 Coronavirus Lockdown Day 9
743 cases: A public health alert is issued in Cairns in the wake of three people with COVID-19 attending a wrestling event at Edmonton PCYC on March 14. Another 55 people test positive across the state.
Home
I spent the day at home.
Mt Gravatt
I went for a walk up Mt Gravatt.
Coronavirus Lockdown Day 10
781 cases: With another 40 cases added to Queensland's coronavirus tally, the Premier launches the "care army", calling on residents to help their neighbours.
Day
Bronwen and I spent the day inside, apart from when we went shopping. We drove to ALDI first, which was fairly busy but had most of its stock—just missing the things that seem to be always missing nowadays, soap, toilet paper, two-minute noodles, etc. After that we drove to Woolworths—which was quite busy, and had a lot of things out of stock—and then Coles, which was not at all busy, and had a lot more stock. We even managed to buy a $15 400mL bottle of hand sanitizer from Woolworths—they're keeping them behind the counter. It seems exceptionally expensive, but we bought it anyway.
Night
I went for a walk up Mt Gravatt. At 6:50 there were 21 cars and three kids playing in the closed playground. I couldn't see any groups bigger than 2 however—apart from the kids. 16 more cars arrived before security turned up at 7:05. The security guy said he's going to push to have the outlook closed down as it's taking too much of his time each night. Apparently, it used to take 5 minutes to close, and now it's taking up to half an hour. Another 6 cars turned up while he was trying to close down the top. He left at 7:20, and I walked back down the road, and to home.
I updated pfSense from 2.4.4.3 to 2.4.5.
Coronavirus Lockdown Day 11
835 cases: An 85-year-old man from the Darling Downs becomes the third person in Queensland to die from coronavirus, as the number of confirmed cases grows by 57. As of midnight April 2, police increase state border restrictions and turn back any travellers who do not have an essential reason for coming into Queensland. Access to national parks is also banned for the foreseeable future.
Day
A quiet day at home.
Coronavirus Lockdown Day 12
873 cases: The State Government predicts Queensland is headed towards a coronavirus peak from July and warns strict-social distancing measures could be in place for six months. Another 39 people test positive in the state.
Home
I spent a quiet day at home, as usual.
Mt Gravatt
Bronwen and I went for a walk up Mt Gravatt. There were 22 vehicles parked there at 8 PM, and no sign of any of them doing exercise or any other valid excuse to be out of their houses during this pandemic. The security guy turned up about ten minutes after 8:30, and it took him ages to track everyone down and close it off—and even then, cars kept driving up while he was trying to drive back down to close the gate.
Coronavirus Lockdown Day 13
900 cases: 27 more people test positive.
Home
I converted my journal into a master document and year-based sub-documents.
Mt Gravatt
I walked up Mt Gravatt for my daily dose of exercise.