Morning
It's the first day of spring!
I emailed work to say I wouldn't be in today. I'm not entirely sure if I could have gone to work or not as I'm basically just chilling out at home now, but the painkillers make me drowsy and say not to do anything much (apparently I shouldn't walk on stairs unassisted), so that seems like a good enough reason to play it safe. Plus, as a contractor, if I'm not operating at one hundred percent, I'm essentially ripping people off.
Bronwen also stayed home to look after me.
Afternoon
Staying home seems to have been a good idea. I slept (or more accurately, dozed) most of the day on my funny sleeping-bag bed thing (it's not so good for sleeping all night on, but somehow quite good for dozing during the day on—I'm not sure how that works). Bronwen and I drove to Bunnings and Woolworths in the evening—it's hard and boring eating only soft stuff. We bumped into the other Bronwen at Woolworths, who saved us lots of money by recommending fake vanilla essence for milkshakes, and I made a banana smoothie—soft, delicious, and theoretically healthy. Then I rinsed my mouth out with salty water, and all was ruined again.
Night
I had well-cooked peas, mashed potato and a vegetarian sausage (cooled so it was only mildly warm and not at all harmful or scary) for dinner, then went to bed.
Day
Both Bronwen and I caught the bus to work, as Bronwen's bike was still at work. I was a little worried I'd be in pain—this is the first day I've stopped taking painkillers since having my tooth extracted—but it wasn't anywhere near as bad as I was expecting.
I had a can of soup for lunch, and some yoghurt to snack on.
Night
I had a quiet night at home, and a soft dinner.
Day
I worked. I had another can of soup for lunch, and some creamed rice for after-lunch-ness. Annoyingly, after yesterday seemed really pain free and good, my face hurt a bit today—but not enough that I had to take painkillers.
Night
My bus went the wrong way—down through busway tunnels, and because it was a banana bus, it had to go quite a long way before it could turn around and go back again. I stayed up until midnight going through photos from Sculpture by the Sea—having realised today that I only had one of the four times I've been there in my journal.
Day
I caught the bus to work, and later home again. Today went ok—I do think I'm getting better, though I can't be sure.
Night
I drove into town, after midnight, to get Bronwen from her SAS speech. I then stayed up late sorting through some photos from 2010 Sculpture by the Sea, to make a journal article. It was 3 AM by the time I got to bed.
Day
I drove to work with Bronwen and her bike, who then rode to her work. Everyone at work seems to be very busy and overworked.
Night
Bronwen and I drove to Knock Off at The Powerhouse, then stayed for "Stop the Goats: A comedy debate", which wasn't a debate because they decided no one could possibly argue for the affirmative, and became a highly racist and inappropriate Q&A instead—put on by the Multicultural Development Association.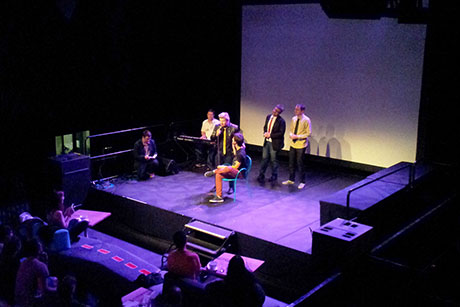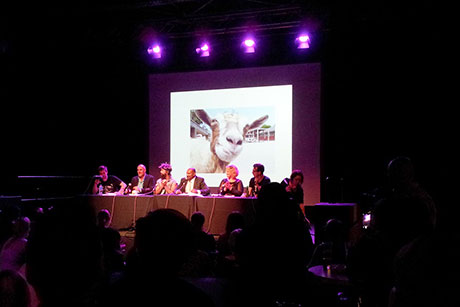 Day
Bronwen and I went to Sizzler, which may seem odd considering I'm vegetarian, but their endless salad bar is actually not too bad value provided you go on Saturday before four when it's still lunch time pricing, and have a $5 off voucher from filling out their survey. Bronwen's lunch cost $11.95, and mine cost $15.90 (because I got drinks), for which we ate our fill of several different salads and desserts, along with a bit of pasta and some potato skins (though not for me—they're too crunchy when it's only been a week since getting my wisdom tooth out).
After lunch we drove to South Bank and had a wander around, having a look at the "Brisbane Airport Light Garden" they have there for Brisbane Festival—which I found underwhelming—and the outside of their unusual "Exxopolis" inflatable weirdness thing. It was too late to go inside.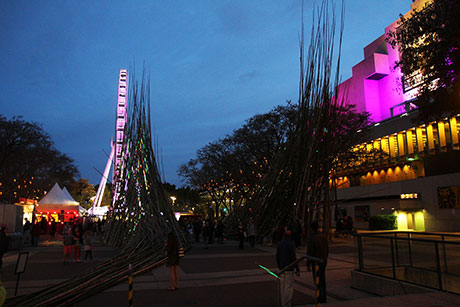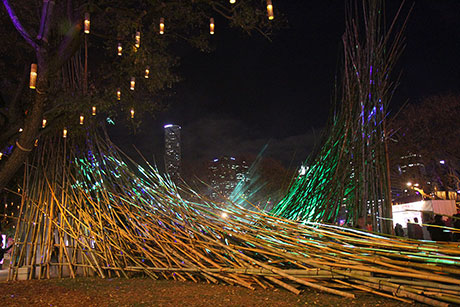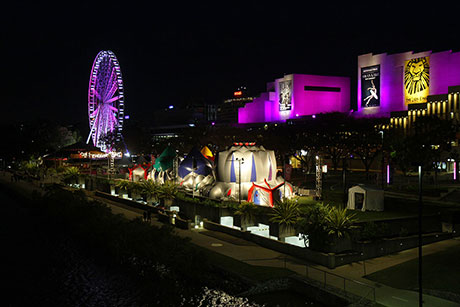 We then walked across the bridge—which was very cold and windy—and joined the crowd of people waiting to watch "Do Do Land" outside the front of the casino. I made the mistake of trying to squat in front of the standing people but behind the sitting people, which was horribly uncomfortable until I figured out that all the things to watch were occurring high up in the air on a frame suspended from a crane so I could just sit on the ground and look up.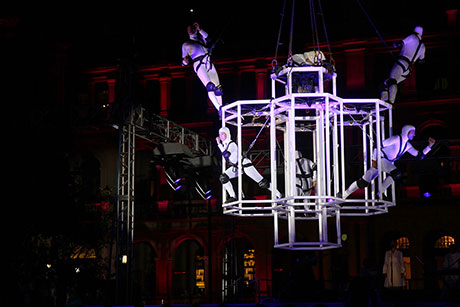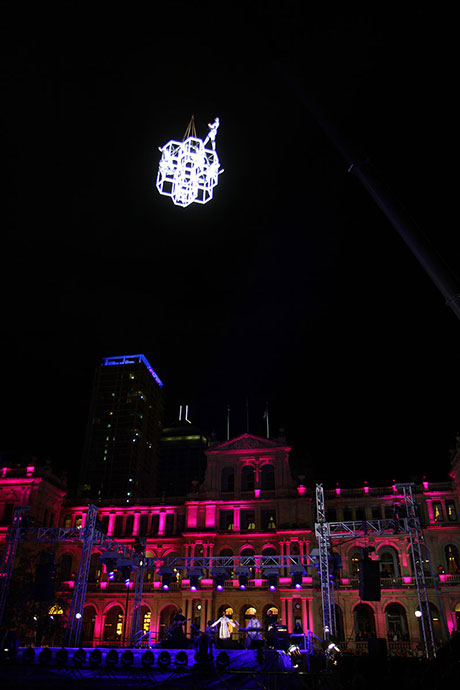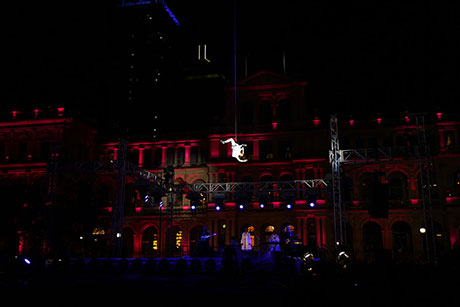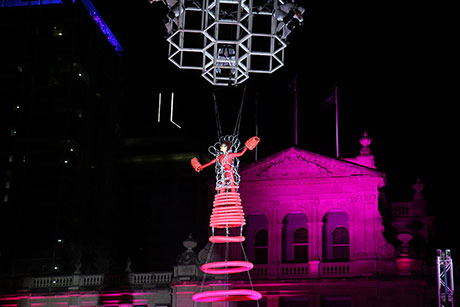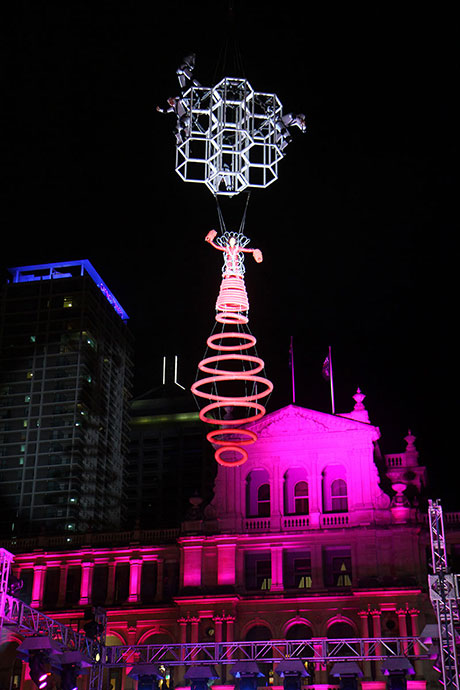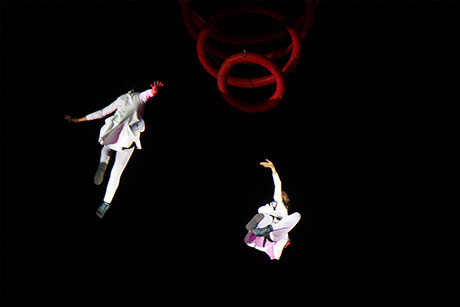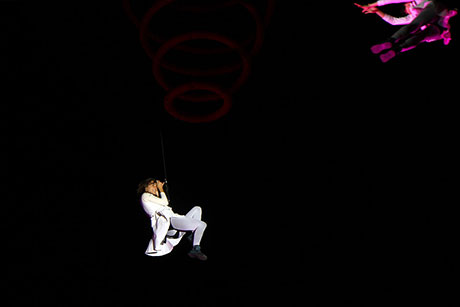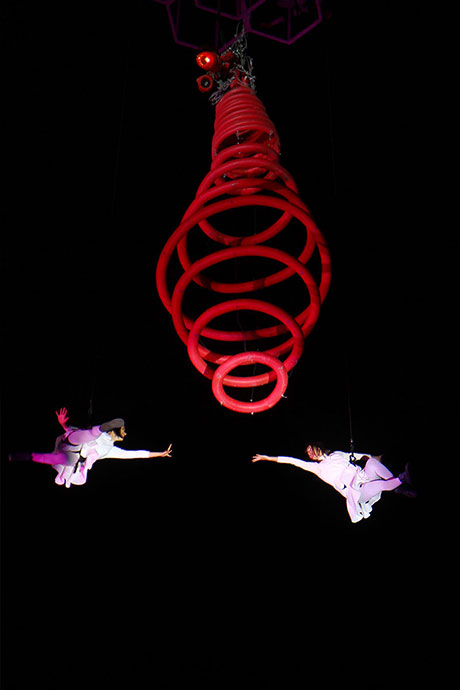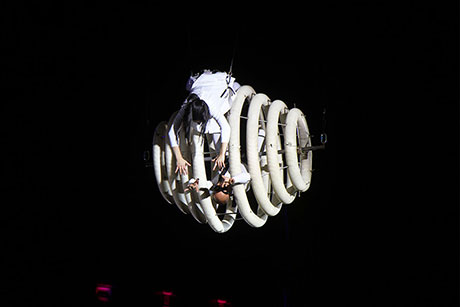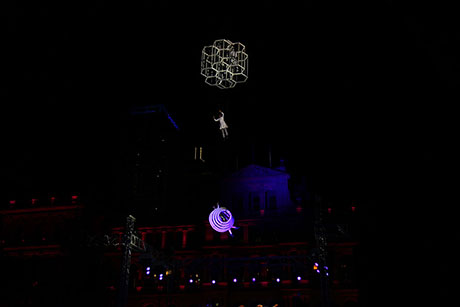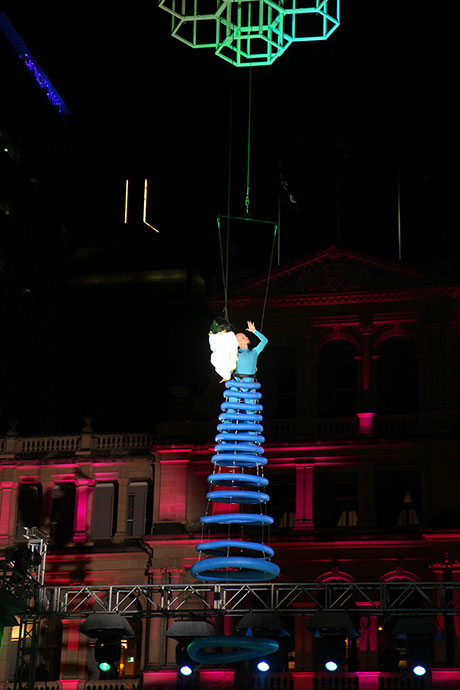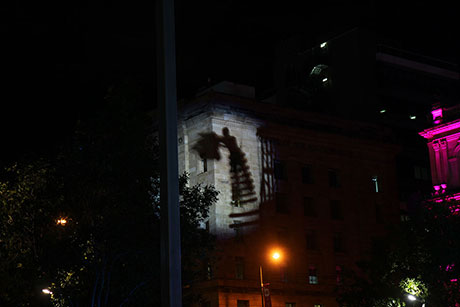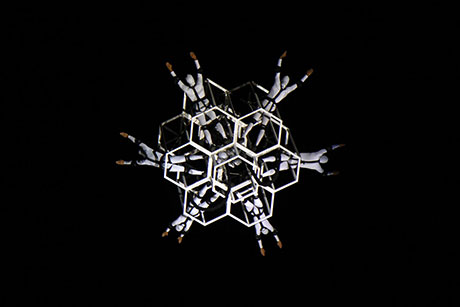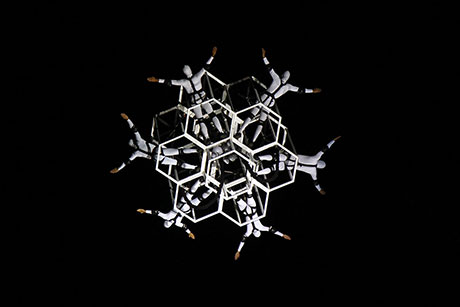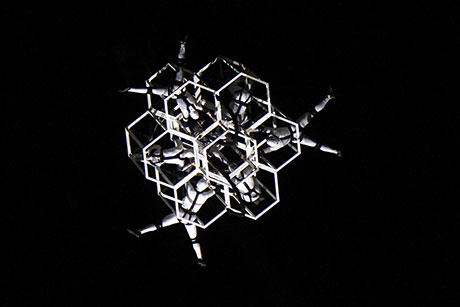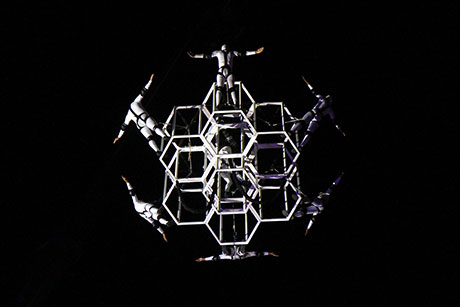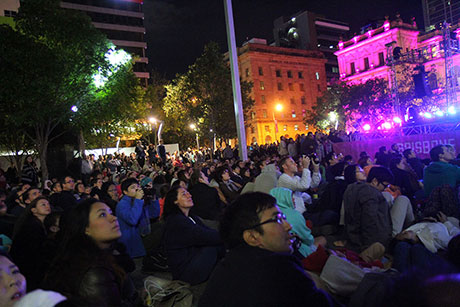 On the walk back to the car we stopped to watch a bit of "Mao's Last Dancer", which was showing on the lawn at QPAC.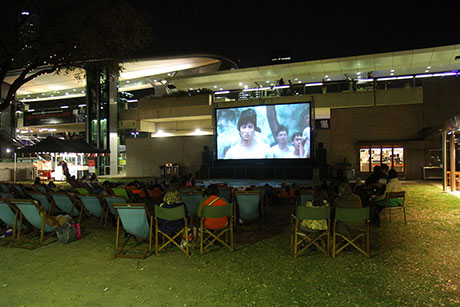 Night
I dropped Bronwen back to her parents' place, where she's spending the night so she can go riding early in the morning, and drove home.  Because Bronwen wasn't here to make me go to bed, I stayed up late.
Day
After staying up very late last night, I got up late today, and drove to Bronwen's parents' place, where Bronwen was as she'd gone riding early this morning with her Dad. Bronwen and I then drove down to West End—amazingly finding a car park immediately and right near where we wanted to be—and spent the afternoon at the Kurilpa Derby. There were lots of bikes and bike-ish things, and the traditional—and now famous—squid race.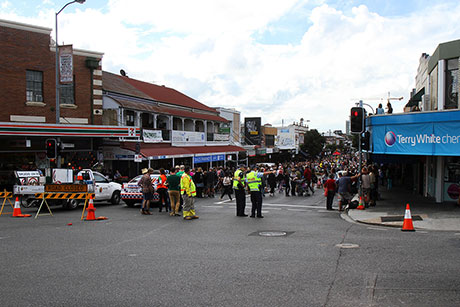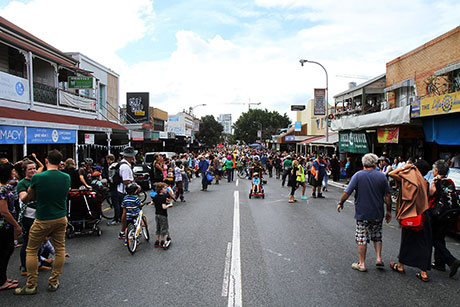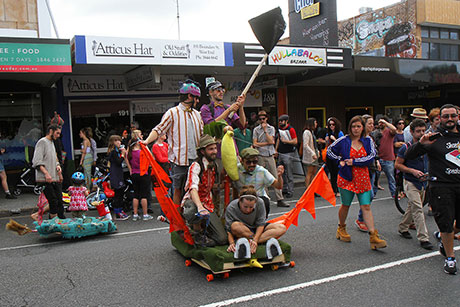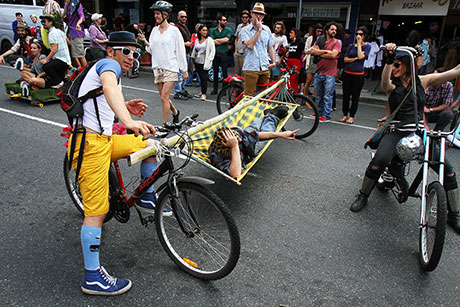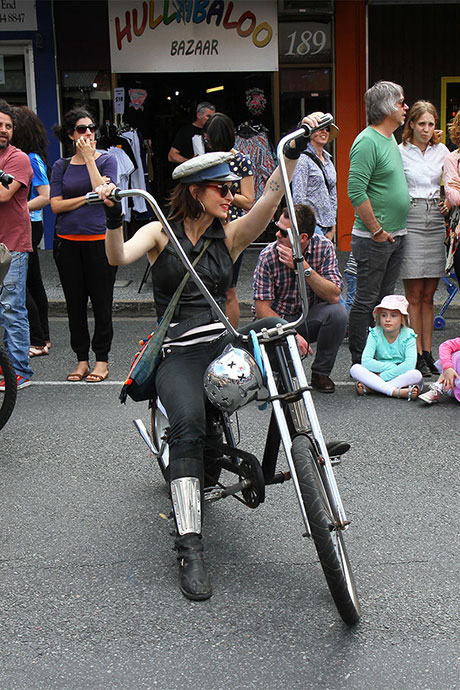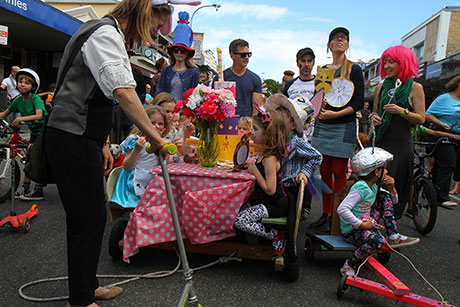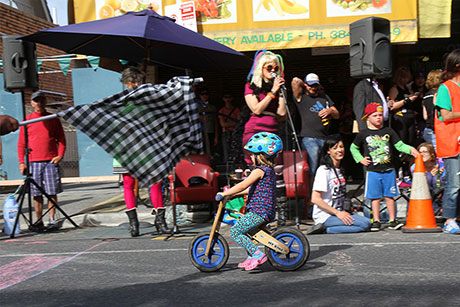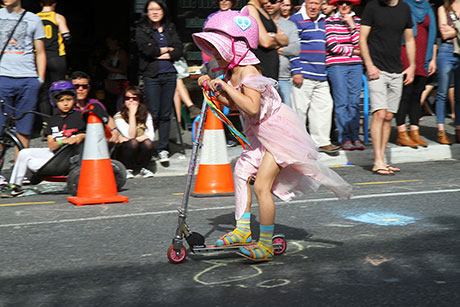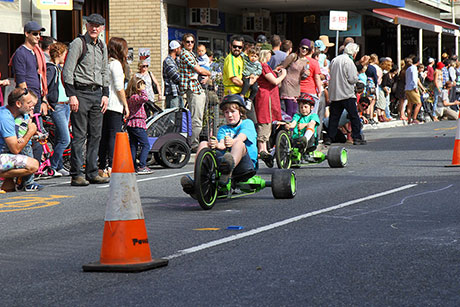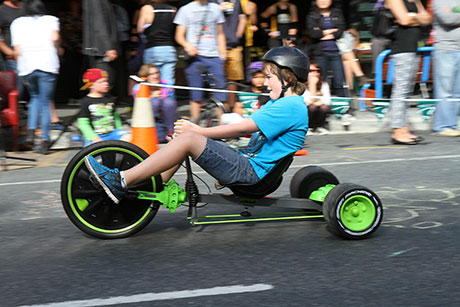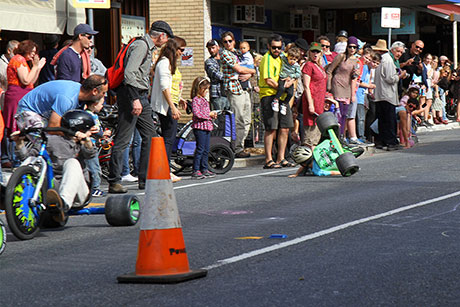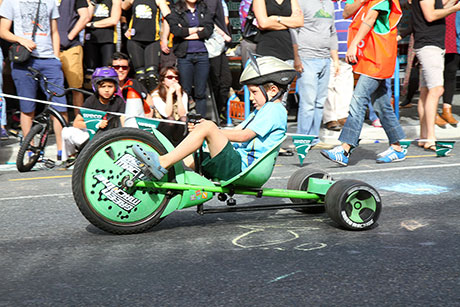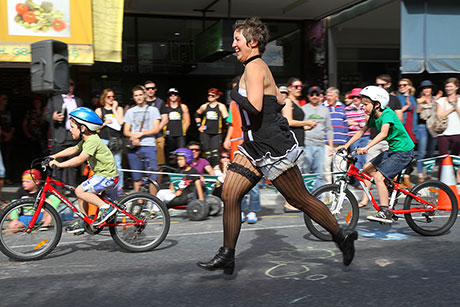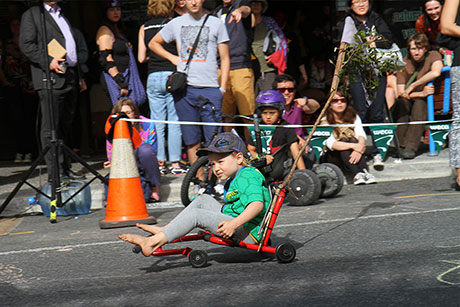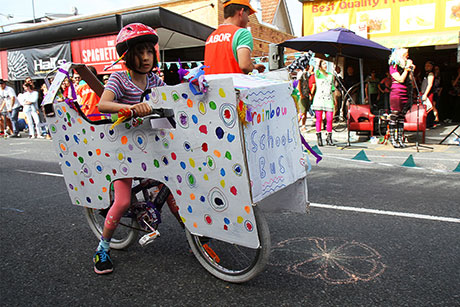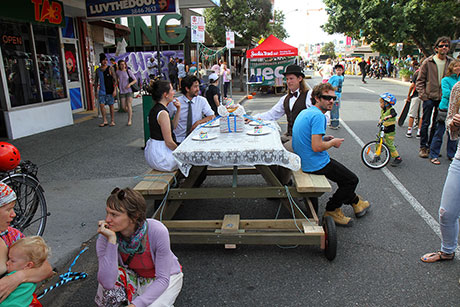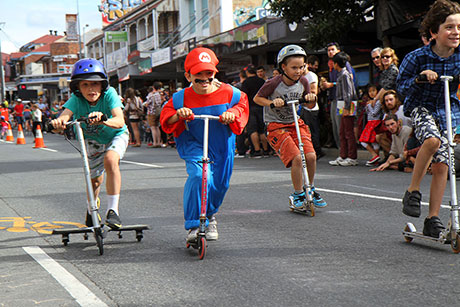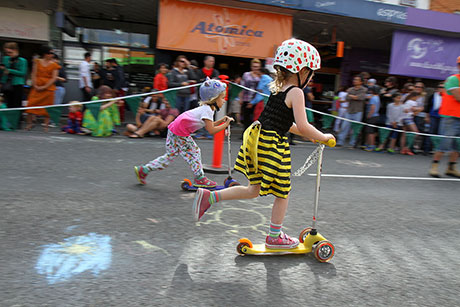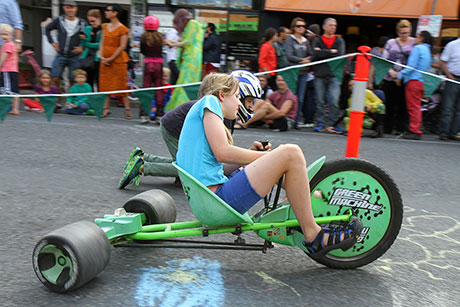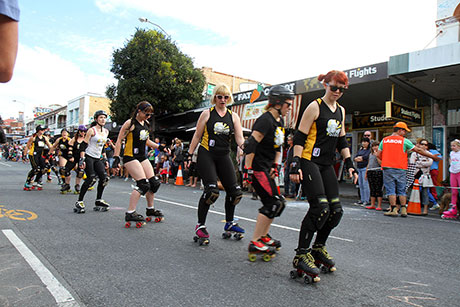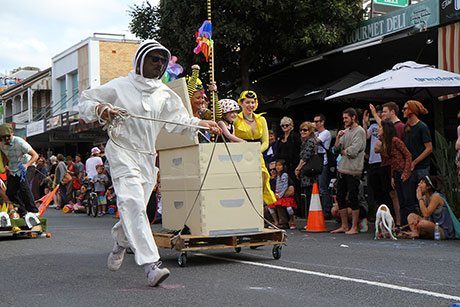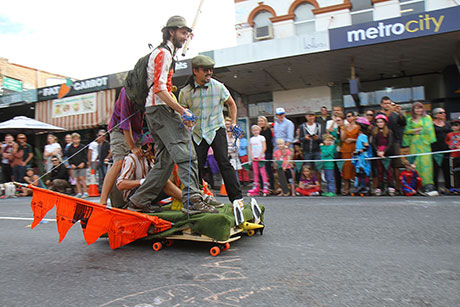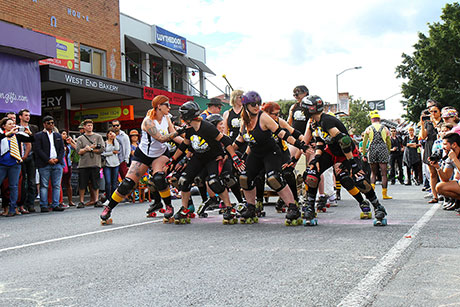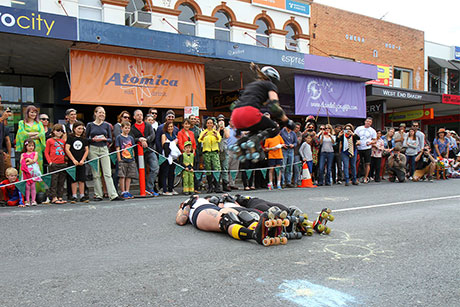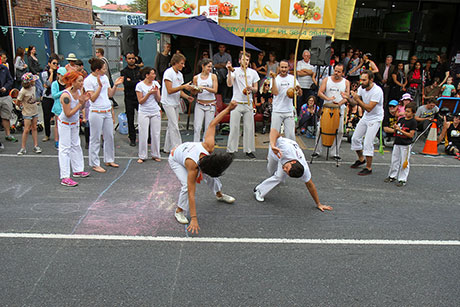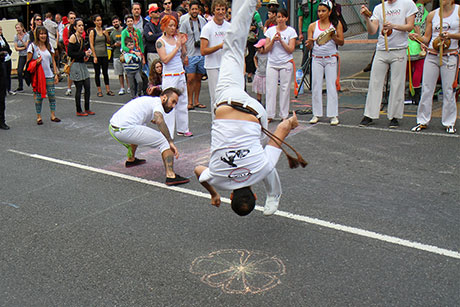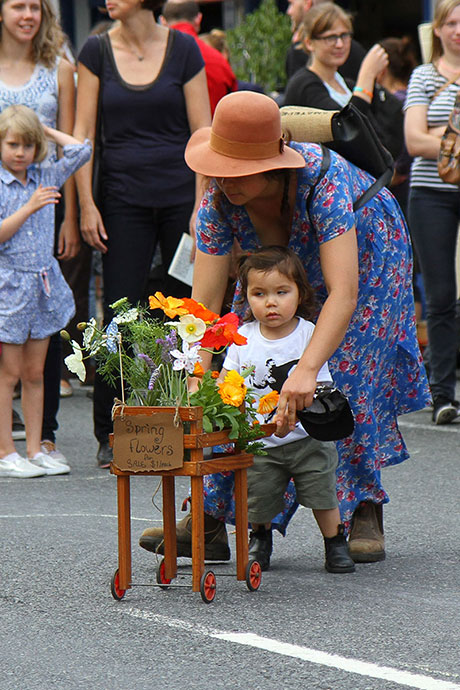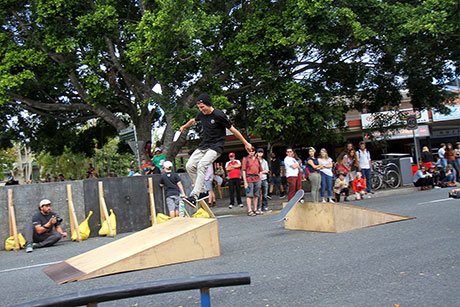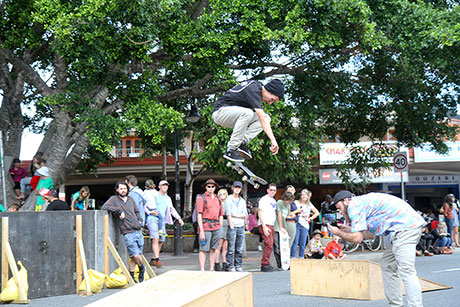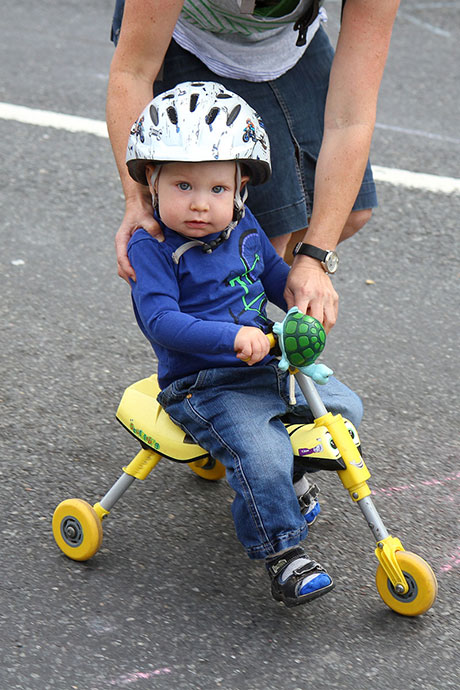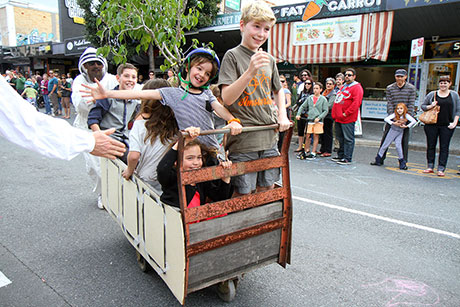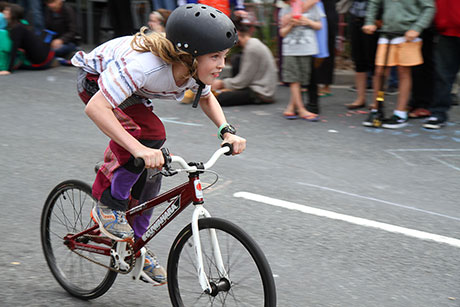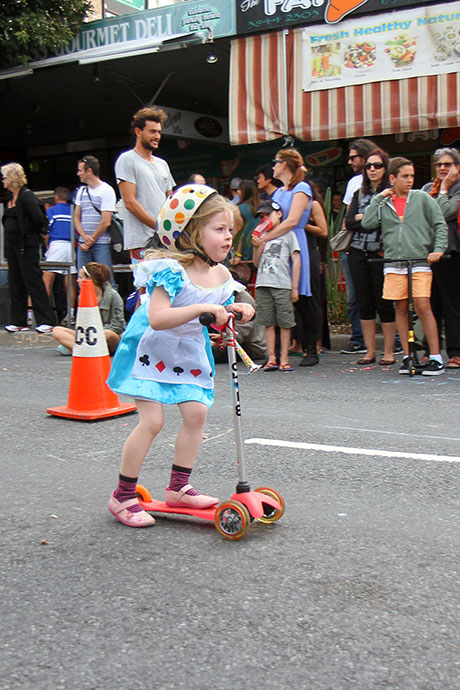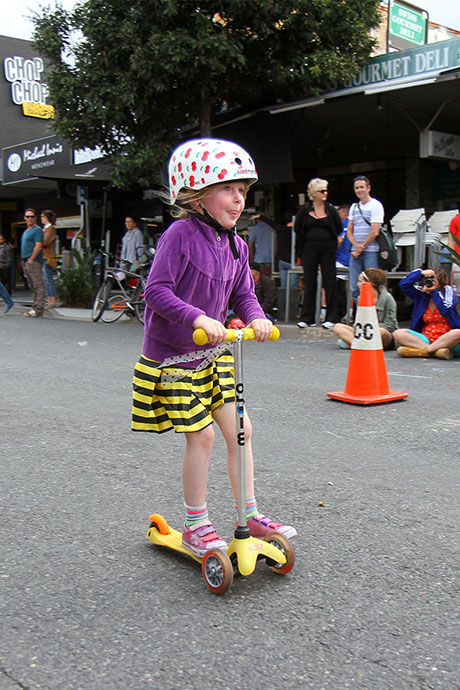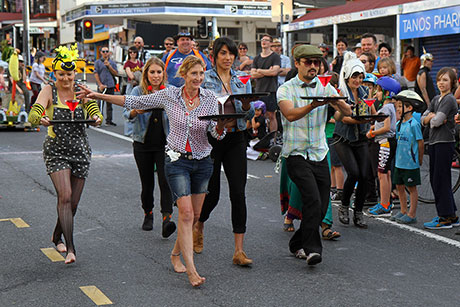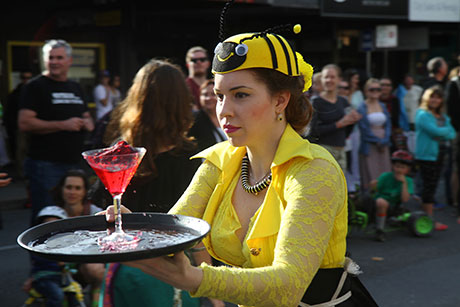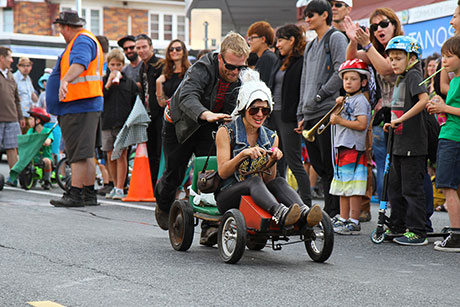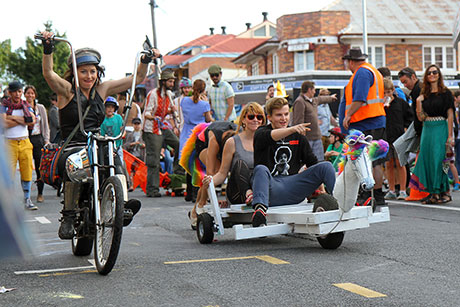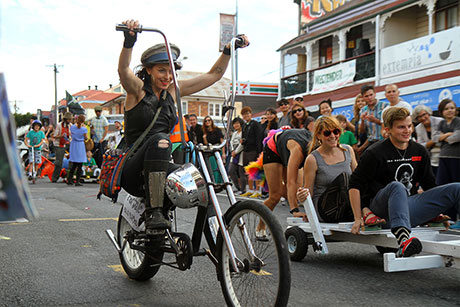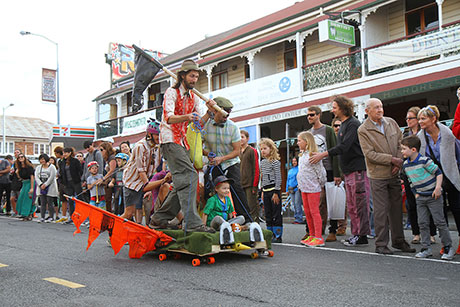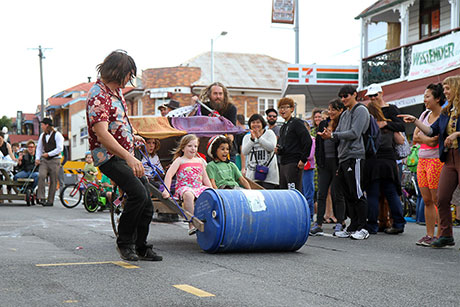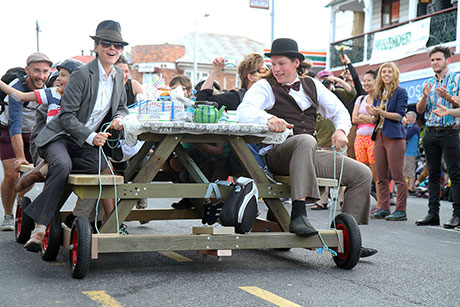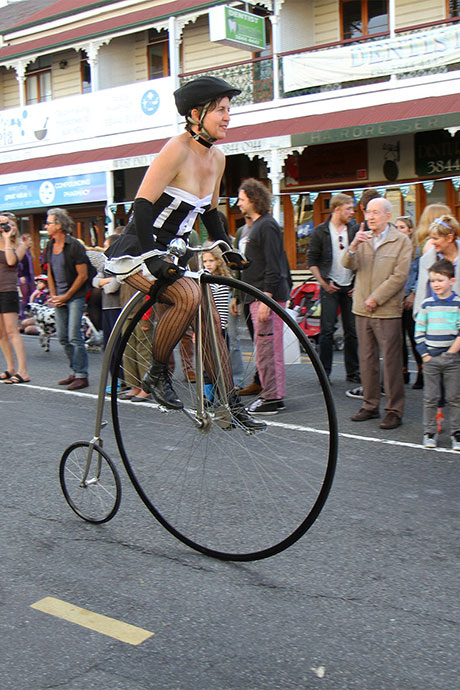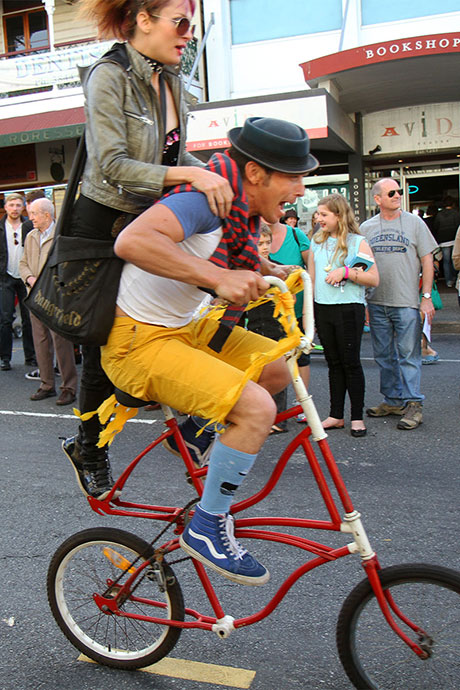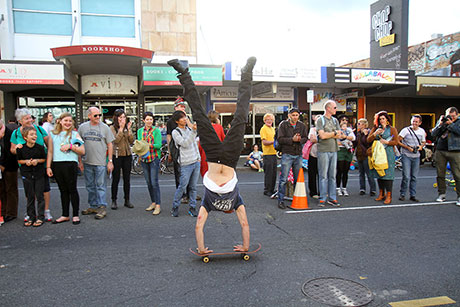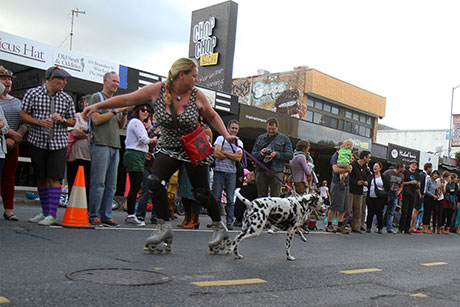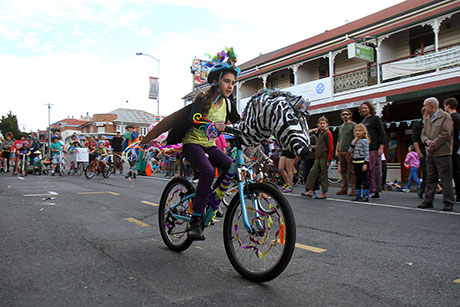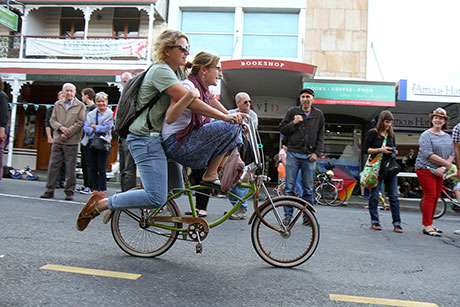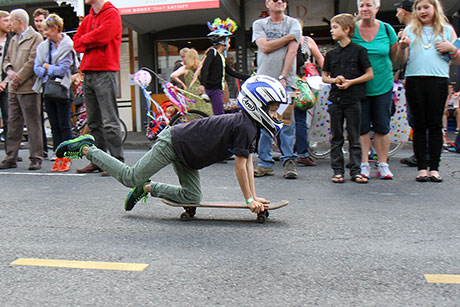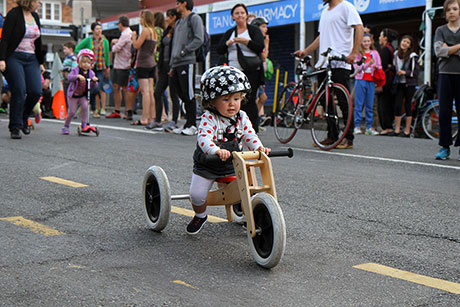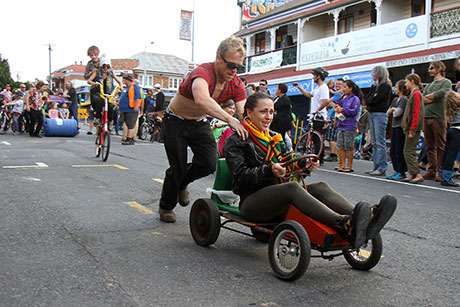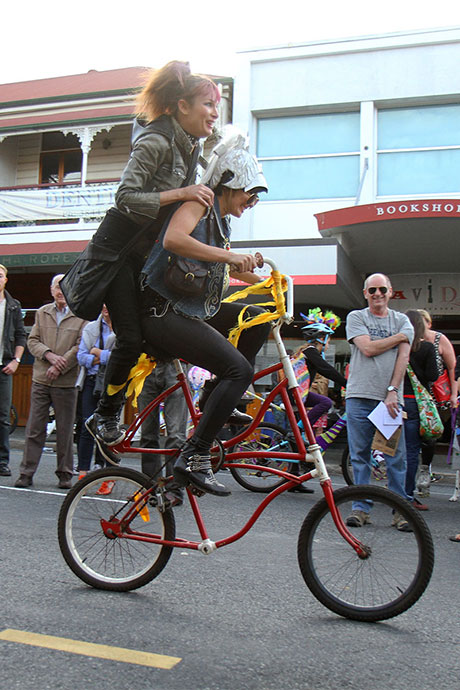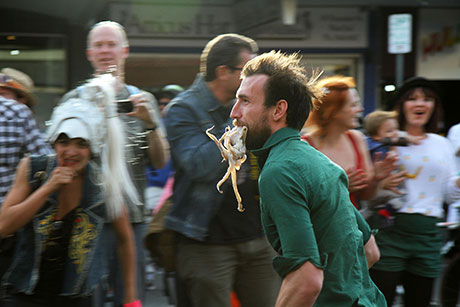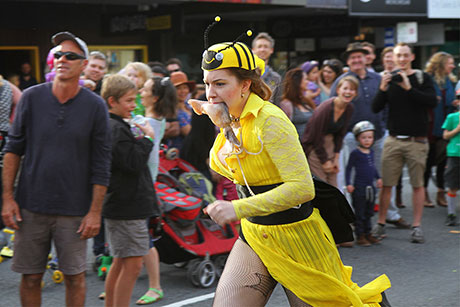 Evening
After the derby ended we drove back to Bronwen's parents' place, then on to the city, where we watched Do Do Land again. I'd wanted to get a few photos which I'd overexposed yesterday, but unfortunately it began to rain and I couldn't get much.