Day
I worked.
Day
I drove to work, and worked.
Night
I picked Bronwen up from her work and drove to Beach Burrito in West End for our traditional Tuesday tacos with Maz (though as usual, I bought nachos). After eating, Bronwen and I drove to her Mum's place, to set up her email and import her backed up email and generally try to make it all good again. We also had a delicious dinner, and I didn't break any wine glasses.
Day
I worked.
Night
Bronwen and I drove to Bronwen's Mum's place after work to check on her computer backups. I had assumed it'd be a quick visit to make sure it was working, and check if Windows File History is really as rubbish as it is. In case anyone was wondering, the answer is yes. It copies Bronwen's Mum's couple of gigabyte of Outlook PST every hour. The complete thing. Not a diff or anything sensible. Really quite stupid. I then found out that Windows Backup (the normal, Windows 7 one), which was set to "Let Windows decide what to backup", wasn't backing up Bronwen's Mum's Documents folder—which was pretty much the entire point of running it.
To cut a long story short, a few hours, a broken wine glass, and some expensive pizza later—and it seems like the now-manually-configured Windows Backup is probably working as it should.
Day
I drove to work, dropping Bronwen off on the way. I was unable to find parking, but now that I know about "Magic Street", I always have a backup location (albeit a long walk from work) to go park in. Funnily, I pulled up behind Keish's car just after she got out, and walked to work with her.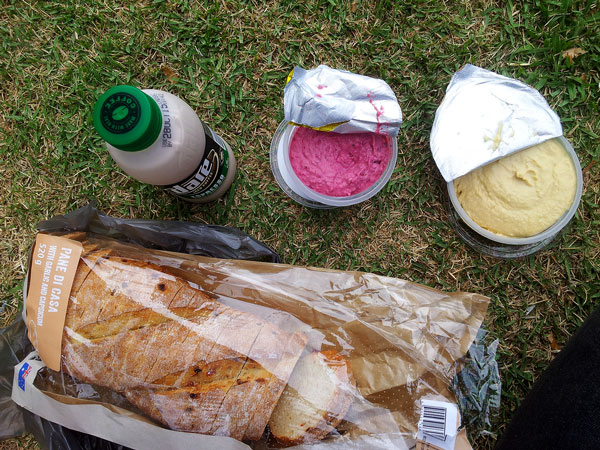 Night
It rained and I stayed at work a bit late to wait for it to finish. Parking a long walk from work without an umbrella and with my laptop is perhaps not the best idea.
Bronwen and I rushed to Woolworths.
Day
I worked. There was cake.
Night
After work Bronwen and I dropped past the Valley Fiesta.