Monday 16th September
The Mechanic
Morning
I had meant to leave home at a quarter past seven, but as always I was late and it was nearly half past by the time I left. My original estimate would have been quite accurate, as I got to David's (the mechanic) closer to half past, than the planned eight o'clock. I followed him from his house a short distance to his workshop, then he dropped me off at Virginia station, and I caught the train to the city.
Unfortunately the train arrived pretty much as I did—which would normally be good I suppose, but I only had time to swipe on with Bronwen's go card and notice that it said it had around negative two dollars on it, and not enough time to do anything about it. To be fair—I had no idea I needed to do anything about it in any kind of hurry, as it didn't give any obvious indication of an error. However, when I got off at Central, I was unable to swipe out through the gates—and in their wisdom, they don't seem to have put any go card recharge machines actually inside the station, so I had to wait for ages in a line full of other people doing the same thing as me, then go through the ridiculous process of using an EFTPOS machine through a tiny hole, presumably to prevent people from throttling the staff member in broad daylight. After adding an extra twenty dollars to Bronwen's go card, I was able to let myself out of the station, and was fined ten dollars in the process.
I went to the next window—this time outside the station barriers—to complain and get my ten dollars back, but they printed out lots of bits of paper for me and said I had to call a number, so I instead made my way to a bus, and caught it to work. Once at work, I called the number, and was refunded the difference between the original fare and the fine—though presumably didn't get the advantage of joining the train and bus trips together as perhaps one could normally. What a remarkably poorly designed and implemented system.
David phoned to advise me that the rear shock-absorbers were sad, and would cost $170 each for new ones.
Afternoon
I left work, after a call from David to say my car was ready, around half past three. I got back to work again—having caught a bus to Roma Street and a train from there to Banyo, and then driving from there to work—around half past five.
I cleverly left not only the receipt for this, but also the receipt for the previous mechanical work I had done (which I'd taken with me as it had some relevant details on it) there, but  from memory David put in new rear shock absorbers ($170 each), new spark plugs ($12 each—$72 all up), and a second-hand steering pump ($60 from the guy who I bought my previous car from) to see if that's the cause of the mystical no-one-can-fix-it random vibration issues I've been having. All up it cost $590 (though I paid $600 because I'm a nice guy), which I think was $472 parts and $120 labour—which seems quite reasonable for labour. He also managed to dig up a hub cap to replace the missing one—though while it's a Ford one it's not entirely the same, so I've got two identical ones on one side, and two slightly different ones on the other side… but it looks nice and shiny.
While the drive back wasn't really fast enough to tell much, it would appear that changing the plugs—much to my surprise—has fixed the problems while accelerating, though I couldn't tell if the vibrations were gone or not.
Night
After working late to try to make up some of the time I'd lost running around after my car, I went and got Bronwen from her work and we parked in the city and walked to Hungry Jack's to use up some vouchers Bronwen had. While we were there a big storm hit, and we got quite wet trying to make our way back to the car and had to hide under awnings for a while, slowly freezing. There weren't any major indications of car-broken-ness driving home, but I did think that it felt like there was some harshness from the steering which shouldn't have been there… but perhaps I'm just being paranoid. I'm sure I'll find out tomorrow, but I do suspect that the problem persists. The other problems do seem to have been fixed though.
Tuesday 17th September
Jobs
Day
I worked. Bronwen had the day off. After the sad demise of Alfred the fish, Bronwen has decided to take to work her pet rock, as he is much more tolerant to both lack of water, and death.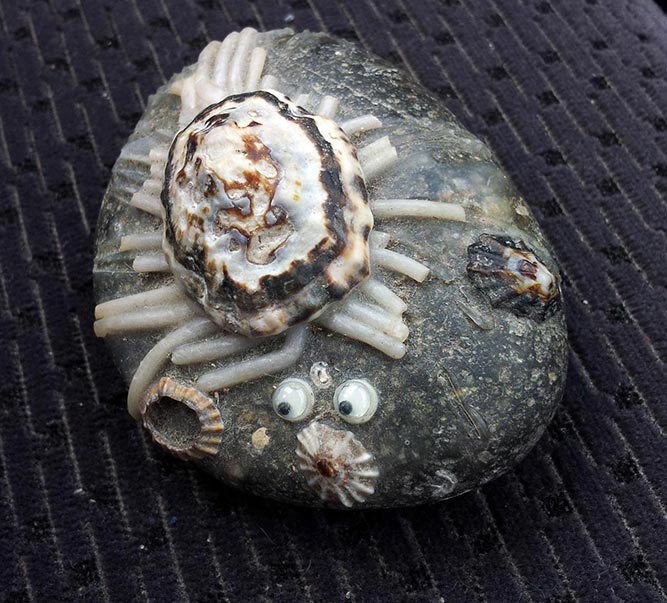 Night
Bronwen and I went and saw "Jobs" at South Bank Cineplex. I didn't like it—it was very superficial, not very interesting, and didn't really seem to contain much of anything other than "boardroom drama". It felt to me like they'd got a brief overview of Jobs' life and career, and ticked off each of the boxes: he did drugs, tick; he denied he had a baby, tick; he was a mean person who cared only about himself, tick; he walked funny, tick; he fought some guy in a boardroom, tick, tick, tick. In other news, Bronwen's blow-up "B" arrived. She liked it.
Wednesday 18th September
Work & Stuff
Work and stuff. Bronwen had the day off.
Thursday 19th September
Work & Stuff
Work and stuff. Bronwen had the day off. It is very hot, so I decided to wear summery things.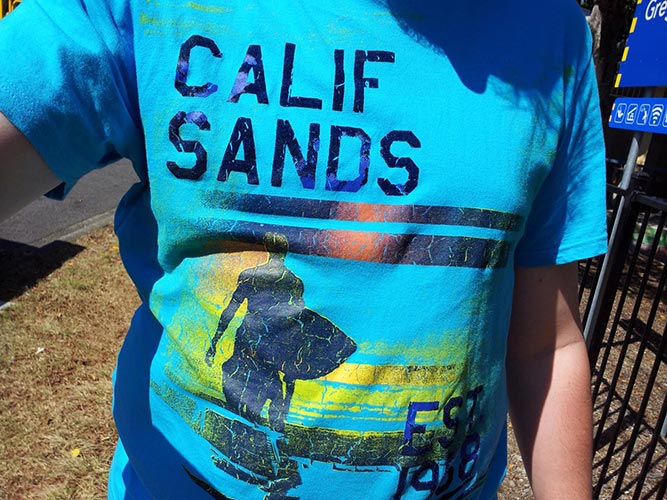 Friday 20th September
Symphony under the Stars
Day
Work. Dropped Bronwen at her parents' place. I had lunch with Bronwen at Sassafras in Paddington.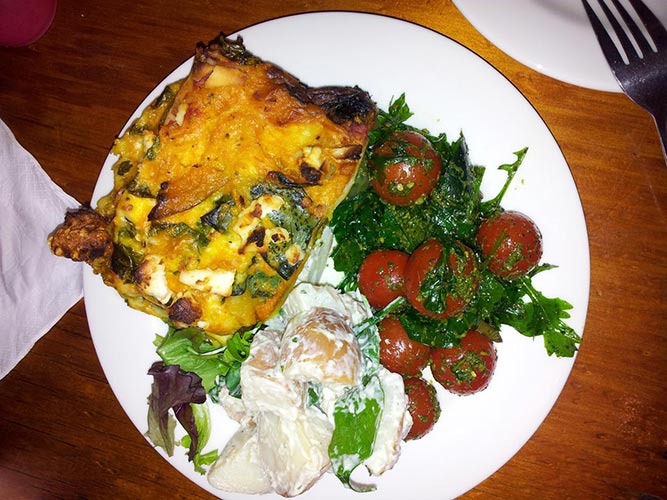 Night
Drove to Bronwen's parents' place, then rushed to Symphony under the Stars at Riverstage. I, almost miraculously, managed to find parking at the South Bank end of the Goodwill Bridge. Even so, the queue of people trying to get in was truly immense by the time we arrived, and I feared we'd not be allowed in. However, eventually we (and I think everyone else) did manage to get in, and got a reasonable seat, and enjoyed the show—though I have to admit, almost immediately it occurred to me how funny it would be if the conductor and members of the orchestra were members of parliament (because someone in the orchestra looked a bit like Tony Abbott), and from that point on it became quite funny to watch.
Saturday 21th September
Opera at the Riverstage
Morning
Bronwen and I drove over to Bronwen's parents' place early, as Bronwen had an early appointment. We then stayed for breakfast.
Lunch
For lunch, we had a kebab and vegetarian platter from King Ahiram's in West End.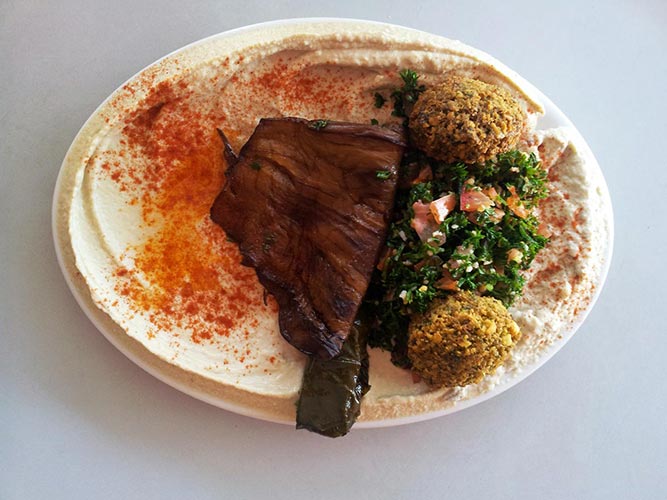 Night
At night, we parked in the city and made our way to Opera at the Riverstage, which wasn't as busy as yesterday's Symphony—though was mostly the same. We sat right down the front, and once again, I couldn't help imagine everyone being replaced with parliamentarians.
We stopped at the Wunder Bar (at QPAC) on the way home and watched "The Good Ship" play.