Monday 12th November – The Airport
Day
I worked.
Night
I drove to Maz's, and then out to the airport, to check for parking. It was fortunate that I did, because for the first time since I worked at the airport, they've managed to block off all the free parking I know of, and I'd not have been able to find any parking had I turned up expecting it tomorrow. Bronwen and I ended up staying up late at Maz's. His work is being liquidated, which while it sounds nice and moisturising, is probably a bit stressful too.
Tuesday 13th November – Cairns & Mount Carbine
Morning
I drove to Astro Pete's to buy another two eclipse shades. He'd sold out, so it was fortunate that I had emailed yesterday to get some put aside. After driving home again, I packed for Cairns, and shortly after, Maz came and drove Bronwen and I to the airport.
Afternoon
Check-in, security, and the rest of the pointless hassle at the airport were uneventful. I bought a veggie burger from Hungry Jack's for lunch, and we boarded our Jetstar flight, which left on time. Unlike the last time I flew Jetstar and found that their new aircraft design had plenty of legroom and was quite comfortable, this one had the old design and I simply do not fit in the seats—I have to sit at an angle as my legs are too long. Once in Cairns I unfolded myself and  we phoned Cruising Car Rentals, who turned up shortly later in our hire car—a small Kia Rio manual—and Bronwen went and filled in the required paperwork while I called Silas—and then got a call from Bronwen's dad, who had called from his satellite phone, already at Mount Carbine.
Evening
Bronwen and I drove to Mount Carbine via Mareeba—Silas having said that way would have less traffic. Surprisingly, once we got out of Cairns, there wasn't really any traffic at all. People said there were around 60,000 people in Cairns to see the eclipse, which is quite insane. For some reason the drive seemed to take longer than it should, even though there was no traffic, nothing went wrong, and the car performed surprisingly well, given its size.
Night
It was just getting dark by the time we arrived at the Mount Carbine Rodeo Ground. After a bit of arm waving, we found Bronwen's parents and their camper trailer, and parked and set up for the night. It wasn't as busy as I had been expecting—which I think was because a lot of the people here had travelled very lightly. There were two large groups—one Japanese and the other Korean I believe—who did not seem to have much in the way of camping or accommodation gear, and had just set up lines of astronomical equipment beside their coaches.
We had a lovely trailer-cooked dinner, and settled down on our large airbed for a relatively early night, in preparation for an early morning. I didn't get much sleep, because as it turned out, most of the other people stayed up most of the night stargazing.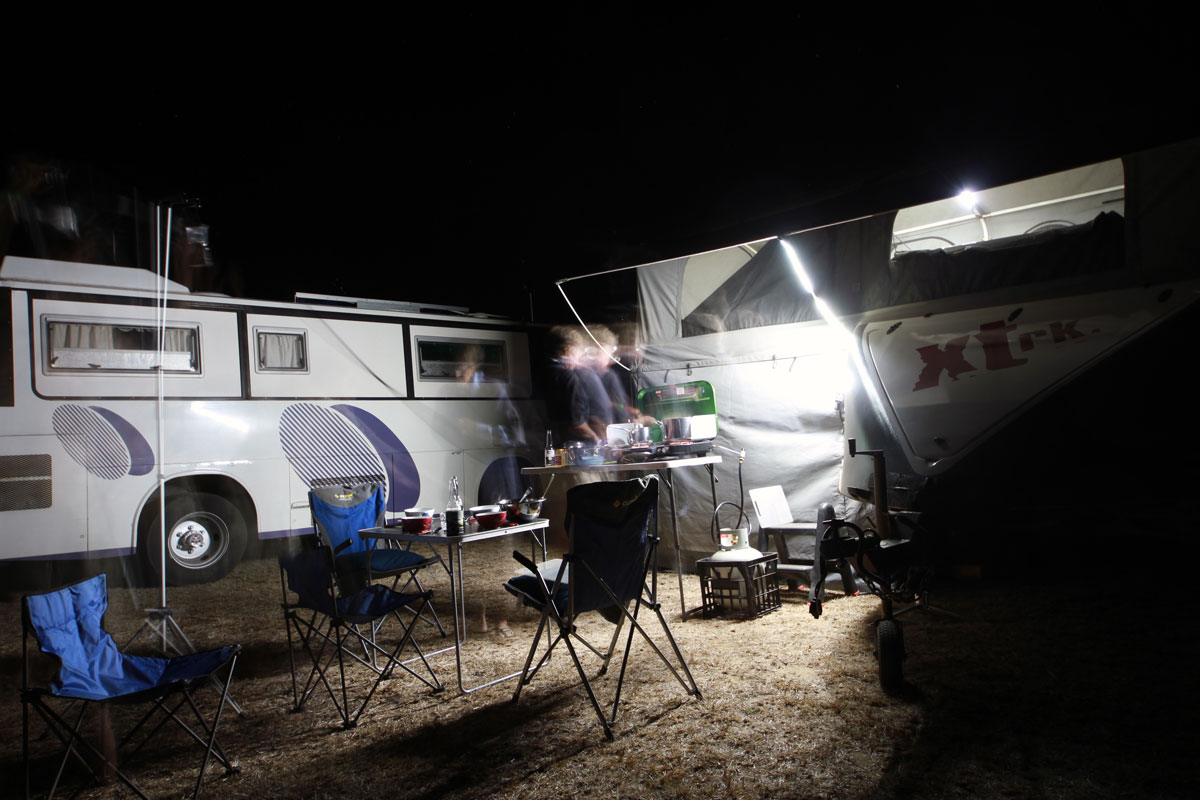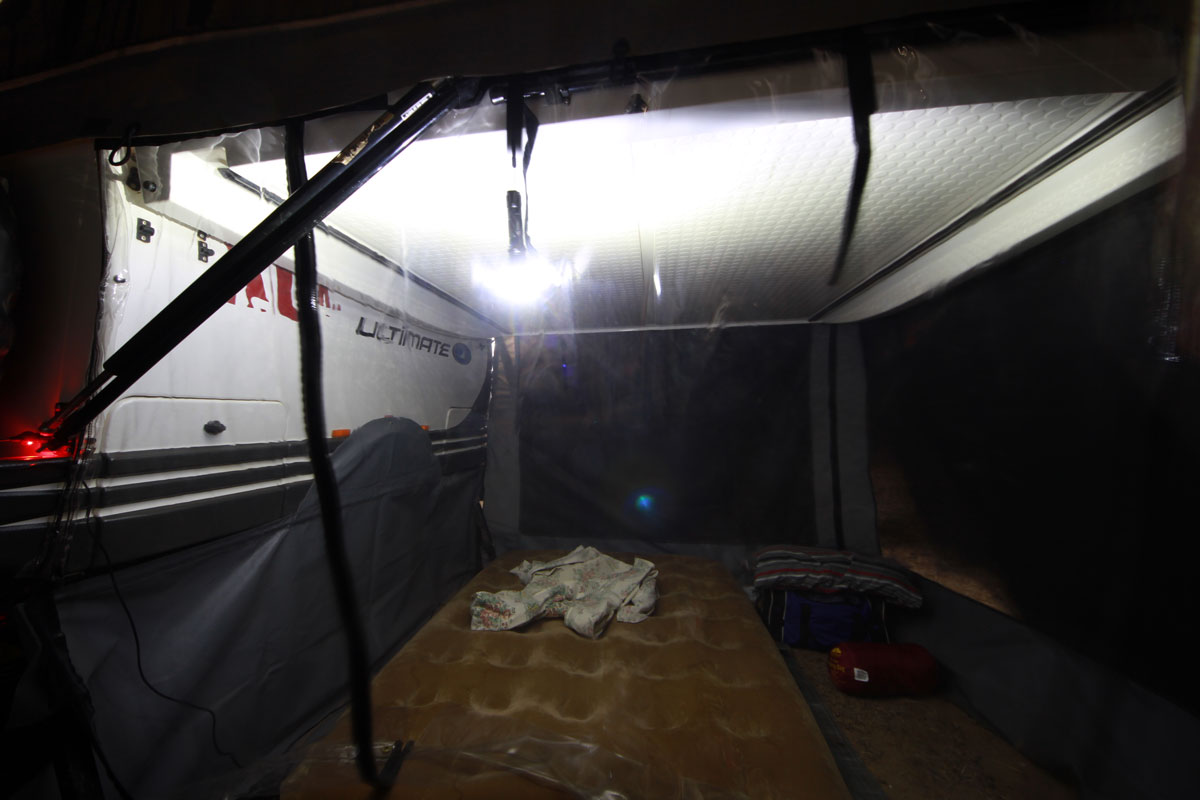 Wednesday 14th November – The Solar Eclipse of 2012
Very Early
I got up around five o'clock, having been awake for half of the night anyway, and wandered around looking at the stars. The sky seemed clear—there were many stars shining brightly—but as it got light enough to see, we saw that there was an ominous line of clouds right where the sun would rise.
Everyone around us had gone to great effort to be here and film or view the eclipse. The gentleman directly in front of us had a good dozen or so SLR cameras set up to track the sun, and to the right of him was a man with a large, impressive looking telescope, and to the left we had a few longer, thinner telescopes connected to televisions—and of course, there were the large rows of Japanese and Korean groups, who had, I believe, chartered flights just to see the eclipse, and had been up all night excitedly looking at the stars, and the German couple who had travelled just to see this… and then us, with our little binoculars and a handful of small cameras, who had just popped up from Brisbane.
The experts around us told us that the clouds would probably dissipate before long—something to do with the kind of cloud and what not… and then a little while later, as they not only didn't dissipate, but got darker and moved more firmly into the way of where the sun would be, told us that the new kind of cloud probably wouldn't dissipate… by which time it was too late for us to drive any further west. Quite worried now that we might not see anything, we watched as the sun rose—behind the clouds. According to my Google Skymap app, the eclipse had begun—and we couldn't see it! Despondent, I considered suicide, but despite the large Japanese presence, was unable to find any samurai swords to fall upon—which was fortunate, as not long before totality, and as I was walking to the car and not looking at the clouds, everyone began to cheer. I knew I looked good from behind, but this seemed to be a little more than that, so I turned around to find the clouds had magically parted, and the sun, in what little glory it had left, was there—just a slither.
The moment of totality was quite impressive—I hesitate to say awe inspiring, but it really was "something else" to see—and I really don't think anything other than seeing it in person would do it justice. In fact, I think the lead-up with the clouds, and everyone thinking we'd screwed up and wouldn't see it—while unfortunate for some of the people who had needed more time to set up accurate tracking on the sun before the eclipse started in order to get the photographs they wanted—actually enhanced the experience. It was a genuine surprise when the clouds magically opened, revealing just a slither of sun, which moments later eclipsed into an unnatural black orb. Two minutes is actually quite long—it doesn't sound like it, but I had plenty of time to look at the sun, look around at the people, take some photos, change lenses, take some more photos, try a few different settings, change lenses again, take some more photos, look around at the people again, hug people, and excitedly take photos of everything as the sun poked its head out from behind the moon and asserted its dominance once again. Bronwen's solar filter things worked marvellously, and everyone was very happy with what they'd just experienced.
Breakfast
After the eclipse we all had a cooked breakfast, and shortly after breakfast, Silas and Liza arrived on their way back from viewing the eclipse. They'd done the sensible thing and driven another eighty or so kilometres west last night and camped on the side of the road, practically under the centre of the path of totality, and had had a cloudless view from a nearby hilltop they'd walked up in the morning. We had a chat and a coffee, and then they went on their way and I packed up the hire car, and also drove back towards Cairns.
Afternoon
The drive back to Cairns was uneventful. I'd been worried that the streams of people who had fled the cloud-infested lower lands for the drier western areas all night and morning might have clogged the roads on their way back to work, but I didn't have any traffic problems. I drove to the Esplanade, had a quick look around, and then dropped the hire car back. Silas picked me up from the hire car place and drove me to the airport, and waited until my flight was called. My nastily expensive Virgin flight back to Brisbane was entirely full. There was one seat free when I checked in, and apparently two free when the gentleman beside me had checked in. The lady beside me had seen the eclipse from down near Atherton, which hadn't been too cloudy apparently, though totality was much shorter than two minutes there.
The flight passed quickly, chatting to the other passengers and eating my pathetic meal I got (which may have been better had I eaten meat and been able to eat the sandwich, but I don't think so) for having had to pay an expensive fancy fare for my seat. Back in Brisbane, Maz drove me home from the airport, and I relaxed at home—quite tired. After some two minute noodles for dinner, I went to bed.