Monday 12th July – Driving
Day
Ho-hum.
Night
I drove up to Bronwen's parents' place, then out to Bronwen's, then back to her parents' place, then back to my place, then back to her parents' place to drop off a DVD, then off to Maz's, then off to KFC and Hungry Jack's, then back to Maz's, then did some web development, then back to my place, then to bed!
Tuesday 13th July – Weird Pizza
Day
Working.
Evening
I picked up Bronwen from work, drove her out to her place to pick up a dress, then up to her parents' place so she could go to the opera.
Night
Kara spent the night here. I had a quiet evening, and a relaxing night, doing very little, working on my website. I ordered pizza from Eagle Boys and was surprised when they called me back to say they'd run out of tomato sauce, so I ended up with a rather weird pizza.
Wednesday 14th July – Thai
Day
Working.
Night
Bronwen and I arrived at my place about the same time—me having driven home from work, her having rollerbladed from work. Kara was still here, but left to go dancing. Bronwen and I drove up to her parents' place, and picked up Thai food on the way back.
Thursday 15th July – Geeky
Day
A normal day at work.
Night
I picked Bronwen up from work, did a bit of cleaning and waited for a potential flatmate to come have a look—however she never turned up. Bronwen and I had a quiet dinner at home, and I updated my CentOS webserver from 5.4 to 5.5, and then added Unicode support to its PCRE. All quite geeky I suppose.
Friday 16th July – Knight & Day
Morning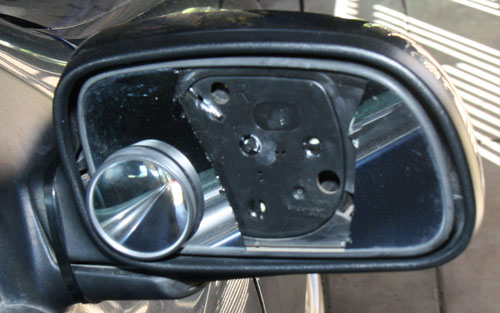 I hit a wheelie-bin on the side of the road going through the valley, and it snapped off and broke my mirror.
Midday
The first cable-tie snapped, but the second seems to have secured what's left of my mirror so that it's got a reasonable chance of not damaging my car, and I can still use the little round blind-spot mirror!
Evening
Bronwen and I walked to South Bank. I bought Subway, then we both got Cold Rock Supershakes, before watching "Knight & Day"—which was really quite good. Sabine called while we were walking to the cinema, to say she's arriving tonight, so that should be nice.
2am
Sabine and her boyfriend arrived, and are quite tired, so we've all gone to bed.
Saturday 17th July – Sabine & The Wreckers
Morning
I had a nice sleep-in, then drove Bronwen up to her place, via the bakery and a veggie pasty, and then out to GDM Auto Wreckers—not only are they open seven days, but a mirror from them cost $45, which is a lot cheaper than the $240 Ford was asking, or the $75 they cost from the wreckers nearer to work.
Afternoon
I drove to Maz's, who wasn't home, to pick up my Ford book, then up to Bronwen's parents' place where I had lunch, then back to my place in time to show two girls the rooms. They were already waiting, and Sabine and her boyfriend had got a flat tyre, and it was already half past three, and they were having trouble finding anywhere to fix it, so I showed the two Swedish girls around, they took some photos, I made some calls, and we rushed to Bob Jane at Enoggera, who fixed their tyre.
Evening
I drove back up to Bronwen's parents' place, where Bronwen made me dinner, then after dinner, back to my place, where I slept.