Friday 26th December - Cairns, Brisbane & Woodford
9:30am
I left Cooktown, via Sarah's work to pick up a CD of photos from the funeral, and the servo for some car food. It was around 10 o'clock by the time I left.
1:30pm
I arrived in Cairns after an uneventful drive in my hired Toyota Corolla. It would be interesting to do the same drive in my new car to compare fuel consumption. Sitting on 140 km/h most of the way, averaging 100 km/h over the whole drive, used $24 of fuel at 96.4 cents a litre (around 7.7 L/100km).
3:54pm
I went for a walk around the Esplanade, bought a milkshake, dropped the car back to East Coast Car Rentals, got their free courtesy bus to the airport, checked in, and am waiting for my 35 minute delayed flight.
4:45pm
Our take-off was further delayed by someone with an iPhone that would not turn off or go into flight mode - and the battery could not be pulled out because they're a stupid faulty, gimmick phone with a sealed in battery. The flight attendants weren't happy. We ended up ignoring it. Sigh.
6:05pm
Seatbelt sign was switched on due to turbulence.
6:50pm
Landed in a very wet Brisbane.
Evening
Drove to my place. Packed for Woodford.
Night
Drove to Bronwen's parent's place, had dinner and picked up Bronwen and drove to Woodford, missing a turn off and driving 40km further than needed. Fortunately the tent was still there, though someone else had put their tent right in the doorway of ours. Bronwen and I went to sleep on absurdly thin foam mattresses.
Saturday 27th December - Woodford & Rain
Morning
I didn't sleep very well due to the few millimetres of mattress. Bronwen and I moved the tent back a metre or two so we had space in front of our door again.
1pm
I worked at the Festival Shop, as a volunteer Cashier Supervisor. I quite enjoy it.
7pm
The opening ceremony was good.
Night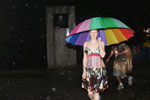 It has been raining lightly on and off most of the day. Bronwen and I have had a busy day attending random festival things. We also blew up our inflatable mattress with great difficulty during a lull in the misting rain out at the car - we have a car powered pump - and carried it to the tent for a much more comfortable sleep.
Sunday 28th December - Circuses, Street Acts & The Chameleon Stage
We had a good sleep, and the inflatable mattress didn't deflate for a change. Another busy day of Woodford-in was had, with work from 4:45 PM through to half an hour past when I was supposed to finish at 9. We saw a circus, random odd street acts, and lots of acts on lots of stages. It's half past two in the morning at the moment and I'm sitting outside the Chameleon Stage while Bronwen dances.
Monday 29th December - Hot & Late at Woodford
10am
I have awoken and it's very hot. This is better than muddy I suppose, but cooler would be nice.
6:20pm
It has now cooled down. I'm up at the tent having a short rest, and perhaps a shower, before my next volunteer shift at the Festival Shop. It appears to have cleared up - there's still clouds but it doesn't look like rain.
8:30pm
Just as Bronwen and I were finishing our funny Jerusalem pie and wedges respectively, an epic lightning display rolled over the surrounding hills and pelted us with rain. Bronwen ran back to the tent to close windows and secure it while I supervised cashiers.
4:30am
After several hours at the Chai Tent, I showered and went to bed.
Tuesday 30th December - Lemonade, Langos & Folky Music
8:30am
I got up and made my way to the festival shop, where I worked a very hot shift from 9:15 to around 1.
Afternoon
Bronwen only started work an hour ago, so I went around with Nieka, watching Doch, watching Nieka after she was watered by a crowd-waterer and went entirely see-through, meeting her sister, her friend, her friend's sister, overheating several times, drinking natural lemonade and eating langos.
4:45pm
I met Bronwen at the Blues and Roots stage where Kristina Olsten was singing.
6pm
Bronwen and I had a free coffee from Vollywood before heading to Folklorica to watch something folky.
Night
I believe it was around 2:30 when Bronwen and I headed to bed.
Wednesday 31st December - Nudes & A Lack of Sleep
Morning
I had wanted to sleep in but my tent got too hot so I got up and went down to the festival. Bronwen and I wandered around for a while watching a few things before heading to the festival shop to volunteer.
1pm
I worked. It was quite busy and quite hot.
Sunset
Bronwen, myself, and several hundred others watched the sun set from the hilltop.
9pm
Bronwen and I are up at the amphitheatre, along with a few thousand other people.
Midnight
Mr. Percival, that1guy and jnapuru? Made for a great act. Three minutes of silence was had at 11:30, with everyone lighting candles. A midnight countdown was had. Everyone kissed and hugged. Bronwen and I walked to Vollywood and made ourselves some coffee, before wandering around other stages, and buying yet another chocolate filled organic Byron Bay doughnut.
2am
I bumped into Rhiannon (from Rossville, now Cairns). It's a small world.
4:30am
Bronwen and I carried a sleeping bag and some absurdly thin foam mattresses up to the hill top and watched the sunrise along with a thousand other people, a nude fire-twirling guy and three nude women.
Thursday 1st January, 2009 - Lightning, Heat, Rain & A New Year
8am
I've showered - yay. There were only three people waiting before me. I haven't slept - unyay.
1pm
Resting in what small shade I can find. It is far, far too hot. Bronwen and I went to a talk about the future of Woodford. Random trivia learnt: it is costing $200,000 to remove and treat sewerage over the 6 day festival. I am going to doze if I don't pass out from heat stroke first.
7:30pm
We closed the shop and rushed up to the fire ceremony along with Nieka, Kate, Anna and their friend. There was quite a bit of spectacular lightning and it rained a little.
9:30pm
We rushed back to the shop. I ended up working until 11:45 as two checkout chicks didn't show up and it was very busy.
Friday 2nd January - Back to Brisbane
11am
We woke up. Typically, it's not so hot today and there's a nice breeze. We're going for a quick wander through the now-closing festival site and then packing up tent and driving back to Brisbane.
Midday
We bought 30 baklavas for $30 and four litres of soy milk for $4, packed the tent, and drove back to Brisbane, stopping for a drink.
Afternoon
After arriving back in Brisbane, I rushed to Metro Ford and bought the mp3/ipod auxiliary input kit for my car, so I can play music (and phone calls) from my phone through the car sound system.