I went and had a haircut, then drove to Garden City to buy a $16 Kmart bike rack for Bronwen to take on her ride.
I threw together a pile of clothes, two sleeping bags, and all my pillows because I'm from the future and have a motorised vehicle that will carry them for me, while Bronwen painstakingly packed tiny things because she had to carry them on a pushbike.
We then drove the two-hour drive to Blackbutt (which is, interestingly, exactly the same distance as the Brisbane Valley Rail Trail—and would take 9 hours on a pushbike), meeting Jacqui and the rest of the group at Hotel Radnor.
After everyone had finished filling themselves with food and alcohol, we drove to the nearby Blackbutt Showgrounds. It was much colder than expected (someone said it got down to 2°C). I took my first low-light photos with my new camera—while not the best photographs I've taken, the camera was much better at it than my previous one, so that was exciting.
We borrowed someone else's campfire and sat around it for a while, then Bronwen set up her camp—by wriggling herself into her sleeping bag inside her swag—and I folded back my car seat, got out my sleeping bags and pillows, and went to sleep.
Bronwen woke me horribly early and we drove to Yarraman Railway Station—the start of the Brisbane Valley Rail Trail. Bronwen put her bike back together (it doesn't fit in the car in one piece) and started off on the trail by herself—the rest having already done this part yesterday—while I went for a wander around the park before driving back to Blackbutt Showgrounds.
I arrived back at Blackbutt Showgrounds a few minutes before Bronwen—and not long before everyone was packed and ready to leave. The group rode off on their adventure, leaving me to figure out whether there was anything interesting to do in the area, or if I should drive home. A couple of the people had drastically over-packed and given me some stuff to carry.
I drove into the town centre of Blackbutt and spent some time researching the area on my phone, and trying to no avail (and with much frustration) to find a way to download the Brisbane Valley Rail Trail track into Google Maps so I could see it.
After giving up on getting the track into Google Maps—and having not found anything of any interest to do in the area—I drove to First Settlers Memorial Park in Benarkin. It was the next place where the bike track looked like it came into contact with the road, so I thought I might meet the group there. Unfortunately, once I got there, I got a location update from Bronwen, showing they'd already passed.
I had been expecting Bronwen to give me an ETA on their arrival at Linville—their next destination—once she'd travelled far enough to have an idea of how fast they were going, but instead she contacted me once she was in Linville to say she was there. This was highly inconvenient because even though my mode of transport was centuries more advanced than theirs, it still took me considerable time to travel anywhere so I had to rush to Linville, arriving after most of the group had already left.
Shortly after I arrived in Linville, Bronwen and the other couple of faster riders who had stayed behind, left to head to Moore. This was quite close, so I also drove there, meeting the group at the Kai Lounge for lunch.
By this time I'd found something that sounded like it was worth hanging around for—the Yimbun Railway Tunnel—so after everyone left Moore, I drove towards the tunnel. Google Maps had said I could drive all the way there, but when I got there, I found that I had to walk the last 1.6 kms or so along the Brisbane Valley Rail Trail itself. As hard as it is to believe, walking is even slower than cycling, so I was worried that the cyclists would catch me up and get to the tunnel before me, so I rushed in the burning sun and heat, carrying my new camera and the drone and a water bottle in a bag highly unsuited for walking with, and managed to get to the tunnel a good 20 minutes before Oskana (who was riding on ahead as she was worried she was slower and would be unable to keep up), and half an hour before Bronwen and the rest of the cyclists. Fortunately it was really quite cool in the tunnel, so I managed to cool down.
Unfortunately when everyone arrived they were all hot and in a huge hurry, so we only took a quick photo and didn't get the drone out at all—making it a bit pointless having carried it all the way there.
By the time I'd walked back to the car (slowly this time, enjoying the scenery and taking a few photos of pretty things along the way) it was 3:35 PM, so I figured I'd stick around and drive to Toogoolawah, where everyone was going to camp for the night.
I drove to Toogoolawah Showground, where the cyclists had already arrived. Everyone set up their tents (apart from Bronwen, who simply laid her swag on the ground where all the snakes and spiders and bugs that like to crawl into your ears while you sleep live) and then we all went to Toogoolawah Hotel for dinner. Bronwen and I popped down to the nearby IGA to buy some milk for the morning, and then had vegetable pasta and a vegetable pizza from the hotel for dinner.
It was still cold, but not as cold as last night.
I got up at 4:45 AM when my alarm went off, woke Bronwen, and we drove from the showgrounds into the centre of town, and attended their ANZAC day dawn ceremony. It was quite nice, because unlike the big one in Brisbane, there was very little pomp or ceremony which made it seem more meaningful—basically, there was nothing fun or interesting about it, so the only reason anyone would have gone was to pay respect, whereas I feel like a lot of people go to the big one in Brisbane because it's an event and they want to see and experience the event.
After driving back to the showgrounds we both went back to sleep for a while, and then used our lovely fresh milk we'd bought last night for breakfast, before everyone again packed up, Joni fought valiantly to remove a broken tent-peg, and rode off into the distance.
Bronwen was now sharing her location with me via Google Maps, and I'd worked out a very-annoying-but-slightly-workable way of flipping between Maps.me (which has the Brisbane Valley Rail Trail marked on it) and Google Maps (which doesn't, but has Bronwen's location on it), so I could kind of figure out where Bronwen would be likely to be. This let me drive to what looked like something interesting on the BVRT that was close to the main road.
However, by the time I got there, Bronwen's little dot in Google Maps was also almost there, and I found that the interesting thing was actually a whole paddock from the road, and the farmer must have been farming midget sheep or cats or something because the barbed wire fence between the road and the paddock had so many strands of barbed wire that it was totally impossible to crawl through. This was quite frustrating, but after much panicking I found that if I bush-bashed through several metres of person-height itchy grass frond things into a gully, there was a part of the fence where there was a gap underneath big enough for me to fit. Unfortunately, the gap had a star picket hung in it to stop the midget sheep from escaping, but I was able to swing this up and slide underneath without injuring myself too much, and then run across the paddock, and get to the interesting thing before the riders did. Sadly, the interesting thing turned out to be just a small closed wooden bridge, but as they say, it's the thought that counts.
After running back across the paddock, squeezing under the barbed wire, pushing my way through the itchy tall frond things, and walking precariously up the very-narrow-edged high-speed road back to my car, I rushed a few kilometres up the road to the Esk Kilcoy Road turnoff—another spot where the BVRT crossed the road—and took a few photos of the cyclists as they passed.
After this I drove to Esk, meeting the cyclists at the Nash Gallery & Café, and having lunch. This was obviously a popular place, as the queues quite were—quite literally—out the door. It also had a very cool memorial garden out the back, and many, many very friendly hungry birds.
After lunch I drove to Lake Somerset, having a look at Somerset Dam and The Spit—which was amazingly busy. Every part of the available coastline was filled with cars and marquees. I initially thought they were holding some event, but quickly worked out that it's just what people do now—they buy marquees and take them in their 4WDs to places like this, where they then set up BBQs and make BBQ smoke.
After The Spit I stopped at Somerset Dam and flew Wallace the Drone over the dam, before stopping at a lookout that looks onto the dam. While parked there, the car made a huge noise, like strongly sprung metal snapping. I expected something very terrible to happen, but nothing seemed to change. I turned off the engine and had a look under the bonnet but couldn't see anything wrong. Being fairly sure that I was totally screwed, I turned the engine back on, and it seemed to work normally. This was very confusing, but I carefully drove back towards civilisation, figuring the closer I got before whatever horribly major thing had broken made the car explode, the better off I'd be.
To my confusion, the car kept working normally and I arrived at Coominya Railway Station—a historical railway station on the BVRT where Bronwen and the group had stopped—without the car having done anything unusual at all.
After the group left Coominya I drove 4 minutes to the Lockyer Valley Rail Bridge and watched the group cross over this (apart from Bronwen and Darren, who took the steep and bumpy horse route under the bridge, and (in Bronwen's case at least) fell off).
As I was leaving I saw some birds and a nice field of plants, so I stopped the car and got out to take some photos, and it was here that I noticed when the radiator fans came on, the whole car vibrated and made a noise. This made me think that the big noise had been a radiator fan exploding.
I drove to Cormorant Bay Recreational Reserve at Wivenhoe, but as I got there I noticed that Bronwen's dot in Google Maps had already got to Lowood Showgrounds, so I only spent a few minutes having a quick look before rushing on to Lowood.
I got to Lowood Showgrounds as everyone was setting up their tents (or in the case of some people, holding them above their heads and bemoaning the amount of water that was suspiciously and confusingly inside their tent).
After having a shower, we headed to the nearby—and strangely named—Club Hotel Motel for dinner. It was very busy and there were no tables available, so we were fortunate to get a couched area in the corner which we managed to squeeze into.
I managed to download a wiring diagram for the car's cooling system and work out which fan was which, and removed the fuse for the broken fan, then everyone got on their bikes and left me again, so I drove to a nearby supermarket and bought myself some day-old iced doughnuts that were on special and made my way to Clock Park to eat them. While eating them I noticed that Bronwen's Google Maps dot was almost all the way to the next destination, so I had to abandon my doughnuts and jump into my broken car and rush off.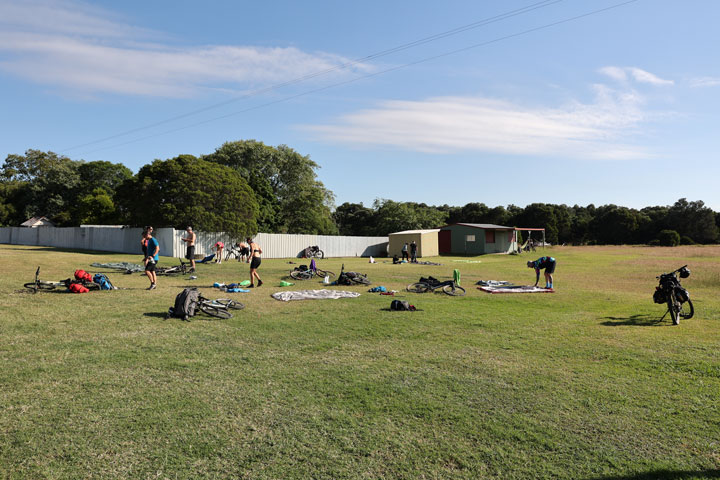 I eventually found everyone at Twin Bridges Recreational Area, after driving past it on the highway and being unable to stop, and then down a decidedly not highway dirt track that also didn't go where I wanted. Phil set up a slackline, and everyone proceeded to fall off it. This was good for me, as I hadn't had a chance to try any action shots on my new camera yet. It seemed to work quite well, with almost all the shots being in focus, and the 20 frames per second being absurdly fast, so I was happy.
After our swim we all headed to Fernvale, where there's the Old Fernvale Bakery that says it has 120 different kinds of pie. Coincidentally, this was also about the length of the queue of people trying to get in. They'd divided the shop into different zones with tape on the floor, and each group was told to stay in their zone. Confusingly, Bronwen and I were told not to enter with our group as they were too full, and then when we were told to enter (by some staff banging furiously on the glass inside until someone else in the queue behind us told us we could enter) we kept getting told conflicting instructions by different staff. We were ordered to stay in our zone, and then told to move into someone else's zone, and eventually told that of all the 120 flavours of pies they supposedly have, all the vegetarian ones and all the ones Bronwen wanted were unavailable—so I left and drove up the road to Subway, which had no one in it and was prompt and polite.
I brought my Subway back to the chaotic bakery and ate it, before everyone had even managed to get their pies.
After lunch everyone got on their bikes again and continued on the last leg of their pedal-powered journey, while I checked satellite view in Google Maps to see if there were any scenic-looking areas I could intersect with the rail trail and take some drone shots. I rushed to the first place that looked promising, but just as I got there—before I could even get the drone out—Bronwen and the riders turned up.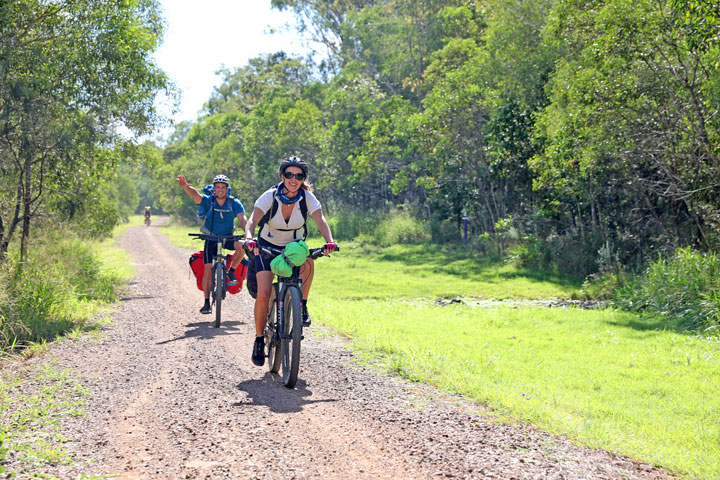 I tried a second time, but got it so wrong this time that I entirely missed everyone, so for my third—and final—attempt I made a point of picking somewhere that looked like it'd be scenic, and which was a considerable distance in front of Bronwen's dot in Google Maps.
Unfortunately, Google Maps directed me there via a long and winding and very narrow dirt road, which eventually just ended—quite some distance before my destination. This was quite annoying, but not as annoying as eventually arriving where I'd been trying to get—after driving all the way back along the dirt road, down the highway for a bit, along several other paved roads, and then another dirt road—to find that the cyclists turned up just as I was about to get the drone out.
To make me feel better, they stopped and waited until everyone (apart from the three who had rushed ahead to see who could get to the end first) arrived, and then they did a posed ride along the track while I failed to take any particularly good drone photos because my drone was too high and there were too many scary big trees for me to come any lower.
After this it was only a short 15-minute drive to Wulkuraka Railway Station, and the end of the Brisbane Valley Rail Trail. Unlike the rest of the train stations on the BVRT which are historical, this one is a normal modern train station, complete with a zillion coronavirus warnings and a Go Card tap-on point.
Our three winners were waiting there, and everyone met up again, and there were hugs and then everyone left. It was rather anticlimactic. Darren's e-bike pickup person hadn't arrived, so Bronwen and I waited a while until it did, and then we also left, driving 45 minutes home.
I had a nice hot shower and bathed my sore feet in a bucket of warm water. Despite not actually riding any bikes on the trip, I seem to somehow be sore and exhausted.